Looking for recommendations for the best 16″ bikes for your child?
Well, I've done all the research work for you, picked and reviewed the best ones available today.
Generally, 16″ bikes are suitable for kids aged between 3 to 7 year old. However, that's only a starting point and there are many other factors to consider such as height, bike weight, brakes and tires.
Read More : 16″ Kids Bike Buyer's Guide
On this page, you'll find all my recommendations that will suit your needs; best value, budget ones, lightweight or those specifically designed for girls.
Here are 10 of the best 16" kids bikes for 4 to 6 year olds.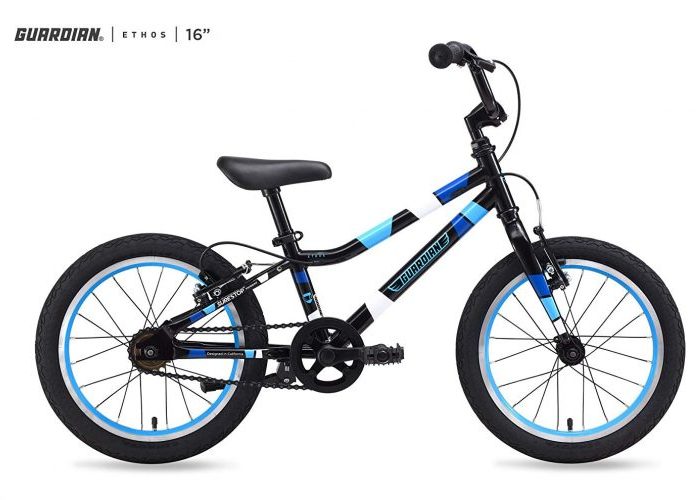 Guardian is one of the leading kids bike brands in the market today.
They're a very innovative brand which introduces their own patents such as Sure Stop Technology. This technology allows kids to control both front and rear brakes with only one brake lever, hence improving the way kids brake and reducing the possibility error and accidents.
The whole bike is designed in a way to reduce weight. The weight is centered in the middle so the bike offers more control and stability for a child as they ride.
If you're looking for a 16″ bike that represents the best value for your money, this would be a good choice.
Best for the Budget Minded
Schwinn has completely redesigned it's bike geometry to better match a child's body based on many years of parents' feedback. The Schwinn Scorch now features the Smart Start Geometry that creates a perfect fit for a child while offering more control, especially for those who just transitioned from a balance bike.
The narrow pedal position which is specifically made for kids. This is made in order to fit the narrower body width of the child which allows for easier pedaling and handling.
If you're on a budget, the Schwinn Scorch would be an ideal choice.
The Retrospec Koda is another good choice for a budget 16″ kids bike. 
It's a hand-built steel frame. Even though the steel frame is heavier, this bike is optimized with a one-piece crank and a lot of added protection.
The wide and grippy tires are ideal for both on and off-road, and even uneven sidewalks. It's also equipped with a full chain guard, water bottle and a soft handlebar grip.
What's also useful for parents is that Koda comes 95% assembled so it doesn't take a lot to get this bike ready for the road once you take it home.
RoyalBaby Freestyle 16" Bike
The RoyalBaby Freestyle is a 16″ kid's bike which features a steel frame, one-piece crank and pneumatic knobby tires with a customised RoyalBaby tread.
The combination of a front caliper brake and rear coaster brake are sufficient enough to provide plenty of stopping force, when needed. 
What's interesting about this bike is that it offers plenty even though it's a budget option; such as heavy-duty training wheels, water bottle, bottle cage, bell and even assembly tools for the parents.
If the Schwinn Scorch or Retrospec Koda is not to your child's liking, the Royalbaby Freestyle would likely be.
The thing I liked the most about Electra Sprocket is the playful geometric design, which still is ideal for beginners who are just learning to ride.
It's an ideal 16″ bike for girls due to the innovative Electra Flat Foot Technology which allows them to plant their feet on the ground without ever having to leave the saddle.
The biggest advantage of this bike is the lightweight aluminum frame construction which not only makes transportation much easier, but also easier handling.
Schwinn Jasmine Girl's Bike
The Schwinn Jasmine comes with a Smart Start feature which allows kids to quickly and easily learn riding a bike. It's basically a combination of improved frame design and drivetrain to make riding the bike an enjoyable experience.
For intuitive stopping, the kids will be able to use a combination of rear coaster brakes and front lever brakes. It also features everything a girl could wish for such as a colorful basket, purple fenders, and colorful overall design.
For parents, you'll love the tool-free adjustment of the bike's seat post.
Coming from a very reputable bike brand, the Cannondale Trail features a specific bike geometry that is suited for riding in the trails. It's made out of Cannondale's SmartForm C2 alloy, while the fork is made out of steel for added durability.
The Trail 16 comes with only a coaster brake unlike most of the other 16″ bikes such as the Schwinn Jasmine or Electra Sprocket. It also features a very comfortable seat and handlebars that fit small hands well.
Training wheels are very simple to attach and can be removed within minutes since it requires no tools at all and can be removed anywhere, just like the chain guard.
Best Lightweight 16" Kids Bike
The Prevelo Alpha Two is based on a low and narrow geometry that helps kids keep their balance and master riding bike a lot easier. 
Being made with an aluminum frame that includes both forks, this is a very lightweight and easy to steer bike.
Kids will love the comfortable grips provided by Prevelo with the two brake levers' reached optimized for kids to ensure an easy and efficient braking experience.
The Limited Belter 16″ features handlebar brakes instead of coaster brake which helps kids understand how to brake efficiently from an early age.
Instead of using a chain like the Prevelo Alpha Two and Clearly Hedgehog, the Limited Belter 16″ uses a belt. The advantage of a belt is that it doesn't need grease, will never stretch, and will never fall out of the drive.
In short, it's maintenance free.
For the smoothest ride, there are pneumatic wheels along with sealed cartridge bearings that ensure efficiency and long lasting. And even though it has extra components such as both brakes, it is still lighter than most 16″ bikes.
Cleary Hedgehog is a very lightweight 16″ bike that has great modern geometry and yet is very durable so the kids can do almost anything with it.
Medium gear ratio makes it easy for kids to become a nimble climber. The low center of gravity makes it easier for kids to control the bikes in any situation.
With Hedgehog having two V-brakes, it is extremely easy for kids to handle balance thanks to the freewheel option.
6 Things to Consider Before Buying 16" Kids Bikes
There are several things to consider before you jump head first into buying a bike for your child. 
From my experience, the most important factor to consider is the bike size. You'll notice that kids bikes come in many sizes, ranging from 12″ to 24″. 
Read More : The 10 Best Places to Buy Kids Bike
Let's take a deeper look into whether a 16″ bike is suitable for your child.
Your child's age is a good starting point.
When it comes to 16″ bikes, it's generally suited for kids aged between 4 to 6. However, you shouldn't only rely on age since most kids don't grow the same in size over the years.
The next step is to determine their inseam measurement.
But what is an inseam?
The inseam is a length measured from the crotch to the floor.
Make sure that both feet are on the ground and that the child is standing straight and still.
Inseam length for those who are looking to ride 16″ bike should be between 18″ to 22″. If the inseam measurement falls outside of this range, you might want to consider sizing up to 20″ or sizing down to 14″.
Read More : 
The common material used to manufacture 16″ bike frame is steel and aluminum.
It's a really durable material which is an advantage for bikes used by kids. However, steel frames can be quite heavy, especially with the other components installed on the bike.
The lighter option is an aluminum bike frame, which proves to be as durable, yet a lot lighter. Aluminum bikes such as the Prevelo Alpha Two and Early Rider Belter are more expensive than their steel counterpart. 
In most cases, 16″ kid bikes all come with a single gearing.
Without the ability to change gears, this gives kids plenty of time to focus on the other aspects of learning to ride and worry about gears later on when they move to a larger bike.
Unlike 14″ bikes that comes with a combination of coaster and front brakes, 16″ kids bikes are more of a mixed bag.
Some models such as the Schwinn Scorch and Retrospec Koda comes with coaster and front caliper brakes. On the other hand, the Prevelo Alpha Two and Clearly Hedgehog come with caliper brakes for both front and rear.
Bikes with front and rear caliper brakes are usually more expensive.
Most 16″ bikes come with air-filled tires that consist of inner tubes and tire itself. 
Air-filled tires are more comfortable to ride as you can control the air pressure. A lower air pressure provides a more cushy ride, especially for riding off road. If you're riding on the road, you might want to go for a slightly higher air pressure to decrease the higher rolling resistance. 
You'll notice that some 16″ bikes come with training wheels while others don't.
This is because 16″ bikes are right on the edge where some kids already know how to ride a bike, but some are just starting out.
If you kid is just starting out, it's recommended to get one with training wheels so that you don't need to buy them separately. Make sure that they're easily removeable once your child perfects their balancing skills.
It's very common to see a kickstand being introduced to 16″ bikes, especially if they don't come with training wheels. 
The kickstand would allow the child to park their bikes upright rather than leave it lying on the ground.