Looking for recommendations of a 20″ kids bike?
Well, you're at the right page.
On this page, you'll find my top picks for the best 20″ kids bikes. Whether you're looking for one that represents the best value for money, on a tight budget or simply looking for the best one out there, I'm sure you'll find something here.
Read More : 6 Things to Consider Before Buying 20″ Kids Bikes
To kick things off, 20″ bikes are generally suited for kids aged between 5 to 8 year old. Of course, there are many other factors involved, such as their height and more importantly, inseam measurement.
Here are 13 of the best 20″ kids bikes available today.
Co-op Cycles is the in-house bike brand for leading outdoor retailer, REI who is based in the United States.
The Rev 20 is made from aluminum, making it a lightweight bike as compared to others which are made of steel. A lightweight bike makes it easier for kids to comfortable transition from a smaller size 14″ or 16″ bike.
It comes with both coaster and handbrakes, another feature which makes the transition process easier for your kids. The single speed drivetrain would be more than sufficient for riding around the neighborhood or parks.
If you're after a value buy, take a look at the Co-op Cycles Rev 20.
Best for the Budget Minded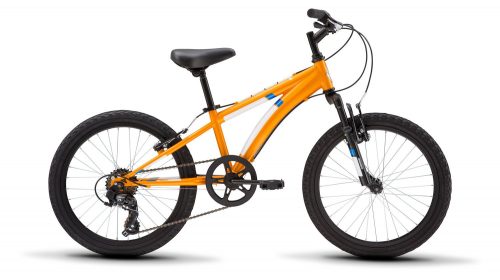 The DiamondBack Cobra 20 is ideal for parents who're on a tighter budget. Instead of sporting a conventional kids bike geometry, the Cobra 20 utilizes a mountain bike geometry. 
It comes with a suspension front fork called the HL Zoom. The fork has a travel of 40mm which is great at absorbing large rocks and uneven surface to make the ride more comfortable for the kids. If you're after a similar but better specced bike, consider the Prevelo Zulu 3 Heir.
In addition to that, the Diamondback Cobra 20 sports a Shimano 6-speed drivetrain, controlled by with trigger shifter. Changing gears is super easy and kids won't have a problem riding up most hills around the neighborhood.
The Schwinn Koen is built on a steel frame design, utilising Schwinn's proprietary Smart Start design. The Smart Start is a complete rethinking and redesign of kids bike frame to provide more comfort and stability, especially for kids who are just starting to ride.
What's very interesting to see is that this bike has both V-brakes activated with brake lever, but also has a built-in rear coaster brake. This allows kids easier to transition from their last bike to bigger bike with two brake levers.
The adjustable saddle and slack seat-tube on the Schwinn Koen 20 allow parents to adjust the bike for kids as they grow, ensuring a comfortable riding position until they eventually outgrow the bike.
The RoyalBaby Freestyle 20 is an ideal budget bike for a few reasons. It's made out of lightweight aluminum, something which you don't often see in budget kids bike. Generally, aluminum bike frames are more expensive.
It's only single speed, so it's more suited for crusing around the park and flat terrain, rather than hill climbs. The pedals platform come with a non-slip feature so the kids are safer while riding in wet and slippery conditions. Besides, the drivetrain is fully enclosed so there is no risk of their legs, hands and their clothes getting tangled or dirty.
If you're on a budget and looking for a light bike for your kids, the Royalbaby Freestyle 20 could be ideal.
The Electra Sprocket features a durable aluminum frame that is designed in the shape of a beach bicycle, making it attractive for girls.
It comes with all the bells and whistles a girl would love such as front and rear fenders, a colorful frame with a matching saddle, handlebar grip and even wheels.
If your girl is still learning and takes longer to make a transition to two wheels, this could be the ideal bike to accelerate the learning process. The frame geometry of the Electra Sprocket 20 is designed in such a way that allows girls to get on and off the bike easily and be confident while moving on two wheels.
The Prevelo Alpha 3 is a bike that is inspired by a low and narrow geometry, which doesn't only make this bike easier to balance and control. 
It's built with an aluminum frame and alloy fork. What's even more unique is the custom made Prevelo cranks.
There is also an 8-speed Shimano gears for increased safety during riding and gear shifting. With Smart Cage feature, the Shimano rear derailleurs don't hang very low to the ground yet leave plenty of space between the derailleur and the ground to avoid contact, especially around corners.
If your child is looking for something more sporty rather than the girlish looks, then the Prevelo Alpha 3 could be for her.
The Mongoose 20″ kids bike is based on an aluminum frame that comes with rugged tires that are ideal for both off-road and on-road riding experience.
Along with an alloy fork suspension for better shock absorption, this bike also has a bit wider seat for more comfortable rides, which especially helps with longer rides.
The 8-speed Shimano shifter works with a grip shifter that provides smooth and easy gear changes at any time throughout the ride. Brake levers are also placed closer and are easier to press which is ideal for small hands.
If you're looking for a mountain-bike like 20″ bike for your girl, give the Mongoose a consideration.
Best Lightweight 20" Kids Bike​
Priority Bicycle's  mission is to design and manufacture bikes that are high quality, efficient, and affordable. This equates to low maintenance belt-driven drive trains and direct-to-consumer sales. 
For its line of kids bikes, this also means building your child's riding skills. 
With the Start 20, your child is introduced to gears (the Start 16 is a free wheel bike), but only a few. With just three gears to choose from, the Priority Start 20 still maintains its focus on simplicity. You and your child will also love the grease-free chain. 
This makes maintenance easier without the need for drivetrain cleaning or grease. It also means no bike grease to scrub off your child's hands and clothes.
Have a child who is ready to take on hardcore single track? 
Look no further than the Early Rider Seeker 20. 
There's nothing childish about this bike. An aluminum frame keeps the Seeker light and maneuverable while the frame geometry provides stability and responsiveness with a long top tube and short chainstays. 
Thick 2.25" tires provide plenty of grip for off-road terrain, and front and rear mechanical disc brakes supply plenty of stopping power for rides through the mud. A Ritchey handlebar, stem and seatpost are extra performance add-ons. 
The Prevelo Zulu Three Heir is a true 20″ mountain bike for kids. It has a low and narrow geometry to provide additional stability and this is combined with a very lightweight frame.
The lightweight fork, called the Airfork is made carbon fiber and has a 80mm travel to smoothen all the bumps along a rough terrain. And unlike most 20″ bikes, the Zulu Heir comes with a Shimano 10-speed drivetrain. The additional gear range allows the kid to ride through many different types of terrains, especially the hillier ones.
It also comes with hydraulic disc brakes instead of V-brakes found in most 20″ bikes, which increases its braking power and easier stopping.
If you're 20″ kids bike that has the best of everything, the Prevelo Zulu Heir is a serious contender.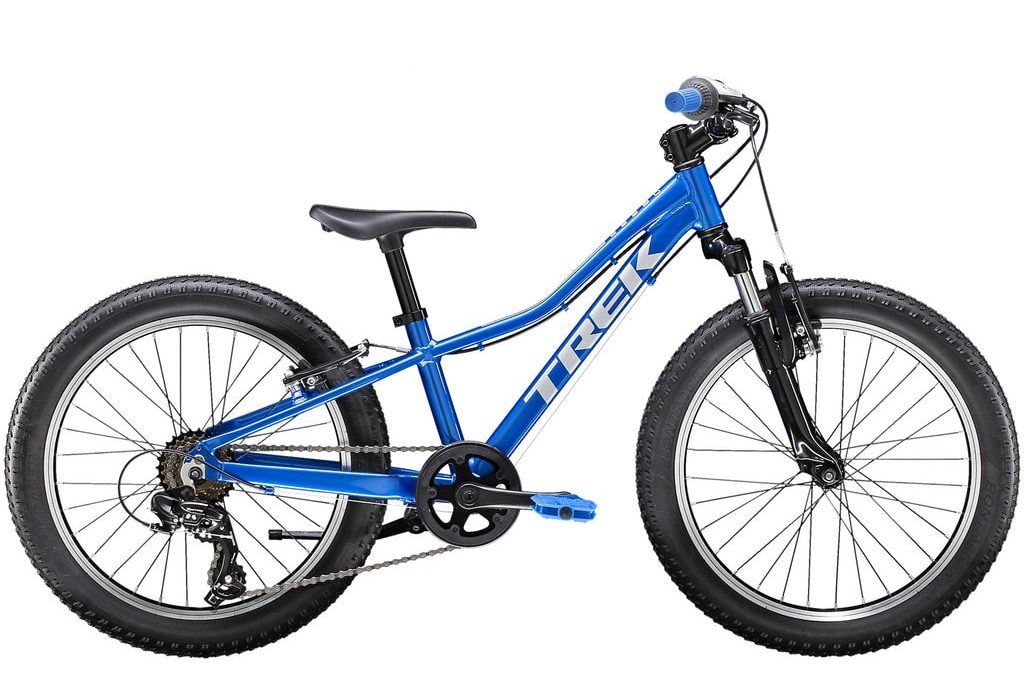 Leading U.S. bike brand Trek continues to delight kids with their latest 20″ bike.
The Trek Precaliber 20 is made from Trek's lightweight and high performance aluminium, making this bike a great ride. The material is both durable and rustproof and will withstand all the abuse kids usually throw at their bikes.
It comes specced with a front suspension fork with 35mm travel and 2.25″ wide tires suited for off-road riding. And unlike other bikes, there's a 7-speed Shimano Tourney drivetrain which is usually found on adult mountain bikes. 
The Trek Precaliber 20 is available in 2 colors; black and blue.
The Cannondale Trail 20 is a great bike for learning how to ride off road. 
The aluminum-framed Crush features a front fork suspension and knobby tires as well as front and rear cantilever brakes for moderate off-road riding. This bike also offers special features for smaller riders including a lower range gear ratio that makes getting started easier.
Smaller brake levers and twist shifters make operating the bike easier for smaller hands while an alloy frame and components keep the overall weight down.
The Cannondale Trail 20's frame geometry is designed for off-road riding with a top tube that drops sharply from head tube to seat stays, making out of the saddle handling easier and entrances and exits from the cockpit quicker.  
If you weren't already familiar with the bike manufacturer Salsa, you might be able to tell from the looks of the Timberjack 20 that the California-based company specializes in designing and manufacturing kids mountain bikes.
This is a kids' bike built for singletracks. The Salsa Timberjack features Chao Yang 3" tires, flat bar handlebars, swooped down top tube, internal cable routing, front suspension fork and front and rear disc brakes. 
Salsa has also put plenty of thought into the Salsa Timberjack's geometry, with steering and handling designed to be quicker and more responsive to suit a child's body. The Timberjack is also fitted with twist shifting and smaller brake levers designed for smaller hands. 
6 Things to Consider Before Buying 20" Kids Bikes
Getting a new bike is always an exciting time for any kids. But for the parents, the experience can sometimes be overwhelming, especially if it's your first time. 
You'll soon realise that there isn't one size fits all bike and kids bikes come in all sizes. 
Read More : 10 Best Places to Buy Kids Bikes Online
But don't worry. I'll walk you through what to expect in 20″ kids bikes and the most important aspects you should look out for.
I've also written a separate kids bike guide which will cover each of the topics below in detail.
1. Kids Age (5 to 8 Year Olds)
A good starting point to determine is a 20″ bike is for your child is their age.
20″ bikes are for children between the ages of 5 to 8.
However, in some cases, you might need to either size up to 24″ or size down to 16″. It all depends on your child's height and inseam measurement.
You're probably wondering by now, what's an inseam measurement?
Inseam is the length measured from crotch to floor of the child when he/she is standing with both feet flat on the ground.
For a child to ride a 20″ bike comfortably, the inseam measurement should fall between 22″ to 25″. If they fall outside of this range, consider either sizing up or down.
Read More :
As in every other bike, the lighter the bike, the higher the price tag is. 
Aluminum is lightweight and provides great strength and durability which makes it more expensive. There's also steel which is heavier but still provides excellent strength and durability.
Therefore, steel is a cheaper material due to the weight difference. Depending on your budget, I'd highly recommend you go for a lighter bike if possible. Ideally, kids shouldn't be riding bikes that are twice their weight.
Some good options for aluminum bikes are the Prevelo Zulu 3 Heir or the Priority Start 20.
With 20″ bikes, you can notice there is usually a lower standover height for girls, making it easier for them to put their legs over the bike. A good example is the Electra Sprocket.
20″ bikes are where gearing is almost always introduced. But don't be surprised to see 20″ bikes which come with a single gear as well. One such example is the Electra Sprocket for girls.
There are various gearing configurations, depending on what the manufacturer specification are. You'll see bikes with 6, 7, or 8 gears. The number of available gears is determined by the number of cogs at the rear.
With kids bikes, the gears are controlled by a shifter at the handlebar. This can either be a trigger shifter or a grip shifter. You can read more about gearing on another more detailed post.
Read More : The Ultimate Buyer's Guide for the Best Kids Bikes
Most, if not all 20″ bikes come with front and rear brakes. There's no longer rear coaster brakes as found in smaller sized bikes.
Children from 5 years old and above should be able to properly use brakes while riding. Don't worry if they're not fully accustomed to brakes. You'll be surprised how fast they will pick this skill up.
More expensive options such as the Prevelo Zulu 3 Heir comes with hydraulic disc brakes. This provides a very good stopping power, but it also come with an expensive price tag.
All 20″ bikes come with air-filled tires with an inner tube. 
The good thing with air-filled tires is that you can increase or decrease the air pressure depending on the terrain for a better ride experience.
Going for a rough off-road ride? Decrease the air pressure.
Riding on road? Increase the air pressure to reduce the rolling resistance.
It's very rare to find training wheels on 20″ bikes today.
If your child still requires training wheels, you'll have to purchase them separately. The good thing is while 20″ bikes don't come with training wheels, they're still compatible with them.