Our Bike Computer Recommendations
Wahoo Fitness ELEMNT BOLT
Screen Size : 2.3″ (59mm)
Weight : 69g
Dimensions : 77.5 x 47.2 x 21.3mm
The Wahoo Fitness ELEMNT BOLT is a compact bike computer that packs a punch with advanced features. Now in its second generation with a big improvement over its predecessor. The improved, 64 color screen is a huge update over the previous black and white display.
The color screen improved the navigation user experience. There are different colors indicating the main and back streets along with bike paths. The display is now closer to the Gorilla Glass surface to improve readability, especially during bright sunlight.
Features such as Back on Track re-routing and navigating without the need for the Wahoo Fitness companion app are now available. In the past, these features were exclusive to the Wahoo Fitness ELEMNT BOLT. Other notable improvements are the expanded internal memory from 2.78GB to 16GB and the use of a USB-C charging port.
Pros : Easy to configure the data fields and page using the companion app.
Cons : Average battery life (15 hours).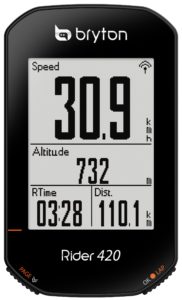 Screen Size : 2.3″ (59mm)
Weight : 61g
Dimensions : 83.9 x 49.9 x 16.5mm
The Bryton Rider 420 is a mid-tiered bike computer from up-and-coming Taiwanese brand Bryton. It is our budget pick because it is cheaper and yet comes with advanced features found on other models such as the Wahoo Elemnt Bolt.
The 2.3", black and white LCD screen displays up to eight data fields on nine pages. There are more than 80+ data fields supported from common ones such as time, speed, cadence, power, HR to advanced training metrics such as TSS, NP, and IF.
You can be sure of its accuracy as it supports five satellite systems such as GPS (US), GLONASS (Russia), Galileo (EU), BeiDou (China), and QZSS (Japan). Most models usually support only three.
If you are looking for a solid alternative to the mainstream brands, then give the Bryton Rider 420 a serious consideration.
Pros : Long battery life (35 hours) and very accurate satellite tracking.
Cons : Button placement is not ergonomic, especially if wearing full-fingered gloves.
Cateye Padrone Digital Wireless
Weight : 32g
Dimension : 67.5 x 43 x 15.6mm
The Cateye Padrone Digital is a simple bike computer for cyclists who need basic data such as speed, distance, and time. Cateye is the brand that started it all when it comes to cycling computers. In fact, there's a chance that your first bike 20 to 30 years ago came with a Cateye attached to the handlebars.
The large screen can display up to three rows of data with a maximum of four data fields. Being the digital version, it is compatible with all Bluetooth sensors such as heart rate monitors, speed, and cadence sensors. The CR2032 battery can last up to 4 months.
Pros : Slim design with a large display.
Cons : Hard to remove from the mounting bracket.
Most Features for Advanced Users
Screen Size : 3.5″ (89mm)
Weight : 124g
Size : 58 x 114 x 19mm
The Garmin Edge 1030 Plus is the flagship model from the leading GPS brand, Garmin. It is among the best bike GPS money can buy today with all its advanced features. This Garmin Edge 1030 Plus is a recently updated model over its predecessor, the Edge 1030.
Garmin improved the touchscreen sensitivity for full-finger gloves and replaced the micro SD card slot with an internal 32GB memory. It has a massive 3.5″, 282x 470 pixels screen that rivals many smartphones and delivers a sharp viewing experience that excels in rain or shine.
The Garmin Edge 1030 Plus shines in the advanced features department. It now supports the ClimbPro Ascent Planner, Heat and Altitude Acclimation, Training API, and mountain biking dynamics such as Grit, Flow, and Jumps. For serious riders, the are features such as Training Effect, Recovery Advisor, Virtual Partner, and Physio Trueup that help you to track your efforts and recovery progress.
The rechargeable lithium-ion battery can last up to 20 hours, which is in the ballpark of its competitors such as the Wahoo Elemnt Roam. You can double the battery life to 40 hours using the Battery Saver Mode.
Pros : Large screen and advanced data fields for serious cyclists and data geeks.
Cons : Expensive, a large premium over the Edge 830 which has similar features, but a smaller screen.
Best for Turn by Turn Navigation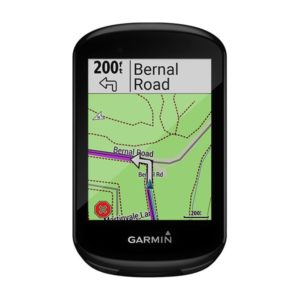 Screen Size : 2.6″ (66mm)
Weight : 79g
Dimension : 50 x 82 x 20mm
The Garmin Edge 830 is similar to the Garmin Edge 1030 Plus. The main difference lies in its smaller size (2.6" vs 3.5") and much lower price tag.
The Edge 8xx series has always been Garmin's best navigational GPS, starting from the Garmin Edge 800, 810, and more recently 820. The navigational user experience on the Garmin Edge 830 is now very intuitive. The map provides excellent POI details and very accurate instructions when approaching a turn. You don't need to worry about missing a turn as it gives ample warning, both audible and visual.
You can create your preferred routes on 3rd-party platforms such as Komoot, RideWithGPS, or Strava and then export them by syncing your accounts together.
Like the Edge 1030 Plus, it is available in standalone or bundled with speed, cadence, and heart rate monitor.
Pros : Very intuitive, easy-to-use turn-by-turn features.
Cons : Some software versions can be unstable.
Screen Size : 3.2″ (81mm)
Weight : 132g
Dimensions : 60.8 x 100.6 x 19.3mm
Hammerhead is a relative newcomer to the cycling computer market has made a name for itself by eschewing the idea that bike computers must be small and instead focusing on making them more readable.
The display on the Hammerhead Karoo 2 is stunning with full-color high resolution and a huge 3.2" touchscreen. You won't be squinting or shielding the screen from the sun to read it. The Karoo 2 makes full use of this big display with easy-to-read mapping and beautiful graphs of your ride data.
This Android-based bike computer's sensors support ANT+ and Bluetooth for heart rate monitor, cadence, power, and Shimano Di2 electronic shifting. It even has mobile data connectivity that supports 2G, 3G, and 4G networks. You only need to insert your local SIM card.
Pros : Beautiful 3.2″ touch screen with excellent navigation functionalities.
Cons : No cover for USB charging port.
Screen Size : 2.7″ (69mm)
Weight : 83g
Dimension : 78.3 x 57.5 x 26.6mm
The Lezyne Mega XL is for those who are doing epic, long rides and needs a bike computer with plenty of battery life. The lithium polymer battery can last up to 48 hours of continuous riding and can be recharged via Micro-USB.
While the overall appearance is not as sexy as others such as Wahoo Fitness or Hammerhead, the Lezyne Mega XL packs a punch. You can use it in both horizontal and vertical orientation depending on your needs. The 2.7", 240×400 black and white screen can display up to 12 data fields per page.
Pros : 48 hours battery life.
Cons : Bulky design.
Best for Serious Training
Screen Size : 2.7″ (69mm)
Weight : 93g
Dimension : 63 x 71 x 20mm
Germany outfit SRM is the gold standard when it comes to cycling power meters. There was a period in time when the majority of the World Tour riders were using SRM bike computers and power meters before the recent proliferation of other brands such as Stages, 4iiii, and power2max. As recent as 5 years ago, it is the most recognizable bike computer in professional cycling.
The SRM Powercontrol 8 (PC8) was launched in 2014 with a less is more philosophy. You will not find other non-training related features on this bike computer such as navigation, maps, smartphone integration, and even Strava live segments.
The large, ambient light-sensitive, black and white screen presents all the training data you will need for your workout and can store up to 4,000 hours' worth of training data.
For us, the standout is the anodized 6061 aluminum shell which makes the PC8 look cool and pro. It is available in ten colors and you can also personalize the left and right panels. Unlike other brands, the SRM PC8 comes with a 3 years warranty.
Pros : Simple clean data field layout.
Cons : Expensive for a unit without navigational features and Bluetooth connectivity.
How Much Bike Computers Cost?
There are three categories of cycling computers. This depends on the price vs features.
Basic and Budget (Below $100). Basic models are ideal for beginner cyclists and those who know they don't need advanced features. These only have basic displays with speed, distance, ride duration, and time. It's unlikely they'll feature much connectivity beyond USB support. But again, it shouldn't be much of an issue if you only need basic data.
Mid-Range ($100 to $300). Those who desire a wider range of features will opt for a mid-range one. You get a bigger, customizable, and sometimes color and touchscreen too. They come with navigation functionalities, wireless connectivity such as Bluetooth, ANT+, Wi-Fi for you to upload your rides to third-party platforms such as Strava.
Premium ($300+). These are flagship models for those who want the full suite of features akin to those found on a smartphone. They have advanced navigation, training modes, increased storage options, longer-lasting batteries, sharper displays, bigger screens, and much more.
What to Look for in A Bike Computer?
Bike computers can cost upwards of $300 for a premium model. Before you spend hundreds of dollars on bike computers, here are some important things you should know.
After reading this buying guide, you'll be able to better determine if it's wiser to buy a basic model, or you'll need a more advanced model.
Display. Most bike computers today have a screen size between 2.3″ (small) to 3.5″ (large). A larger screen allows for more data fields but at the expense of weight and battery life. If you use the bike computer often for navigation, you want to have a color screen to differentiate between the roads and paths. Mid-range to flagship cycling computers such as the Garmin Edge 830 has a color touchscreen.
User-friendly interface. The model that you decide to buy will come down in large part to the type of interface you prefer and how easy to read the data fields and use. Some models come with customizable screens with various data fields while some aren't. They also range from full touchscreen to button operated, with some a hybrid of both such as the Hammerhead Karoo 2.
Battery capacity. If most of your rides are seldom more than 4 to 5 hours long, you won't need a large battery. You can always charge them post-ride. The Wahoo Fitness ELEMNT Bolt and Bryton Rider 420 have a battery lifespan between 8 to 15 hours. You will get at least 3 to 4 rides done before the battery runs flat. The Lezyne Mega XL has a huge battery that lasts up to 48 hours.
Wireless connectivity. This is where your individual needs will come into play. Bluetooth and ANT+ connect to accessories such as a powermeter, heart rate monitor, and cadence/speed sensors. If you're using third-party apps like Strava, then you'll want one that supports Wi-Fi to upload your rides.
Bundled accessories (Speed, Cadence, HRM). Mid to high-end bike computers can come bundled with accessories such as a heart rate monitor, speed, and cadence sensors. These are optional, but if you're a data nerd, you might want to consider getting them. In Garmin's case, the bundle is optional and you can also buy the standalone unit. Having said that, the bundle is optional. Or in Hammerhead's case, you can buy their HRM at half price when you buy the head unit.
Frequently Asked Questions
What is the alternative to a bike computer?
You can use your smartphone to function as a bike computer. Most cyclists bring their smartphones with them while riding and using the smartphone is a very popular choice among commuters. 
Just install apps like Strava and it can track your current speed, riding distance and time. You'll also need to get a secure and reliable phone mount to mount the smartphone on the handlebars.
Which is better – Garmin or Wahoo?
Both Garmin and Wahoo are the leading brands in bike computers. Garmin was the pioneer and Wahoo is the newer kid on the block and they've made very significant progress in the past few years.
Generally, Garmin has a broader range of computers ranging from low to high-end while Wahoo is more from mid to high-end. One important thing to note is that all Wahoo bike computers are non-touchscreen, even for their top-tiered model, the Wahoo Elemnt Roam.
Do I need to buy cadence and speed sensors?
Cadence sensors are optional. If your bike computer has no GPS capabilities, then the speed sensor is necessary.
Can I sync the bike computer to my smartphone to view my training data?
You can sync to your smartphone as long as they support Bluetooth or Wi-Fi. You'll need to install the companion apps such as Garmin Connect, Wahoo Elemnt or Lezyne Ally on your phone.
The app can display things like incoming calls and messages during your rides.
Once you're home, you can sync the ride with Training Peaks, Strava, or Today's Plan to view and analyze the data.