Front lights are increasingly becoming a very important piece of accessories to have especially when it comes to safety. They serve 2 purposes; for you to see and be seen.
With so many models in the market today to choose from, it doesn't come as a surprise that the most commonly asked question among road cyclists is;
Which is the best bike headlight to buy?
How many lumens do I need?
There are many things to consider such as the brightness levels, the number of light modes, battery life, and more. 
How We Pick Bike Headlights
We start by thoroughly researching all the bike lights for sale at the largest stores such as Competitive Cyclist, Jenson USA, Wiggle, Chain Reaction Cycles, and Amazon. Then, we trimmed down to only those with more than 50 positive reviews and an average star rating higher than four out of five.
Since we began publishing this guide a few years ago, we've always kept an eye for newly launched products and are in constant contact with the manufacturers through direct contact, meeting up at bike expos (pre-COVID), and scouring press releases.
In making our picks for bike lights, we focus on the objective criteria below :
Price points. Lights can cost anywhere from $20 up to $200. The more features, the higher the price. Our budget picks are between $50 to $70 and smart light picks usually range from $150+.
Brightness settings. The brightness you need depends on where and when you ride. We picked daytime riding lights that are much smaller, compact, and between 50 to 100 lumens. If you do mountain biking at night, you'll need at least 1,200+ lumens. The sweet spot for road cycling (day and night) is between 400 to 800 lumens.
USB rechargeable lights make it more convenient and environmentally friendly. You can forget about disposable batteries.
LED Bulbs. There is a general consensus that LED bulbs last longer and is way more energy-efficient than traditional bulbs. 
Mount Compatibility. All our picks are known for their sturdy handlebar and helmet mounts. Depending on the models, they can be mounted either on top or in front of the handlebars. Some models can be mounted below the bike computer for a cleaner look.
I covered these in detail in our bike lights buying guide.
A Quick Glance : Our Favorite Bicycle Headlights
Value for Money Bike Headlights
Brightness : 600 lumens
Number of Light Modes : 6
Weight : 114g
The PWR is Knog's latest addition to their already solid lineup of bike lights.
With the PWR Rider, not only you'll get 600 lumens of light output, but you'll also get a power bank to go with it. That's why it's called PWR to begin with.
The battery pack can be used to power the headlight as well as charge all your other electronic devices while riding. To put things in perspective, you can charge an iPhone7 from flat to 50% and do an hour of riding at 600 lumens.
Best of all, you can program the light modes to suit your needs through their ModeMaker app.
Pros : Dual function as a light and battery pack. Light modes can be customized and programmed through the app.
Con : Bulkier than its peers due to the larger battery size.
Brightness : 700 lumens
Number of Light Modes : 4
Weight : 121g
The Light and Motion Urban 700 is the smaller version of the popular Urban 900 which is available in a light set with front and rear lights.
The only significant difference between the 2 models is the brightness level. At 700 lumens, it's ideal for everyday riding through well-lit street lighting.
Other than that, you still get all the good stuff Light and Motion is well known for; FL-1 certified, CREE LED, and a durable, waterproof body but at a lower price point.
Pros : Tough, and durable body.
Cons : Old-looking design might not be for some.
Brightness : 600 lumens
Number of Light Modes : 9
Weight : 97g
Don't be fooled by this small and compact headlight. It's seriously bright for its size at 600 lumens.
Couple this with the Enhanced Maximum Optical Reflection lens, you'll get built-in side visibility which is important for riding around urban areas.
If you're particular about colors, there's good news for you. There's a silver color model besides the standard black to choose from.
Pros : Lightweight aluminum body casing.
Cons : Rubber strap mount is prone to breaking.
Lights for Daytime Riding
Brightness : 200 lumens
Number of Light Modes : 6
Weight : 94g
The best bike lights will allow you to see and be seen. The Stix Elite 2 does a great job of both. This light includes a night and day mode, with enough brightness for you to be seen, whether it's day or night.
The two headlight system puts out up to 200 lumens with 2.5 to 112 hours running time depending on the brightness mode. Two steady beam modes allow you to light your way depending on light conditions, while the flash modes maximize your visibility to motorists.
The battery indicator lights let you know when your batteries are near the end of their life. The light plugs directly into a USB port for charging with no need to keep up with a cord.
Pros : USB charging port doesn't require cables.
Cons : Silicone strap is prone to breaking and replacement is not easy to come by.
Brightness : 15 lumens
Number of Light Modes : 5
Weight : 31g
The Femto Drive is one of the latest compact lights from Lezyne, taking over from the hugely popular Lezyne Zecto. If you've been following Lezyne, you'll know that they manufacture some of the best cycling accessories today.
This compact bike light has a max output of only 15 lumens, making it only suitable for daytime riding. Choose from 5 different light outputs and you're set to go.
If you ride a lot in urban areas, you'll like their Wide Angle Optics lens which provides a 270° of visibility. Couple that with 20 hours of use time and a USB rechargeable battery, this is a handy light for commuters.
Pros : Lightweight, compact with long battery life.
Cons : On/off button is flimsy and doesn't work well with gloves on.
Knog Blinder Mob Kid Grid
Brightness : 80 lumens
Number of Light Modes : 5
Weight : 35g
The Kid Grid is part of Knog's Blinder Mob's headlight lineup.
What's unique about the Kid Grid is it uses 16 Surface Mounted LED lights that produce 80 lumens at its maximum brightness. It comes with 5 different modes which you can toggle between Steady High, Steady Low, Strobe, Fancy Flash, Eco Flash mode.
Another unique feature is its cable-free charging where it doesn't have the standard micro USB charging port. Instead, you can insert the light directly into a female USB charging cable.
Pros : Very bright for a compact-sized light.
Cons : More expensive than its peers.
Brightness : 800 lumens
Number of Light Modes : 4
Weight : 130g
The Varia signifies Garmin's entry into the bike headlight market.
It comes with 800 lumens and 4 lighting modes – auto, high, low, and flashing modes. Being an intelligent headlight, it pairs with the Garmin Edge computers, allowing it to adjust the light beam patterns according to your speed.
The faster your speed is, the farther away it shines and vice versa.
Pros : Integrates with all Garmin bike computers for added functionalities.
Cons : Expect to pay a premium price.
Brightness : 600 lumens
Number of Light Modes : 3
Weight : 195g
The unique thing bout the Cycliq Fly12 is it combines a headlight with an HD bike camera.
The ultra wide-angle camera (135˚ field of view) records audio and video at full HD at 1080p, 60fps. It also has a High Dynamic Range (HDR) option which allows you to record videos with amazing clarity under difficult conditions.
It can connect automatically when connected to the Garmin Edge computers via ANT+, or to your smartphone via Bluetooth.
The CycliqPlus software allows you to seamlessly overlay ride data (speed, HR, power, etc) onto the videos for quick sharing.
Pros : Functions as a bike light and action camera simultaneously.
Cons : Heavy and bulky.
Exposure Lights Sirius MK9
Brightness : 750 lumens
Number of Light Modes : 7
Weight : 84g
The Exposure Sirius is a great-looking headlight from the British brand, Exposure Lights. It's now in its 9th iteration (hence the MK9), so you can be sure that a lot of work has been done to improve it based on the cyclists' feedbacks.
Its body is constructed from an anodized aluminum casing, making it very durable. At max power, the single CREE LED shines at 750 lumens, but with a shorter burn time of 1.5 hours. As you tone down the brightness, the burn time increases up to 36 hours for flashing mode. 
There are altogether 7 modes for you to choose from including High, Medium, Low, Flashing, and Day Bright which is useful to ensure you're seen by other road users while riding during the day.
Pros : Sleek-looking aluminum body design.
Cons : Expect a premium price tag.
Bike Headlights for Night Riding
NiteRider Lumina Task Force 1100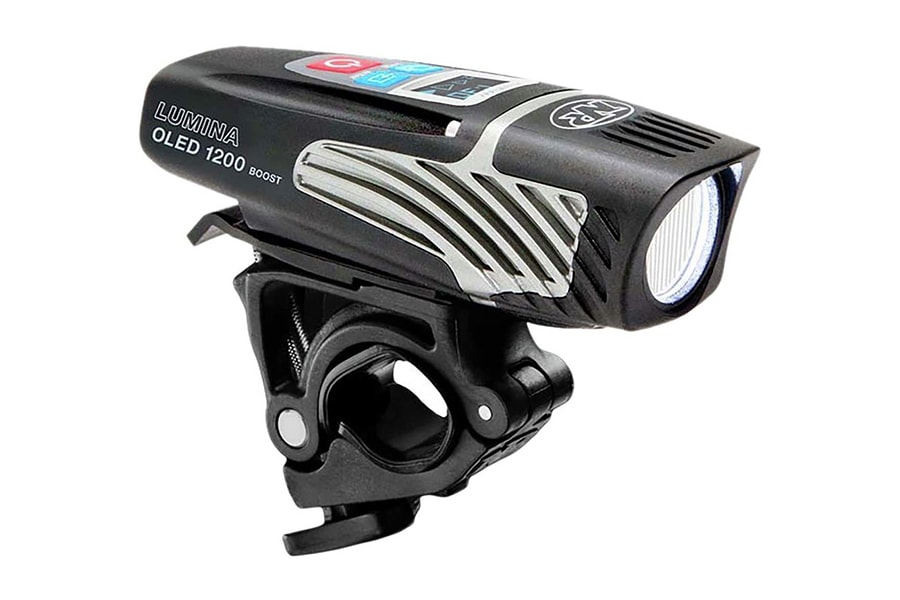 Brightness : 1,100 lumens
Number of Light Modes : 9
Weight : 172g
A premium, super-bright headlight by NiteRider with an OLED display on the top. This light is powered by industry-leading CREE LED lights with a wide beam pattern.
The multifunctional display on the NiteRider Lumina has a built-in low battery indicator that shows you exactly how much battery is left in percentage and estimated run times so you don't have to worry about running out of battery juice again.
Pros : OLED screen displays light and battery status.
Cons : Heavy and bulky.
Brightness : 1,250 lumens
Number of Light Modes : 7
Weight : 185g
When you're riding at night, you need maximum visibility, and that's what you get with the Flux 1250, which offers enough brightness to light the way. It features six settings ranging from very low to steady high, allowing for plenty of versatility to meet a wide variety of light conditions.
It also includes a daytime running light mode for increased visibility during the day. Battery run time varies from 20 hours for the flash mode to 1.5 hours at the highest setting with the Flux 1250's 3,400 mAh lithium-ion battery. With an IPX7 waterproof rating, this light will hold up to the wettest weather.
The Flux 1250 attaches to your handlebars with a quick-release bar mount.
Pros : Very bright for the unlit roads..
Cons : Mount will not work with non-rounded handlebars.
Brightness : 1,100 lumens
Number of Light Modes : 9
Weight : 150g
This Cygolite Metro Pro 1100 high-end bike front light from Cygolite is the first to exceed 1,000 lumens with a single LED which is quite an achievement itself.
At 1100 lumens, the Cygolite Metro Pro is suitable for both on and off-road riding. There are 9 lighting modes to choose from; more than enough to cover all your riding needs.
The unique thing about Cygolite is the SteadyPulse mode where the LED light shines a solid beam pattern and a pulse simultaneously to alert oncoming vehicles.
Pros : Unique light beam that shines and pulses simultaneously.
Cons : Long charging times.
Frequently Asked Questions
In the preceding section, I tried to cover as much as possible, but there are a few particularly common questions cyclists have about bike lights.
I'll address them below.
How many lumens do I need for road cycling?
The ideal brightness for a bike light is between 300 to 600 lumens. The Knog PWR Road and Lezyne Micro Drive 600XL fall into this category.
If you're riding mostly along unlit bike paths, then you can go up to 800 lumens such as the Exposure Lights Sirius.
As I've mentioned above, you don't need the highest lumens for 2 very simple reasons. If you're riding on the road, you could risk blinding the oncoming cars.
Secondly, running on the brightest mode will significantly shorten the battery life.
Is it illegal to ride without lights at night?