Looking to buy a bike pump but unsure which one to get?
I know picking the right one can sometimes be a tough decision because there are so many out there. But only very few good quality ones.
There are floor, hand, mini pumps, and track pumps. To make things a little more complicated, each one has different usage and are marketed differently.
How do you know which one to buy?
What's the difference between Schrader or Presta?
On this page, I'll share with you what to look for in a bike pump, and also some of my favorites.
A Quick Glance : Our Favorite Bike Pumps
Topeak's Joe Blow Sport series has set the standard for years when it comes to bicycle floor pumps.
Next time when you're at a cyclist's house, take a look at the pump they're using. Odds are, they've got a Topeak pump somewhere in the garage, or they've previously owned one.
With a massive 3″ analog gauge, a steel barrel, a padded ergonomic handle, and a TwinHead DX valve head, the feature-rich Topeak Joe Blow Sport 3 takes its heritage to a new level and makes inflating the bike tires effortless.
Pros : Valve head is compatible with Presta and Schrader valves without needing to swap.
Cons : The base is slightly narrow for stability.
The Lezyne CNC Travel Drive falls somewhere between a floor, portable, and mini pump. In fact, it's a sweet combination of all three.
Blending the best in size, construction quality, and efficiency, the Lezyne CNC Travel Drive requires minimal effort to get your bike tires inflated. It also won't take much space in your bike bag if you carry it for travel.
Its smooth yet rugged CNC lightweight aluminum construction makes it a pleasure to look at, while the quality construction ensures it'll last for many years to come.
Pros : Lightweight and can be used for traveling.
Cons : Expect to pay a slightly higher price.
This is the improved version of the trendy Silca SuperPista classic pump, which has been the ultimate floor pump a cyclist can own.
Don't be fooled by its old-school looks. The SuperPista Digital comes with all the bells and whistles you'd expect from a top-quality pump. Featuring an ash wood carved handle, incredible looks, and a high-efficiency piston, this pump is rated up to 220psi.
For this digital version, the super-accurate digital gauge is accurate to 1% and is the backlight, which has an adjustable pressure alarm and adjustable pressure units that use two CR2032 batteries.
The Silca SuperPista stands the test of time and is a piece of bike equipment you can pass on to the next generation.
Pros : Very accurate digital display.
Cons : Expensive.
Stop wasting money and adding waste to the environment by inflating your tubeless tires with Co2 canisters. Use this one instead. Topeak's Joe Blow Booster stores up to a one-liter 160 PSI air burst, which is enough to quickly seat your tubeless tire on the rim.
Once the tire is on the bead, simply flip the switch from charge to boost, and your pump is ready to inflate the tire to your desired pressure. An easy-to-read valve allows you to get the precise air pressure in your bike tires. It is compatible with both Presta and Schrader valves.
Pros : Very solid and high quality built.
Cons : Be prepared to pay more.
If you think you need a bulky and expensive air compressor in order to make the switch to tubeless tires, think again. The Blackburn Chamber allows you to seat and inflates a tubeless tire by hand.
It incorporates a riser bar into its design that creates a large burst of air that seats the tire onto the bike. From there it's just a matter of pumping the tire to your desired tire pressure. 
It includes an extra-long 47″ hose, keeping you safely away from the explosion of air in case something goes awry. The valve works with a variety of valves including Presta, Schrader, and Dunlop. 
Pros : Wide handle makes pumping easier at higher pressures.
Cons : Stock can hard to come by.
Lezyne Pressure Over Drive
Tubeless tires come with many advantages over their tubular brethren. Mounting and inflating are not one of them. This process is really the one obstacle that keeps most cyclists from making the switch. Having to make a trip to the bike shop or purchase boxes of Co2 cartridges isn't an attractive option.
Lezyne's Pressure Over Drive is. It features a massive auxiliary chamber that allows you to load up the PSIs to release a single burst of compressed air that is enough to mount a tubeless tire. 
Pros : Works with Presta, Schrader, and Dunlop valves.
Cons : Expect to pay more.
Many of us equate inflating a tire with a hand pump with a flurry of arm motions, and burning bicep and shoulder muscles. 
Not so with the Lezyne Road Drive, which pushes more air with each stroke, meaning there are fewer total pumps needed to get the tire to the right PSI. 
That's just one of the great ergonomic features of the Lezyne, which eliminates much of the awkwardness we associate with hand pumps. A detachable flex hose means no more awkwardly having to hold it against the tire valve while pumping. 
And because it is designed for Presta only, it includes a slip chuck, which keeps it locked to the valve while you're pumping away. 
Pros : Detachable and flexible hose makes pumping in awkward positions easier.
Cons : Only for Presta valves.
Most people want two things out of a hand pump. They want it to be small, and they want it to be powerful. These seem like two opposing features when it comes to a hand pump. 
Blackburn says they aren't. 
It is small enough to cling discreetly to your frame or even fit on the webbing of a hydration pack. Don't be fooled by its diminutive size, though. It has a max 120 PSI. It also offers some nice features that make it easier to use. 
This includes a flexible pull-out hose that stays safely stored and out of the way in the barrel of the pump when not in use. 
Pros : Works for both Presta and Schrader valves.
Cons : Needs a lot of effort from 60 PSI onwards.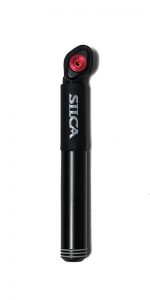 Just when you thought mini pumps couldn't be cool. The Silca Pocket Impero is a stylish and functional piece of equipment that punches way above its weight.
Constructed out of CNC machined aluminum and featuring a perfectly ergonomic body attached to a brass check valve, 3mm thick leather gasket, and aluminum valve head, the Pocket Impero is very handy when you get a flat tire.
Pros : Thick leather gasket makes pumping at higher PSI much easier compared to the rest.
Cons : Be prepared to fork out a lot more money.
Bike pumps come in various types, sizes and usage. Here are some of the commonly found ones.
The floor pump is arguably the most common type found in most cyclists home. They can be made of either aluminium, steel or plastic.
The long barrel and piston shaft allows you to quickly and easily pump up your road tires to high air pressures as they can push a large amount of air. There's an air pressure gauge to indicate the air pressure you're at.
A subset of floor pumps is the track pump. As the name implies, they're designed for track bikes, which require even higher air pressure, usually above 160psi/11bar.
One good example is the Silca SuperPista Digital Floor Pump which can reach up to 250psi/17bar.
Sometimes, it's also referred to as a mini or frame pump due to its smaller size and is mounted on the bike frame. Because it's smaller, it doesn't pump up to high pressures. Pumping gets harder as the air pressure increases.
Geek Tip : Hand pump usually max out at around 100psi/6.9bar and is enough to get you home safely. 
Most of them don't come with an air pressure gauge, so you've to use your finger to pinch the bike tires to get a feel of the air pressure.
Some models have a retractable hose such as the Blackburn Core Mini Pump, making pumping slightly easier by the roadside.
It's smaller than a floor pump but larger than a hand pump, making it a hybrid version of both. It is ideal for traveling as it can be easily packed into your bike bag.
Some models are small enough to be carried in your back pocket. Because it's the slightly larger version of the mini pump, it's easier to pump, and they can usually go up to around 120psi/8.3bar.
2. Inflator Head - Presta vs Schrader Valves
These days, there are 2 types of valves used for a bike's inner tubes.
Most pumps today are compatible with both Presta and Schrader valves. 
Some support both types of valves, while some would require you to manually switch between one and the other. You can easily do this by opening up the inflator head and flip the rubber and plastic pieces.
Also known as the French valves, they're the thinner valves used in all road bikes because they can take a higher air pressure.
To use a Presta valve, you'll need to unscrew the top screw at the top before you can pump and then tighten it back so that it doesn't accidentally get depressed and release the air.
Since road bike wheels have narrower rims, adding a hole in the rim will significantly reduce the cross-sectional strength. Hence, Presta valves are used due to their thin nature and require only a small hole than Schrader valves.
Also known as the American valves, they're the thicker valves and more commonly used. They can be found in cars, mountain bikes, and kids' bikes.
They're easier to use compared to the Presta valves. All you need to do is to remove the cap and insert the inflator head. In fact, you can easily pump up a Schrader valve at the gas station.
Floor pumps like the Topeak Joe Blow Sport 3 have twin heads, so you don't need to switch them around manually.
Geek Tip : Presta valves are used in road bikes and Schrader valves in mountain bikes, kids bikes and cars.
3. Build Quality – Steel vs Aluminum vs Plastic
The pump's build quality is the one place you'll want to make sure you don't skimp. There's nothing quite like having a well-built and bomb-proof pump at home.
A good pump is usually made of steel or aluminum. The sturdiness of these metals gives your a feeling of a solid, reliable, and high-quality pump, especially if you're pumping anything above 60psi/4bar.
Since steel or aluminum pumps are more sturdy, they generally give you a higher air volume per stroke. Hence, making life much easier for you.
The Silca Superpista is well-known among cyclists for its super high-quality build and will last you for decades. For that, it comes with a heavy price tag.
On the other hand, plastic pumps are lightweight, cheaper, and easier to carry around especially to races. While they might not give you a high-quality feel, they still perform the job well.
Geek Tip : Go for a pump with aluminum or steel barrel.
4. Air Pressure Gauge – Analogue vs Digital
Gauge preference has more to do with reliability than you might imagine.
A digital gauge might seem cool, nice, and easy to read. But the problem with a digital air gauge is that the electronics are vulnerable to malfunction and the battery running out.
On top of that, a similar pump with a digital air gauge generally costs more. You're paying for the electronics instead of the build quality.
For that reason, I'd recommend sticking with the old-school analog gauge. They won't let you down.
Geek Tip : Go for a pump with analogue air pressure gauge.
Frequently Asked Questions
1. Can I use a bike pump to inflate the car tire?
Yes, it can since car tires are the standard Schrader valves. However, it'll take a lot of effort and time to fully inflate a car's tire as they have a much higher volume compared to a road bike tire.
At 32psi/2.2bar, the car tire has about 10L of air volume compared to the bike tire which has approximately 4L at 85psi/5.9bar.
2. How do I convert a Presta to a Schrader valve?
You can convert Presta to Schrader valve using a screw-on adapter. By using this adapter, you can inflate your bicycle tires at the gas station, since the pump inflator heads only support Schrader valves.
Most gas station pumps only go up to 80psi/5.5bar. Once you're done, remember to turn the air pressure setting down.
3. How does a bike pump work?
The pump has a piston connected to a handle at the top. Inside the barrel (body), there is an inlet and outlet valve which control the airflow.
As the piston is pulled up, the inlet valve opens and lets the outside air into the barrel. When you push the piston downwards, the inlet valve shuts and the outlet valve opens.
As you push the piston further downwards, the air is compressed and pushed outwards through the rubber hose and eventually to the bicycle tires, via the inflator head.