Are you on the lookout for a tail light for your riding during the day and night?
As someone who has been through numerous bike lights buying processes, I know there are many questions in your mind right now, such as:
How bright or how many lumens do I need?
How long will the battery last me?
Can I mount it on my seat post, seat stays, or even helmet?
Well, it's normal to have those questions. In fact, you should be asking these questions. Here are 3 things I'd consider.
Brightness between 50 to 100 lumens is ideal. Too bright and it could blind the guy behind you.
Rechargeable USB batteries.
Versatile mounting system especially if you're using a non-rounded (aero) seatpost.
I have these covered in detail in the buying section below and also share with you some of my favorite picks.
A Quick Glance : Our Favorite Bicycle Tail Lights
Brightness : 150 lumens
Battery Life : 2.5 to 210 hours (6 modes)
If you're looking for a tail light that is super bright and doesn't blow a huge hole in your pocket, then you should consider the Cygolite Hotshot 150.
By now, you might be wondering what makes this a budget option then?
It's due to its design. It's neither stylish nor sleek, but it definitely works and does its job well. You can mount it on both the seatposts and seat stays with the 2 different mounts provided. The mounting system gives you the flexibility to tilt the light to your preferred angle, but it's definitely not pretty.
It comes with 6 different modes, which you easily adjust using a 2-button operation. The battery run time ranges between 2:30 hours and up to a whopping 210 hours running at low brightness.
Pros : Excellent value for money with 6 light modes.
Cons : USB charging port is prone to water ingress.
Brightness : 150 lumens
Battery Life : 1 to 8 hours (6 modes)
One thing that makes the CatEye Rapid X3 stand out is its Lumens to Size ratio. The small yet stylishly designed Rapid X3 delivers 100 Lumens at its maximum brightness. This is more than enough for you to be seen both during the day and night.
It's solidly built as you would expect from any Japanese brand, especially from Cateye, which has been in the business for more than 50 years. I also like this light because you can mount it on both the seat post and seat stays. It comes with rubber straps of various sizes to cater to this.
My only gripe with this model is that the rechargeable USB port is covered by only a thin piece of rubber and prone to getting wet if you're caught in a heavy downpour. I've had one sent in for a warranty replacement due to this.
Pros : Slim, lightweight yet very powerful at 150 lumens.
Cons : USB charging port is prone to water ingress.
Brightness : 70 lumens
Battery Life : 3.5 to 20 hours (5 modes)
If you are in the market for a rear light that is brilliantly bright coupled with a sleek design, then look no further than the Knog Blinder Road R70.
With a max output of 70 Lumens, the Knog Blinder R70 makes you highly visible and will definitely grab the attention of drivers behind you.
The Blinder R70 also brought a lot to the table by giving you the option to choose between 5 different light modes and runtime. My preferred mode is the Eco Flash as they last much longer at 20 hours and have a flash beam pattern that attracts attention.
The LED's are carefully placed at an angle that doesn't blind the drivers but grabs their attention instead.
Pros : 100% waterproof, dustproof, and securely sealed.
Cons : Rubber band for mounting is prone to breaking (but easily replaceable).
Read More : Knog Blinder Road R70 Review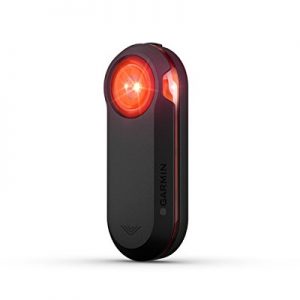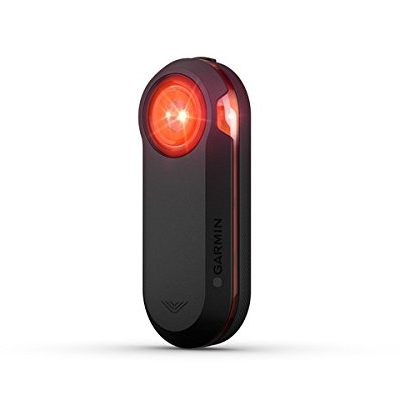 Brightness : 65 lumens
Battery Life : 6 to 15 hours (3 modes)
If you're an owner of one of the wide variety of Garmin cycling computers, then the Garmin Varia RTL 515 (Radar Tail Light) is a must-have. 
This sleek light is equipped with a radar system that senses approaching cars from up to 153 meters away. That's more than one-and-a-half football fields! 
It will then alert you audibly and visibly through your Garmin device. It has the capability to identify the speed of the oncoming car and will provide color warnings. An amber light indicates a car is approaching. A red light means a car is approaching at high speeds.
The Garmin Varia's brightness ranges from 20 to 65 lumens depending on the mode and offers a 220º range of visibility. Battery life is up to 15 hours. 
The Varia's sleek vertical design makes it a shallow profile option for serious riders. This unit does require a compatible Garmin device.
Pros : Built-in rear radar that provides a warning for approaching cars.
Cons : Large size and be prepared to pay more.
Brightness : 50 lumens
Battery Life : 4 to 5 hours (2 modes)
Cycliq's founder got the idea of his cycling cams after getting pegged by a slingshot-wielding driver while out on a ride. If you've ever had a similar experience, then you might be interested in the Fly6.
Cycliq is on a mission to get idiots off the road with this cycling cam.
The Fly6 is a 100-lumen light integrated with an HD bike camera that mounts to your seat post. Its ultra-wide hi-def lens is designed to have enough clarity to capture all the action, including license plate numbers.
The video camera records video footage on an SD card, looping after running out of space to avoid gaps. It is ANT+ and Bluetooth compatible, allowing it to interface with most Garmin computers and smartphone apps and its CycliqPlus app, which allows you to edit uploaded videos.
The Fly6 also includes a built-in bike alarm, which sends an alert to your smartphone when your bike is moved.
Pros : Built-in rear camera with 135º view.
Cons : Expensive.
Super Bright for Maximum Visibility
Brightness : 150 lumens
Battery Life : 6 to 48 hours (3 modes)
Want a light that will give you max visibility with some pretty cool smart functions? The Blaze Mk3 is for you. It offers many options that all work together to make you more visible.
In addition to being very bright, you don't have to worry about blinding your fellow riders. It includes ReAKT technology that gives this light some pretty cool smart functionality. 
It will automatically dim when you are in the middle or front of the pack, then brighten when you are at the pack's back. The Blaze Mk3 will also detect ambient light conditions and adjust brightness accordingly, ensuring that you will be as visible as possible while not blinding other riders or drivers. 
It is equipped with a lithium-ion battery that provides up to 48 hours of run time. If you need even longer run times, you can also purchase the add-on battery pack separately.
Pros : Solid aluminum body built.
Cons : Be prepared to pay a premium price.
Brightness : 200 lumens
Battery Life : 2 to 210 hours (6 modes)
With a 200 lumen max output, the Cygolite Hotshot Pro 200 ensures that approaching cars will see you long before they pass you.
Cygolite produced its first LED blinking tail light in 1991 and has designed lights for bikes ever since. Its latest offering, the Hotshot Pro 200, is quite simply the brightest rear light on the market. 
It offers six different flash modes that allow you to adjust the tempo of the flashes. It also senses ambient lighting, allowing it to adjust for brightness in the daytime and nighttime automatically.
Mounting is a breeze with the Hotshot Pro 200's flexible mount, attached to both standard and aero seat posts. This light is equipped with a rechargeable lithium-ion battery that provides up to 210 hours of run time.
Pros : Small and compact with a very long battery life.
Cons : Rubber straps are prone to breaking.
Brightness : 180 lumens
Battery Life : 4 to 32 hours (4 modes)
It's common to find front lights with a wide range of intensity, blinking, and even color options. But what about tail lights? Why do they always seem to get left out? 
Light and Motion has identified that gap, and its response is the Vis 180, a tail light that comes with all the bells and whistles. This includes multiple light modes, including flashing and steady. It also has amber-colored sidelights, which make you visible from a profile view. 
A paceline mode also prevents you from becoming that guy in the paceline. This mode cuts the red light in favor of amber light, preventing the cyclist behind you from getting blinded. 
It's also available in a set with front and rear lights.
Pros : Sidelights provide additional visibility especially in urban areas.
Cons : 180 lumens could be overkill if you're riding in a group.
Lights with Accelerometer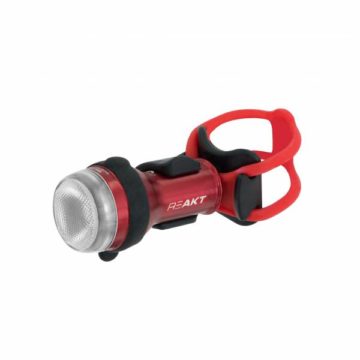 Brightness : 75 lumens
Battery Life : 3 to 24 hours (3 modes)
The Exposure Lights TraceR ReAKT has plenty of brightness and long battery life in a very compact body.
Packing a 75 lumens LED into such a compact and lightweight body is a major achievement for British-based Exposure Lights.
It's the successor of the TraceR, with a big difference being the ReAKT (Ambient Kinetic Technology). In layman's terms, the ReAKT is a combination of an accelerometer and ambient light sensor built into its electronics.
As you ride along roads with changing light conditions, the brightness will adapt accordingly to ensure you're continuously visible. And as you brake and slow down, the blinking lights will change to steady light, just like a car brake light.
Mounting these requires absolutely no tools using the silicon rubber straps and plastic mount provided in the box. However, you'll need to purchase a separate mounting for aero seatposts.
Pros : Sleek, compact and minimalist design.
Cons : Expect to pay a higher price.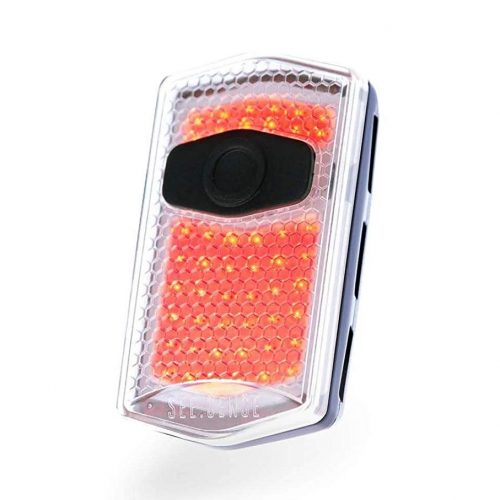 Brightness : 125 lumens
Battery Life : 10 hours
See.Sense is among the market pioneers that manufacturers smart bike lights today. The See.Sense ACE is the successor to their very popular ICON and ICON+ models.
The ACE is 125 lumens bright, bright enough to make you very visible on the darkest of roads. On top of that, the ACE features a 200° side visibility, increasing your visibility, especially around urban areas.
So, there's no reason for a driver not to notice you. And better still, the ACE is both connected and intelligent. It has built-in sensors (accelerometer and light sensor) and electronic circuitry that allows the ACE to adapt its brightness and flash patterns according to its surroundings.
As you brake to slow down at junctions and roundabouts, the ACE will adapt accordingly to ensure you're clearly visible by the cars behind.
For those who're geeky, the ACE pairs to your smartphone where you can manually control the brightness, low battery indicator lights, set reminders to charge, firmware updates, and even inform your loved ones in case you're involved in a crash, with your exact location.
Pros : Built-in rear light sensors adjust the brightness dynamically.
Cons : Expect to pay a higher price compared to lights with similar brightness.
Bicycle Tail Lights Buying Guide
The brightness is the most important aspect you should consider before everything else.
Generally, the higher the lumens rating, the brighter it is. On the other hand, it would also consume more battery power.
Geek Tip : Get a tail light with at least 50 lumens for you to be clearly visible, both day and night.
Today, most bike lights manufactured by reputable brands usually have long battery life. You can expect up to 20 hours of battery life if you run them on flash mode.
If you're on a tight budget, there are still some that run on replaceable alkaline batteries but they're getting lesser these days.
Geek Tip : USB rechargeable Li-Ion are the preferred type of batteries.
You'd agree with me that the era of using lights bulbs is coming to an end, and everyone is changing to the use of LEDs.
LEDs are much brighter while consuming less power, last almost forever, and don't get hot.
Geek Tip : Go with LED's.
You might want to consider a bike light that gives you various mounting options.
Some of the common mounting locations are the seat post, seat stays, helmet, or on the bike rack if you have one.
Things get a little complicated if you have an aero or flat shaped seatpost where your choice of tail lights will be reduced.
Geek Tip : Go with a rubber strap mounting as they are stretchable over a range of seat post sizes and shapes.
Frequently Asked Questions
1. How do I mount the rear light on my road bike?
Many people would mount it on the seat post. Some have a separate mounting for the aero seat post since its shape is slightly different.
Personally, I'd prefer a mounting system that uses silicone or rubber straps as these fit all types of seatposts and are easily replaceable should they break.
Alternatively, there are also models that can be mounted on the seat stays if the mounting system supports it.
However, be aware that mounting it this way is not ideal as the light is pointing towards the sky at a 45º angle rather than to the driver behind you.
3. Should I use a rear light during the day?
Yes. Absolutely.
According to ROSPA, 80% of cycling accidents occur during the day, especially in urban areas where there are many distractions for the drivers.
It is one of the best gifts for a cyclist family or friend. A bright rear light set on blinking mode would attract their attention and make you visible. If you're still not convinced, here are another 5 reasons why you should use bike lights.