Here's something you'll notice at a cyclist's home.
They've their own set of bicycle tools.
When it comes to bicycle maintenance, you don't always need to send your bike to the mechanic. Sometimes, you'll be better off doing it yourself at home especially for the minor repairs. There are many videos on Youtube to guide you through if you're new to these.
If you're new, you might want to consider getting individual bike tools to perform basic tasks such as replacing the cassette/chain and adjusting the brakes or derailleurs.
But if you're very handy with the wrenches and have good bike repair knowledge, then you might want to consider getting a complete toolkit.
Which toolkit should you get?
Or should you get individual tools based on your needs only?
On this page, I'll explore this further and also share with you some of the popular ones available.
A Quick Glance : Our Favorite Portable Bicycle Toolkits
Birzman Essential Tool Box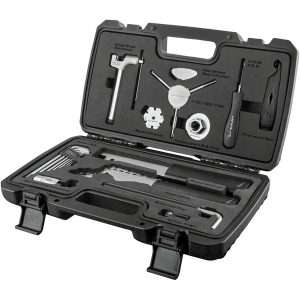 You'll be impressed by the case alone, which features a special carrying case with molded pockets for each tool to live in when it isn't in use. This 13-piece kit does just what it implies. It gives you the tools you need for the most common bike maintenance tasks.
This set includes a full set of hex keys and spoke wrenches, along with a chain whip, BB, cassette tool, flathead screwdriver, drive sockets, and disc brake gap indicator. The carrying case makes this kit ready for travel to your next ride start location.
Just throw the Birzman portable toolkit in the back of your car and go. 
Pros : Value for money with all the basic tools you need.
Cons : A relatively new brand that might not instill confidence in some.
Feedback Sports Ride Prep
Sometimes you only need those tools that are essential to get your bike ready for your ride. If you're looking for a set of tools that will help you carry out your pre-ride maintenance checklist, then check out the Feedback Sports Ride Prep Toolkit.
This set includes everything you need to get your bike tuned up for your ride including a full set of Torx and hex wrenches, and a variety of specialty wrenches including a valve extender wrench and 15mm pedal wrench.
And it all fits into a convenient carrying case for easy transport to and from your ride start. You'll be impressed with the Pro level of quality of this set.
These are precision cut to minimize stripping. They also feature large rubber grips for improved grip. While you may pay a little more for this set, the quality is certainly worth it.
Pros : Very high-quality.
Cons : Expect to pay a higher price for this set.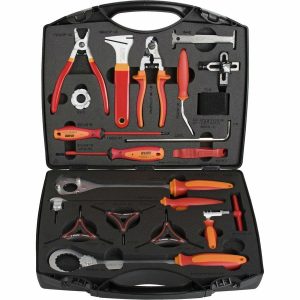 If you haven't heard of Unior before. Then allow me to fill you in. 
This company, which is based out of Slovenia is the official tool supplier for four Pro Tour teams and a number of UCI World Cup MTB teams in addition to being a co-title sponsor of Unior-Devinci Factory Racing Team. 
Most notably, Unior is the supplier for the Trek Segafredo professional cycling team. That should give you an idea of the quality of the tools in its Pro Home Set. This impressive kit includes all the essential tools you need to tackle a host of maintenance and repair tasks. 
It has all the tools you'd expect plus the less common ones, such as a pocket truing tool and master link pliers. 
Pros : Comes with a molded carrying case for easy transportation.
Cons : Expect to pay a higher price.
Feedback Sports Team Edition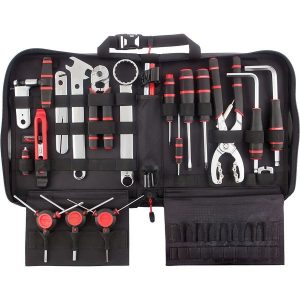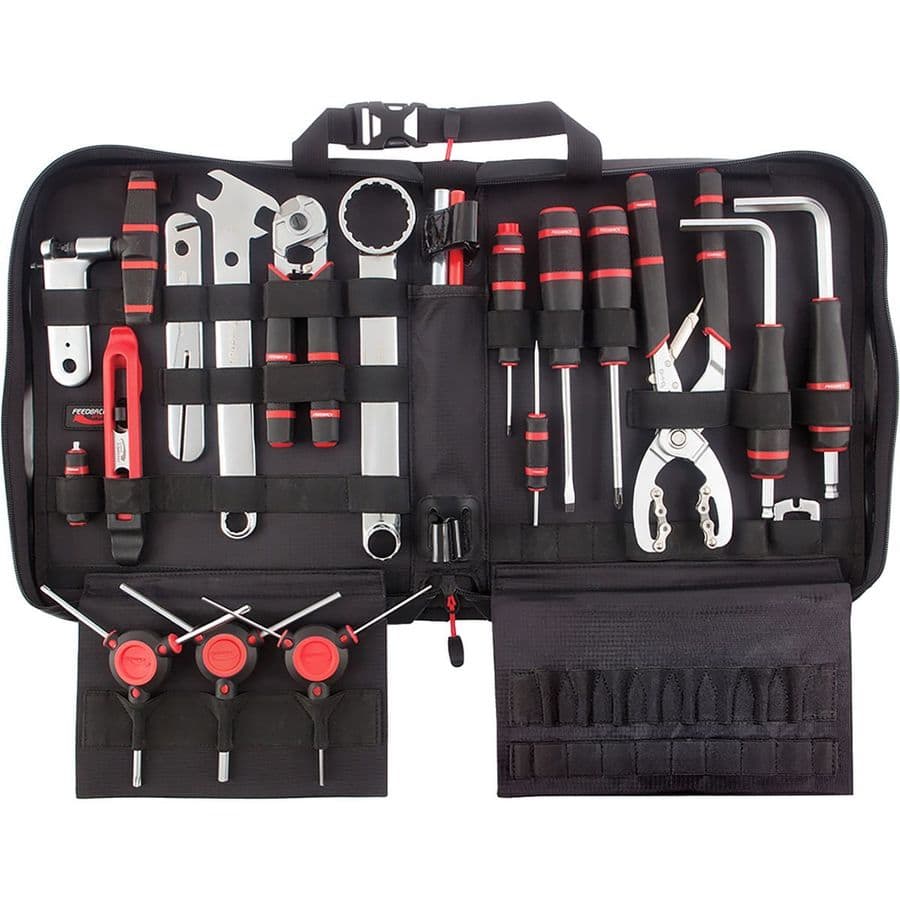 If you're serious about maintaining your own bike, so serious that you don't even trust the trained bike mechanic at your local shop to touch it, then you need a quality toolkit that will allow you to do the repairs and maintenance that your bike needs. 
The Feedback Sports Team Edition gives you everything you need to complete repairs, maintenance, and upgrades. 
This kit includes 19 tools covering 25 different functions. In addition to a complete set of Torx and hex wrenches, it also includes less common tools such as a valve core, crank arm cap, and rotor truing tool. 
It all fits compactly into a carrying case that you can throw into the back of your car as you head out on that weekend destination cycling trip. And while the price may seem too good to be true, you'll be wowed by the quality and precision. 
No stripping out bolts or screws with this kit. 
Pros : Contains all the necessary tools for basic home maintenance tasks.
Cons : Carrying case is nice, but not that durable.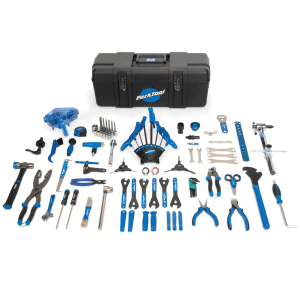 Park Tool is the household name when it comes to bike tools. The name itself screams pro and high quality. Walk into any of your local bike shops, and chances are you'll see Park Tool in their workshop.
The PK-5 is Park Tool's professional range of toolsets with over 70 different sets of tools available. These will get you through most of the advanced bike repair and maintenance tasks on all types of bikes.
It even comes with the Cyclone Chain Scrubber, which is a nice bonus. In my opinion, it's the best and most effective chain cleaner around. All these can be stored in a carry box, which is about the size of your average toolbox in the garage.
So, if you're after the highest quality and extensive range of bike tools, look no further than the Park Tool PK-5.
Pros : The undisputed industry leader when it comes to quality.
Cons : Be prepared to pay a high premium price.
If you do enough DIY work on your bike, then you know that there is nothing more frustrating for a bike mechanic than not having the right tool for the job, 
Well, actually, there's one thing more frustrating. Having the right tool for the job but not being able to find it. They are worthless if you can't find them. 
That's why you need to keep everything organized. That's what the Topeak has in mind with its PrepStation Pro, which comes complete with a 40 piece toolset and a mobile workbench in which to store them. 
This five-level wheeled tower features a series of labeled shelves that make your tools easy to find. 40 tools add up to a lot of weight. In order to support all that weight, the Topeak PrepStation Pro is made of heavy-duty plastic with large 5″ rubber wheels for easy transport. 
Pros : Unique wheeled tower storage helps to keep them nicely organized.
Cons : Could be overkill for the beginner home mechanic.
There are times when you only need a selected few tools to perform the most basic maintenance jobs, and having a complete toolkit could be overkill.
So, here are the common ones that would be very useful to have at home.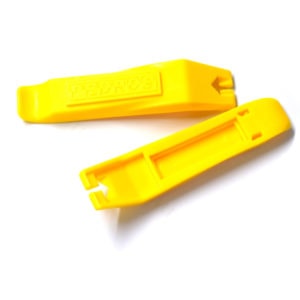 The Pedro's tire levers will definitely help you to quickly remove tight and stubborn bike tires from the wheels without needing excessive force and effort.
They work in pairs, so don't lose one of them or you'll have a hard time removing the tires by the roadside. Remember to have one pair stored in your saddlebag as well.
Park Tool Chain Checker CC-3.2
This chain tool measures the chain's stretch, and more importantly, it lets you know when it's time for a new chain.
All chain manufacturers suggest it's time for a new chain when the chain wear indicator falls between 0.50 or 0.75. Please don't wait until it shows 1.0. That'll be too late.
A worn-out chain will quickly wear out other bike components, such as the cassette and chainrings.
A set of top-quality L-shaped hex wrenches from a very reputable brand, Pedro which has all the sizes you'll need for your bike.
There are 9 of them, ranging from 1.5, 2, 2.5, 3, 4, 5, 6, 8 to 10mm in size. A plastic holder is included so you don't lose them.
The L-shaped and ball-end design allow for greater leverage and easier access to hex sockets around tight spots.
Topeak Ratchet Rocket Lite NTX
This is a set of multitools with a ratchet that allow you to loosen and tighten nuts at hard to access places.
It comes with 7 Allen key sizes, ranging from size 2, 2.5, 3, 4, 5, 6 to 8mm, 2 Torx keys of T10, T25, and a Phillips screwdriver head.
A pair of tire levers are also included as an extra bonus.
A torque wrench prevents you from tightening nuts more than the manufacturers' recommended torque values.
Nothing is worse than over-tightening nuts on carbon and then cracking it unintentionally.
It has a user-adjustable torque range between 2 to 24nm, which covers all you need for the bike from stem to bottom bracket bolts.
When it reaches the pre-set torque value, it has an audible click sound.
Oumers Cassette Removal Tool
You can easily swap out the bike cassette at home and save a trip to your local bike shop with this tool.
They come in two pieces, a chain whip and a cassette lockring tool to remove the lock ring before you can remove the cassette.
They can be used on all types of cassette lockrings from Shimano, SRAM to Campagnolo.
This is a simple yet handy tool to have at home when you need to change your bike chain.
You can easily do it at home with the chain breaker instead of sending your bike to the shop and saving a few bucks for coffee instead.
If you ride a lot, you'll probably require a new chain every 4 to 5 months, or maybe every 1 to 2 months if you ride as many miles as the pros do.
Park Tool Chain Scrubber CM-5.2
This is by far the most popular, effective, and hassle-free chain cleaner around.
All you'll need to do is to run the chain backwards through the cleaner with the chain cleaner inside.
There are several mini brushes inside the cleaner that scrub the chain from all 4 directions and you'll have a clean, shiny chain in less than 2 minutes.
Park Tool Pedal Wrench PW-4
Most adjustable wrenches are too thick to fit on the pedal axle to tighten and loosen them.
This pedal wrench has a slim profile, measures 11.5" (29cm) long, and provides plenty of leverage to remove the tightest of all pedals.
It's useful if you travel a lot with your bike and the bike bag requires the pedals to be removed for packing.
The Lezyne Steel Floor Pump is a solid bike pump that makes inflating the tires easier, especially when the tire pressure reaches 5 bar/72psi and beyond.
It can go all the way up to 220psi if needed for track bikes.
It's compatible with both Presta and Schrader valves and has a very accurate tire pressure gauge reading.
Feedback Sports Sprint Repair Stand
A bike work stand for you to easily and securely mount your bike while you're working on it, whether it's for washing or maintenance.
With this work stand, your bike sits on it rather than being clamped on the top tube or seat post which could potentially crack if you're not careful, especially with carbon.
They fit all types of bikes from road bikes to CX, mountain bikes,s and even track bikes.
Tools Quality vs Quantity
Everyone has different levels of expertise when it comes to bike repairs and maintenance. Your bike repair kit should reflect on your expertise levels.
There's no point buying a whole bunch of tools that you aren't going to utilize.
A good starting point is to find a toolkit that can perform most tasks on your bike. But there is nothing wrong with buying individual tools either.
If you realize you're going to need quite a number of tools, there will be a point where it would be cheaper to buy a toolset rather than individual tools.
Geek Tip : Be realistic about what you can and cannot do on your bike.
We all know quality tools last a long time but they don't come cheap.
On the flipside, cheaper ones tend to either round off quickly and could damage the bolts and nuts on your bike. If they feel fiddly at the beginning, chances are they'll get worse after 4 to 5 times of using it.
Read More : 7 Basic Bike Maintenance Tips for All Cyclists
Have a look at the tool and feel its build quality. Then ask yourself is tough enough to perform the job required overtime. The more often you need to use it, the better quality it needs to be. 
Sometimes, you can get away with a cheaper and low-quality tool for a simple job.
Geek Tip : If you're going to use the tools often, go for the highest quality ones that you can afford.