You've probably done some research and have come across many different models of bicycle trailers.
There are many brands out there, from leading names such as Burley and Thule to lesser-known ones such as Schwinn and Allen Sports.
Not only that there are different types of bicycle trailers, with each designed for a different type of usage, they also come with different sets of features.
On this page, I'll discuss the important things to consider before getting one and share some of the popular models on the market today.
A Quick Glance : Our Favorite Bicycle Trailers for Kids
The trailer/stroller combo and extra features make this bike our best budget pick.
If you're looking to get on the road but don't have the budget for a top of the line model, then Instep Quick-N-Ez is the right choice for you. You'll get a great set of features and versatility usually reserved for more expensive models. 
You'll also find more cushioning in this model than others at a similar price point. It includes 16" pneumatic tires and 3 different color choices. With its quick-release wheels and foldability, the Quick-N-EZ breaks down quickly for easy assembly and storage in no time. 
Pros : Very comfortable interior with a lot of bells and whistles.
Cons : Expensive.
Comfortable children are happy children. Happy children don't bicker with each other, whine about going home, or generally make life miserable for you. With that in mind, you'll want to consider the comfort offered by the Hamax Outback.
It has interior features that you might find in a luxury automobile including adjustable suspension and seats, wide windows for maximum viewing, a sunroof for fun, padded five-point safety harnesses, and plenty of cushioning. 
Continuing the automotive comparison, there are also rubber-lined floor mats and a generous amount of rear storage space. All these features make this our pick for comfort.
Additional features include multi-sport capability. It converts to a stroller and can be used as a jogger with the purchase of an attachment.
Pros : Excellent value with a 2-in 1 trailer/stroller combo.
Cons : Wheels/tires are not designed for rough surfaces.
If you're looking for a bicycle trailer that will allow you to take your kids along on a variety of outings, then the Thule's Chariot is for you. 
Thule, the Swedish company that's made a name for itself largely through its line of bike racks, shows its Scandinavian roots here with a nod to one of the region's most popular sports; cross-country skiing. 
It features a skiing kit that, yes, allows you to tote the kiddies along on your cross-country ski adventure. It also offers a jogging kit and quickly converts from a trailer to four-wheeled strollers, making it the best multi-sport trailer you can buy.
Since these options mean it will have to face various types of terrain, the Chariot comes equipped with a leaf-spring adjustable suspension. Other features include padded seats, drop-down storage compartments, and reclining seats.
Given that you'll probably be traveling quite a bit with this trailer, it's good to know that the Chariot fully collapses for easy storage.
Pros : Excellent suspension and wheels/tires for rough terrains.
Cons : Be prepared to pay a premium price.
The Burley Bee may not have the multi-sport options that others have to offer, but that might be just what you want. 
If biking is your only sport, then this bike-only trailer will suit your needs just fine. Anyone who has ever attached a trailer to the back of their bike knows that more compact makes for an easier ride. It features a slimmer profile, which means less worrying about clipping obstacles as your ride along.
Compact doesn't mean that its interior is cramped. It features enough space to seat 2 children and also offers a rather spacious rear cargo space. 
When you need to move it, it breaks down into a pancake-flat fold for easy transportation and storage. The sveldt form makes it our pick for the best compact size option.
Pros : Enough space for 2 children given its slimmer/compact design.
Cons : To be used with bicycles.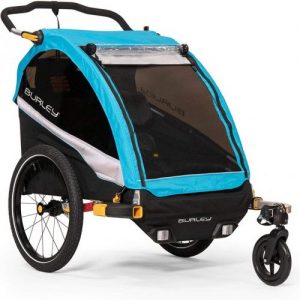 The most important people in the world, as far as you're concerned, will be riding in this. So, it makes sense that safety is a big factor when deciding which one to buy. 
The Burley D'Lite X offers a host of safety options that make it our pick for best safety features. It's designed to be used for 4 different sports including biking, strolling, jogging, and skiing across mixed terrains.
It offers 5 part harnesses, a headrest for comfort and support, premium padding for the seating, and a 5-position adjustable suspension for smooth rides. 
There are 3 different reclining positions, so your child is sitting safely and securely. The D'Lite also uses the strolling and jogging handle as a roll bar during cycling for additional protection. 
Burley is even thinking about your child's skin with full-length-tinted side windows that provide UV protection from the sun.
Pros : Excellent build quality and safety features.
Cons : Very expensive.
Like biking on hot sunny days? Like biking in the rain too? 
If you answered yes to these questions and you'd like to take junior along on your all-weather bike tours, then the Thule Cadence is a good option for you. It features a roll down heavy-duty rain cover to protect your little one as you pedal through the raindrops.
While this might seem like a common feature on most models, the additional side venting is not. The large side windows allow for maximum airflow on those hot rides. These options make it our pick for an all-weather trailer. 
Other features on this bike include 20" metal rims with pneumatic tires and extra storage space for hauling various cargo.
Pros : Solid and tough build for off-road riding.
Cons : Difficult to fold for storage.
One of the oldest bicycle companies in the country, Schwinn is now known for offering its budget trailers. The same is true for the Echo which is a less expensive option that is suitable for light use.
While it may not offer the durability and features of some of the higher-priced models out there, it's a great option for those who take the occasional ride with the kiddies. 
This budget-friendly model seats two and is equipped with a bug screen and weather shield and 20″ pneumatic tires. It also collapses nicely allowing for easy storage in a closet or the back of a car. 
It's also got the Schwinn name emblazoned across its front and sides, which is sure to earn some looks of wistful nostalgia from passersby. 
Pros : Priced affordably.
Cons : Lack of storage space.
Allen Sports Deluxe Trailer & Stroller
Maybe you're a triathlete with kids. Maybe you like biking with the kids, but running is really your thing. If that's the case, then you might be after one that does the best job of also functioning as a jogger.
Allen, a company known for making budget-friendly trailers, might be the pick for you. Unlike other models that require an additional purchase to convert to a jogger, the Allen Sports JTX-1 is ready to use as either a bike trailer or jogger right out of the box.
It features a 12" swivel front wheel with a lockout option, a large compartment for two riders, and plenty of pockets for storage. This trailer/jogger combo also folds and has quick-release wheels for quick and easy storage.
Pros : Budget-friendly, 2-in-1 bike trailer/jogger combo/
Cons : Average construction quality.
It used to be that you'd buy a bike trailer if you wanted to take your kids on bike rides. You'd buy a stroller for walking with the kids, and you'd buy a jogging stroller for jogging with the kids. 
But nowadays many parents want simplicity. 
They want one that can fill all these needs. This demand has created a market that now includes single sport trailers, trailer/stroller combos, and multi-sport trailers.
So, let's take a look at the common types of trailers available.
If you only plan to use as a bike trailer only, then this is the route to go. 
Why spend on options you're never going to use? 
Although there are some exceptions, these are typically cheaper than their multi-sport alternatives. That said, prices can range dramatically with single sport trailers depending on quality and features. 
Cheaper ones are typically heavier and are sparse on comfort features while the more expensive ones typically offer better wheels, more safety features, and comfier cabins.
2. Trailer and Stroller Combo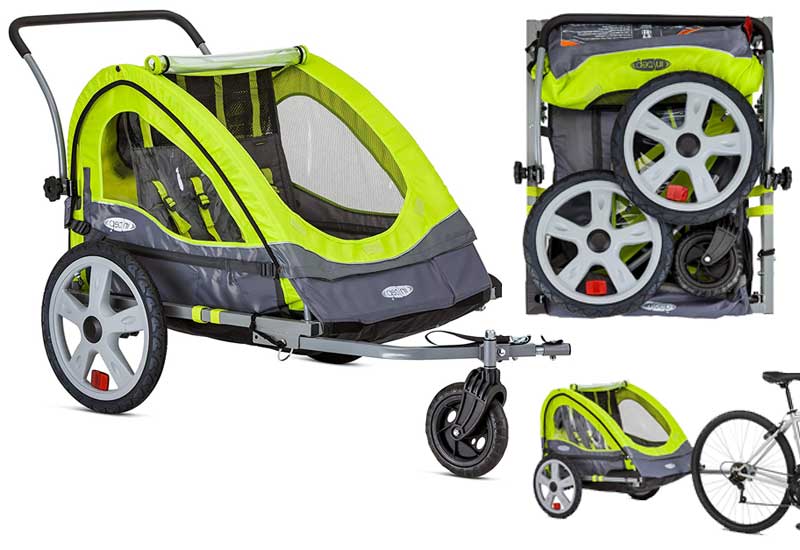 If you're looking for a trailer that will serve multiple needs then you'll want to consider those that double as strollers.
These typically have stroller wheels incorporated into their design. The attached swivel wheel strollers feature a smaller third wheel that attaches to the bar that connects the trailer to the bike.
The wheel pivots up (or can be removed) for bike use and down for stroller use. This setup isn't ideal for someone who is expecting to use this as an all-purpose stroller as the front wheel typically sticks out well out in front of the trailer making it cumbersome to use in crowded places.
Quality can vary greatly with this design. Cheaper versions offer third wheels that may be less functional (think bad shopping cart), while higher-end versions will have smoother functioning wheels.
There are 2 types of trailer/stroller combo.
Single wheel swivel strollers are designed with a stroller wheel that folds out when in stroller mode. While this style travels forward smoothly it's harder to maneuver and is less stable than the four-wheel options. This style also comes with cheaper options that offer a single stroller wheel that is lockable. (Example : Hamax Outback)
Dual wheel swivel strollers offer some of the best functionality of the trailer/stroller combos. These feature two front wheels that fold out when in use as a stroller. The additional wheel helps to improve stability and maneuverability. (Example : Thule Chariot)
3. Trailer and Jogger Combo
For those who run and bike, there are bicycle trailers that also function as jogging strollers. These differ from stroller combos in that they feature a third wheel that is designed for greater speeds. 
Front wheels on joggers are at least 10" and are equipped with air-filled tires that provide the stability and shock absorption needed for jogging. 
These wheels are locked in a forward position in order to keep the stroller stable while moving at jogging speeds. Turning these trailers involves tilting the stroller back in order to raise the front wheel into the air. These wheels can be purchased as accessories that attach to the front of compatible bike trailers.
Examples : Allen Sports JTX-1
If James Bond owned a bike trailer, it would certainly be a multi-sport. Dreaming about taking the kids along on your next x-country ski adventure? Dream no more. 
These are capable of transforming into joggers, strollers, and even skiers. Because of this versatility, multi-sport trailers typically carry a much higher price tag than their single or dual-sport counterparts.
Examples : Thule Chariot
Price Range of Bike Trailers
The cost of can range dramatically from around $100 for a basic model to as much as $1,200 for the top of the line multi-sport. This broad range can make purchasing a confusing task. 
What do you get for $1,200?
Is it really that much more than a budget one?
1. Budget Friendly (Below $300)
Budget models will get you on the road for cheap, but they lack the accouterments of the more expensive options. 
Most models at this price point don't have options for converting your trailer into a stroller or jogger. 
Comfort is also sacrificed with only sparse padding and bench seating. While some may come with safety extras, the budget doesn't equal unsafe. As with any consumer product designed for kids, there are safety regulations that manufacturers must follow in order to sell their products.
2. Mid-Range ($300 to $500)
As you reach that mid-range between budget and premium you begin to get into the options that add value and cost. 
Trailers in this price range offer additional features as cushioned seating, multisport accessories, suspension systems, bigger storage, reclining seating, and lightweight frame material. 
If you can afford to go a little deeper into your pockets, then you might consider a mid-range model. Decide on the features you need and the ones you can live without and look for a trailer that fits.
These are the best of the best because they pack every option you could ever want into a bike trailer. 
They cover biking, jogging, strolling, and skiing. 
They have adjustable suspensions, comfortable padded, reclining seating, great storage, high-quality materials, reflective lighting, and a whole host of other things. 
Of course, you'll pay a premium for all these add-ons. You'll also find that you're paying for the brand here too. Manufacturers like Thule and Hamax are proven brands, and so they carry a higher price tag.
Bike Trailers Buying Guide
1. Cabin Size and Capacity
Bike trailers come in a variety of sizes. 
How big is big enough and how big is too big? 
This can depend on a variety of factors including how many children you plan to tow, how long you want the trailer to be used for your growing child, and, frankly, how heavy a load you don't mind hauling behind you. 
Of course, doubles will be larger than singles, but within these two offerings cabin size can vary greatly depending on make and model with each offering varying amounts of space for shoulder room, headspace, and weight capacity.
These are your more streamlined options. 
Single cabins lighter, narrower, cheaper, and easier to tow. 
Of course, they will also offer less storage space and will only be able to carry one child at a time.
Examples of Single Seaters : Allen Sports JTX-1
A double trailer will carry 2 children at a time and therefore offer a much greater weight capacity. 
They are also heavier, wider, and more expensive than single trailers.
New seat belt regulations require that the child sits on one side of the trailer even when by themselves. This tends to make them more cramped and therefore less comfortable with or without a brother or sister along for the ride.
Examples : Hamax Outback, Thule Chariot, Burley Bee
Why does seat type make much of a difference you ask? 
Ever been on a car ride with your kids when they won't stop fighting with each other? 
Unless you want to be constantly turning around to threaten your bickering children with a litany of consequences you'll want them to be as comfortable as possible.
Here are 2 of the most common seat types in bike trailers.
You might call these the cheap seats. 
This design, typically found on your lower end models, are created by stretching a piece of thick fabric from one side of the trailer frame to the other. 
While rarely an issue with singles, with doubles these usually end up sagging, resulting in your children sliding uncomfortably together. Some higher-end trailers do offer hammock-style seats that prevent this issue by building in more support.
Examples : Schwinn Echo, InStep Quick N EZ
This is the preferred style of seat and the type that usually comes on higher-end models.
With a bench-style seat, the seat is heavily padded in order to prevent the bench from sagging in the middle and causing your little ones to squish uncomfortably together. 
These seats also allow for more legroom for your little guy to stretch his legs.
Examples : Burley D'Lite X, Hamax Outback
Storage space probably isn't the first thing you think about, but it's important. 
Anyone who has small children knows that there is an assortment of supplies that must accompany them wherever they go. This could include fresh diapers, jackets, a change of clothes, bottles, sippy cups, toys, snacks, etc.
You'll find the storage area on any bike trailer behind the seat. 
These storage areas will hold the aforementioned essentials, but don't expect to throw a cooler back there. The storage area of most models is soft and not capable of bearing large items. 
The trade-off for more storage is a bulkier trailer, such as a single vs dual seater trailer.
Those that convert to strollers will often offer accessories for console storage that attach to the stroller handlebars. Similar to the console storage in your car, these will hold drinks, car keys, cell phones, wallets, and other similarly sized items.
As with the suspension on your car, a good suspension and a bad suspension or no suspension at all can be the difference between a comfortable ride and an uncomfortable one. 
If you're keeping to paved roads or greenways you needn't give much thought to a suspension. The tires should provide all the shock absorption that's needed.
Geek Tip : If you plan on heading out to unpaved trails, it might be worth investing in one with suspension.
Several manufacturers offer adjustable spring suspensions to suit the terrain and the weight of the children on board.
They generally feature two-wheel sizes; 16" and 20". 
The larger the wheel, the smoother the ride. It would be best to consider how fast you plan to ride to pick a safe option. Larger wheels are rated to go faster speeds. 
You'll also find that the smaller 16" wheels are often built with plastic rims, whereas the larger wheels feature metal rims and spokes and pneumatic tires. Metal is the more durable option as plastic wheels can warp and crack over time.
Bigger also means heavier, though. 
Wheels make up a significant chunk of the weight on a bicycle, and so too do they account for a significant amount of the weight on a bike trailer. Consider how much weight you're willing to tow behind you as 20" metals rims will be significantly heavier than 16" plastic rims.
Geek Tip : Go for a larger wheel for increased comfort and durability especially if the trailer is a dual seater.
The hitching mechanism is what connects your bike to the trailer. You need to be familiar with the hitching mechanism to determine if it's compatible with your bike.
There are 2 common types of hitching mechanism.
Quick Release or Thru Axle. Some models attach to bikes using a quick-release skewer that attaches to the rear dropouts and hub. While this will work for many bikes, this style of hitch design isn't typically compatible with thru-axle rear wheels. Ensure what your bike has to see if it will work with the trailer you want.
Rear Triangle (non-Drive Side). Others use a clamp-style hitch that attaches to the chainstay or sit-stay of your bike. This type functions by using a tightened clamp around the tube on the non-drive side and usually includes a safety strap that loops around the bike frame as an added precaution.
7. Foldability and Storage
Don't forget that you may not always be starting your ride from home. 
Oftentimes you'll want to start off at a greenway, boardwalk, or park. In that case, you'll need to be able to stow your bike trailer for transport in your truck, van, or car along with the bike, the kids, and the assortment of gear that goes with it. 
And, if you're anything like most people, you also have limited space at home to store things. With these factors in mind, foldability is important. That means you need something that will store well.
The more compact you can make the bike trailer, the easier it will be to store. Most models break down quickly and easily. 
Geek Tip : When considering which model to buy, check to see how it folds together and if the wheels can be removed for storage.