Looking to buy inner tubes for your bike, but unsure which one?
After all, they all look the same, so how complicated can it be?
Well, it might look simple out the outset, but there's more to this than meets the eyes.
There are slight differences between them, such as the material, valve length, thickness, and rolling resistance (if you're racing). Some are cheap, while some cost 2 to 3x more.
On this page, I'll break all these down to you in simple, easy-to-understand terms and share with you some of the best road bike tubes among cyclists.
A Quick Glance : Our Favorite Inner Tubes for Road Bikes
Projekt Sports is a new kid on the block when it comes to inner tubes.
For an affordable price, you'll get this bike tube that is made from butyl rubber, a durable material that will last you for a substantial amount of time. This tube also has a Schrader valve that is 48mm, which makes it compatible with rims that have a depth of less than 40mm.
You can choose from a 2-pack or 4-pack option.
Pros : Excellent value, thick and durable.
Cons : Very heavy.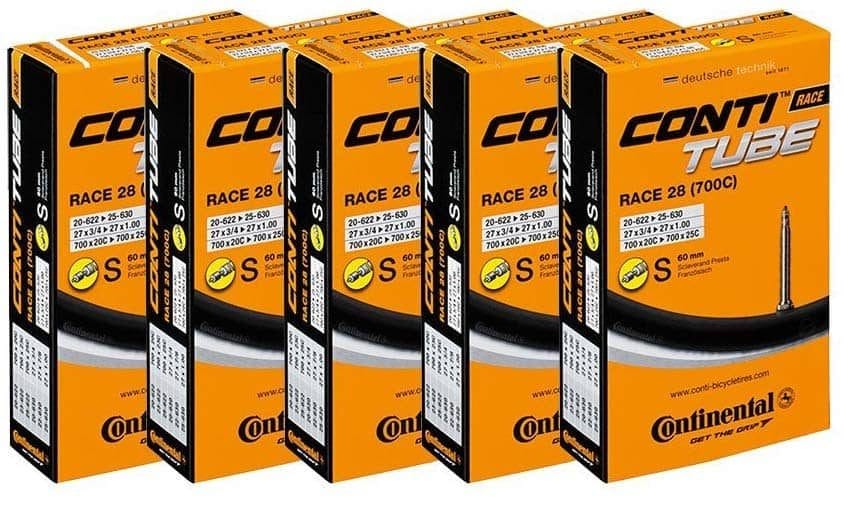 Continental is a leading brand in the production of automotive-related equipment production. Being the fourth largest tire producer in the world by revenue, you can be sure that Continental will provide you with top-notch bicycle tubes. 
If you're a regular rider, the bike tube will suit you. It's compatible with all 700c road bike wheels with tire sizes up to 25mm. It weighs 105g, a suitable weight for everyday use because it's neither too light to be prone to punctures nor too heavy. 
One thing that makes this set of tire tubes unique is, it comes with tire levers, which are useful when changing the tube.
Pros : High quality valve cores. Reasonable pricing.
Cons : Fits tires up to 25mm tires only.
With more than 50 years of tube production, Kenda is a brand that will give you high-quality tubes. This bike tube is made from butyl rubber and can be used on rough roads that have gravel, and it can also be used to cover long distances while touring. 
The valve is 80mm, meaning that it is compatible with rims up to 60 to 70mm in depth. It's also compatible with road bike tires up to 30mm in width, which makes it suitable not only for a road bike but also for commuter and gravel bikes.
They come in a pack of four.
Pros : Compatible with tires up to 30mm. Thicker material for better puncture protection.
Cons : Very heavy.
If you love racing, you should consider getting this bike tube from Continental.
The Supersonic is Continental's answer to a super light bike tube. It is only 55g, which is lighter than a latex tube, and it's made from butyl rubber. Apart from that, this bike tube is not porous, and it saves you from the trouble of repetitive inflation. 
The valve length is 60mm, making it suitable for all your racing wheelsets up to 50mm in depth. Besides, a smooth ride is brought about by mold-cured vulcanization, which is incorporated in the tube to bring about uniform roundness.
Pros : Lightweight, smooth and fast ride feel.
Cons : Not for everyday use.
Vittoria Competition Latex Tube
This is an ideal tube that you can use for racing because latex tubes are well-known for their lower rolling resistance compared to butyl tubes.
However, latex tubes are usually permeable and they require regular air pressure check-ups and refill. It's suitable for all 700c road bike wheels and depth of 40mm (the valve is 51mm long). 
To differentiate themselves from the regular butyl rubber tubes, these come in pink making it easier to spot any incorrect installation, especially when the tires didn't seat properly in the rim bead.
They come in a pair.
Pros : Very low rolling resistance with an excellent ride feel.
Cons : Costs 2-3x more than a regular tube.
Christain Lambacher, the founder of Tubolito, announced in 2017 that he was launching a new bike tube. He had gained enough knowledge as a cyclist so he produced a more durable thermoplastic elastomer tube. 
This is one of the lightest bike tubes out there. It weighs only 38g, making it super light. Even though it is 70g lighter than a regular bike tube, it is two times more resistant to punctures than regular tubes. 
Furthermore, it is 4 times more elastic than regular tubes, so you don't have to worry about getting a flat tire with this tube because of its weight.
Pros : Super lightweight.
Cons : Very filmsy and expensive.
Picking out the right size of a bicycle's tube can be a confusing task. That is why you need to know your wheel's diameter and the width of your bike tires.
When choosing a tube, you might notice that the size has been denoted in a unique manner, such as 700 x 20/25c.
What does this mean?
The first part represents the wheel's diameter, whereas the second part represents the width of your bike tire.
In this case, the wheel's diameter is 700mm, while the tire's width range is between 20 and 25mm.
The diameter of the tube should be exact and compatible with your wheel's size. On the other hand, the tube's width may vary in size because it expands and stretches.
2. Presta vs Schrader Valve Type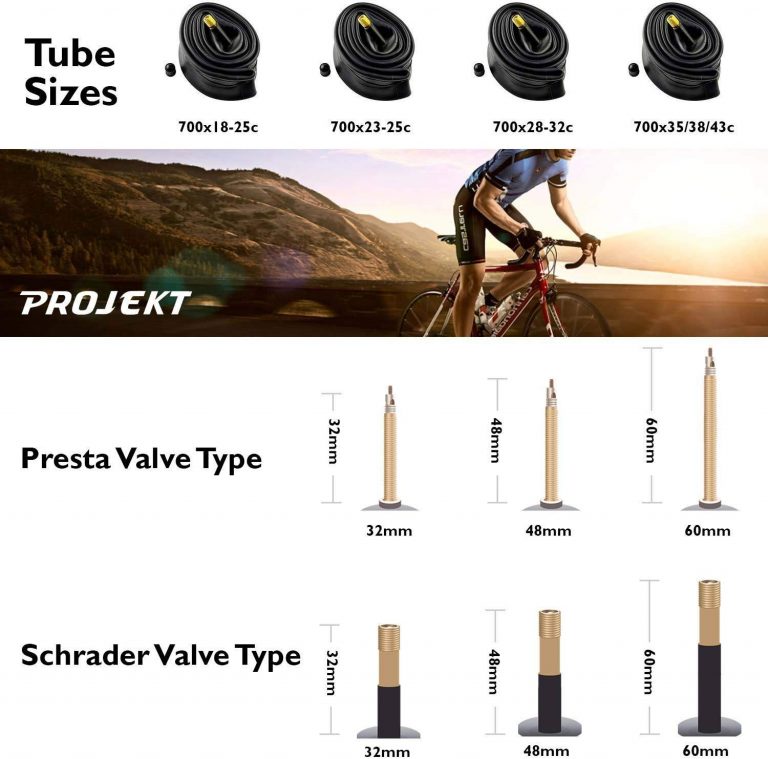 The valve is the metallic part on a bike's tube that allows you to pump air in and out. These are the different types of valves.
Presta valves have a very slim stem, and it's mainly used in high-pressure tubes such as in road bikes. To pump in air, you have to unscrew the head of a Presta valve, which makes the valve core free. Bikes with narrow rims are usually equipped with this type of valve because it has a small diameter, and pumping it is an easy task.
Schrader valves are mostly found in low-pressure tires such as in mountain bikes and kids bikes. This type of valve is also used in different automotive tires and its core is sprung-loaded. If you depress the central pin of a Schrader tire, air will be instantly released. Air is usually retained in the tube through a spring closure system, which makes it easier to inflate.
A valve's length should exceed the rim's depth by at least 1cm.
This makes it possible for the valve to protrude through the rim to ease up pumping. Presta valves are available in different lengths that are compatible with deep rims. 
A regular bike tube weighs about 100g. On the other hand, lighter tubes weigh about 55g and made of lesser materials. 
Lighter tubes are always a good fit for racing because they'll give you a slight advantage, especially when the road tilts upwards. 
However, lighter tubes are more vulnerable to punctures.