This is by far the most common question when buying a chain lube for your bike.
Which bicycle chain lube should I get?
Dry or wet lube? Perhaps ceramic lube?
Since chain lubes are designed for specific usage, it all depends on your type of riding and your local area. Sometimes you need a dry lube, other times wet lube, or maybe even ceramic lube.
The words PTFE, Teflon, Paraffin wax, boron nitride, wax, and ceramic are enough to confuse most of us who's not a science geek. Today, there are hundreds of chain lube choices available.
Sometimes, the more choices we have, the more confused we get.
On this page, I'll discuss the differences between the various types of bicycle chain lubes, and share with you some of the popular chain lubes among cyclists today.
A Quick Glance : Our Bicycle Chain Lube Recommendations
Finish Line Dry Bike Lubricant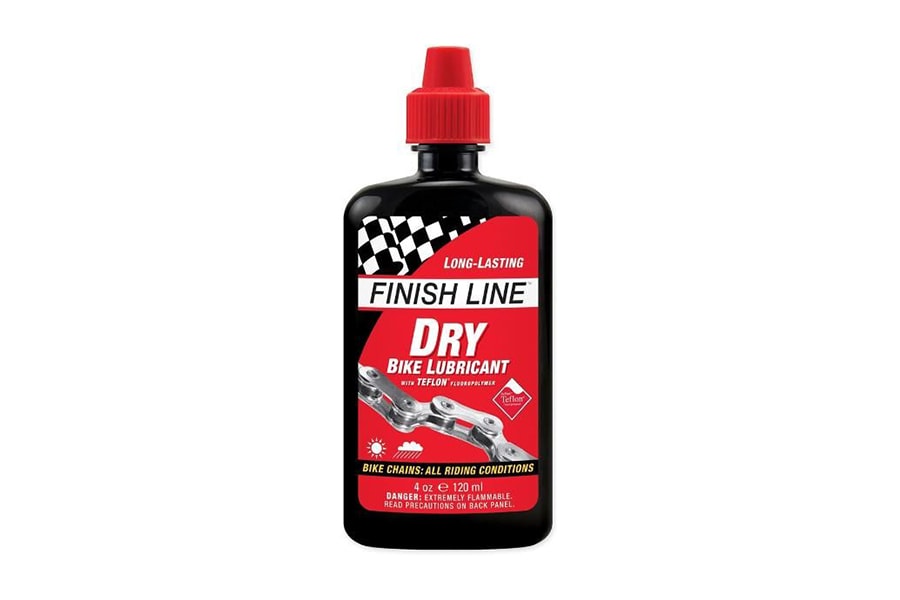 Finish Line is an absolute standard in the bike lube industry and truly excels in off-road or extremely dusty riding conditions where you expect to be hit with tons of dirt.
You'll notice that this lube goes on like water, causing you to doubt how effective it really is at keeping your chain clean, but just give it a moment to work its magic. 
After a short time, you'll see the wet film dry into a waxy glue that sticks to your chain but kicks dirt, grime, and dust off.
Biodegradable lubes are certainly hard to come by, but Squirt's Long Lasting Dry Lube gives those concerned with ecological well-being a solid option for keeping the bike clean.
As a wax-based lube, your chain should stay clean for between 80–100 miles before needing reapplication, with some cyclists reporting great use north of 200 miles per application, making the Squirt lube an incredible value for the money as well as the environment.
Just as the name implies, WD40's All Condition's Lube is perfect for those needing one-and-done chain lubricants for everyday riding.
Using specialized chain lubricants can get cumbersome if all you need is a steady-performing lube that gets you from A to B without making a mess of your drivetrain system.
After years of being derided as a primordial lube, WD40 has re-entered the market with a PTFE-based formula that is worthy of your consideration.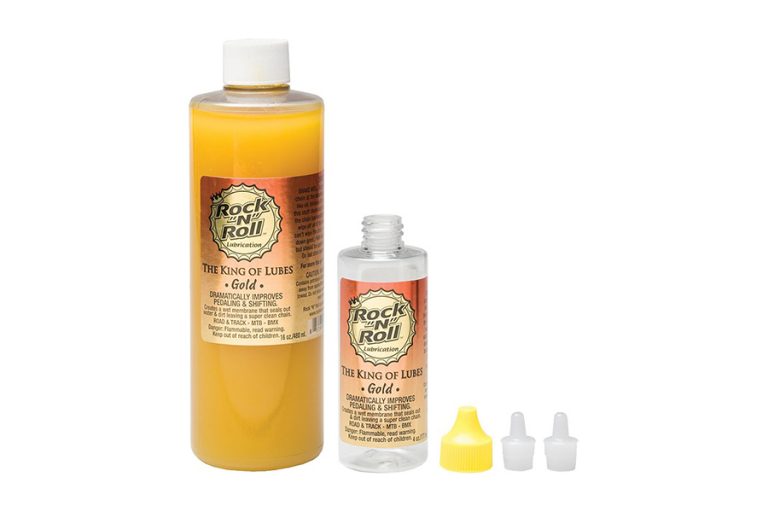 Rock n Roll calls itself the king of lubes, and with a flashy gold package, who could doubt it?
The better question, however, is whether they stand up to the claim or not. Not only is Rock n Roll Lube a solid choice, but cyclists overwhelmingly agree that this may be the king of wet lubes.
Rock n Roll is best suited as an all-purpose cleaning and lubrication system for both mountain and road, making it a great one-stop-shop if you ride both but don't want to spend on specialized equipment for each.
ProGold Xtreme Chain Lube
Extreme riders unite! 
Pro Gold Xtreme Chain Lube is specifically designed for those epic days in the saddle that take you across unknown terrain but even lesser-known changes in the weather conditions.
Don't get caught out in the rain without a proper wet lube to hold you down. Regardless of whether you're on the road or trail, Pro Gold won't let you down and is good for plenty of soggy miles of coverage.
White Lightning Heavy Lube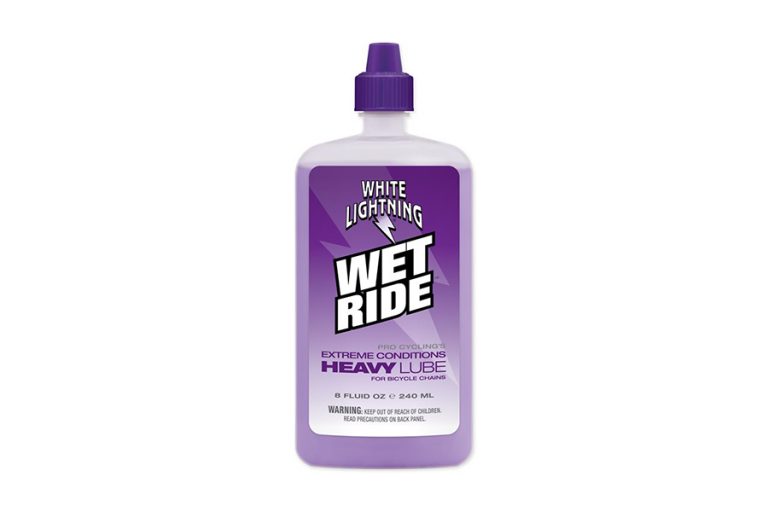 White Lightning recently rebranded itself, or perhaps they'd prefer the term redesigned to reflect their upgraded lube technology better.
Their Wet Ride tech is the perfect choice for crazed days of long rainy rides, the kind your family asked you not to do. 
But hey, those epic days are the most rewarding, right?
Using premium synthetic oils and repelling polymers, White Lightning's Wet Ride is completely waterproof and knocks out all the squeaks, squeals, and creaks from your prized drivetrain. 
Smooth-shifting is back!
You've heard of ceramic lube. Your bike mechanic talks it up. The pros talk it up. Cyclings blogs talk it up. But, is it worth it?
The short answer is a resounding YES. Moreover, Muc Off's C3 Ceramic Lube just may have set the standard for this new class of lube tech.
What's so great about ceramic lube?
For starters, it's a fully biodegradable dry lube that also has fantastic weather resistance. The tiny bits of boron nitride actually keep your drivetrain parts clean – but, just like anything that sounds really, really good, there's always a slight downside.
You'll need to let the Muc Off ceramic lube cure on your chain for about four hours before riding.
Finish Line Ceramic Wax Lube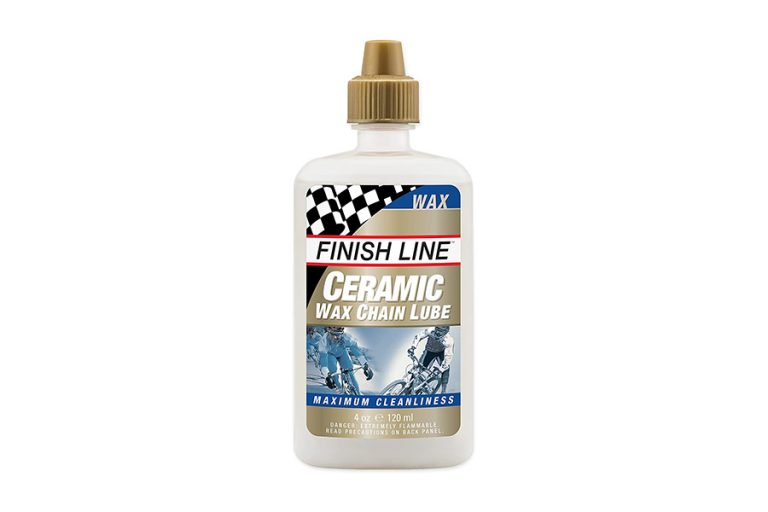 The most trusted name in the chain lubes enters the ceramic lube market with a ceramic + wax combo. 
What's the big deal about combining wax with ceramic lube?
The major complaint aside from curing time that most riders have about ceramic lube is that it needs to be reapplied quite often, in some cases, every 35 to 40 miles, to be specific.
Finish Line found that by adding wax to the mix, they could extend that mileage, sometimes by double the distance.
CeramicSpeed is an innovator in the world of chain lube and was amongst the first to introduce ceramic lubes to cyclists worldwide.
Not only does this drip lube minimize gunk build up, but it also keeps your drivetrain parts newer longer. The reduction in friction has been shown to save between 3–5 watts per pedal stroke with the increase in drivetrain efficiency.
Will CeramicSpeed's UFO Lube make you ride faster?
Well, you'll need to try a bottle out to discover that for yourself, but the lab reports look good.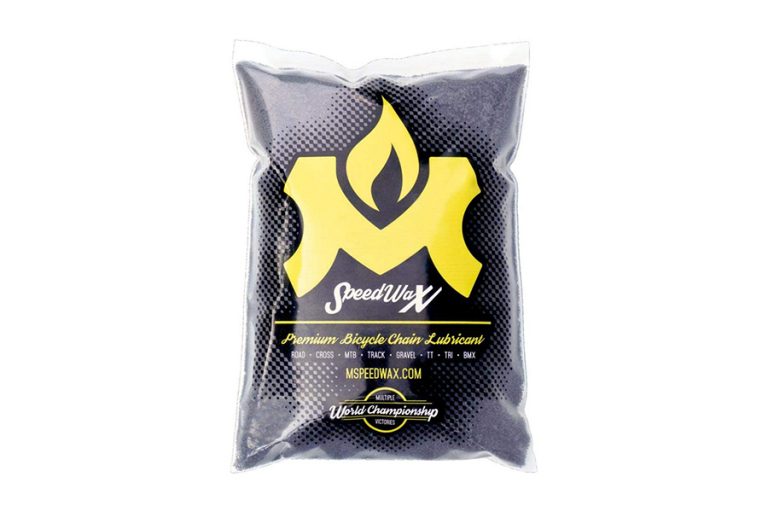 The special mention going to Molten Speed Wax, and not only for their incredible name. This is an innovative chain wax for those looking to get the best out of their gear and legs.
Molten Speed Wax calls this a hot wax lubricant. It needs to be heated up before application, but once on, it stays on for a long time and repels much more than other lubes.
If you don't mind a bit of prep, this one's worth it.
Silca Super Secret Chain Lube
With the words Super Secret in your name, it better be good. And this product from Silca really is. This lube is for those who want a hot-melt wax-dipped chain without all the mess that goes into that process.
It features the speed and silence associated with its hot wax version in a drip-style bottle. Silca said its secret to the special ingredient, which is tungsten disulfide.
or those of us who aren't chemistry nerds, this adds up to a lube that's very low on friction, creating the speed and silence that Silca has become known for.
If you thought that all lubes are created equal, think again!
In the not so distant past, most people figured that WD40 did the trick to get the drivetrain running smoothly. After all, it was just about getting that squeak out, right?
Wrong.
As the name implies, dry lube is meant to be used in dry riding conditions.
They're ideal for spring and summer. Ideally, you'd want to lube the chain the night before your ride so that it can penetrate and coat the chain links thoroughly.
There are 2 types of dry lubes Wax (Paraffin) and Teflon (PTFE).
Teflon is found in most dry lubes today such as Finish Line. Even though they do collect more dirt and dust wax lubes, they have a very low friction coefficient, giving you a very smooth chain.
Pros. Dry lubes are lighter lubricants, they're less sticky and hence, attract less dirt build up. As a result of that, you'll usually get a cleaner drivetrain, and less cleaning is required.
Cons. Because they're a lighter lube, they'd get washed off easily when it's wet. Sometimes, you'll need to re-apply the dry lube every 80 to 100 miles to prevent drivetrain squeak.
Wet lube is meant for use in wet riding conditions.
If you live in a damp and humid environment that sees a lot of blustery weather conditions or wintertime snow, then consider going the wet lube route.
Wet lubes are usually oil-based. They're thick, sticky, and water-resistant. Thicker wet lubes are more water-resistant, but they also attract more dirt.
Pros. A major advantage of using a wet lube is that it lasts longer in terms of mileage per application.
Cons. Because they're sticky, they easily attract dirt and dust, often causing a drivetrain filled with grime.
Ceramic lube is the next generation of chain lubes.
The ceramic lube needs to thoroughly penetrate (preferably left overnight) the small bits of your chain, such as the pins and rollers. Those are the pieces that need to be cleansed and protected.
Nothing does the job quite like ceramic lube, which uses microscopic pieces of boron nitride to keep your drivetrain clean and as frictionless as possible.
Ceramic lubes such as Muc Off can cost a little more than the usual dry and wet lubes. But if you're running an expensive drivetrain or care a lot about your road bike, the extra cost is well worth it.
If you want to be really ahead of the curve, then there is ceramic wax lube such as the Molten Speed Wax, a very effective way to keep your drivetrain nice and neat with the best of both chain lube worlds, ceramic, and wax.
Frequently Asked Questions
1. What is the chain lube made of?
The ingredients of the chain lube is often a secret. Manufacturers consider them their secret sauce, which differentiates them from their competitors.
There are several common ingredients found in chain lubes, such as :
Boron nitride
Synthetic oils
Paraffin (wax)
Polytetrafluoroethylene (PTFE)
PTFE is more commonly known as Teflon, which is a registered trademark owned by DuPont Co.
Teflon is the same chemical used to coat non-stick frying pans.
2. How do I apply the chain lube?
Ideally, you'd want to lube your chain when it's clean. But realistically, this doesn't always happen especially if you're using dry lubes.
The chain lubricant might dry off, and your drivetrain starts to squeak before the next time you clean your bike.
Here are 3 easy steps to lube your bicycle chain.
Use a clean rag and wipe off any grime from the chain. Wrap the rag around the chain and spin your pedal backward. Use a chain cleaner to get even better results.
Apply a drop of chain lube on every roller (not the faceplate).
Wipe off any excess with a rag.
3. How often do I need to lube my bicycle chain?
It all depends on where you ride. As mentioned above, dry lubes would need more re-lubing as compared to wet lubes.
As a rule of thumb, you'd want to wipe your chain every 80 to 100 miles if possible. The more you ride, the more cleaning and lubing is needed.
If you start hearing squeaks, then it's time to re-lube the chain before the squeaks get louder. This is very common, especially if you ride in the rain, as the rainwater tends to wash the lube off the chain.
4. Can I use other types of lubes on my bicycle chain?
It's not recommended to use other lubes other than bicycle chain lubes on your bike.
Many beginners made the mistake of using WD-40 to lube their bike chain. After all, WD-40 prevents squeaks, right?
You'd want to stick with bike lubes if you want to squeeze every bit of mileage from your drivetrain. Avoid motor oils such as engine and gear oils, as they tend to be much heavier than a wet lube and attract a lot of dirt very easily.
5. What factors affect a chain wear?
The main factors that affect a chain wear include :
Dirty Chain. The most common factor that affects chain wear is a dirty chain. Keep your chain clean and well-lubed after every ride.
Usage Conditions. Dirt, mud, sand, and water can lead to increased friction between the chain links and cogs, leading to faster chain wear.
Drivetrain Conditions. A new chain used with a worn-out cassette/chainring will wear very quickly, and vice versa.
Riding Style. If you pedal with a lot of torque (think of low rpm) or power (think of climbing), the chain will wear quicker. That's why the pros use up to 10 chains throughout the 3 weeks Tour de France.
The best way to extend the chain's lifespan is to have it well lubed and cleaned whenever dirty.
You might also want to consider getting a chain checker as part of your bike tool kit.