You've probably heard about this magical cream that helps to prevent chafing and saddle sores.
It's called chamois cream or pronounced as shammy cream.
If you randomly ask someone in your bunch ride, chances are you'll find many who swear by them, especially if they're out for a long ride.
There are many chamois creams available today. While they all achieve the same objective, the way they're made might be different especially with the ingredients involved.
On this page, I'll discuss what you should be looking for in a chamois cream and share some of the popular ones among cyclists.
A Quick Glance : Our Favorite Chamois Creams Cyclists
This is arguably the most popular one around today. Developed by Swiss cycling apparel company, Assos, it's been around since the early 2000s and now in its fifth iteration.
You'll be surprised how many of the cyclists in the pro peloton use this.
It's made of 100% natural and paraben-free ingredients and thus doesn't feel greasy when applied. For those who are curious, the Assos Chamois Cream gives a cooling and tingling sensation especially for the first 10 minutes after applying.
Pros : Has a fresh and pleasant smell, and is soothing on the skin.
Cons : Costs more than most chamois creams.
Chamois Butt'r Cream Eurostyle
This is another very popular brand of chamois cream. It was developed in 1988 by an American physical therapist and cyclists named Steve Mathews.
It's not greasy and can be easily washed off the chamois.
There are also no artificial coloring and fragrances, while also being paraben and gluten-free.
Pros : Non-greasy and gentle on the skin.
Cons : Wears off fast especially when damp/wet.
dzNuts is created by David Zabriskie, who is a former professional cyclist with the Garmin-Sharp team in the World Tour.
As a former pro who has won stages in all 3 of cycling's Grand Tours and a former USA National Time Trial champion, David Zabriskie surely knows a thing or two about the pain down there especially if you're on the saddle for long hours, day after day.
All dzNuts' pro chamois cream is created with the theme of avoiding skin damage in mind.
Pros : Non-greasy and soothing on the skin.
Cons : More expensive than others.
Muc Off is a UK company which is famous for its bike cleaning products.
They've recently ventured into the athlete performance niche and have introduced a line of new products, including a chamois cream – others including recovery balm and warm-up oils.
Besides all the usual ingredients, the Muc Off Luxury Chamois Cream has also included provitamin moisturizers to keep your skin hydrated.
Also, please take note that it gives you a slight cooling sensation.
Pros : Excellent value for money given the 250ml size.
Cons : Strong scent might turn some off.
The Buttonhole Chamois Cream was developed by an American endurance athlete named Enzo.
Enzo has very strict requirements when it comes to picking the ingredients used to avoid skin irritation.
You can be sure that these don't contain parabens, mineral oil, DMDM hydantoin, Oleth-10, or Triethanolamine.
Pros : Gentle on the skin especially for longer rides.
Cons : Texture might be a little thick for some.
Picks for Female Cyclists
The Chamois Butt'r Her is by far the most popular women-specific chamois cream today.
It's specifically developed together with medical professionals and pro-women cyclists to meet the demands of female cyclists.
It's non-greasy and uses aloe vera, tea tree oil, and lavender oil as its main ingredients.
Pros : Has a balanced pH ideal for ladies that don't cause any irritations and rashes.
Cons : Washes off easily and not ideal for long rides.
This is the women-specific variant of dzNuts Pro Chamois Cream.
What's different?
While both look exactly the same, the major difference is the absence of the tingling sensation found in the men's version.
Most of the ingredients are similar but they differ in their quantity used in order to be friendlier to the sensitive skins.
Pros : Non-greasy and easy on the skin.
Cons : Expensive.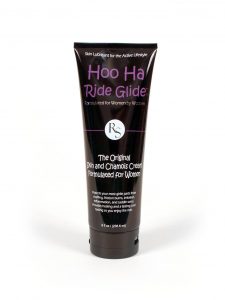 The first impression when it comes to this chamois cream is its name. Hoo Ha!
It's made by an American company, Reflect Sports which also manufacturers women-specific sporting products such as shampoo, conditioners, and gel for swimmers.
Besides the usual skin-friendly ingredients, its formula is enriched with barley extract, lavender, eucalyptus leaf, green tea leaf extract, and peppermint oils. When applied to your skin, it gives off a cooling sensation.
Even though it's marketed towards women, it's safe to use for men as well.
Pros : Very versatile – suits male and female for other sports such as running or horse riding.
Cons : Tingling sensation can last a little longer when first applied.
The Udderly Smooth Chamois Cream is developed by a registered pharmacist, Bill Kennedy with the inputs of elite women cyclists.
The company, Redex Industries is both family-owned and operated out of Salem in Ohio, U.S.
Its texture is slightly thicker but less greasy than other chamois creams, making it easy to apply on your skin and chamois.
One of the main ingredients is Shea Butter, which has anti chafing and skin healing properties to help with the chafing and saddle sores.
Pros : Good value for money – you get an 8oz twin pack for the price of one.
Cons : Needs quite a generous amount to be effective especially for long rides.
Petal Power Joy Ride Creme
Petal Power's tagline is Chamois cream created by women, for women.
They pride themselves in using natural products, and hence you won't find menthol nor tea tree oil, or any petroleum and parabens ingredients in this chamois cream.
It's a no-tingle chamois cream and perfectly suited especially for ladies who have sensitive skins.
Pros : Gentle and soothing on most skins.
Cons : Only available in black.
Chamois Creams Buying Guide
Chamois cream is specifically designed to be applied between your skin and your bib short's chamois. It's meant to minimize chafing due to the friction developed as you pedal, especially for long hours.
Depending on where you are located, chamois creams are also referred to as butt creams or saddle creams.
Today, there're many brands of chamois creams. But wait, they're not the same especially in the ingredients used in it.
Geek Tip : Always check the ingredients especially if you've sensitive skins to avoid irritations after applying.
How did the chamois came about?
To answer this, let's head back to the 1940s were the first bike-specific shorts were invented.
These were either made from cotton or wool. And they weren't skin-friendly, caused itching, friction, and chafing.
This then led to the invention of chamois using sheep leather since they can significantly reduce chafing. But as leather hardens over time, the first chamois cream was invented to be applied to the leather to soften it.
It was not only until the 1980's that the chamois we use today were invented.
Subsequently, a new type of chamois cream was also invented to work together with the chamois to reduce chafing.
Why use anti-chafing cream?
This is a personal choice, really. It's also not a much-discussed topic during group rides as it can get personal at times.
Here's why you should use chamois cream :
Reduces Friction. You probably don't feel it in the beginning, but there is a lot of friction between your skin and the chamois as you ride for hours. Imagine if you average 90rpm and ride for an hour, that's 5400 pedal strokes already! The chamois cream provides a layer of skin lubricant to prevent chafing and saddle sores.
Prevent Inflammations. When you put together moisture, sweat, salt with sensitive skins around the nether regions, that calls for trouble. And that's why chamois cream has antibacterial and anti-inflammation ingredients in it.
Soothes the Skin. Chamois cream usually has a cooling or tingling effect to help you soothe and soften the skin from irritation and salt built up if you spend long hours on the saddle.
Prevent Saddle Sores. Friction between your skin, inflammations, irritation, and chafing are all precursors of saddle sores.
Geek Tip : Use chamois cream if you're spending long hours on the saddle, day after day.
What's the difference between men and women chamois cream?
There is a difference between men's and women's chamois creams.
Generally, it's okay for men to use any chamois cream.
For women though, it's highly advisable to stick with women-specific ones as some of the ingredients used could lead to a burning rather than a cooling effect.
Geek Tip : For ladies, stick with women-specific chamois cream as they're friendlier to the skin.
How to apply chamois cream?
You can either apply the chamois cream on your skin or both the skin and the chamois.
To me, it's more effective to apply it on your skin as you'll be making sure you apply them to where it matters most.
There's no right or wrong way.
What are the alternatives to chamois cream?
You can use these alternatives to chamois creams:
Antiseptic Cream. These provide plenty of anti-bacterial ingredients but are lacking in lubricants.
Cocoa Butter. They feel nice and slippery in the beginning but seriously lack lubrication and anti-bacterial ingredients.
Nappy Rash Cream. One of the most popular ones available is Sudocrem. These are astringents that will actually dry rather than lubricate your skin.
Petroleum Jelly. Products like Vaseline are great lubricants but they seriously lack anti-bacterial ingredients.
Geek Tip : I'd highly recommend to stick with chamois cream when it comes to cycling.