One of the common questions bike commuters tend to ask when it comes to the bicycle helmet is,
Aren't all bike helmets the same?
Can't I just use my road or mountain bike helmet while commuting?
Of course, you can!
So what makes a commuter bike helmet so different then?
Well, it lies mainly in the design.
Commuter helmets are designed to look stylish and match that urban or office clothing you're wearing while commuting. They're generally heavier and might have lesser ventilation compared to road bike helmets.
It feels great to look good on the bike, even when commuting.
On this page, I'll share with you some of the most popular helmets among bike commuters.
A Quick Glance : Our Commuter Bicycle Helmet Recommendations
California-based Giro is one of the biggest names in cycling gear, and for good reason. Their designs are lightweight, comfortable, and incredibly safe. 
The Giro Caden is equipped with Giro's ground-breaking Multi-Directional Impact Protection System (MIPS). This redirects energy in bumps and impacts so the shock is reduced, keeping your head safe. 
Active vents in the outer shell channel cool air over the head and out of the twelve separate vents, reducing drag and cooling you at the same time. To top it all off, the Giro Caden features a removable visor so you can keep the sun and rain out of your eyes.
Pros : Lightweight, comfortable, and MIPS equipped.
Cons : Flimsy straps may need occasional adjustments.
Swedish company POC was founded in 2005 with the explicit goal of bringing the most advanced research to helmet technology. In those 15 years, they've become a trusted standard-bearer for unbeatable helmets, and the updated POC Crane MIPS is a terrific example. 
Built around the groundbreaking MIPS technology, the safety design of this helmet offers security and confidence while riding in urban environments. It features a dual-layer EPS foam liner, one hard to protect you from more intense impacts, and the other soft for slower-speed crashes. 
As an added touch, the interior is treated with antimicrobial Polygiene, deodorizing while fighting off dirt, ensuring you arrive at the office smelling fresh.
Pros : Lightweight and nice-looking helmet.
Cons : Sizing and fit can be tricky for some.
California-based Kali has made a bold first step in offering an eco-friendly helmet with the Kali Saha, composed entirely of renewable and recyclable materials, all non-solvent-based. 
These materials are sound and study, with a durable outer shell heat-molded from corn-based polylactide plastic and a recycled polystyrene interior. It also features fabric elements made from natural cotton and flax. 
The Kali Saha is slightly heavier than competing products, weighing in at 296g, but the combination of ethical construction and sturdy protection is ideal for conscious commuters.
Pros : 5 years warranty.
Cons : Heavier than its peers of similar price points.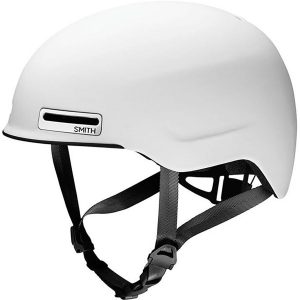 Smith Optics was founded in 1965 in Idaho, where they remain till this day. But don't let their rural origins fool you, though: they're just as handy with sleek urban designs as with rugged outdoor products. 
The Smith Maze features a low profile and subtle design elements, combining easily with a wide variety of clothing styles. Wide vents at the front and rear allow air to be channeled easily and smoothly, keeping your head cool and dry. 
The webbing is simple, single-layer, and comfortable, with an elastic attachment at the rear to take up the slack and guarantee a snug fit.
Pros : Sleek and slim profile with urban looks.
Cons : Available in either black or white only.
The Bern Melrose is specially designed for women, coming in a variety of colors to complement clothing while offering excellent safety features. 
Based in Plymouth, Massachusetts, Bern Helmets made its name designing top-tier ski helmets, and the demanding nature of that field has bled over into their bike helmets. The Bern Melrose is lightweight and has amazing ventilation, being designed with the summer in mind. 
Although it's tested to stand up to snowy conditions, you'll need to wear a hat or a headwrap underneath if you want to use it as winter cycling gear. Snug, comfortable liners are easy to replace, and Bern's PDW rear light attaches easily for extra visibility.
Pros : Stylish colors and contours.
Cons : Not ideal for cold weather commutes.
The Heritage from Thousand Helmets is designed with minimalism in mind.
This urban city helmet takes into account all the needs of a commuter such as locking their helmet to their bike. By popping out a tab on the side of the helmet, your bike lock can easily loop through it, allowing you to leave your helmet with your bike for peace of mind and convenience. 
It also doesn't leave safety rating aside, either, exceeding the US and European safety standards. With a magnetic strap fastener and two sets of pads, this is a great option for security and comfort.
Pros : Available in 8 colors.
Cons : Heavier than many other similar models.
The Bell Hub is one of the most futuristic-looking commuter bike helmets around, and the safety features are equal to the looks. 
The in-mold polycarbonate shell is tough and resilient, fending off impacts small and large, with the interior EPS foam absorbing shock. 
A clip is affixed to the back to accommodate bike lights, and a patented Twin Axis Gear (TAG) fit system allows you to make adjustments quickly. Comfort hasn't been left aside, either, with cooling, breathable mesh inside and a flexible visor to keep your eyes clear. 
With all these features, the Bell Hub is a great choice for commuters.
Pros : Very futuristic look for the modern commuter.
Cons : Hard plastic pieces at the rear can be uncomfortable.
The Abus Hyban is a versatile helmet that maximizes visibility and features a precise Zoom Evo Easy size adjustment system to suit a wide range of sizes. 
Commuters with smaller heads might find this helmet particularly appealing due to its sleeker profile and low weight. Good ventilation is provided by 18 vents placed strategically throughout to allow maximum airflow. This is perfect for warmer weather, and the liner is removable and washable to make cleaning easier. 
The Abus Hyban features not only an exceptionally hardshell with MIPS technology but also a lot of handy features including a removable visor, comfortable straps, and an integrated LED rear light.
Pros : Integrated LED light increases visibility.
Cons : Chin straps can be flimsy.
It says a lot about the Giro brand that even their simplest cycling helmets offer the same features and protections like their more elaborate products. 
The Giro Sutton is about as uncomplicated and reliable as a cycling helmet can get, not least because of the MIPS technology. At the rear of the helmet is a built-in light clip, allowing easy attachment of your preferred lights. 
The Giro Sutton is also designed with easy security in mind, with reinforced rear vents built into the back of the helmet through which you can lock it to your bike frame via a U-lock.
Pros : Simple, minimalistic design.
Cons : Lack of air vents for the summer.
Nutcase Helmets is based in Portland, Oregon, a city known for being a hotspot for all things bicycle. With Nutcase Street, they've taken the approach that not every helmet needs to be grey or hyper-technical in appearance.
The Nutcase Street is designed with urban cycling in mind, and the colorful patterning adds a touch of brightness to your outfit. Equipped with MIPS technology, the Nutcase Street is safe and sound, and the fit can be adjusted with the handy dial adjustment system in the rear.
It also comes with useful extras like three sets of foam liner pads for an improved fit, a removable visor, and a magnetic strap closure.
Pros : Unique and colorful designs.
Cons : Lack of air vents.