Looking to buy a pair of cycling gloves for the summer?
There are countless options on the market today, each with its own strengths and weaknesses. From considering the fit to the materials, price, and everything in between, the buying process can be a bit overwhelming.
On this page, I'll share with you the most popular gloves among cyclists in the bunch today.
How We Pick Fingerless Cycling Gloves
In order to filter out and shortlist the ones that are truly good, we turned to online cycling forums, asking around in bunch rides and scouring Instagram and Facebook influencer feeds to get the first-hand experience.
We also complement this by going through the user reviews on large online retailers such as Amazon, Competitive Cyclist, and Amazon. We paid attention to objective criteria such as :
Size and Fit. The easiest way to ensure the right sizing is to measure your palm's circumference and compare it against the manufacturer's size chart. If you're on the upper end, consider sizing up.
Padding. Look on the palm-side and you'll see the difference in padding. The thickness, foam placement, and type of padding all will affect how your hands feel on the bike. For some, having no padding at all is the most comfortable, while it's the complete opposite for some.
Price Points. We understand everyone has a different budget for gloves. So we picked our favorites across various price points.
Read more about this in our summer cycling gloves buying guide.
A Quick Glance : Our Favorite Cycling Gloves for Summer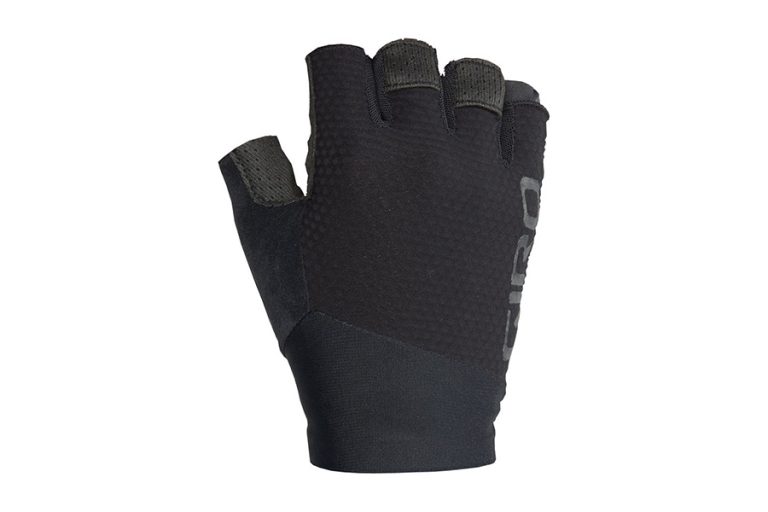 The Zero CS are Giro's top-level, premium gloves for those who are after zero paddings.
Don't be fooled by its very minimalistic and lightweight design. Not only it's very breathable, but grip and control are also spot on with the use of 100% sheep leather around the palms. 
They fit very snugly to give you a very real feel of your handlebars. The double pull tabs allow for easier removal especially when the palms are sweaty. For those who are fashion conscious, they come in 6 different colors which would definitely match your kit of the day.
Pros : Minimalistic design.
Cons : Zero paddings might not suit everyone.
Sportful has been making clothing since the 1940s but it's only in 1985 that they started making cycling clothing. The Sportful BodyFit Pro gloves are the same ones used by pro cycling teams sponsored by Sportful such as Bora-Hansgrohe. They're clean, simple yet comfortable.
They've just the right amount of stretch to provide a snug fit, along with a microfiber towel at the bottom of the thumb for wiping off the sweat.
Pros : Comfortable fit with very stretchy materials.
Cons : Sizing chart is a bit off.
Today Giro makes a wide range of cycling gear and they're well-known for their helmets and cycling shoes. The Giro Monaco 2 is the improved version of the original Giro Monaco. They're designed for high-mileage riders who are tough on their gloves.
The vented leather palm, gel padding, and double stitching ensure it holds up for ride after ride. Fit-wise, the wrists are adjustable via a velcro strap and they have breathable, stretchy back panels.
Pros : Made with tough material that will last over several seasons.
Cons : Limited color choices.
High Quality and Premium Picks
Castelli Rosso Corsa Espresso
When Castelli designed its Rosso Corsa Espresso glove, it identified two main areas of concern that most cyclists have; getting the gloves on and off, and having padding where it should be.
To solve the first issue, Castelli incorporates high-strength material into the cuff that allows it to more easily be pulled on and off. It works so well that they don't need a hook and loop strap.
For the second issue, Castelli performed a thorough analysis of the hand to place its gel pads in the optimal locations to prevent numbness and fatigue. 
Pros : Made from the best fabrics Castelli has to date.
Cons : Expect to pay a premium price.
Assos has been around for more than 40 years and is well-known for producing high-quality cycling clothing.
The Assos Summer S7 gloves are an updated version of their popular CYC gloves. The padded inserts are strategically placed to provide comfort while not getting in the way when gripping your handlebars.
It's made of stretchable fabrics along with mesh panels to keep you cool and dry while you ride during the summer.
Pros : Padding placed strategically for maximum support.
Cons : Sizing runs small.
You're probably familiar with the outdoor brand Gore. But did you know that they're also into cycling via a brand called Gore Wear.
As with all Gore's products, you can expect a quality pair of gloves. The Gore Wear C5's gels are strategically inserted around the palm areas for effective padding. It's highly breathable using proprietary Gore fabrics at the back panels for those hot days.
Pros : Loops between the fingers for easy removal especially when wet.
Cons : Expect to pay more.
Endura FS260 Pro Aerogel Mitt
Scottish brand Endura is no stranger to cycling having sponsored the Movistar pro cycling team for many years now.
The Endura FS260 Pro Aerogel cycling mitts are the same ones used by the pro cyclists, albeit in different colors. You can expect to have the best materials and features, all tried and tested at the top levels of cycling.
The palm area is lined with silicone grippers which give an exceptional grip while the gel padding is minimal yet adequate.
Pros : Silicone grippers are very grippy especially when wet.
Cons : Limited and boring color choices.
Castelli is one of the top cycling clothing brands and has been around for more than a century.
The Arenberg is lightweight yet functional. No surprises here coming from a reputable brand. They're ergonomically designed with suede palms and minimal gel padding at places you need the most protection.
Breathability is spot on with the use of mesh fabrics at the back panels. More importantly, you can be sure to get a perfect fit with the adjustable velcro closure.
Pros : Padding is placed strategically to provide maximum support.
Cons : Color choices can be better.
Enough padding to add comfort but not so much to make gripping the handlebars a chore: that's the delicate balance that quality cycling gloves maintain. Such is the case with this pair from Specialized.
They feature plenty of comfort with gel padding while keeping your hands firmly gripped to the handlebars with microfiber palms. It also feature a shorter finger design with a breathable mesh backing to keep your hands cool on those mid-summer rides.
A hook and loop closure keeps the gloves firmly in place. They come in three different colors; yellow, red, and white.
Pros : Very comfortable and breathable.
Cons : Velcro straps tend to get loose over time.
The Pro Gel is Pearl Izumi's mid-range cycling gloves that provide plenty of padding. Please excuse the word Pro in the name.
Maximum padding is achieved by a gel insert around the palm area. The unique feature about the padding is there are air vents covering the gel inserts, making it more breathable.
If you sweat a lot, there's a sweat wipe below the thumb to wipe them off.
Pros : Value for money for those on a budget.
Cons : Sizing chart is a bit off.
Frequently Asked Questions
1. Which cycling gloves do I need?
It depends on the season you're riding in. If it's during the hot summer, you'll need fingerless gloves, aka short finger gloves or mitts such as the Giro Zero CS or Castelli Espresso.
If you're riding in chilly conditions over autumn/winter, then you'll need full-fingered gloves. The materials and thickness will depend on how low the temperature will get.
2. Why do cyclists wear gloves?
The main reason is to protect their palms should they fall off the bike. The palm is one of the most common places to get injured as the normal human reaction is to break the fall using their hands.
Besides that, cyclists also use gloves to wipe off sweat during the summer and to protect their fingers during the winter, using full-fingered ones.
3. How should my cycling gloves fit?
They should fit snugly; neither too tight nor too loose.
Your palm and finger movements will feel restricted if it's too tight. If it's too loose, it could lead to unexpected skin abrasion with the constant rubbing between your palms and the inner layers of the gloves.
4. Why are cycling gloves fingerless?
A fingerless cycling glove is a pair of gloves that don't cover your fingertips such as the Castelli Arenberg. These are usually used for hot weather during the summer season.