You'd probably noticed that there are many headphones choices out there, but the question is;
Which one is suitable for cycling?
Be aware that using headphones when cycling is a contentious issue that divides many cyclists. Some argue that if you're riding on the road, you need all your senses to be alert to potential dangers. Others argue that music helps you work harder and achieve more so the trade-off is worth it.
Everyone is entitled to their opinion. More importantly, you have to know what you're doing and take all the necessary precautions to minimize the risk of any incidents.
So if you're after a headphone for cycling, here are some important features to look for. We'll cover each of them in detail in the buying guide below.
Earbuds are more sweat-resistant and lighter than the traditional ones.
Wireless connectivity via Bluetooth to your smartphone so that the cables don't get in your way.
Bone conduction technology if you want to stay aware of your surroundings while listening to music.
A Quick Glance : Our Favorite Headphones for Cycling
The Bose SoundSport is my top pick for value.
Considering the quality on offer, the asking price is a steal. They are wireless and feature Bose's Active EQ technology and awesome sound quality. They use NFC and Bluetooth 4.2 and offer up to 6 hours of battery life.
Construction is delicate but rugged with sweat-resistant materials, great fit, Stay Hear+ fitment, and the performance you would expect from a product from Bose.
Pros : Excellent value for money with long battery life.
Cons : Not very loud.
Buy If : You're after a headphone that offers the most value for your money in terms of price vs functionalities.
The Anker Soundcore is my top pick for those who are budget-minded. They are wireless, include a microphone, a sweat guard with an IPX7 rating, 10 mm dynamic drivers for good sound reproduction, 12-hour battery life, noise isolation, and a safety cord to keep them attached.
The materials and build quality of these are good. They come with over-ear loops that are just the right size and the entire setup needs minimal adjustment before use.
Pros : IPX7 rated (can be submerged under 1 meter of water). The over-ear loop fits great.
Cons : A lesser known brand.
Buy If : You're looking for budget headphones for riding.
The AfterShokz Trekz Air is our top pick for bone conduction technology headphones. 
They look a lot different than the earbud-style models with a much more angular design. They are very comfortable though and are sweat-proof, use Bluetooth and offer up to six hours of playback per charge.
The construction seems robust and while the neat reflective decals are more style than substance, audio reproduction is where this shines. They leave your ears free to listen for traffic and background noise while delivering solid audio performance. 
Pros : Comfortable and doesn't get in your way. Long battery life.
Cons : Average audio quality.
Buy If : You want a headphone that allows you to hear your surroundings while riding.
The Urbanears Stadion Active is my top pick for situational awareness. 
If bone conduction like the Aftershokz Trekz Air isn't for you, these will be. They are traditional earbuds that project sound well without blocking other sounds going on around you. That's a definite bonus if you're cycling in the city.
Build quality is good, comfortable, will stretch to fit, use Bluetooth and offer up to 7 hours of playback per charge. The design might not be to everybody's taste but the quality will be.
Pros : Comfortable earbud fit. Very long battery life.
Cons : Design might not be for everyone.
Buy If : This is a good alternative choice to the Aftershokz Trekz Air.
The Jabra Elite Active offers great audio quality with the additional benefit of a digital assistant in your ear. They are small earbuds without a security cord, yet they shouldn't fall out of your ears. They sit comfortably inside the ear canal with the grippy material keeping them in place.
It is IP56 rated and includes a motion sensor, accelerometer, noise canceling, and an app to control audio and features. It will work with most digital assistants to work with Alexa, Siri, or Google Now. 
Pros : Nice and sleek design with top sound quality.
Cons : Costs a premium.
Buy If : You want the best wireless earbuds for cycling. They do look very cool.
The Jaybird X3 may have a curious name but they also have a fantastic sound quality and they are our top pick for just that reason. These are small earbuds that pack a powerful punch. 
They feature sweatproof materials, silicone housings that lock them in place, wireless operation with up to 8 hours of battery life, and the MySound app that lets you customize your audio experience.
The small size means they are light and don't get in the way. Yet they fit fine and should stay in your ear comfortably no matter how hard you work.
Pros : Excellent audio quality with extra long battery life.
Cons : Expensive.
Buy If : You want a headphone that offers the best sound quality while you're riding.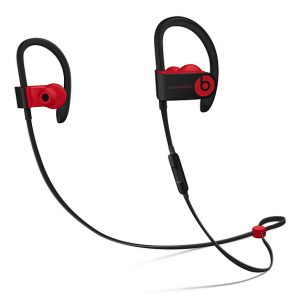 The Beats Powerbeats 3 continues the company's drive for audio perfection. 
This model is our pick for the best battery life with an average of 12 hours of run-time per charge. Add a quick charge option that provides an extra hour with only five minutes of charging, and you have the ideal headphones for cyclists and busy people in general.
The build quality is excellent, size and weight are more than competitive, and they come in different colors. They are also sweat-resistant and have four earbud tips to fit every type of ear. 
Pros : Quick-charging is a nice and useful option to have.
Cons : Earbud is not the most comfortable.
Buy If : You're after a wireless headphone with long battery life (~12 hours).
Built-in Heart Rate Monitor
The Bose SoundSport Pulse is different from the SoundSport in that they have a built-in heart rate monitor. 
If you don't have a wrist or chest strap, you can minimize weight and device management by using headphones with an HRM built-in. These use NFC or Bluetooth and offer up to 5 hours of battery life with the HRM running.
Build quality is excellent, they come with an IPX4 rating for moisture resistance, a neat carry case, and the Bose app to modify audio qualities and other settings. These are top class for audio production and the HRM seems fairly accurate too.
Pros : Ear tips and fins help you dial in the ideal fit.
Cons : Average battery life.
Buy If : You want a headphone with a built-in heart rate monitor.
Cycling Headphones Buying Guide
To be included in this list, each product had to offer great build quality, fantastic sound reproduction, be sweat resistant, and not blocking out too much ambient noise. 
Road cyclists especially require all their senses to remain safe on the road, and these headphones should not impair that safety at all.
Whether you're looking at on-ear headphones, earbuds, or bone conduction, you want to be able to forget you're wearing them while enjoying the music.
For cycling, wireless is definitely the way to go as wires can restrict your movement and be uncomfortable especially if you start to sweat. 
All of the models mentioned on this page should also work with a bike helmet.
Sound quality is probably the most important aspect.
The fit, build quality and look are still important but they are all for naught if the audio reproduction in your ear sounds like a pair of Walkman headphones from the eighties.
Fortunately, earbuds like the Jabra Elite Active are now capable of impressive quality reproduction and surprisingly good bass. They won't compare to a set of good quality headphones but developments in miniaturization mean audio quality is now a million miles from where it used to be.
The one compromise you tend to get with earbuds is instrument separation. It's sometimes difficult to differentiate between instruments in a piece of music that can occasionally mar the experience. This shouldn't be an issue while on the road as you will also be hearing ambient noises and will adapt to the reproduction anyway.
The inclusion of an app to customize settings and alter the character of the music is a feature in some of these models. They give you the chance to tune the audio to your particular taste or to the type of music you're listening to. Not a prerequisite but it is nice to have.
You're out in the wild or on the road and absolutely must be able to hear what's going on around you especially traffic noise. The earbud design, together with noise cancellation features means that the ambient noise will be minimized.
For safety reasons, this might not be ideal.
Instead, you still want to be able to hear what's going out around you and that's where bone conduction technology headphones such as the Aftershokz Trekz Air and the Urbanears Stadion Active come into the picture.
They don't use your ear at all but your cheek instead. This leaves your ears free to listen for traffic or hazards while still enjoying the music. They also don't suffer from wind noise and can be comfortably placed above, behind, or in front of the ear.
Read More : 11 Common Situations Cyclists Get Hit and How to Prevent Them
Battery life is the main limitation of wireless headphones, but none of the models featured here will leave you wanting. With a minimum of five hours of playtime, as long as you remember to charge them before a ride, they should be enough even for the semi-pro.
Some models like the Beats Powerbeats 3 have a playtime of up to 12 hours.
Most models will have USB charging of some kind, so if you're out for longer, you can always carry a power bank with you. It may be a few grams extra and take up space in your jersey, but you never know when you might need it. 
If you're listening from your phone, it will likely need a boost too, if you're planning to be out that long!
Most of the models featured use Bluetooth. Some have NFC options too but predominantly, wireless headphones rely on Bluetooth to receive the music from your phone or portable player. Bluetooth does have a battery drain but that is featured in the battery life.
On the upside, Bluetooth is reliable, has a decent range, is universal, and will work with any Bluetooth-capable device. When Bluetooth Low Energy becomes more of a thing, battery drain should be a thing of the past!
While you should never answer the phone while riding your bike, Bluetooth connectivity has the advantage of offering voice commands and phone answering capabilities too. If you find yourself in a situation, that could be a lifesaver!
6. Water and Sweat Resistant
Water and sweat resistance may or may not be necessary depending on how much you sweat. We are all different and will sweat at different rates. 
If you sweat a lot or even a little, it makes sense to ensure your headphones have some form of moisture protection. Even if you're not going to get them wet, the climate in your region may have other ideas!
Water and sweat resistance is measured using the IP scale. IP stands for Ingress Protection. The numbers will designate the level of protection, as shown in the image above.
For example, the Anker Wireless Headphones are IPX7 rated. The X means it's not tested for solids or liquids, while the number 7 means it is safe to immerse in water up to 1m in depth up to 30 mins, maximum.
On the other hand, the Jabra Elite Active is IP56 certified. The 5 means it's has protection against dust ingress and the 6 means safe against powerful water jets.
Bone conduction is a relatively new way to conduct audio.
Rather than sit on or in your ear, bone conduction headphones will sit on your cheek or skull. This leaves your ears free to take in the world around you and is also very comfortable when you get used to them. One such example is the Aftershokz Trekz Air.
There is no ear rub, no chafing in the ear canal, no soreness after prolonged use, and no discomfort from sweat either.
Bone conduction uses an open ear design and transmits audio waves through your bone instead of sending it into the eardrum. It's just as effective as in-ear headphones and has the benefit of letting you remain aware of the world around you. 
Perfect for road cyclists!
Typical warranties stand at one or two years. 
I'm always of the belief that if you buy quality products, you should never need the warranty but it's nice to have one anyway. The warranty will usually protect the headphones themselves but not any silicon covers or accessories.