Looking for your next cycling jersey?
Whether you're lining up for a big race or simply tackling a mountain workout over a hot weekend, you need a top-performing jersey to wear, especially in the summer months.
Sure, summer riding is more popular than cold-weather riding, but it does come with its own share of problems, especially body temperature regulation, moisture management, and UV protection. That's why you need a great cycling kit that is up to the task.
The market for jerseys is huge today and there's no shortage of options from cheap ones from Ali Express to established cycling clothing brands such as Castelli, Rapha, Pearl Izumi, and Assos among others.
In order to filter out the noise and pick the truly great ones, we draw upon the collective experience of our team who are all experienced, everyday cyclists. From a shortlist of 57 that I initially came up with, the team voted down to 24.
From here on, we applied our own set of criteria below to come up with this list of 12.
Fabric quality is where most of the R&D budget goes into. A good fabric has to multi-task such as being comfortable, lightweight, breathable, and wicks sweat, all at the same time. We picked jerseys that are well known for this.
Fit can be very subjective depending on the brand and individual cyclist. For our picks, we tried to be conservative, picking jerseys that are known to fit well for most cyclists.
Design is important, but we don't give as much weightage compared to fabric quality and fit. We understand that each of us has different tastes and hence there is no one size fits all design.
We discuss more on these in detail in our buyer's guide here.
A Quick Glance : Our Favorite Cycling Jerseys
If you ride in a climate where hot temperatures and high humidity is the norm in the summer, the Velocio Radiator Mesh Jersey is definitely worth checking out.
The folks at Velocio actually designed this jersey for the hottest of days when you need to tackle those mid-summer climbs. The Delta fabric it uses cools you down like a radiator. And the recycled fabric used on the sleeve and back is not only lightweight but also features UPF30 sun protection.
For a tight-fitting second skin, many cyclists have agreed the fit of the jersey is quite comfortable.
Designed with racers in mind, the Castelli Aero Race 6.0 Jersey is an aero-efficient jersey now in its sixth generation. Castelli has made significant improvements on this jersey over its previous editions.
The jersey features a 3D mesh back for great breathability, elbow sleeve length, and a really nice drop tail pocket that's practical for storage while keeping the jersey fitting well at the waist while in the riding position.
The product engineers at the Italian cycling apparel brand have made steady improvements to this chic jersey over the years, diving deep into the most technical of details.
When it comes to pricing, the Castelli Free Zero Race 6.0 runs on the higher-end, but it's one of the best in its class.
dhb Aeron Lab Raceline 3.0
Built for top-speed racing, dhb's third iteration of its popular Aeron Lab Raceline Jersey is a great second skin for the price.
This wind-tunnel-tested jersey is as aerodynamic as a jersey can get. It features three pockets, a Vislon zipper, raw-cut sleeves, and a low neckline for that aggressive race position.
The latest generation of this jersey is made of a superlight eaves fabric that stretches across the jersey for ultimate airflow.
Some cyclists have said the dhb Aeron Lab Raceline Jersey feels a little short in the front and on the side panels, but the consensus is that it delivers on race day.
The Le Col Pro Air Nexus Jersey is extremely lightweight, breathable, and aerodynamic. But the first thing you're going to notice is the awesome design. Simply put, this jersey is a stunning work of art.
Of course, looks aren't everything. And this jersey certainly performs in race day environments thanks to its 3D mesh construction, which does a great job at managing moisture and regulating temperatures throughout your entire ride.
A nice feature is the fourth hidden waterproof zip pocket, where you can store any valuables you need to take on your ride. I really like the saffron and khaki color options on this Le Col jersey.
Keep an eye for special deals on Strava especially if you have completed the Le Col monthly Strava cycling challenges.
A strong-performing racing jersey, the Rapha Pro Team Flyweight jersey delivers excellent moisture management and a comfortable fit for a second skin.
This jersey was really designed for those hot days, where the wrong jersey could cause irritation once you start sweating.
Rapha's jersey uses two main fabrics that help with its performance and comfort. The main fabric is a blend of 86% polyester and 14% nylon, which is super lightweight and offers great ventilation and aerodynamics.
The back of the jersey is an alternative polyester fabric that also provides UPF 40 sun protection. It's also available in the long sleeve jersey version.
Sportful Bodyfit Pro Light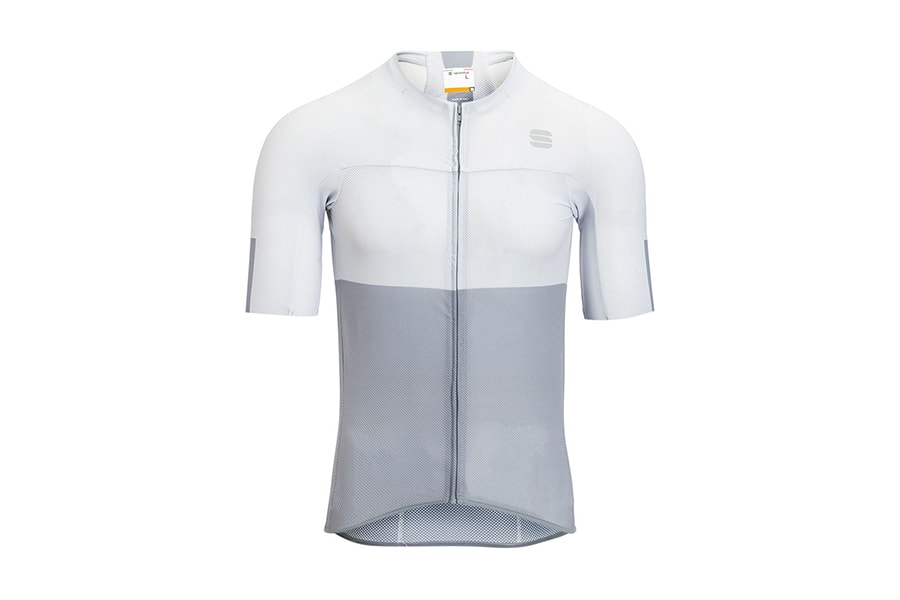 If temperature management is your top priority in a summer jersey, the Sportful Bodyfit Pro Light Jersey is one of the best at keeping you cool on the longest of hot rides. The lightweight fabrics it uses are great at wicking away moisture, all while feeling very soft against your skin.
In terms of comfort, the highly elastic materials on the shoulders has a lot of flexibility, which prevents bunching around that area and keeps the rest of the jersey in place as you switch between riding positions.
The laser-cut sleeve cuffs are also quite comfortable and should eliminate any irritation or pinching.
There's plenty to like about the Assos Equipe RS Aero Jersey, from its miniCheck Tex 3D knit fabric, which is great for breathability, to its built-in odor control feature, which leaves you feeling fresh after a long ride.
The Swiss company has a reputation for high-quality products, which is reflected in the jersey's high price tag. But the features of this jersey make it a go-to purchase, especially in race-day situations.
This jersey does a great job at regulating temperatures thanks to the stabilizer materials on the back, which essentially creates a cooling panel.
Developed in collaboration with champion cyclist Fabian Cancellara, the Gore Wear C7 Jersey is an extremely technical summer jersey that's as comfortable as it is aerodynamic.
This is the jersey you buy for those super-long rides in hot temperatures. Moisture transfer is very quick and effective, keeping you cool the whole way.
But this jersey is also about speed and performance. Lie-flat seams on the sleeves and silicone grippers at the waist keep everything in place, even if you're moving around a lot on your ride.
That stability also allows you to pull the zipper and up and down with one hand while you continue your ride.
Slim-fitting and quite aerodynamic, the Maap Flare Pro Fit Jersey might be too tight for some, but it boasts great moisture management capabilities that certainly keep you cool on your long rides.
You don't have to worry about this jersey riding up on you during a ride, thanks to its internal silicone print which keeps everything in place.
If you're looking for a summer jersey that looks great, the Maap Flare Pro Fit Jersey features a couple of different beautiful designs to choose from that will make you stand out on the road.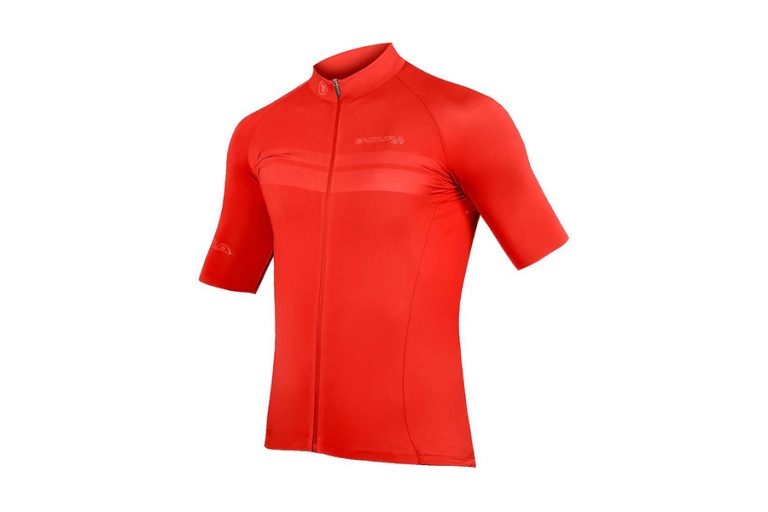 The Endura Pro SL Short-Sleeve Jersey 2 is a pro-style summer jersey with a much more affordable price tag.
Made of premium Italian Lycra, this jersey hugs nicely around your body and can rapidly wick sweat to keep you dry on your long ride. The silicone gripper on the raw-edge sleeves do a good job of keeping the jersey in place, so you don't need to worry about any skin irritation.
The full-length zipper is great for additional ventilation and can be unzipped using one hand on your ride.
A beautifully designed piece of apparel for summer riding, the Santini Redux Genio Jersey is perfect for those super-tough mountain climbs in hot temperatures.
After the design, you'll notice how roomy the pockets are, allowing you to easily store a larger smartphone without the worry of things bouncing around. Like most race day jerseys, Santini's jersey features great aerodynamics, allowing you to focus on your ride and not the wind in your face.
It's all about temperature management with this jersey thanks to its blend of synthetic fabrics. It's going to keep you cool and dry when you're climbing, but comfortable as you catch a downhill breeze.
Comfort is the top feature of the Specialized SL Air Jersey.
That's mostly attributed to the jersey's VaporRize mesh fabric. It does an incredible job of wicking away moisture from the skin, but also being very breathable so you don't overheat.
The rear pockets are great for items such as snacks and a mini pump. They also feature a zipper, which is nice to have for storing a smartphone without worry. And then these jerseys are very lightweight. So lightweight, that you may forget they're even on.
At the end of your ride, easily unzip the full-length zipper for additional ventilation.