There was a time when all road bikes were designed to be multi-purpose and for everyone. But as technology progresses, it became obvious that not every cyclist wants a performance road bike with aggressive geometry for racing.
Some would prefer more comfort with a less aggressive geometry. The bike manufacturers' answer to this is an endurance road bike.
While at first sight, they look very similar to road bikes, there are subtle differences that will significantly affect your ride experience.
On this page, I'll discuss more in detail the difference between endurance and race bikes and what you can expect in one.
Also, if you want to know what are the best models around today, then be sure to read on.
Specialized S-Works Roubaix
Frame : Carbon, FACT 12r
Groupset : SRAM Red eTAP AXS, 12 Speed
Weight : 7.3 kg (Size 56)
There is a very clear reason why this bike is named the Specialized Roubaix. That would be because the bike has won Paris-Roubaix seven times.
If you're not familiar with Paris-Roubaix, all you need to know is that its terrain is notoriously rough with plenty of pave and cobbles.
Specialized credits the Roubaix's use of its Pave seat post, Zertz inserts, and Future Shock technology for making rough rides smoother and faster on the Roubaix.
The S-works Roubaix is outfitted with SRAM's top-of-the-line groupset, the Red eTAP AXS. And despite its use of disc brakes, the bike is incredibly light at 7.3 kg, which is only about 500g above UCI's weight limit.
Pros : Super lightweight compared to its peers with leading-edge vibration dampening technologies.
Cons : Expect to pay a premium over other brands.
Frame : Carbon, 7000 Series OCLV
Groupset : Shimano Dura-Ace Di2, 11 Speed
Weight : 7.8 kg (Size 56)
The Domane boasts wins at Paris-Roubaix and on the notoriously rough roads of the Tour of Flanders. 
Helping to absorb shock on Trek's top-of-the-line sportive bike is its patented ISO Speed technology. Trek uses ISO Speed on the front and back of the SL9 to absorb shock and make for a more comfortable and stable ride over uneven roads. Trek's rear ISO Speed is even adjustable for personal preference.
Couple that with Domane's ability to handle tires up to 38mm wide and a set of high-performance hydraulic disc brakes, and you've got a bike that is equipped to handle the roughest riding conditions.
Despite all of that attention to comfort, the bike still maintains a total weight of well under 8 kg.
Pros : Takes wider tires up to 38c for cobbles.
Cons : Limited color schemes to choose from.
Canyon Endurace CF SLX 9.0
Frame : Carbon
Groupset : SRAM Red eTAP AXS, 12 Speed
Weight : 7.2 kg (Size 56)
Canyon wants you to know that its top-of-the-line endurance bike, the CF SLX 9.0, is very lightweight. 
Check out the Endurace at Canyon's website and its weight is the first thing you'll see. There is a good reason for that. At just over 7.2 kg, this bike is just above the UCI limit of 6.8 kg. That's saying something for a bike that features disc brakes and beefier tires. 
Canyon incorporates its own proprietary technology into this bike with its split shaft seatpost that's designed to absorb shock while cutting weight. Further lightening the load is the drivetrain, which SRAM Red eTAP AXS, SRAM's top-of-the-line groupset. 
All of these features coupled with its significant weight advantage over other bikes in its class make the Endurace a tough bike to beat. It's just one more reason why relative newcomer Canyon continues to rise to the top of bike manufacturers.
Pros : Excellent value for money with top-of-the-line components.
Cons : Stock and sizing are hard to come by.
Giant Defy Advanced Pro 0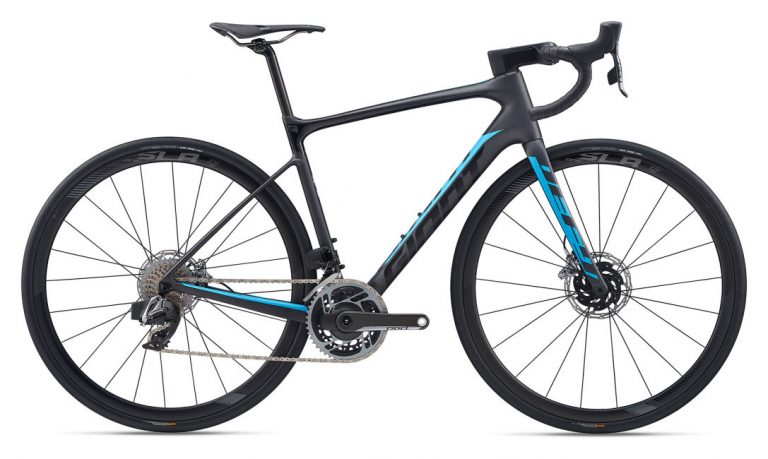 Frame : Carbon
Groupset : SRAM Red eTAP AXS, 12 Speed
Weight : 7.2 kg (Size 56)
Some years back Giant was the first bike manufacturer to make disc brakes available on all of its sportive bikes. 
Everyone else soon followed suit. Giant then revolutionized shock absorption through its D-Fuse technology. And again, everyone else imitated. Now, Giant has taken it to another level. It has made its D-Fuse seatpost even more flexible. 
Perhaps more importantly, it's also added comfort to the front through a handlebar that uses the same technology to allow flex in the handlebars. We expect competitors to follow suit in short order. 
Those aren't the only improvements made to the Defy. The Giant Defy now allows tire clearance for wider tires, up to a whopping 32mm, making for an even comfier ride. That's not to say there isn't a cost for all this comfort. Giant is one of the heavier bikes in its class.
Pros : Excellent value for money with top-end components.
Cons : Stem design is not the cleanest looking.
Frame : BallisTec Hi-MOD Carbon
Groupset : Shimano Dura-Ace Di2, 11 Speed
Weight : 7.8 kg (Size 56)
Cannondale has always been lauded for frame craftsmanship that makes for buttery smooth rides, and the Synapse is one of its masterpieces. 
The bike uses a combination of technologies to blunt rough roads including its SAVE micro-suspension. Cannondale's bikes are designed to provide horizontal flex, which distributes the shock of hitting bumps in the road. 
Further contributing to this is a flexible seat post and thick 28mm Victoria Rubino tires. Cannondale's components are impressively high end given the relatively low price point of this bike. 
They're mostly Shimano Dura Ace Di2 with Power2max powermeters and Cannondale's SiSL crankset, which is one of the lightest on the market. 
The carbon fiber wheels on the Cannondale are also noticeably heavy. That said, this bike is significantly less expensive than other models, making it an excellent value. 
Pros : Lightweight, smooth and compliant ride feel.
Cons : Older design with external front-end cabling.
Frame : Carbon
Groupset : SRAM Red eTAP AXS, 12 Speed
Weight : 7.8 kg (Size 56)
The BMC RoadMachine 01 has all the high-performance trimmings of a racing bike, but with disc brakes, a relaxed geometry, and clearance for tires up to 33mm thick. 
When BMC launched its first RoadMachine bike a few years back, it was nothing short of revolutionary. Since that breakthrough, BMC has worked at making something that was already great, better. 
BMC claims that its newest iteration of the Road Machine is 25% smoother thanks to an improved carbon layup, a D-shaped seat post, and seat stays that have been reshaped and lowered. 
Has performance been compromised as a result of all these changes? 
BMC says, no. The new carbon lay-up actually makes the frame stiffer. 
Pros : Modern, sleek looking with all internal cables.
Cons : Expect to pay a premium price.
Frame : HMF Carbon
Groupset : Shimano Ultegra Di2, 11 Speed
Weight : 8.3 kg (Size 56)
With the Addict SE, Scott offers one of the best models you can buy at a price that is nothing short of remarkable. 
Scott makes the frame of its Addict SE more compliant by using a grade of carbon that it refers to as HMF carbon, which the company says is 20% more flexible and forgiving than the HMX carbon it uses on its Addict RC racing bike. 
Add to that Schwalbe Durano Fold 32mm tires, and you have a bike that can handle plenty of dirt roads. The Addict SE is equipped with Shimano Ultegra Di2 components. 
While this doesn't bring it to the level of some of the other bikes on this list, the Addict is an excellent value for its price. It costs just a fraction of some of the other bikes on this list. 
Pros : Excellent value for money due to less publicity and marketing.
Cons : Boring color schemes.
Frame : Countervail® Carbon
Groupset : Shimano Ultegra Di2, 11 Speed
Weight : 8.0 kg (Size 56)
Bianchi went to great lengths to redesign the Infinto CV's frame to improve its comfort and performance.
The company decided to stretch out its chainstays to allow for a smoother and more stable ride while at the same time lengthening its head tube to facilitate a more upright riding position. And that's the least of its efforts. 
The Infinito employs Bianchi's patented Countervail® dampening system into its frames, which the company calls CV for short. 
What is CV? 
CV integrates elastic polymers into the weaving of its carbon fibre frames, which, according to Bianchi, reduces vibrations by 80%. Sound far out? It is. Bianchi says it borrowed its CV technology from NASA.  
Pros : State-of-the-art dampening technologies built into the frameset.
Cons : Limited color choices.
Frame : Carbon
Groupset : Shimano Ultegra Di2, 11 Speed
Weight : 8.1kg (Size 56)
Cervelo says its goal is to keep you smiling mile after mile with the newly designed Caledonia.
The company says it improves comfort through frame design that moves the bikes fore and aft closer together, effectively reducing the bike's reach. 
Cervelo also incorporates disc brakes into its design, which not only improved stopping power but also enables the use of wider tires. The Caledonia now has clearance for tires up to 34mm. 
That said, Cervelo doesn't sacrifice performance for comfort. The bike still has one of the more aggressive frame geometries of bikes in this class while at a price point that is significantly lower than most. 
Pros : Perfect balance between stiffness and comfort.
Cons : External cables run around the head tube might lead to unintentional scratches.
Endurance Bikes Buying Guide
It wasn't that long ago when road bikes were just road bikes. Now road bikes are broken into subcategories;
Race bikes are designed for performance over comfort in almost all aspects. They're more responsive, allow for more aerodynamic, aggressive (lower) positions and eschew comfort features, such as wider tires, in favor of weight reduction.
Endurance bikes relax these features in favor of comfort for riders who aren't accustomed to spending hours in an aggressive position on a bike that feels every crack in the road.
Let's take a more detailed look into what you can expect in a top of the line bike.
Carbon Frames in Top of the Line Models
Whether it's a road racing or an endurance bike, the top frame materials will most likely be carbon. But not all carbon is created equal. 
Carbon layup, which refers to how the individual pieces of carbon are woven together to make a bike frame, has a significant impact on how comfortable a bike is. 
Some carbon layups are designed for maximum stiffness with optimal power transfer in the frame. 
The less a frame flexes with each pedal stroke, the more actual power it puts towards pushing the bike forward. 
Stiffness comes at the cost of comfort. So, some frame manufacturers will adjust the layup of their carbon to allow for some flex in order to absorb road shock.
A Less Aggressive, More Comfortable Frame Geometry
Frame geometry is the single biggest factor when determining how comfortable or how aggressive a road bike will be. 
A racing bike will put your body in a lower and more aggressive riding position while an endurance bike will adopt a more upright riding position that's more comfortable over longer distances and varied terrain.
How does frame geometry affect this? 
Head Tube. A taller head tube typically means a more upright position on the bike, although this can be altered through the use of spacers between the stem and head tube or by using different angled stems.
Top Tube is usually shorter, which reduces the distance between the bike saddle and handlebars, resulting in less strain on the back and neck.
Reach and Stack also play a significant role in the comfort of a frame's geometry. The stack is the distance between the bottom bracket and the top of the head tube while reach is the distance between the bottom bracket and the head tube. 
Wheelbase is also a significant factor to consider. The wheelbase is determined largely by chainstay length. The longer the chainstay, the further apart the wheels are. Bikes with larger wheelbases offer more stability for endurance riding while bikes with shorter wheelbases allow for more nimble riding. 
A longer reach and shorter stack will put a rider into an aggressive racing position, while a shorter reach and higher stack will facilitate a more upright position for longer endurance rides.
Racing bikes are also typically designed with head tubes that are more aggressively angled. This makes the bike more twitchy for the quick moves required for safely navigating through packs of riders. 
Endurance bikes, in comparison typically have a more upright head tube for relaxed handling that's more forgiving.
Examples of Road vs Endurance Bike Frame Geometry
The differences in frame geometry are best illustrated by the differences between the Specialized S-Works Tarmac (racing geometry) and S-Works Roubaix (endurance geometry) models. 
The table below illustrates the difference between a size 52 S-Works Tarmac and Roubaix.
| Bike Model | Frame Size | Stack | Reach |
| --- | --- | --- | --- |
| S-Works Tarmac SL7 | 52 | 517mm | 383mm |
| S-Works Roubaix | 52 | 570mm | 368mm |
Built-in Ride Comfort Technologies
The challenge has always been to make the bike more comfortable while compromising as little performance as possible. 
The major manufacturers of road bikes have in recent years focused on technologies that will achieve this goal.
Specialized
Specialized uses a variety of funny-sounding technologies to enhance the comfort of its bikes including its Pave seatpost, Future Shock 2.0, and Zertz. 
Pave seatpost is a carbon fiber D-shapes seatpost designed to absorb shock. 
Future Shock incorporates springs in the stem above the front tube to allow 20mm of shock-absorbing space that Specialized says will not negatively impact performance. 
Zertz inserts are elastic pieces inserted into the fork and seat stays to dampen road shock. 
Trek
In 2012, Trek developed a comfort technology called the ISO Speed that involves decoupling the seat tube from the top tube in order to dampen the effects of the road. It essentially allows the seat tube to flex. 
The ISO Speed technology can be found in the Trek Domane.
Canyon
This VCLS seatpost in the Canyon Endurace uses a split shaft design to create a seat post that Canyon says allows for up to 20mm of movement that absorbs road shocks. 
Aside from the frame, the type of wheelset and tires have a significant impact on ride feel and comfort. The more shock-absorbing rubber between you and the road, the more comfortable the ride. 
With that in mind, they typically have the frame clearance for wider rims that can accommodate tires up to anywhere between 32mm to 38mm. A wider tire needs a lower tire pressure, hence more comfort
Many are also being fitted with tubeless tires these days. 
Endurance bikes typically have gearing designed to make hilly terrain easier to handle whereas racing bikes will have larger gearing for maximum power. 
They generally come with compact chainrings (50/34T) with large rear cogs up to 32 or even 34T.