Looking for the best full-sus mtb money can buy?
Then you've come to the right place. 
With so many mountain bike manufacturers in the market today and industry technology advancing continuously, it can be tough to make sense of it all. 
On this page, we'll cover all the features you should consider when making a buying decision. We'll also give you our recommendations to consider.
The bikes on this list include the top-of-the-line bikes from the big boys such as Trek and Specialized and some fantastic trail burners from smaller outfits including Yeti and Evil.
A Quick Glance : Our Full-sus Mountain Bike Recommendations
Frame Material : Carbon
Fork Travel : 100mm / 60mm
Groupset : SRAM XX1 AXS, 12-speed
Wheel Size : 29"
Weight : 10.5 kg / 23.1 lbs
One thing you can count on with Trek is that the company will push the technology envelope. And that's what they've done with the Supercaliber 9.9, and its cutting-edge rear shock design.
Is it a full suspension, or a hardtail? Well, it's kind of both.
Trek integrates what it calls its IsoStrut, which provides a tuneable 60 mm of travel via a shock tucked under the top tube. While it may not offer the travel of other XC bikes, it also doesn't have the significant weight gain and pedaling efficiency loss we associate with full sus.
And when we say weight savings, we're not kidding. At just a hair over 23 lbs, the Trek Supercaliber is lighter weight than many road bikes.
Frame Material : Carbon
Fork Travel : 150mm / 140mm
Groupset : Shimano XTR, 12-speed
Wheel Size : 27.5"
Weight : 12.6 kg / 27.8 lbs
Specialized's classic Stumpjumper keeps its uber-popular design for its 2020 model with a few notable changes.
New this year is a side-armed design strut, which Specialized says improves performance while shaving weight. If you hate marring your Stumpjumper's aesthetics with bulky saddle bags, then you'll love the mini tool stored in the fork's steerer as well as the storage compartment built into the down tube just below the bottle cage.
In addition to these features, Specialized loads the Stumpjumper with top-of-the-line components including a Shimano XTR drivetrain and Guide RSC disc brakes with massive 200 and 180 mm rotors. Throw in a dropper seat post, Specialized Grid Trail tires on the front and rear, and this is a very capable XC race bike.
Frame Material : Carbon
Fork Travel : 160mm / 160mm
Groupset : SRAM XX1 AXS, 12-speed
Wheel Size : 29"
Weight : 14.0 kg / 30.9 lbs
If you're dropping the amount of dough needed for a top-end mountain bike, then chances are you're incredibly picky when it comes to how your trail bike handles.
You're going to love the adjustability of the Santa Cruz Megatower. The Megatower is built off of Santa Cruz's Hightower model, but features a bigger suspension fork with 160 mm in the front and back, providing plenty of travel for hardcore trail riding.
The Santa Cruz Megatower is also fully adjustable through a flip-chip that adjusts the bottom bracket height and the progressivity of the rear suspension. If that still isn't enough, an adjuster in the rear dropouts allows you to adjust the length of the chainstays by 10 mm.
The Santa Cruz Megatower is available in six different builds depending on your budget.
Frame Material : Carbon
Fork Travel : 130mm / 150mm
Groupset : Shimano XX1 AXS, 12-speed
Wheel Size : 29"
Weight : 13.9 kg / 30.7 lbs
Yeti bills its SB130 as an all-arounder mountain bike that is built to crush the biggest terrains.
The components and frame geometry support these claims. The Yeti SB130 has slacker head tube angles at 65.5º than Yeti's carbon trail bike, the SB5, with shorter chainstays but a longer reach. This has the effect of adding stability on downhills while preventing the front wheel from wandering on uphills.
The core technology on the Yeti SB130 is in the lower link, which Yeti says provides 12% of progressivity but maintains enough anti-squat in the area of travel where the most pedaling occurs to keep pedaling productive.
The Yeti SB130 is available in seven different builds to cater to a wide range of budgets.
Frame Material : Carbon
Fork Travel : 160mm / 140mm
Groupset : SRAM XX1 AXS, 12-speed
Wheel Size : 27.5"
Weight : 12.2 kg / 27.0 lbs
This Pivot Mach 5.5 is an impressive bike in many respects. But the coolest thing is its cutting-edge integrated Fox Live Valve electronic suspension.
Fox's suspension technology, which has been used for years in motor racing, senses the terrain as you're riding it and automatically makes adjustments to improve road feel and pedal productivity.
This upgrade is on top of the already highly regarded DW-link suspension platform (the 5.5 refers to the inches of travel in the suspension) that the Pivot has become known for.
Add to that 160 mm of travel on the Fox front suspension fork and you have a bike that can hammer downhills and still climb with the best of them.
The Pivot Mach 5.5 is available in 10 different builds with its top tier being the Team version with Fox Live Valve. It can be built with either the Shimano XTR or SRAM XX1 AXS groupset.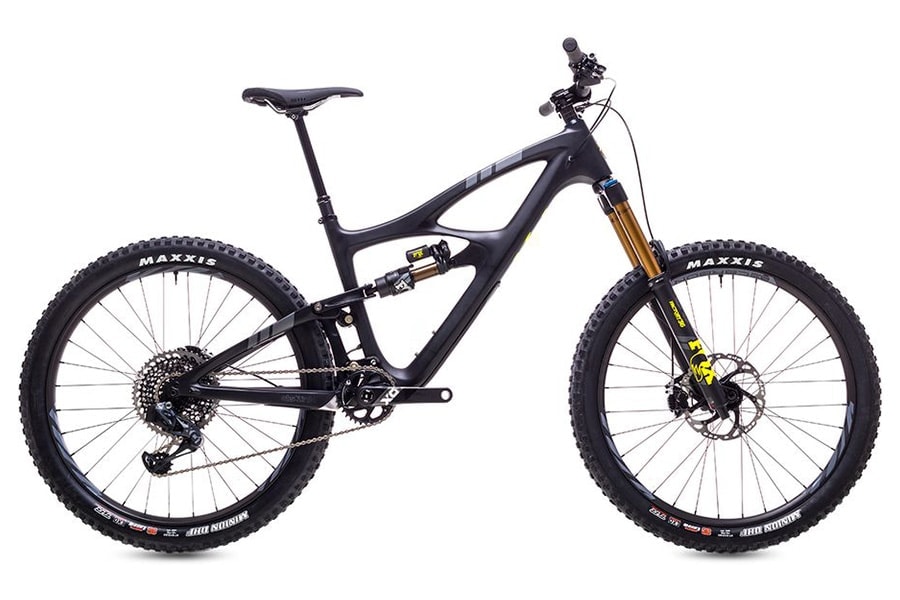 Frame Material : Carbon
Fork Travel : 170mm / 153mm
Groupset : SRAM XX1 AXS, 12-speed
Wheel Size : 27.5"
Weight : 12.2 kg / 27.0 lbs
How about a bike that can bomb descents but still climb hills like a champ?
That's what you get with the Ibis Mojo HD5, which features 170 mm of travel in its front fork and 153 mm of travel in the rear. Like many of the top end bikes on this list, the Ibis Mojo HD5 pairs a big suspension with a DW link to provide both climbing efficiency and downhill cushioning. 
And while Ibis continues to keep the 27.5" wheels on the Mojo despite Enduro bikes industry trends toward 29", it's made the Mojo longer and slacker to add stability and improve climbing.
Ibis offers five different builds for the Mojo HD5 with the SRAM XX1 AXS being its best build.
Frame Material : Carbon
Fork Travel : 150mm / 140mm
Groupset : SRAM X01, 12-speed
Wheel Size : 29″
Weight : 13.3 kg / 29.3 lbs
Women's specific bikes aren't hard to find in the world of cycling, but real trail rippers are, and the Juliana Maverick is one of the best.
The Juliana Maverick holds nothing back with 140 mm of travel in the rear, 150 mm upfront, and big 29" wheels. In short, it's built to hammer trails.
Lower links are crucial designs in dual-suspension bikes these days and the Juliana Maverick has an impressive one with its VPP suspension, which absorbs rough terrain while maintaining excellent pedal efficiency.
Understanding that riders and terrain can be variable, the Juliana Maverick is adjustable with a flip-chip that allows the head tube to be slackened and the bottom bracket to be dropped. The Juliana Maverick comes in three different builds with SRAM X01 being its highest end.
Frame Material : Carbon
Fork Travel : 140mm / 140mm
Groupset : Shimano XTR, 12-speed
Wheel Size : 29"
Weight : 12.7 kg / 28.1 lbs
Enduro, trail, downhill, or XC bike?
More and more these days trail riders are looking for a middle ground among all these disciplines and the Orbea Occam does a nice job of delivering that.
Its 140 mm of travel in the rear 150 mm up front (there is a 140 mm option too), 29" wheels, and moderate geometry make it effective in gravity downhills, technical trails, and cross country treks.
Orbea really doesn't cut any corners with the Occam. The components are impressive with a Shimano XT M8100 groupset from drive train to disc brakes.
And this bike rolls well with its XM-1650 Spline wheelset and Maxxis High Roller and Rekon mountain bike tires. The M-LTD is the highest-end build of the Orbea Occam.
Frame Material : Carbon
Fork Travel : 150mm / 140mm
Groupset : SRAM XX1 AXS, 12-speed
Wheel Size : 29"
Weight : 13.2 kg / 29.0 lbs
Bellingham, Washington-based Evil has established a name for itself among mountain bikers with bikes that offer tremendous handling.
This is largely due to its low geometry and judicious use of the Delta-Link suspension (Evil is one of a handful of outfits licensed to use it). This equates to excellent cornering and shock absorption with its Following and Wreckoning trail bikes but ho-hum climbing and some issues with tire and chain clearance.
The Offering finds a middle place between The Following and The Wreckoning, and in doing so solves some of these problems.
The geometry has been changed, making the seat tube angle more upright. Add to that a dropper post, a longer reach, and a slacker head angle and you have a bike that is an apt climber that still handles and descends very well.
The Evil Offering comes in five different builds with Shimano XTR and SRAM XX1 AXS groupset being the most expensive models.
Frame Material : Carbon
Fork Travel : 150mm / 140mm
Groupset : SRAM X01 AXS, 12 Speed
Wheel Size : 29"
Weight : 13.6 kg / 30.1 lbs
Climb, descend, or fast downhills? No problem.
Thanks to continuing advancements in suspension technology, it seems the days when you had to decide between smooth descending, long-travel downhillers, and short travel climbers are coming to an end.
The Niner RIP 9 is more evidence of that. Its CVA, Constant Varying Arc, automatically tunes the suspension depending on pedaling force and terrain, offering more travel for descents and less for climbs. This suspension tech allows Niner to make a shift in the RIP's geometry toward stability.
The 2020 Niner's head tube is slacker and its reach longer than its predecessors. Niner keeps agility at high speeds a priority by making the bottom bracket lower than previous iterations with options to go extra low with a flip-chip.
The Niner RIP 9 is available in five build kits with SRAM X01 AXS being its highest build.
Full-Sus MTB Buying Guide
Before heading out to your local bike dealer or ordering one, it's critical to know what you're getting before you get it.
In this section, we'll discuss the most important characteristics to look out for including suspension travel, drivetrain, wheels, and cost.
A full-suspension mtb achieves a good balance between comfort, performance, and stability. These 3 attributes would allow you to have an enjoyable time ripping through those trails.
Here are 3 reasons why you should get one.
Ride Technical Trails. Logs, rock gardens, drop-offs, jumps: all of these are characteristics of technical trails, and they all demand the capabilities that come with a full-suspension bike. It offers travel in both the front and rear, allowing you to absorb the impact that comes with these technical trail features.
More Stable and Comfortable Ride. Riding these trails on a hardtail can rattle the skull and be murder on your hindquarters not to mention your delicate nether regions. Plus, all that bouncing tends to bounce your bike around, making it harder to maintain stability. Full suspension mountain bikes significantly dampen the effects of rough single track, making the ride more comfortable while keeping you in control of your bike even at high speeds.
More Speed. Put simply, you can go faster. This is due to a couple of factors. Roots and rocks cause a hardtail to bounce, slowing you down. The front and rear suspensions absorb those shocks, allowing you to carry more speed. The bike also gives you increased stability on descents, enabling you to descend faster without losing control.
Read More : Hardtail vs Full Suspension MTB – What are the Differences?
Suspension travel is the amount of flex the suspension has.
Front forks on trail bikes generally range between 140mm to 170mm.
Bikes such as the Orbea Occam and Evil Offering outfit their bikes with forks that feature 150mm of travel. The Pivot Mach 5.5 goes further with 160mm of travel while the Ibis Mojo HD5 offers a full 170mm of travel.
Rear suspensions are fairly standard, with most offering 140mm of travel.
Why the difference?
The more travel, the more shock absorption, the smoother the ride.
What's the tradeoff?
More travel has traditionally meant tougher climbing as the travel creates flex that reduces pedal efficiency. But, with advancements in suspension technology from such companies as DW, Fox, and Trek, one doesn't have to compromise quite as much.
Trek's Supercaliber 9.9 integrates an IsoStrut that allows for shock-absorbing travel while maintaining stiffness on climbs. Such is also the case with the highly regarded DW four-bar suspension system, which can be found on Pivot and Ibis mountain bikes.
Pivot also features the brand new Fox Live Valve, the first electronic bike suspension, which automatically adjusts the progressivity of the rear shock based on the terrain.
SRAM dominates the market when it comes to mountain bike drivetrains.
You'll typically find SRAM Eagle X01 or XX1 (SRAM's top-of-the-line MTB components) fitted on high-end models including the Pivot Mach 5, Trek Supercaliber, and Juliana Maverick. Both groupsets offer exceptional performance quality with the only difference between the two being weight.
SRAM XX1 is about 48g (or 1.7oz) lighter than X01.
You'll also find Shimano XTR, its highest-end MTB components, on some mountain bikes including the Orbea Occum and Specialized's S-Works Stumpjumper. Keep in mind that some bike manufacturers, including Evil and Yeti, offer build options that allow you to choose components from either manufacturer.
Keeping with current trends in MTB drivetrains, expect all top-end models to feature 1×12 drivetrains.
Shimano XTR offers the biggest range with cog set sizes that run up to 51T while SRAM's max out at 50T.
Read More : Bike Gears Explained : Why the Right Choice Matters
Although 29" wheels continue to dominate the market, 27.5" options are still available.
For the uninitiated, 29" wheels allow for better rollover, making it easier to carry speed over roots, rocks, and other obstacles.
Smaller 27.5" wheels do make accelerations easier. The smaller 27.5" wheel size is also more maneuverable on technical terrain. And they're also a bit lighter.
The vast majority of the bikes will be 29" wheels, as the pros of the larger wheels simply outweigh those of 27.5" wheels.
While most of the bikes on this list are 29ers, bikes such as the Specialized S-Works Stumpjumper come in both 27.5" and 29" wheel sizes. The Pivot Mach 5.5 is one of few models available in a 27.5" size only.
Price Range from $8,000 Onwards
These bikes aren't cheap. Even at the entry-level end of the market, you'll need to be prepared to spend at least $1,500.
On the high end, these bikes come at a premium price. Expect top-end models to cost between $8,000 and $11,000.
What does all that money pay for?
All parts of the bike are top end.
Frames are all carbon fiber and drivetrains are top of the line. You're also, of course, paying for the dual suspension.
And, at the high end, this means you're typically paying for cutting edge suspension technology.
As we've mentioned above, the Pivot 5.5 includes Fox's brand new electronic rear suspension, while the Trek Caliber 9.9 includes Trek's newly implemented IsoStrut.