Looking to buy a cycling gift for a close friend or family member, but have no idea what to get?
I'm sure you probably want to get them something that they want, or at least, need.
You're on the right page, and you'll definitely find a few gift ideas on this page.
But let me tell you upfront, cycling gifts can range anything from $10 all the way up to $1,000 or even more. So, don't be surprised.
As a cyclist myself, I know exactly the type of gifts cyclists want. In fact, we quietly have a long wish list of gifts. Or, we're also always looking to upgrade our bikes with new accessories and components.
So, you definitely can't go wrong with any of these cycling gifts below. Use the links below to jump to a specific section.
Spurcycle Original Bike Bell
Bicycles share roads and trails more than ever, so it's good to have a bell to alert other riders, cars, and pedestrians of your presence. And doing so politely and in style is a bonus.
There's no need to shout and disturb the Zen of your ride when you can give notice in advance by ringing the beautifully crafted Spurcycle Bike Bell.
It's a suitable gift for any cyclist on your holiday list, fits standard and oversized bars, and the tone coming from its elegant all-metal body is impressive yet pleasant on the ear.
When permanent fenders aren't an option, or their look simply detracts from the clean lines of your beautiful bike, the Ass Saver is the answer.
Temporary protection from rain and mud is yours, saving your backside from tire spray when riding through mud, wet roads, or yucky foul weather. Quickly and easily installed onto any bicycle saddle, Ass Savers work, are economical, ultra-lightweight, and available in a variety of tire sizes, color, and design options to match your style and your ride.
Gift yourself a clean face but giving an Ass Saver to your favorite wheel.
Being seen when riding, especially at night, is an important safety measure. As the days grow shorter and the grey hue of winter is upon us, reliable bicycle light is crucial and potentially life-saving.
The Lezyne Femto USB Drive LED light is the ideal choice for commuters and other riders who want to maximize safety. The Femto is quick to install, compact yet powerful, provides side visibility, and is USB rechargeable.
Hello to this great gift idea and bye-bye replacement batteries.
Many riders dream of having a full-sized tool while doing a repair on the side of the road. Soulless compact multi-tools are for emergencies and sometimes don't even fit at the angle you need.
The Silca T-Ratchet Kit has a cool-factor and is ideal for any mobile mechanic's needs. It takes the guesswork out of precision adjustments and can be a full-sized T-handle or a simple driver for the 10 bits delivered in a stylish trifold case with reflective stitching and magnetic closures that can fit easily in a jersey pocket or holiday stocking.
A dream gift for any hands-on cyclist.
A clean bike is a happy bike. Scrubbing your bike from time to time is an integral part of its maintenance and proper functioning, but not all of us do it regularly.
The Pedro's Pro Brush Kit contains all bristles you need to get your ride and drivetrain sparkling clean when used with a degreaser and cleaner (earth-friendly please). And because they are professional-grade, you know they're made for the job and will last a long time.
Stop dropping the hint to your friend; just gift them these brushes.
POC Ventral Air Spin Helmet
A quality helmet is an important piece of anyone's cycling kit. Crashed or not, it should be replaced every three to five years. It may look fine, but environmental conditions affect the helmet over time.
Whether you're replacing an old helmet, or gifting yourself or someone else a new one, the POC Ventral Air Spin Helmet is a fantastic choice.
It's an elegant-looking, lightweight, and comfortable helmet that fits great and provides the latest in brain crash-protection safety against harmful rotational forces too.
It's gotta be the shoes! When you're looking for the best road cycling shoes to give to the bicycle-riding dandy in your life, the S-Works 7s is an obvious choice.
They aren't only some of the lightest, stiffest, and most capable power-transfer shoes available for purchase today, they come in an elegant design that will be the envy of your cycling buddies.
A ton of scientific study has gone into the creation of these beauties to make them super-efficient and comfortable too.
100% Speedcraft Air Sunglasses
Pamper yourself or a loved one with an extra pair of glasses for the upcoming holiday season. 100% Speedcraft Air Sunglasses do more than protect your eyes from UV rays, they promote airflow through the nose to the lungs via an integrated nasal dilator.
You heard me right.
Small magnets embedded in breathable nose strips are stuck to the nose, and the glasses adhere to them, opening the nasal passages. More oxygen means improved performance, and the magnets help keep the glasses in place too.
Castelli Perfetto RoS Convertible Jacket
Cento means 100 in Italian, and these top-of-the-line shorts from Assos live up to their name, providing performance and comfort while keeping you cool during the longest days in the saddle in the hottest of weather.
Premium fabrics rapidly wick sweat and moisture away from the skin to keep you dry and comfy. The best thing about these shorts?
They are cut to fit a variety of body types, so you don't have to worry about fitting into them once the holiday festivities are over.
Assos Cento EVO Bib Short
Cento means 100 in Italian, and these top-of-the-line shorts from Assos live up to their name, providing performance and comfort while keeping you cool during the longest days in the saddle in the hottest of weather.
Premium fabrics rapidly wick sweat and moisture away from the skin to keep you dry and comfy. The best thing about these shorts?
They are cut to fit a variety of body types, so you don't have to worry about fitting into them once the holiday festivities are over.
What kind of gift can you give to a bicycle fanatic who seems to have everything already?
A KP Cyclery Bike Hanger, of course!
When they've had enough of holding on to their drop handlebars on the road, they can keep living the lifestyle inside, what better way to store their bike that also says a lot about their personal style and favorite pastime.
It will help keep the floor clear of any two-wheel friends while adding a tasteful decorative element to their living environment.
Silca Sicuro Titanium Bottle Cage
The serious gift idea for any tech or weight-weenie you may know. It's hard to get a more precise weld than the one on this Silca Sicuro Titanium Bottle Cage, bent by hand to a tolerance of .15mm from a single piece lathed titanium rod.
It's next filled with Argon gas before being butt-welded, with no filler, in two passes. The attention to detail that goes into the creation of this cage is impressive, and because it's titanium, it tips the scale at a mere 29g. 
Heck, why not give 'em two?
Cannondale Topstone Neo Carbon 2 Electric Bike
Possibly the best thing you could do for yourself this holiday is to give the gift of the Cannondale Topstone Neo Carbon 2 Electric Bike to the non-bike riding significant other in your life.
No more bike widows and widowers on the weekends as you head out to enjoy a gravel ride together. With a battery range of up to 125km, this carbon go-anywhere bike with 30mm of plush travel will have them half-wheeling you up the climbs in comfort. They'll be begging to do it again soon.
Are you up for it?
Velo Press Zinn & the Art of Road Bike Maintenance
If aspiring bicycle mechanics have a bible, this is it. In its 5th edition, the Velo Press Zinn & the Art of Road Bike Maintenance has been teaching would-be wrenches the art of road bicycle repair for years.
It's one of the world's best-selling guides covering everything bike repair from A to Z in a clear and easy-to-read format with color illustrations.
If you are sick of doing repairs on all of your friends' bikes or want to learn yourself, you know what to get them this holiday.
What kind of respectable cyclist doesn't love a bottle of an ice-cold and refreshing favorite beverage after a long hot ride? A craft beer or cider for me, please.
What? You don't have an opener?
For the amount of money you may find in your couch cushions, you can get a Bike Chain Bottle Opener for your bike-obsessed friends. It's the perfect bicycle-themed gift that is as fun as it is functional.
And its compact size makes it a great stocking stuffer too.
Gifts for the Home Bike Mechanic
This tool is little but mighty. And the importance of its function is often overlooked. Other than yourself, it's the chain that makes your bike go, and it stretches over time, which can lead to poor shifting.
The Park Tool Chain Checker is an elegant, precise, and easy tool to determine if it's time to replace your chain. Doing so before it's too worn will keep your bike running in top condition and avoid the expensive cost of replacing the cassette.
It's the gift that says you really care about your bike.
Effetto Mariposa Giustaforza II Pro Torque Wrench
Strip no more heads! The Effetto Mariposa Giustaforza II Pro Torque Wrench has some serious cool-factor as tools go, and it's a gift that is sure to make any tech geek smile.
In the quest to make equipment ever lighter, today's components require a precision tool like this one to tighten the bolts on your bike to the recommended torque. The ratcheting action of this little gem is up for the task, even in those hard to reach places and for nuts and bolts with tolerance as low as two.
It'll last a lifetime.
Blackburn Chamber Tubeless Floor Pump
How frustrated have you gotten trying to bead a tubeless tire with a traditional floor pump?
The Blackburn Chamber Tubeless Floor Pump is your new best friend since you can pre-charge the chamber and release a burst of air sufficient to seat your tires.
It works like a traditional pump too, which takes the guesswork out of getting the right gift to put under the tree this year. With a lifetime guarantee, it may be the last pump they'll ever need.
Any mechanic (or one inspiring to be) will tell you what a pleasure it is to hold a full size, a quality tool designed to fit in your hand. It can make the menial task of changing or tightening a bolt or two pure pleasure.
It's far superior to struggling with a foldable tool. No, no, no, only the best will do for your workshop and bike.
The Park Tool Hex Wrench Set is a must-have for any bike owner who makes a splendid gift.
Feedback Sports Sprint Work Stand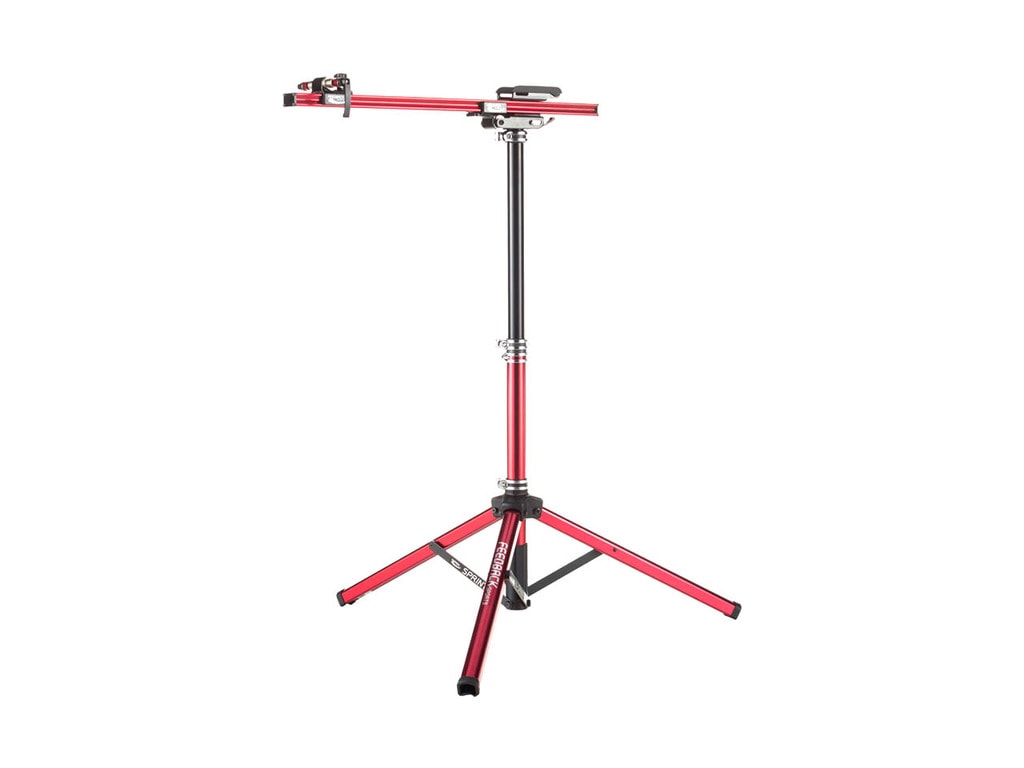 If you're an inspiring bicycle mechanic or know one, I can tell you that nothing is more satisfying than working on your own rig. The days of turning your bike over and doing a balancing act with the seat and handlebars are over.
Who wants to work upside down anyway?
You need a Feedback Sports Sprint Work Stand to get things the right way up and at the correct height. This lightweight aluminum stand spins 360° when you want to maneuver around the bike, is fully collapsible, and easy to store.
A great gift idea for any apartment-dwelling cyclist.
Gifts for the Hardcore Cyclist
12 Months Strava Subscription
Potentially the best gift you could give to any cyclist. It's the social network of the cycling world, and more importantly, the land of documented, on-screen bragging rights for your latest KOM, or where you can compete for that segment that keeps popping up on your screen as you ride.
A Strava subscription lets you train, plan, discover, and follow routes anywhere in the world, make new friends, get and analyze your stats.
Talk is cheap. If it isn't on Strava, it didn't happen.
Stay focused and get the most out of every workout with the Wahoo Tickr X.
Every little bit counts, and this Bluetooth and ANT+ sensor tracks heart rate, indoor cycling cadence, and calories burned. It connects to a favorite training app (hint, hint – Strava!), GPS, Apple watches, and bike computers.
As one of the lightest and slimmest heart rate monitors on the market today, it's comfortable to wear while showing you your effort in real-time. Any number-crunching, cycling friend would be thrilled to receive one.
Wahoo has developed a name for itself in the cycling world, and their Elemnt Roam GPS cycling computer is built for the ride.
A great device and gift idea for any serious cyclist whose job takes them on the road (with their bike in-tow of course – see the Evoc Bike Travel Bag Pro).
Local riders can discover new roads with their back on track and turn-by-turn instructions. With 17 hours of battery life and a color screen, you'll wear out before it does.
Stages Shimano Dura-Ace R9100 Power Meter
Watts can mean everything to a serious cyclist, and a power meter will reveal just how hard you're working on the bike, providing relevant data (watts) that you can measure over time to see your progress.
The Stages power meter is a left side crank arm with an integrated meter that seamlessly replaces the left side arm of your current cranks. A gift of a power meter means the recipient can get the most out of their workouts, perfect certain weaknesses, dial in their position on the bike, and know when to get some rest.
It was hard to find an indoor trainer in stock when the "you know what" hit. Serious cyclists gobbled them up to maintain their fitness and get some exercise inside when outside wasn't an option.
The gift of a connected bike trainer like the top-of-the-line Tacx Neo 2T provides a realistic feel (including different road surfaces and inclines) when pedaling in a virtual world thanks to the internet and a handful of cool riding apps.
It's a great option when the weather outside isn't inviting, or if you want to pedal along while watching your favorite grand tour on the tele!
Silca Super Pista Ultimate Hiro Edition Floor Pump
When you want to take the art of pumping tires to a new level, treat yourself (or someone else) with the gift of a Silca SuperPista Ultimate Hiro Edition Floor Pump.
It's a true piece of art that any cycling fanatic would be ecstatic to receive. The body is made of machined aluminum, and the gorgeous wooden handles are hand turned. Throw in a premium hose material and a chuck elegantly held in place on the base via a magnet to complete the picture.
This is one sexy pump that you'll have forever!
If you are a cyclist who owns a car, then you need the gift of a Yakima HoldUp Bike Rack to take your 2-wheeled friends along with you. It holds two bicycles of any wheel size (kids too!) via a rear trailer hitch.
The beauty of this rack is its convenience, no more lifting bikes over your head or removing wheels only to have them take up valuable space in the car. Save your back, time, energy, and fuel costs with this exceptional bike rack.
You've just planned the cycling trip of your dreams to Mallorca, but renting a bike there is too expensive. And anyway, you want to ride your own bike, but how to get it there in one piece?
The answer is the Evoc Bike Travel Bag Pro.
It's a soft-sided bicycle travel case that will protect your soulmate during transport. The best thing about it is, when you're done using it, you can roll it up and store it away until your next cycling adventure.
It's a gift that will keep on giving, trip after trip.
Enve SES 4.5 AR Disc Wheelset
When you want the best hand-built wheels money can buy (or gift), treat yourself to the Enve SES 4.5 AR Disc Wheelset.
There are some things in life you cannot put words to, and the experience of riding these premium wheels is one of them. The words that come to mind are pure velvet. The ride is incredible and the wheels solid.
Spend more time riding and virtually NO time dealing with maintenance, truing, or other problems. These wheels won't let you down and will improve the ride of ANY bicycle.
Italian design has a long history in cycling, and Pinarello is no exception. The Dogma F12 Disc is the top-end from the brand for 2020. A one-piece carbon stem and handlebar and all internally routed cables inside the frame and fork make this bike a stunner.
Of course, Dura-Ace Di2 is the natural choice for a bike of this caliber, and even the junction box is integrated into the frame. If you're considering buying this bicycle for a cyclist, you may know, let me introduce myself…