There's almost no dispute for urban cyclists that a hybrid bike is a perfect choice for getting around car-free. These bikes combine the best features of mountain, road, and touring bikes, and because of that, they've skyrocketed in popularity in recent years. 
With so many hybrid bikes are available these days, it can be bewildering to sift through them all and settle on one that's the right mixture of quality and price. And if you're on a tight budget, you want to be sure that you get one that represents the best value for your money.
On this page, I'll go through what you can expect in a hybrid bike under $500 and share some of the popular models around today.
A Quick Glance : Our Favorite Hybrid Bikes Under $500
An Excellent Entry Level Hybrid from A Reputable Brand
Frame : Aluminum
Gearing : 7 Speed
Weight : 13.3 kg / 30.3 lbs
The Verve 1 is the hybrid of hybrids, a solid introductory bike featuring everything needed in a hybrid, coming in just under the $500 mark. Its features make it a great choice for someone just getting into hybrids or even just into cycling.
The frame is made from Trek's trademark Alpha Gold aluminum, specially curated to create a tough, resilient frame that keeps weight to the absolute minimum.
Bontrager Connection tires come mounted on each bike, the wide wheels providing stability and comfort. It also comes with disc brakes, rather than the more common rim brakes. These offer exceptional stopping ability, even in wet weather or dust.
Finally, the Trek Verve 1 comes with a great modern touch in the form of a Bluetooth/ANT+ sensor built into the frame, allowing you to connect mobile devices on the go.
Perfect for Short Trips, Rides in the Park, or Commuting
Frame : Aluminum
Groupset : 7 Speed
Weight : 12.3 kg / 27.1 lbs
The Giant Escape 3 is almost a minor miracle of lightweight framing and strength. A frame built from Giant's proprietary ALUXX aluminum is claimed to have 20% thinner tubes than those of competitors while retaining the strength one can expect from aluminum.
The flat-bar setup allows riders to maintain an easy, comfortable upright position without putting pressure on the wrists or the lower back.
The Giant Escape 3 is equipped with a 3×7 Shimano Tourney gearing set up for long rides or steep hills, giving riders 7 speeds for any situation or preference. As a bonus, it comes with wide, durable Giant S-X3 700x38c tires, outfitted with puncture-resistant technology so you can ride over rough terrain or paths with peace of mind.
A Zippy Commuter Built for Speed
Frame : Aluminum
Groupset : 7 Speed
Weight : 11.2 kg / 24.7 lbs
You might think of an upright flat-bar bike with a dropped bar top tube as slow and unresponsive, a bike that's best suited for lazy rides down flat roads at the beach. That's certainly not the case with the aptly named Quick 6.
While the bike's geometry makes for a relaxed and comfortable ride, there are plenty of other features that quickly make it.
This includes a lightweight aluminum frame, zippy Kenda tires, and a broad set of gears. The Cannondale Quick 6 has a 7-speed drivetrain with a Shimano Tourney triple crank, giving it a whopping 21 gears.
It also uses Cannondale's SAVE technology, which adds comfort by integrating vibration-reducing flex in the frame and fork. And, with plenty of mounting points for racks and fenders, the Cannondale Quick 6 is a great option for both commuting and fitness.
Go Chainless with this Revolutionary Belt-Driven Hybrid
Frame : Aluminum
Groupset : 3 Speed
Weight : 11.3 kg / 25 lb
It wouldn't be out of place to classify Priority Bikes as revolutionary in many ways. The company eschews a lot of the industry standards to do its own thing when it comes to designing bikes. 
This is the most apparent characteristic we perhaps most associated with a bicycle, its chain. There are no chains on the Priority Classic+. Instead, the Classic+ is fitted with a drive belt. This is a carbon-reinforced belt that never needs grease, won't rust, and lasts longer than a chain. 
It's fitted with Shimano's Nexus hub, which allows for three gear changes. 
As for rides, the Classic+ is designed for cruising with its upright geometry and cruiser handlebars. However, with its simple drivetrain and lightweight frame, it's lighter than most cruisers at just 25lbs. 
Because Priority Bikes intends to keep it's overhead low, the Classic+ is right at the $500 price point.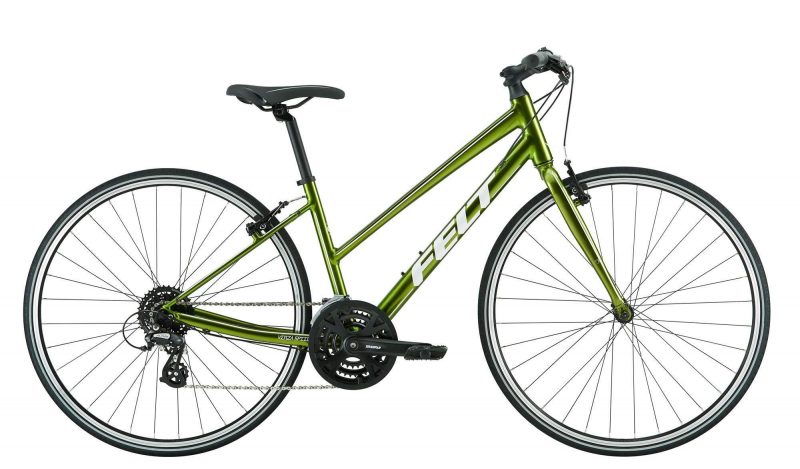 When Performance Meets Comfort in a Hybrid
Frame : Aluminum
Groupset : 8 Speed
Weight : 11.4 kg / 25.1 lbs
Longtime California-based bike manufacturer Felt marries comfort with performance to create a bike that works equally well as a fitness bike or commuter. 
A relaxed geometry puts the rider in a comfortable upright position, while a low top tube makes entrances and exits into the cockpit easy. An alloy frame keeps the Verza Speed 50 at a manageable weight for fitness and includes plenty of mounting points for racks and fenders. 
The drivetrain offers plenty of gears with a Suntour triple crankset and an 8-speed rear cassette. With 24 gears, you won't be left wanting for more whether you're cruising on flats or making your way through hilly streets. 
Felt goes with 700x30c tires, which are notably thinner than other bikes in this class. This makes for a faster ride on paved surfaces but limits the Felt Verza 50's ability to take on unpaved terrain. 
Tough and Dependable Workhorse
Frame : Aluminum
Groupset : 7 Speed
Weight : 13.5 kg / 29.8 lbs
Whether you're just getting into cycling or being a veteran who's just looking for an around-town backup, it's hard to go wrong with the Schwinn Vantage F3.
A standard-setter from world-renowned Chicago-based manufacturer Schwinn, the aluminum frame is light and strong enough to support riders large and small.
An unusual feature is Schwinn's proprietary Smooth Ride Technology (SRT), an elastomer-based suspension system that helps absorb and redirect shocks so you can tackle choppy terrain confidently. This is something you would usually expect to find on a pricier bike, so its presence here is a welcome surprise in the Schwinn Vantage F3.
Shifting through the 7 speeds available is easy and quick with Shimano EZ-Fire shifters, allowing you to adjust to different grades or distances quickly. A flat-bar configuration makes it attractive to riders who prefer not to deal with drops, and it comes with disc brakes for sure stopping.
A Hybrid Designed with Maximum Comfort in Mind
Frame : Aluminum
Groupset : 7 Speed
Weight : 14.5 kg / 32.0 lbs
Retrospec, based in Southern California, focuses entirely on urban and beach riding, with hybrids and cruisers being something of a specialty of theirs. 
The Motley's step-through frame is made from reliable, lightweight 6061 aluminum, resulting in a sturdy, hefty frame that keeps you grounded and stable in multiple environments without too much drag. It incorporates a steel Zoom suspension fork, which uses a resilient, springy absorption system to roll smoothly over bumps and drops without losing momentum or reducing comfort.
The Shimano Altus gearing is complemented by EZ-Fire trigger shifters to make changes through the 7 gears simple, quick, and easy. Aluminum alloy linear rim brakes make stopping confident and smooth, while the semi-slick tires reduce rolling resistance without sacrificing tread. 
With a comfortable bike saddle and upright handlebars, the Retrospec Motley is perfect for stress-free rides.
Quality Components at An Affordable Price
Frame : Aluminum
Groupset : 8 Speed
Weight : 14.5 kg / 32.0 lbs
The Giordano Brava brings together all the features one could expect from a pricier hybrid bike without breaking the bank. Giordano has a reputation for producing high-quality intermediate bikes with solid materials. 
The bike frame is composed of heat-treated 6061 aluminum, favored by many bike builders for its low weight and superior strength. An alloy crown tops the front suspension fork, providing excellent control for steering with a flat-bar setup. 
The Giordano Brava comes with front and rear Tektro disc brakes, making for easy maintenance and confidence in quick stopping. Gearing is provided by an 8-speed Shimano Altus, unusual among hybrids, giving you a range of choices for adapting your pace and the difficulty as the terrain changes or your preference does. 
All of these features together make the Giordano Brava a dependable, affordable choice for a variety of different environments.
What to Expect in A Hybrid Bike Under $500
It's easy to assume that working within a budget means you can't expect good quality, but that couldn't be further from the truth. While you may have to look away from the higher-billed options, there are tons of great hybrid bikes out there that won't cost you an arm and a leg.
The key is knowing what to look for. 
Let's take a look at the 5 things to expect in a hybrid bike with a budget of under $500.
Most hybrids are built on aluminum frames, which are prized for their low weight and high strength. A good example of a lightweight aluminum hybrid bike is the Cannondale Quick 5 Disc.
The main drawback for some riders is the reduced flex in aluminum frames, making them stiffer and less comfortable. Steel is the second most widely used material for hybrid frames.
Although steel is generally heavier than aluminum, it flexes more easily. Steel's weight also makes it a very sturdy, steady material, great for flatter areas.
Some frames come with extra features like mounts for rear racks and fenders, like the Giant Escape 3, or even with racks and fenders already included.
2. Gearing and Drivetrain Setup
Because manufacturers understand that hybrid riders are looking for a relaxing, reliable ride rather than a high-performance challenge, they typically incorporate 21 (3×7) or 24 (3×8) gearing setups. 
The most commonly used derailleurs for these drivetrains are Shimano's entry-level road and mountain bike derailleurs. Manufacturers typically mix and match these to bring the overall cost down to below $500.
For example, the Trek Verve 1 uses a Shimano Tourney/Altus front/rear derailleurs combination, while the Cannondale Quick 5 Disc uses both Shimano Tourney for its front derailleurs.
This doesn't mean they're low-quality; it just means they're not going to allow you to win any races with them. It does mean that maintenance is much easier, and replacement parts are a cinch to find. 
Alternatively, you can also consider a belt-drive drivetrain found in the Priority Classic+, which is maintenance-free.
It makes sense to divide bikes in the under $500 range into upper and lower groups for brakes.
In the upper group, which is closer to the $500 range, bikes such as the Giordano Brava, Schwinn Vantage F3, or the Trek Verve 1, disc brakes are the norm. 
Valued for their simplicity, reliability, and resistance to water, dirt, and debris, these brakes rely on the fact that the braking surface is farther from the ground. This means that they're less susceptible to dirt or mud building up.
Rim brakes are lower-cost, so you're more likely to find them in hybrids such as the Giant Escape 3 or the Retrospec Motley. 
They use calipers situated near the rim of the bike, and while they don't work quite as well as disc brakes when wet, they're still a reliable choice. Plus, they're even easier to maintain, and new brake pads are cheap and easy to find.
Read More : The Beginner Cyclists Guide to Disc Brakes
Hybrid bikes almost always use 700c tires, meaning they're roughly 700mm at outside diameter on the rim. This is the standard size for and hybrid and road bike tires, so they're easy to repair or replace. They're popular for their lower rolling resistance and their ability to easily pick up momentum.
When looking at tire sizes, there are two numbers to lookout for. The first number indicates the wheel size and the second number indicates tire width. 
The Schwinn Vantage F3, for example, has a tire size of 700x25c, meaning that it's 25mm wide, making it one of the narrowest tires on this list. Compared to this, the Trek Verve 1, at 700x45c, is the widest, and very similar to mountain bike tires.
Narrow tires generally allow you to pick up speed more quickly and maintain it, but wider tires will give you more stability and a smoother ride.
As with any bicycle, the heavier it is, the harder it will be to get it up hills and build up speed. 
Most hybrid bikes under $500 weigh on average 12 kg / 26.5 lbs. 
While this means you won't set any records for speed, it does have one crucial advantage. 
One of the main draws for hybrid bikes is the smoothness of the ride and the comfort they offer, and at this weight, they're firmly grounded and gentle. Rarely will a hybrid bike exceed 40 lbs, so most bikes on this list fall somewhere in between. 
The Cannondale Quick 5 Disc and Priority Classic+ are the lightest hybrid bikes on the list, weighing slightly above 11 kg / 24 lbs.