Looking to buy a pair of shoes specific for indoor cycling and spin classes?
Is there a difference between indoor and outdoor cycling shoes?
Are they worth it?
Or should I just wear my running shoes?
But before you jump straight into buying, take note that indoor cycling shoes are different from those worn by road cyclists. It's not just the shoe alone, but also the combination of pedal and cleat compatibility.
On this page, I'll share the things you should know prior to buying and also some of the favorite models among cyclists.
A Quick Glance : Our Favorite Shoes for Indoor Cycling and Spin Classes
The M6 Donna from Fizik, an Italian company that has been making cycling gears since 1996, will give you a great fit and a little bit of style. It features two velcro straps and Fizik's patented Boa closure system, which allows you to make micro-adjustments to the shoe's tightness. 
The M6 Donna's upper is made from reinforced Microtex and breathable nylon for ventilation while its outsole is made from thick durable rubber. A carbon-reinforced nylon insole makes this one a stiff spin shoe. 
It is compatible with 2-hole mountain bike cleats, allowing you to use these shoes at spin class and outside in the trails. 
Pros : Comes in 3 attractive colors – black, aqua, and hot pink.
Cons : Be prepared to pay more.
Louis Garneau Multi Air Flex 2
This shoe from Louis Garneau, a cycling apparel company founded by an eponymous former Canadian cyclist, is designed with versatility in mind. These flexible shoes not only work for spin classes but is also ideal for training, commuting, and even weekend rides. 
The Multi Air Flex also has fit in mind. The shoe features 3 hook and loop fasteners, allowing you to customize how snug the shoe fits. It is also one of the more flexible shoes you can buy. It features a composite nylon/fiberglass outsole that flexes at the toe to allow for walking.
The Multi Air Flex also offers great breathability with its synthetic leather and mesh construction. The Multi Air Flex comes in four different color combinations including black/pink, matte black navy, asphalt, and magenta/drizzle.
Pros : Excellent value for money.
Cons : Velcro straps closure doesn't allow for precise fit adjustments.
Take a spinning class or head down the single track in this sleek-looking women's cycling shoe from Giro, a company well known for its collection of cycling helmets, shoes, and other bike apparel. 
The Manta R includes two velcro straps with a ratcheting top strap for precise adjustments. It also features' Giro's Aegis antimicrobial treatment to keep them smelling fresh for longer. 
The shoe features stiff nylon and rubber outsole and a rubber toe-guard, making this one of the more durable cycling shoes on the market. With mounts for SPD cleats, this shoe is a great option for indoor spin classes and mountain biking. 
The upper is constructed of breathable microfiber. The Manta R comes in three different color options including black, dark shadow/bright pink, and glacier/titanium.
Pros : Very durable overall construction and will last you years.
Cons : Be prepared to pay more.
Want a pair of cycling shoes that you can wear to the gym as well as in spin classes? 
Check out the Women's W All-Road V4 from cycling apparel giant Pearl Izumi. With cleats that are recessed beneath the shoes' treads, you can comfortably walk in these shoes without tripping or hobbling. 
These shoes secure to your feet with two velcro straps and an adjustable ankle strap. The sole is constructed from a nylon composite plate for excellent power transfer while the upper features synthetic leather and mesh for great breathability. 
Thick rubber treads on the outsole provide solid traction and durability, making these all-terrain shoes a great option for spin class, trail riding, or commuting. 
Pros : A versatile shoe that can be used for indoor and outdoor cycling. 
Cons : Boring color schemes; black, grey, or white.
So, your budget doesn't include expensive cycling shoes for your spin class. 
Then check out Tomasso's Pista women's spin shoe from Tomasso, a Denver, Colorado-based company that's been making bikes, shoes, helmets, and cycling apparel since 1985. 
This shoe will get you into clipless pedals at a bargain price. The Pista uses hook and locks Velcro straps to give you a precision fit. The sole is reinforced with fiberglass for stiffness and excellent power transfer. 
The shoe's upper is made of synthetic leather for comfort and mesh for breathability. The Pista comes in three different colors including silver/white, blue/black, and blue/pink.
Pros : Compatible with both 2-bolt and 3-bolt cleats.
Cons : Soles can be too stiff especially for beginners.
The name Shimano is synonymous with quality in the cycling world. Better known for their line of components, Shimano's shoes have quickly gained more and more notoriety. 
They feature dual hook and loop velcro straps and a thick dual-density rubber outsole for durability and traction. These shoes are also designed for comfort with a soft synthetic leather upper. 
The sole is stiff but not too stiff to be uncomfortable over long rides. The ME100's sole ranks a 5 on Shimano's 12-point stiffness scale. These shoes are compatible with several cleat styles including SPD, allowing you to take these shoes on the trail and to the gym. 
The ME 100 also features Shimano's expanded cleat adjustment range, so you can find the best possible cleat position. 
Pros : Simple and sleek looks.
Cons : Limited color choices – black or yellow.
Pearl Izumi Men's All-Road V4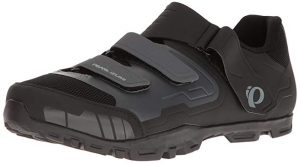 Looking for a pair of cycling shoes that will allow you to walk in them without hobbling or tripping over your cleats? 
Check out this pair of Pearl Izumi's shoes.
These are cycling shoes that masquerade as normal shoes with a rubber outer sole that is thick enough to keep you from scratching the floors with your cleats. The All-Road V4's sole is comprised of a nylon composite plate that provides stiffness for performance and enough flexibility for off-the-bike walking. 
Its upper is constructed of synthetic leather for comfort and nylon mesh for breathability. Two velcro straps and an adjustable top strap secure the All-Road V4 to your foot. 
This 2-bolt shoe is SPD compatible, making it a great option for riding the local fire trail, spinning, or commuting to work.
Pros : Mesh panel on the top allows for good breathability.
Cons : Limited color choices – black or yellow.
If you're looking for versatility in a cycling shoe and you don't mind a little extra weight then look no further than the Giro Berm. 
This rugged mountain biking shoe is SPD 2-bolt compatible, making it perfect for a trip to the spin class at the gym or a ride down the local single-track trail. With a recessed clipless system, the Berm allows you to comfortably go on foot for miles. 
It features a nylon inner sole for good power transfer and a synthetic and meshed upper for comfort and breathability. Its outsole is made of durable rubber with deep treads and a reinforced toe. 
Two velcro straps provide a snug fit. The Giro Berm's versatility coupled with its low price makes it one of the best values options around.
Pros : Simple and minimalistic design.
Cons : Heavier than most models.
You'd never guess these shoes from Diamondback, a company known for its mountain bikes and BMX bikes, were meant for cycling if you didn't turn them over and spot the telltale mounting holes for SPD cleats.
The Diamondback Men's Trace clipless pedals look like your standard lightweight hikers. They're constructed with a suede and mesh breathable upper with a rugged rubber outsole designed for traction. 
While this construction may not make these the stiffest shoes for power transfer, they are one of the most versatile spin shoes. They're comfortable enough to hike or bike a trail. 
Pros : Excellent value for money.
Cons : Heavy and bulky.
Louis Garneau Men's Slate 2
Power and comfort are what Louis Garneau offers with its Slate 2 shoe for men. 
This shoe features Louis Garneau's X-Comfort Zone, which allows the foot to swell up to 5mm while riding, maintaining comfort and preventing dreaded foot numbness. The Slate 2 features a fiberglass/nylon outsole to provide good stiffness while also making the shoe comfortable to wear when off the bike. 
Two hook-and-loop velcro straps and a ratcheting strap ensure a good fit while Louis Garneau's patented Power Zone technology keeps your foot in place, improving power transfer. 
Pros : Very comfortable with a wider toe box.
Cons : Boring color choices – black and camo charcoal.
Indoor Cycling Shoes Buying Guide
1. Gender Specific Models
While some cycling shoes are designed for both men and women, most cycling shoes are designed as women's cycling shoes or men's cycling shoes. 
It's best to stick with gender specific shoes as the anatomy of mens and womens' feet differ. 
For one, women tend to have smaller feet than men, so women's shoes start in smaller sizes. Women also tend to have narrower heels, which means women's shoes are designed differently than men's. 
Remember, you're going to be wearing these shoes under some pretty intense workouts, so you want to make sure they are designed to fit your feet properly. 
And hey, if you're a woman and you care about style, women's shoes tend to come in flashier colors than men's shoes, which are by-and-large limited to one color option – black.
There is always a given intake between fit and comfort for cycling shoes. 
The stiffer the shoe and the tighter it fits your foot, the better the power transfer you'll have from foot to pedal stroke. But tight and stiff shoes aren't particularly comfortable and can lead to discomfort and numbness. 
And you're not planning on racing in these shoes anyway. You want shoes that help you maximize your indoor workout, so you need to find a happy medium. 
They need to be stiff enough to give you the power transfer that cycling shoes are designed for while at the same time fit comfortably enough for those long spin classes.
For indoor cycling, the commonly used pedal system is from Shimano. There are two types of Shimano pedal system, as shown below.
SPD (2 holes for mountain bike, indoor/spin shoes)
SPD-SL (3 holes for road bike shoes)
The SPD system is commonly used on the gym's indoor bikes.
Why SPD?
This is largely because SPD shoes are easier to walk around in than say 3 holes SPD-SL or LOOK style cycling shoes.
Make sure to check which style of pedals your gym uses before hopping on the bike. If your gym uses a style other than SPD, you might need to bring your own pedals to class.
Soles for cycling shoes are generally made from two materials,
The difference is pretty straight forward. Carbon is lighter, stiffer, and more expensive than plastic.
Because carbon is stiffer, it will give you greater power transfer with each pedal stroke. Of course, because it is stiffer, it also won't be as comfortable.
Carbon fiber soles are designed with one thing in mind – performance. Comfort is secondary.
For example : The Fizik M6 Donna is a stiff shoe, while the Louis Garneau Multi Air Flex is flexible and provides more comfort.
Cycling shoes with plastic soles flex, which is why they don't provide the same power transfer as carbon fiber shoes. But this flex also makes them easier on your feet over long spinning sessions or if you need to walk around in them.
Some companies use a hybrid sole that uses both carbon and plastic in order to make shoes that offer both performance and comfort.
Most shoes have a stiffness index. The higher the number, the stiffer it is.
Most cycling shoes are built with air vents that are located both above and below the toe. These vents help to keep your feet from overheating and to minimize sweat. 
Many shoes have vents built into the sole to accommodate airflow. Others use lightweight mesh above the toe to allow air to enter and cool your feet. 
Of course, there won't be as much airflow when spinning vs. actual riding for obvious reasons. However, breathability does affect how heat created by your foot is able to be released, so it is still an important consideration.
In order for your feet to be comfortable, the shoe needs to fit. 
In most cases, rented shoes aren't going to fit you properly just because the number printed on the tongue happens to be the same one printed in your street shoes. This is due to the fact that all shoes go through a breaking-in period. 
During this period a new shoe conforms to the shape of your foot, resulting in a better fit. 
Now imagine a shoe that has been broken in by many different feet. While this fit may be just fine for a night of bowling and beer with the guys, it isn't going to work for a sport like indoor cycling.
2. Cleanliness and Hygiene
It goes without saying that wearing someone else's shoes is going to present hygiene problems. It's cringe-worthy enough for a sport like bowling, now imagine wearing shoes in which someone has been sweating profusely. 
Do you really believe that spray they use to disinfect rented shoes between each use is cleaning them? 
If that isn't enough to convince you, think about all the fungi, bacteria, and wart-causing viruses you could potentially be exposing yourself to by wearing a pair of shoes that dozens of others have had on their feet. 
I bet those cycling shoes don't seem like such an expensive investment now do they?
The biggest advantage of cycling shoes over regular athletic shoes is power transfer. Athletic shoes are designed to flex because you're using them to run, walk, play sports, etc.
You aren't doing much walking in cycling shoes, so the sole can be rigid to allow for much better power transfer from feet to pedals. By being clipped in, cycling shoes also enable you to pull as well as push when pedaling, giving you greater power and better energy efficiency.
Cycling shoes also add a safety component by preventing your foot from slipping off the pedal.
Read More : Beginner's Guide to Start Using Clipless Pedals
The nice thing about cycling shoes for spinning is that they can be used on your regular bike too, giving you more bang for your buck. 
Just make sure you purchase the right pedals for the bikes you have, two holes for mountain bike pedals or three holes for road bike pedals, and you can use shoes at the gym, on the trail, or on the road.