Serious mountain bikers understand that as the ride gets more intense, sunglasses won't cut it. You need a mountain biking goggle that protects your eyes, provides you an excellent field of vision and feels completely unobtrusive wrapped around your head.
Understanding the need is the easy part. Finding the perfect goggle is a little trickier.
Read More :
There are so many options on the market today that shopping for a mountain bike goggle becomes overwhelming. So, we've compiled some of the top goggles to narrow your search.
Here are 7 of the best goggles for mountain biking.
Designed for the intense mountain biker, the 100% Racecraft Goggle is actually the same model the company sells for its motocross racing customers.
The way the frame seals to the face is excellent. You won't have to worry about dirt flying up underneath. That being said, there's still plenty of ventilation, so you don't need to worry about that section of your face getting too hot, or your goggles fogging up.
We also like how the strap is extra wide, which adds to its comfort. 100% coated it with silicone, which prevents it from slipping down your head. Perhaps the best feature of these goggles, though? The price. It's tough to find a high-performing goggle under three figures, but 100% delivered on its Racecraft product.
As a nice bonus, these 100% goggles come in four different colors. You can either choose a clear lens or a mirror lens, which comes in handy on extra-sunny days.
2. Smith Squad MTB ChromaPop Goggle
The Smith Squad MTB ChromaPop Goggle is all about your field of vision.
The lens is super clear, providing an excellent field of vision and vibrant colors thanks to its ChromaPop lens. The ability to enhance colors can help you see objects on the ground, obstacles in your path, and variations in the trail you're riding on.
The frame on these goggles is on the smaller side. Smith says it went with a medium build to accommodate as many riders as possible, but if you have a large head, you may find them uncomfortable on your face.
While the clarity of the lens is great, we really like the ventilation and anti-fogging technology built into these Smith goggles. When you're barreling down a trail and start to sweat, the last thing you want to do is stop to wipe off the fog from your goggles.
3. Fox Racing Vue Dusc Spark Goggle
A premium mountain biking goggle, the Fox Racing Vue Dusc Spark Goggle comes with a big price tag but is packed with strong features that make it a winner in our book.
The first thing we noticed is how nicely it seals against our face, yet remains so breathable. That's because there's venting around the entire body, which does a great job of eliminating any chance of fog while keeping your face cool.
Additionally, the way the faceplate was designed to contour is near perfect. You'll feel like this is a custom goggle for your face.
This Fox Racing goggle comes with its Spark Lens, which does a great job at reducing glare. But if you want to use third-party lenses, the company's TruLock turn-release system makes it quite easy to remove and install.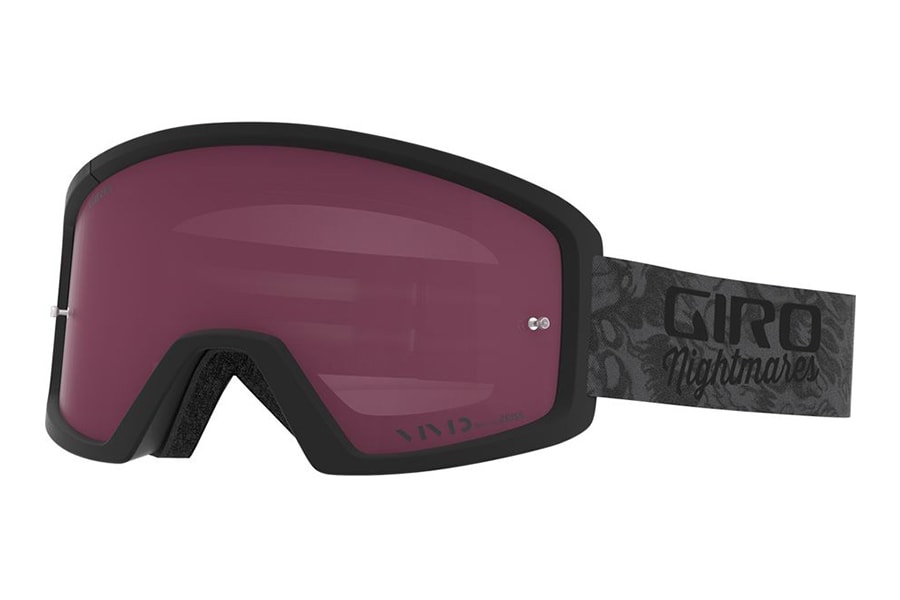 When it comes to the Giro Blok MTB Goggle, it's all about ultimate clarity and a little bit of style.
Giro's Vivid Trail Lens was designed in partnership with Zeiss Optics, one of the world's top lens makers. It was designed to filter out any distracting color shades, like green and orange light, to give more balanced colors that let you better focus on the trail.
For darker days, this goggle also comes with an injected polycarbonate clear lens. In terms of fit, Giro included super vent foam around the frame that keeps your face cool and prevents any fogging.
This Giro goggle also comes in really great, bright colors that add some flare to your mountain biking getup. We personally really like the blue hypnotic color.
5. POC Ora Clarity Goggle
Another goggle that implements the genius of the Carl Zeiss company, the POC Ora Clarity Goggle provides a field of vision that's extremely clear with great contrast to help you differentiate nuances on the trail.
The frame on this goggle, which comes in a beautiful apophyllite green or a strong black color, is extremely flexible, which adds to its comfort. Additionally, the ventilation does a great job at preventing any fogging.
The Carl Zeiss lens in this goggle not only does a good job at making your field of vision clearer, but it also helps on sunny days thanks to its special coating. The slight tint, though, does make it a little tricky in lower light situations.
The price of the POC Ora Clarity Goggle is on the higher side, but we think that's due to the comfort and weight of the product. Many cyclists reported that they forgot they were even wearing them after a couple of hours on the trail.
6. Scott Prospect Sand Dust Goggle
When it comes to Scott, there may not be a better company for mountain biking goggles. The Scott Prospect Sand Dust Goggle, the latest iteration of the company's main product, delivers on the brand's history of excellence.
These goggles have a huge field of vision that has been touted as the biggest in the industry. Of course, that means nothing if the lens isn't clear and the design is too thick. As you can probably guess, that's not the case.
The super-sharp lens is curved to the max, giving you incredible peripheral vision. The company also put in the perfect amount of breathable, three-layer foam to keep the glass as close to your eyes as possible, eliminating any chance of tunnel effect.
The Scott Prospect Sand Dust Goggle comes with a 1mm thick lens, which makes it insanely durable and resistant to scratches.
There's one word to describe the Leatt Velocity 6.5 Goggle; tough.
This mountain biking goggle boasts a bulletproof rating from the Military Ballistic Impact Standard. So, yeah, we think it can handle the occasional tumble down a trail. In addition to the bulletproof lens, Leatt figured out a great ventilation system and comfortable foam padding to essentially eliminate any chance of your goggles fogging up.
This is a smaller frame design than other goggles on this list, but that allows it to better integrate with tricky helmet systems. Like most mountain biking goggles, these come tear-off ready after a muddy ride. We really like the clip-in/out system for installing third-party lenses. After a little practice, you can swap out lenses in under 30 seconds.
The Leatt Velocity 6.5 Goggle comes in a ruby-red color or a black-white color. The red option has a nice metallic shine to it.
Mountain Bike Goggle Buyer's Guide
When it comes to buying a new mountain bike goggle, there are three main technical specs to keep in mind.
Use this guide to make the best possible purchase.
There are a few things you're looking for when it comes to lens type.
One, you want something that's anti-fog. There's nothing more dangerous than ripping down a trail with a hindered clarity because you happen to be sweating profusely. Most goggles, like the POC Ora Clarity Goggle, coat their lens to help with anti-fogging efforts. They also make the frame of the goggle extremely breathable.
Here are some other types of lenses you'll notice :
Polarized lenses do a great job of cutting down on glare, which is helpful if you're biking in snowy or wet conditions. Depending on how much light is filtered out could impact the quality of vision.
Photochromic lenses are great at making colors pop with added contrast. The Smith Squad MTB ChromaPop Goggle uses a great photochromic lens that it calls ChromaPop. By enhancing colors, you can more easily differentiate bumps and ruts on the trail, in addition to hard-to-spot obstacles.
Clear lenses are designed for low-light or night-time riding because the last thing you want to wear is a tinted lens that makes it darker outside.
Finally, look for a goggle with an easy-to-use lens swapping system. Most goggles, like the Fox Racing Vue Dusc Spark Goggle, let you install third-party lenses so you can swap out a clear lens for something more tinted and vice-versa.
Read More : The 15 Best Cycling Sunglasses
You want a field of view that's as large as possible.
You also want something close to your eyes to cut down on tunnel effect.
A top candidate for the best field of view is found on the Scott Prospect Sand Dust Goggle, which features the widest and tallest lens in the industry.
Lens curvature is also important so that you can have enhanced peripheral vision. Look for a lens that wraps around your head as opposed to just staying in front of your eyes.
And finally, take lens thickness into account. A thin lens is going to get beat up pretty easily, while something that's thicker is going to be more durable.
When it comes to wide straps, you want something that's comfortable and that will stay in place.
Many goggles, including the 100% Racecraft Goggle, coat the wide strap with silicone for added tackiness to keep the strap in place.