Looking for recommendations for mountain bikes below $2,000?
You're in luck.
The options you have in mountain bikes begin to expand at the $2,000 price point. Whereas lower-priced bikes limit you to mostly hardtail cross-country bikes, now you have options that include full suspension trail bikes and even downhill bikes.
What's the difference, and which one best suits your needs? 
What's more important?
Read More : 
Let's take a look at 10 of the best mountain bikes under $2,000 today.
1. Diamondback Overdrive 1
The Only Full Carbon Mountain Bike that Makes the List
The Overdrive 1 is Diamondback's top of the line mountain bike. 
Given that Diamondback's bikes are known for exceptional value at rock bottom prices, is it really any surprise that they've found a way to offer a carbon frame bike that is well under $2,000. 
You'd think that Diamondback must have cut costs with the Diamondback Overdrive's components. That isn't the case. While it doesn't offer the range of other bikes at this price point, the collection of components is still impressive. 
The Overdrive 1 is fitted with SRAM's NX 1×11-speed drivetrain and an alloy platform pedals. Brakes are Shimano hydraulic with 180mm rotors in the front and 160mm rotors in the rear. The 29″ wheelset is also well equipped with WTB 2.25" wide tires.
Designed to Meet A Wide Range of Mountain Biking Demands
There's a reason Santa Cruz has named this bike the Chameleon. As the name suggests, the Chameleon is designed to meet a wide range of demands. 
With frame geometry that finds a happy middle between aggressive and upright comfort (it features a low bottom bracket and relaxed head tube angle), the Chameleon can take on technical singletrack or be loaded with bags for a weekend of bikepacking. 
The Chameleon is unique in that it features interchangeable dropouts. What does that mean?
It means you can swap out the bike's stock 27.5″ wheels with massive 2.8″ Maxxis Rekon tires for 29ers and even change your drivetrain to a single speed. Not that you'd want to do that now that the Chameleon has adopted SRAM's brand new SRAM SX Eagle groupset, which offers a full 12 gears. 
One of the Fastest XC Bike Around
The Pro Caliber 6 frame incorporates Trek's patented IsoSpeed technology, which uses a decoupler at the top tube/seat tube joint for shock absorption at the rear of the bike. 
With its black on black paint job and sloping downtube, this bike just looks cool. 
You'll also be impressed with the components. As with many bikes at this price point, Trek incorporates SRAM's NX Eagle 1×12 drivetrain into the Caliber 6 along with high-performance Shimano hydraulic brakes and their proprietary Bontrager mountain bike saddle.
The Caliber also features a convenient remote lockout feature for the front fork, allowing you to lock out the fork from the handlebars when climbing. Pedals aren't provided, giving you the flexibility to decide which of best mountain bike pedals to use.
4. Specialized Chisel Expert
The Lightest Mountain Bike You Can Get Under $2,000
Think all aluminum  mountain bikes are created equal? Specialized wants you to think again. 
The company says its M5 aluminum technology, which eliminates the need for thicker layers of aluminum where cylinders and tubes meet, puts its frames right up there with carbon when it comes to stiffness and weight savings. 
With a total weight under 12kg, it's hard to argue with them. The Chisel Expert features Specialized's SmartWeld frame, which the company says is stiffer and stronger than conventional aluminum. In addition, Specialized uses its cross country geometry in this frame with a front end head tube angle of 69.8˚ and longer top tube for added stability on downhill terrain. 
The frame isn't all to love about this bike. Its drivetrain is a SRAM 1×12 that goes up to 50T, while brakes are SRAM Level TL hydraulic disc with a Specialized Phenom mountain bike saddle that offers plenty of comfort.
Massive 50T Gearing to Get Your Through the Steepest Terrains
Enter the Niner Air 9, which represents some of the first fruits of massive R&D efforts in recent years. 
One of the most notable features of the Niner Air 9, is its hydroformed aluminum frame, which looks noticeably thinner than other aluminum frames. This lightens the load of this bike. 
Niner also incorporates SDG's unique seat post technology with the Tellis Dropper, which allows the seat to be raised or lowered on the fly from the handlebars to facilitate a better position when climbing. 
That's not all the impressive tech on this bike. Niner also includes SRAM's NX Eagle 1×12 drivetrain, which features an 11-50T gear range.
Specifically Designed for Aggressive Riding
The Orbea Laufey H30 is specifically designed for aggressive trail riding. Just look at it's geometry.
It's head tube and seat post are angled at 65.5˚and 75˚respectively and a front fork that offers a full 140mm of travel. The Laufey also offers some versatility with the frame capable of handling either 29" or 27.5" wheels.
Components are Shimano M7000 shifters and rear derailleur with an 11-speed 11-46T cogset. Brakes are Shimano MT201 hydraulic. Internal cable routing keeps everything neat and out of the way.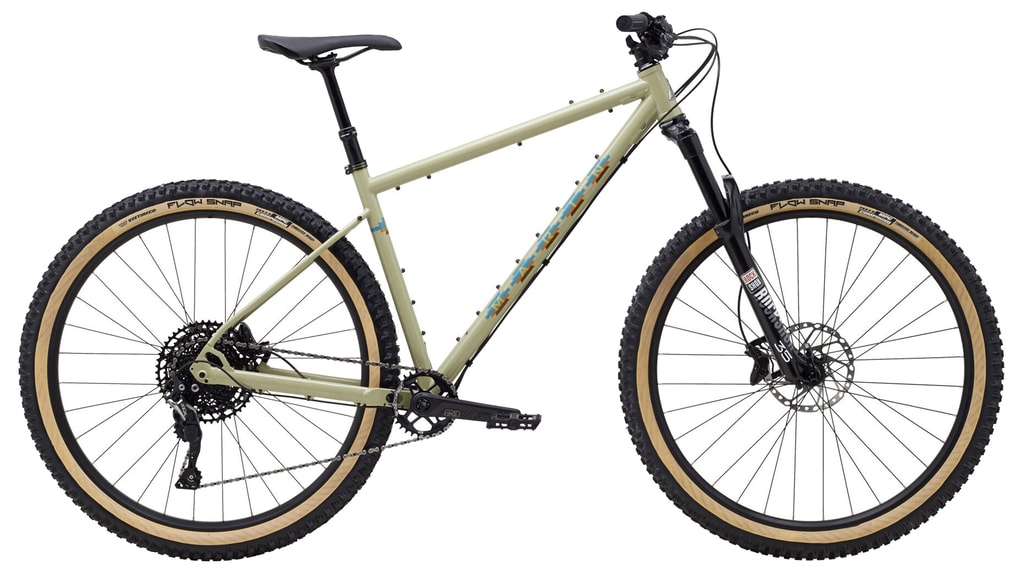 Amazing Roll-over Capabilities and Plenty of Traction
The first thing you'll notice about the Marin Pine Mountain 2 is its wheels. 
In short, they're massive at 29" with a 2.6" wide tire set. What does this mean? 
According to Marin, it means amazing roll-over and traction. In addition to its large wheel set, the Pine Mountain 2 is also one of the few bikes you'll find that features a steel frame. This means the Pine Mountain offers more give over bumps and off drops. 
It also adds versatility, making it not only a great trail rider, but also an excellent option for bike packing. Its focus on carrying gear is evident by the mounting eyelets that riddle the entire frame. 
Supporting this heavier frame are Shimano 180mm rotor hydraulic disc brakes. The drivetrain is a 1×12 speed with a huge 10-50T range paired with a 32T front chainring. 
8. Specialized Stumpjumper
A Very Familiar Brand Among Serious Mountain Bikers
Specialized's Stumpjumper, which debuted way back in 1981, continues to be an industry standard for mountain bikes. 
Specialized knows this and continues to improve on the Stumpjumper's design. One of the first things you'll notice about this bike is its use of what Specialized calls a sidearm to connect its rear shock to the frame. Both front and rear shocks can be locked out for climbing. 
The Stumpjumper's drivetrain is a 1×12 SRAM SX Eagle with a huge 11-50T range. You'll also notice that the brakes redesigned for max performance with 200mm rotors on the front and 180mm rotors on the rear, a clear upgrade over previous models that lacked stopping power.  
Specialized has fitted this iteration of the Stumpjumper with 27.5" wheels to preserve agility on technical single track.
Quality Components in A Value for Money Trail Bike
With plenty of high-end features, the Marin Rift Zone 2 offers one of the best values when it comes to a trail bike.
There's plenty to like about this bike. First and foremost is its dual suspension, which makes it a great option for technical terrain with 130mm of travel on both front and rear. 
Other features you'd typically find on a higher-end bike include a dropper post, hydraulic disc brakes, and a 1x drivetrain. The Zone 2 is fitted with the SRAM NX 1x shifter and derailleur combo with an 12-speed cassette. 
Marin has designed the Zone 2's frame for stability with a low bottom bracket and longer wheelbase while keeping it agile with a 65.5˚ head tube and 75˚ seat post.
Built to be Ridden in the Most Technical Single-tracks
Strength, durability and a lot of shock travel. 
That's what you're looking for if you plan on doing downhill riding and that's exactly what you get with the Banshee Darkside SLX. This bike is clearly focused on providing a downhill experience with a front fork that offers a whopping 180mm of travel and a RockShox Vivid R2C rear shock, which has been a staple for many downhill riders for more than 10 years. 
Although gearing is a lower priority on downhill bikes, the Darkside comes equipped with respectable components including SLX M7000 shifters and rear derailleur and an 11-speed SRAM rear cassette with an 11-42T range. 
The wheelset is race capable with 27.5" Spank Spike Race, which are fitted with Kenda Hellkat 2.4" tires.  
5 Things to Expect in A Mountain Bike Under $2,000
One of the very common questions I get is,
What features can I expect in a mountain bike under $2,000?
Here are some of the common features you'd expect in a mtb under $2,000.
Hardtail Bike. The majority of mountain bikes at the $2,000 price points are for cross-country (XC) riding.
Aluminum Frame. Most of the bikes are of aluminum alloy frame with a few rare exceptions such as the Diamondback Overdrive, which is a full carbon frame.
12-Speed Gearing. SRAM dominates the mountain bike drivetrain market. Expect to have either SRAM's SX or NX drivetrain.
2.2″ to 2.6″ Wide Tires. Expect tire sizes to range between 2.2″ up to 2.6″ wide and wheel sizes of either 27.5″ or 29-er, depending on the bike size.
Bike Weight. Expect the complete bike to weigh between 12 to 14kg.
Let's take a deeper look into each one of the items above.
1. Hardtail Mountain Bike for Cross Country (XC) Riding
At the under $2,000 price point, you start to see more options when it comes to the types of mountain bikes you can buy. 
The majority of mountain bikes at $2,000 price point are hardtails where there is only a front suspension. Hardtails are suited for the most common type of mtb riding, which is cross-country (XC). 
Hardtail bikes such as the Niner Air 9 or Marin Pine Mountain 2 come specced higher-end components.
In some rarer occasions, you can also find dual suspension trail mountain bikes such as the Specialized Stumpjumper and Marin Rift Zone 2. These bikes are typically more expensive due to the inclusion of a second suspension system in the rear that absorb shocks for more technical terrain, jumps, and drops. Hence, there is a slight compromise in the components and drivetrain used.
You can even find a few low-end downhill bikes, including the Banshee Darkside SLX, which feature high-end suspension designs in order to facilitate the impact of high jumps and steep drops cyclists typically encounter on downhill courses.
You'll still find mostly aluminum alloy at this price point. 
However, expect to see high grade alloys, as with the Specialized Chisel Expert, and advanced frame construction, as with the Trek Pro Calibre 6, that is designed to reduce frame weight and improve compliance. 
You can find some carbon frames at this price point such as with the Diamondback Overdrive. However, these frames are usually mixed with cheaper components in order to keep the overall price down. 
As with suspension systems, it's usually better to go with a bike with all-around good parts that sacrifice quality for carbon.
3. 12-Speed, 1X Drivetrain with up to 50T Cassette
Expect to find components from SRAM as they dominate the mountain bike market. Most of the bikes are specced with SRAM's mid-tier groupset such as the NX or SX Eagle.
At the $2,000 price point expect to see mostly 1X setups with front chainrings sizes ranging between 32T and 36T. Rear cog sets are typically 12 speed these days, with cassette sizes up to 50T such as the Niner 9 Air or the Specialized Stumpjumper.
Why does this matter? 
Larger cogs in the rear cog set give you lower gears that make climbing easier. A 1X drivetrain facilitates easier and faster gear changes, preventing you from having to make a tougher front chainring gear shift on the fly.
Nearly all bikes at this price level will be fitted with hydraulic disc brakes. Rotor sizes are also generally larger on these bikes, making for stronger and more responsive brakes. 
Expect to find rotor sizes of at least 160mm in the back and 180mm in the front.
4. 2.2" to 2.6" Wide Tires
Tire sizes at the $2,000 price point ranges from 2.2″ up to 2.6″ wide and usually include tread patterns designed for more intense off-road riding.
Wheel sizes will range from 27.5" to 29" based on frame size. What's the difference? 
It has to do with the term rollover, which you'll often hear when referring to the benefits of a 29er.
Larger wheels have a better angle of attack when it comes to rolling over obstacles, meaning they will be less affected by tree roots, logs, rocks and other obstacles you generally encounter on mountain biking trails. That all adds up to a faster bike. 
That said, those larger wheels are more difficult to navigate through tight twists and turns. This is where the 27.5" wheels win out. And since 29ers are bigger, they also way more, which is a negative on climbs. 
Some bikes, including the Santa Cruz Chameleon, allow you to easily switch out wheel sizes. An upgrade here includes wheelsets that are tubeless compatible.
5. Total Weight Between 12 to 14kg
The use of lighter weight aluminum alloys and, in some cases, carbon helps to drop the overall weight of the bike. 
Also expect weight decreases from the use of lighter weight components and wheelsets. 
As such, total weight for bikes in the $2,000 class will generally range between 12kg and 14kg. For example, the Specialized Chisel Experts weighs only 12kg.