If you've looked around, you'll see that mountain bikes can cost from a few hundred up to 5-figures. But if you're just starting out and on a budget, you might not want to spend that kind of money.
Obviously, there are trade-offs when it comes to cheap vs expensive models. I'll share with you the important things to consider when buying a mountain bike on a budget and also some of my recommendations.
You'll be surprised that you can find good-quality models from reputable brands such as Cannondale, Trek, and Giant at this price range.
So read on.
A Quick Glance : Our Favorite Mountain Bikes for Under $500
Frame : Aluminum
Gearing : Shimano Tourney, 7 Speed
Weight : 14.7 kg (32.3 lbs.)
One of the first things you'll notice with the Trail 8 is its sleek and simple appearance. The graphite color makes this a formidable-looking bike.
A lightweight aluminum frame keeps the frame down's overall weight, while a slack head tube angle at 68º makes for responsive riding. The drivetrain is Shimano Tourney and includes a 7-speed rear cassette with a broad 11-34T range, which makes climbing steep terrain very doable.
A Prowheel alloy crankset features a triple chainring with a 42/32/22T setup. The Cannondale Trail 8 comes with 29″ wheels, except for its small frame, which has a 27.5" wheelset. The brakes are Tektro mechanical disc brakes.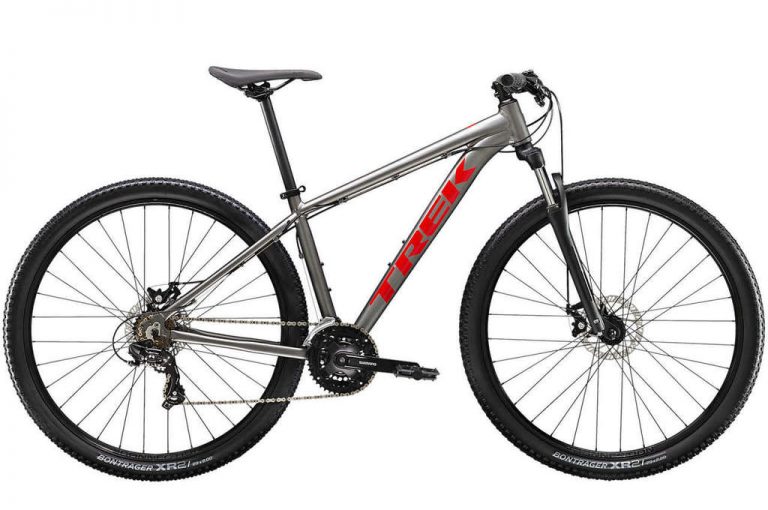 Frame : Aluminum
Groupset : Shimano Tourney, 7 Speed
Weight : 14.5 kg (31.9 lbs.)
With Trek, you can expect quality, and that's what you get with the Marlin.
The Marlin bike has been around for quite some time. It once flourished under the brand Gary Fisher, which was acquired by Trek back in 1993.
Trek has some add-ons with the Marlin that you'd typically only find on higher-end bikes, including brake cables that are internally routed through the frame and its proprietary Bontrager saddle.
Why should you care?
Internally routed cables don't get caught on obstacles, pulling your brakes out of alignment. Components on the Trek Marlin 4 all Shimano Tourney groupset with a 7-speed rear cassette that offers a range of 14-28T. The front crank is fitted with triple chainrings with a 42/34/24T range.
Frame : Aluminum
Groupset : Shimano Tourney, 7 Speed
Weight : 13.9 kg (30.6 lbs.)
Weighing in at less than 14 kg, Giant's ATX 3 is one of the lighter entry-level models on the market. 
This is thanks to a frame that is noticeably thinner than other bikes in this price range. A lightweight frame coupled with a fast-rolling wheelset, high rear cassette range, and tall seat post makes the Giant ATX a solid climbing bike.
That said, there are certainly trade-offs here. While the tires are suitable for hardpacked trails, they don't offer enough tread for technical singletrack. Components are good quality with Shimano Tourney front and rear derailleurs, Tektro mechanical disc brakes, and Giant's custom mtb saddle.
The Prowheel crankset is fitted with 42/34/24T chainrings, while the rear cog set goes up to 34T.
Frame : Aluminum
Groupset : Shimano Tourney, 7 Speed
Weight : 19.9 kg (43.8 lbs.)
The most noticeable difference between Mongoose's Impasse and the rest of the bikes on this list is that it's a dual suspension bike. 
Today, Mongoose, once a BMX brand, manufactures BMX, mountain, and fat bikes. With its dual suspension, the Impasse is a true rarity at this price point, especially when you consider that it's on the lower end of this list in terms of price.
Couple that with a full Shimano Tourney groupset, and it's hard not to label the Mongoose Impasse an amazing value. The Impasse is outfitted with a 7-speed rear derailleur and a triple chainring in addition to its dual suspension.
That said, the shifters are SRAM twist shifters, which is a bit of a downgrade from the lever shifters that many cyclists prefer.
Frame : Aluminum
Groupset : 8 Speed
Weight : 19.0 kg (41.8 lbs.)
Schwinn, one of the oldest U.S.-based bike manufacturers may not be the industry leader it once was, but the company still turns out high-quality low and mid-level bikes. 
Such is the case with the Schwinn Bonafide, which sports an aggressive black and red look. This 29″ mountain bike features a full set of Shimano components including an 8-speed rear cassette and triple front chainring. Brakes are mechanical discs.
And while other models at this price point skimp on wheels, Schwinn has an impressive set of rims and knobby tires to handle tough single-track trails.
Although the Schwinn Bonafide does offer excellent value, be prepared to do some work before you can ride it as this bike comes about 90% assembled.
Frame : Aluminum
Groupset : 8 Speed
Weight : 12.0 kg (26.4 lbs.)
Dual suspension bikes at this price point are few and far between. The Gravity FSX 1.0 is one of those rarities. 
Ever heard of Gravity?
It's one of the many bike brands owned by online direct-to-consumer bike company BikesDirect, which is known for offering incredible value with off-brand names.
With Suntour front and rear shocks, this bike is ready to do what its name suggests, descend. The dual suspension isn't all that's to like about the FSX 1.0. The bike features Shimano components with an 8-speed rear cassette and a triple chainring.
Brakes are mechanical discs. Keep in mind that this bike is also unique to other bikes on this list in that it uses a smaller 26" wheelset, which is something you rarely see on any mountain bikes produced today. While this may date the Gravity FSX 1.0 somewhat, it does help to keep the weight down.
Frame : Aluminum
Groupset : Shimano Altus, 9 Speed
Weight : 14.3 kg (31.5 lbs.)
The most noticeable highlight you'll see with Orbea's MX 40 is the tremendous value it offers with its components.
The name Orbea may not be not as ubiquitous as Trek, Giant, or Specialized in the mountain biking industry, but that doesn't mean Orbea isn't well established. Based in Spain, Orbea has been making bikes since 1930.
Whereas other bikes at this price point will give you 7 speeds, Orbea gives you nine in the rear cog set with an impressive range of 11-36T. Couple that with a triple chainring and you have a bike that is built to handle all kinds of terrain.
The Orbea MX 40 is also fitted with hydraulic brakes, a true rarity for bikes at this price point. Components are also a slight step up from the Shimano Tourney group you see on most sub $500 bikes with a full Altus groupset.
Frame: Aluminum
Groupset : Shimano Acera, 9 Speed
Weight : 14.5 kg (31.9 lbs.)
Diamondback, a company that is perhaps best known for its BMX bikes, continues to make inroads with the development of its 27.5" Overdrive. 
Diamondback has worked to improve its mountain bike offering by adding higher quality components. The bike's most impressive features are its selection of components with the drivetrain fitted with a Shimano Acera 9-speed rear derailleur with a broad 11-36T range of gears.
Unlike other bikes on this list designed for light trail riding, the Overdrive has its eye on technical singletrack thanks to frame geometry that features a small rear triangle for hopping obstacles.
Brakes are also a step up for this price point with Shimano hydraulic disc brakes. Diamondback also fits a higher-end Suntour fork that offers 100 mm of travel.
These features make the Diamondback Overdrive one of the best values at this price point.
What to Expect in A Mountain Bike Under $500
At this price point, you'll find a variety of quality bikes with aluminum frames.
Aluminum is significantly less expensive than carbon. Aluminum frames are noticeably thicker to be strong enough to endure harsh terrain.
You'll also notice that frames tend to be thicker where tubes join to prevent cracking.
On the other hand, carbon frames are lighter and stronger than aluminum frames but are also considerably more expensive.
2. 7 or 8 Speed Drivetrain and Disc Brakes
Expect to see triple front chainrings with 7-speed rear cassettes with a few 8-speed cassettes or, as in the case of Orbea's MX40, a double chainring with a 9-speed cassette.
A typical triple chainring set-up would be 42/34/24T. 
For the uninitiated, that refers to the number of teeth in each ring. The more teeth, the more speed is created with each pedal stroke. Smaller rings offer less speed but are easier to pedal, making them excellent for climbing, and negotiating off-road terrain.
Rear cassettes come with larger cogs, up to 36T, such as the Orbea MX40 and Diamondback Overdrive for easier pedaling, which makes steep climbs more doable.
It used to be that unless you invested a significant amount of money in a bike, you would have to suffer through cantilever brakes.
Now that disc brake technology is no longer new. It can be found on every model from low to high end. The difference now is in the type of disc brakes.
At the sub $500 level, expect to find mostly mechanical disc brakes that are actuated through cables that run from the brake levers to the brake's calipers. 
Higher-end models feature hydraulic brakes, which use brake lines filled with fluid to engage the brakes, not unlike the brakes in your car. Hydraulic brakes offer better stopping power and modulation.
Though rare, there are a few bikes at this price point equipped with hydraulic brakes, such as the Diamondback Overdrive.
For many years wheel size wasn't an option for mountain bikes as they all came with 26" wheels. That all changed with the arrival of 29-ers and later 27.5" wheels. 
As with more expensive models, you have two choices when it comes to wheel size at this price point;
27.5"
29" (also known as 29-ers)
Which you choose is really up to personal preference. 
Bikes with 27.5" wheels have faster acceleration while 29ers offer more efficiency.
Due to their smaller wheel size, 27.5" bikes, such as the Cannondale Trail 8, are also more nimble, allowing you to attack corners more aggressively. That said, 29-ers, such as the Schwinn Bonafide, offer better traction and will roll over rough terrain more quickly. Given their larger size, 29-ers are also a bit heavier. 
Which is best for you? 
While size does play some part, 27.5" wheels are generally better for shorter riders. But only you can answer that. This is another reason why it's important to test ride before buying. 
4. Total Weight Above 12 kg
Frame material, wheelsets, and components all determine the total weight of your bike. 
At the sub $500 price point, these parts will be entry-level technology, which generally means they will be heavier. 
Most of the bikes will weigh above 12 kg (26.4 lbs). 
While some bikes, particularly Cannondale, Trek, and Giant, can be purchased from your local bike dealer, others, such as the Gravity FSX 1.0, must be ordered online from such sites as Amazon. 
While these bikes can offer incredible value, they also require assembly. You'll also need to have some of the basic tools such as hex wrenches from size 3 to 7.
This usually involves the installation of the saddle, seat posts, pedals, wheels, and handlebars. 
If you're not comfortable doing this on your own, consider paying Amazon a nominal fee for its bike assembly service. Also, consider that many bike shops will provide you with tune-up and repair packages if you buy your bike from them.