You've decided it's time to increase the carrying capabilities of your bike, so you'd like to mount a rack to the back of your bike. Questions like these are very common :
Which kind should you buy? 
What makes an aluminum different from a steel one? 
How much can a rack carry? 
What if your bike has disc brakes, is a rear rack still an option?
On this page, I'll discuss the things you should know before buying such as :
Materials. Steel is stronger, carries more load, vice versa for aluminum.
Maximum load usually range between 20 to 60 lbs.
Bike compatibility. Disc and rim brake bikes have different requirements. Watch out.
I'll discuss these points in detail below and also share some of the best models among commuters.
A Quick Glance : Our Favorite Rear Bike Racks
Maximum Load : 57 lbs (26 kg)
Weight : 1.38 lbs (0.62 kg)
Topeak specializes in affordable cycling accessories, offers a lightweight aluminum model that will expand the storage options on your bike with very little monetary investment. 
The Topeak Explorer is a standard rear bike rack. It installs to the threaded eyelets on the seat stays and rear-wheel dropouts. It can also be purchased in a version that works with disc mount bikes. An optional extra-long mounting bracket arm is sold separately for bikes with smaller frames. 
Additional features include a tail-light mount on the rear of the rack that allows for mountable rear lights with 80mm mounting holes. With a low price point, the Topeak Explorer is one of the best values you can find today. 
Pros : Compatible with both rim and disc brake bikes. Remember to select the correct version.
Cons : Separate mounting bracket for smaller bikes to be purchased. 
Maximum Load : 55 lbs (25 kg)
Weight : 1.65 lbs (0.75 kg)
The Ibera may be one of the lowest-priced models you can find, giving it a lot of bang for its buck. 
It's made of corrosion-resistant heat-anodized aluminum, weighs in at just 1.65 lbs. It's 15" long and can carry up to 55 lbs. Adjustable bottom rods mean it can fit most 26" and 29" bike frames. 
The wide top plate can also double up as a fender and splash guard in wet conditions. A mount is included in the back of the rack for reflectors and tail lights. It is designed to be compatible with Ibera's trunk bags and panniers.
Pros : Excellent value in terms of price vs functionality.
Cons : Installation can be tricky on some bikes, depending on the existing setup.
Maximum Load : 55 lbs (25 kg)
Weight : 1.5 lbs (0.68 kg)
Planet Bike, founded in 1996, has a mission to get people riding bikes everywhere: work, school, grocery stores, coffee shops. 
So, it makes sense that its products are focused on making bikes more capable of filling your transportation needs. That's the case with the Planet Bike Eco Rack, which is designed to facilitate greater use of your bike. 
It is 12.5" long and made of lightweight aluminum. It's also compatible with just about any bike. In fact, Planet Bike boasts that the Eco will fit the majority of mountain, hybrid, and road bikes.
Pros : Nice, sleek-looking aluminum design that fits most bikes, including e-bikes.
Cons : Surface area is smaller than its peers.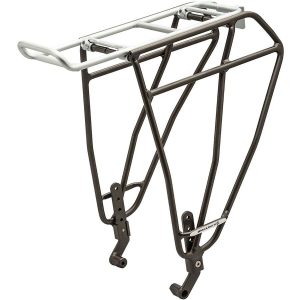 Maximum Load : 70 lbs (32 kg)
Weight : 2.5 lbs (1.1  kg)
This innovative rack from a company that's been designing bike accessories since the 1970s allows you to adjust its height and width to fit wheel sizes ranging from 26" to 29" and tire widths ranging from 1 to 4". And, of course, it's also disc wheel compatible.
High-grade aluminum adds strength to this rack, which has a weight capacity of 70 lbs. Installation is through rear wheel dropout eyelets or through quick axel release. The total weight of the Blackburn Outpost is just under 2.5 lbs. 
Pros : Made from high-grade and durable aluminum that can take up to 70 lbs. of load.
Cons : Be prepared to pay more.
Maximum Load : 88 lbs (40 kg)
Weight : 1.6 lbs (0.72 kg)
With a carrying capacity of a whopping 88 lbs., this is one of the strongest models you can buy. Because it's designed to carry so much weight, it is built for touring. As such, it offers several features for panniers.
A lower pannier mounting bar improves the stability of the bags by creating a lower center of gravity. This also frees up more space for storing gear on top of the rack. 
Built for off-road use, it is engineered for better impact absorption. Despite all of that rugged weight-carrying ability, it is still among the lightest ones on the market at 1.6 lbs.
Pros : Takes up to 88 lbs. of load.
Cons : Be prepared to pay a premium price.
Maximum Load : 50 lbs (22 kg)
Weight : 2.2 lbs (1 kg)
Lacking mounting eyelets on your bike? Not to worry. 
Bike rack giant Thule has you covered with its version of the mountable bike rack, the Pack 'N Pedal. It can mount to the back or front of your bike and doesn't use your frame's eyelets. Instead, it uses locking straps that wrap around the seat stays or front fork of your bikes.
The straps include rubberized grips that prevent the racks from sliding while in use. This installation system makes this rack compatible with virtually any bike style. It also allows for an easy uninstall when not in use.  
The Thule Pack 'N Pedal is also one of the lighter duty options on the market with a weight carry capacity of just 50lbs. This makes it a better option for light touring, commuting, or a quick trip to the supermarket.
Pros : Can be mounted either on the front or rear.
Cons : Takes up to a maximum of 25 lbs.
Maximum Load : 20 lbs (9 kg)
Weight : 1.5 lbs (0.68 kg)
Lacking the proper mounting eyelets for a standard bike rack and looking for solutions? 
Lumintrail, a company that manufactures a wide variety of biking accessories, has the answer. It mounts to your seat post, making it compatible with virtually any bike. This durable and lightweight rack weighs just 1.5 lbs. 
At 20 lbs. capacity, it may not be feasible for bike touring; however, it is a good option for commuter bikes. It measures just over 11" long and features two elastic straps that help hold your gear in place. Installation is simple with a single quick-release bracket that tightens to your seat post.  
The Lumintrail fits seatposts ranging in diameter from .85" to 1.3" and includes attachments for a reflector or light.
Pros : Lightweight and very easy to install.
Cons : Not for a heavier load above 20 lbs.
Maximum Load : 55 lbs (25 kg)
Weight : 1.5 lbs (0.68 kg)
Looking for an affordable option for your disc brake bike?
Topeak has the answer for you with its Super Tourist. Installation is standard to your bike's rear-wheel dropout eyelets and seat stay eyelets. It weighs in at just over 1.5 lbs. and has a carrying capacity of 55 lbs. 
Designed for serious bicycle touring, it features Topeak's QuickTrack system, which allows for the quick attachment or removal of Topeak's QuickTrack rear trunk bags, bike panniers, or baskets with the click of a button. 
A second sidebar provides a lower pannier attachment, allowing you to store more on the top of the rack. A solid fender top shields your back from mud while mounts for a reflector or taillight keep you visible to traffic. 
The Topeak Super Tourist is compatible with wheel sizes ranging from 26" to 29".
Pros : Fits all disc brake bike frames.
Cons : Only compatible with Topeak panniers and bags.
Rear Bike Racks Buying Guide
While they look like a surprisingly simple bike component, you can't just buy without knowing the minute details.
As with many things, there are many factors to consider to ensure that the rack you end up buying will be compatible with your needs and bike setup.
Let's take a look at the 4 main factors to consider.
They are mainly made with either aluminum or steel. Each one has its pros and cons, so let's take a deeper look.
Aluminum. The biggest advantage of aluminum is its weight. Weight can be a significant factor when considering the overall weight of your bike plus your cargo. You don't want to haul more than you have to.
Steel are notably heavier than aluminum racks, but they're also considerably stronger. If you're planning on using your rack for heavier objects or as a mount for add-ons such as panniers, then you might consider going with a heavier steel rack.
It's important to consider their maximum load, which can vary significantly from one to another. 
Most rear racks are rated to carry between 20 and 60 lbs. 
Sometimes, you can find touring bike racks that can handle as much as 90 lbs. of weight. The Tubus Logo Evo Classic, for example, has a weight capacity of 88 lbs. 
These higher load capacity racks typically have more support bars than lower capacity racks. 
Consider what you plan on using the rack for and how much weight you'll need it to handle. Overloading a rack is a recipe for disaster.
Until recently, rear racks have been designed for bikes with standard wheel sizes and standard rim brakes. However, with the growing popularity of disc brakes and larger wheel sizes, the market has changed. 
Disc brake bikes are not compatible with standard racks because the disc brake caliper sticks out, interfering with the support bars attached to the dropout mounts. 
A whole line of models that work with disc brake bikes, such as the Topeak Super Tourist, is compatible with disc brakes bikes.
The proliferation of 29-er mountain bikes, which are not compatible with standard racks, and the growing popularity of off-road touring have created a market for rear bike racks, such as the Blackburn Outpost.
Just make sure that the model you choose is compatible with your bike before making a purchase. 
You basically have two options to consider when deciding how you want to attach a rear rack to your bike; eyelets and seatpost.
Eyelets. The standard rear rack attaches to four mounting points, also called eyelets. The eyelets are located on the seat stays and above the rear-wheel dropouts on both left and right. 
Seatpost. What do you do if your bike frame doesn't have eyelets? Just use a model that clamps to your seat post. Lumintrail, for example, manufactures a rear rack that attaches to the seat post. And Thule's Pack 'N Pedal straps to your bike's seat stays or fork. Although these are sturdy racks, they may not have the load capacity that traditional racks offer, so make sure to check the capacity.