Looking to upgrade your road bike pedals from flat to clipless?
Unlike flat pedals, clipless pedal systems come in different shapes and variations.
So how are they different, and most importantly, which one is for you?
The top brands such as Shimano, Look, and Speedplay have many models in their product line up.
A Quick Glance : Our Favorite Road Bike Pedals
Just because they don't carry the name of Shimano's well-known groupsets such as the Dura-Ace and Ultegra, it doesn't mean these are not up to par.
They are quality pedals that will suit the needs of those just starting out. The R550's are made of resin with a large road cycling shoe contact area for easy clipping in, making them a great option for beginners.
Installation is easy with a pedal spanner, and tension adjustment is a breeze with a 2.5mm allen key. As with other Shimano pedals, the pedal float is adjusted through the type of road cleats you choose; yellow at 6º, blue at 2º, and red at 0º. 
These pedals come with a yellow set of cleats.
Anyone who knows cycling is familiar with the wild popularity of Shimano's Ultegra line of components. These offer great value with a carbon-composite body and Chromoly steel spindles.
A large platform makes clipping easy while also offering excellent power transfer. Tension is easily adjustable through an easy-to-locate bolt on the front of each pedal.
Although not as light as Shimano's top-of-the-line Dura-Ace pedals, the Ultegra R8000's weigh in at just 248g, making these an excellent value at their price point.
A 3 yellow 6º float cleats are included.
For Maximum Adjustability
If you're meticulous about the adjustments you can make to your bike components, then the Speedplay Zero might be for you.  
With a screw on the pedal that allows you to adjust float from 0 to 15º, the Speedplay Zero easily has the most adjustable pedal float on the market. 
The Speedplay Zero is made of light-weight Chromoly, with each pedal weighing 138g. Its double-sided pedals make clipping a breeze. Remember that there is no tension adjustment on the Speedplay Zero, so this isn't a good option for beginners. 
The Zero also includes Speedplay's new walkable cleats constructed with rubber covers for improved traction.
They come in 3 spindle materials; titanium, stainless steel, and Chromoly.
With its carbon body and titanium spindle, Time offers one of the lightest clipless pedals you can find on the market with the Time Xpro 12. Each pedal weighs just 94g, making this a favorite among weight weenies. 
Time also has an eye on your position on the bike. Angular movement can be adjusted in three positions while the pedals' release angle can be personalized through cleat selection. 
This Xpro 12 also features a larger platform surface than the Xpressos. The Time Xpro 12 also features Time's bio position concept, which reduces the distance from the soles to the pedal axles for more direct power transfer. 
When it comes to cycling gear, ultra-lightweight means more money and that's no exception with the Time Xpro 12, which are some of the most models on the market.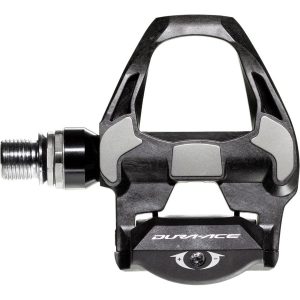 Dura-Ace is Shimano's top-of-the-line component group and these pedals offer top-of-the-line performance features. 
At 228g, they are notably heavier than other pedals at this price point. But they make up for that with quality and durability.
The R9100's feature an injection-molded carbon composite body protected by stainless steel plates with axles made of nickel Chromoly steel. 
Needless to say, these are built to last. The R9100 is also available with an axle that is 4mm longer if you need more clearance to optimize your Q factor.
Clipless Road Pedals Buying Guide
Most cleats allow for some degree of float, which is your foot's ability to pivot either left or right on the pedal while riding.
Float is measured in degrees and designates how far you can turn your foot before unlocking from the pedal.
Why is this important?
Float takes the pressure off the knee, helping to prevent injury. Some cleats offer a significant amount of float while others are fixed-position, locking you into the pedal.
Many pros opt for minimal float or fixed-position cleats with the idea that float detracts from a power-efficient pedal stroke. Pedal manufacturers offer cleats that have varying degrees of float built-in.
Shimano SPD-SL cleats offers are color-coded. Red for fixed 0º float, Blue for 2º float, and yellow for 6º float. Shimano Dura Ace pedals come with Blue cleats and the other models come with a Yellow cleat, which is the most commonly used among road cyclists.
LOOK KEO cleats come in 3 float options. Black for 0º, Grey for 4.5º, and Red for 9º. LOOK pedals come with Grey cleats.
Time ICLIC cleats come in 2 float angles, 0º and 5º.
Speedplay has a different approach to cleats. Rather than having various cleats, the float is adjusted on the pedal itself with a range between 0º to 15º.
The stack height refers to the distance between the pedal platform and cleats to the shoe's sole. It's a very important measurement to know but is often overlooked by many cyclists. A change in stack height especially if you swap to pedals from a different brand will significantly affect your saddle height.
For example, Shimano's SPD-SL pedals stack height is 13.7mm, while LOOK is 14.8mm, Time (now SRAM) is 13.5mm, and Speedplay (now Wahoo Fitness) with the lowest at 11.5mm.
Generally, bike fitters prefer a lower stack height because it allows for more efficient and stable pedaling, which is one of the several reasons why Speedplay is the bike fitter's favorite pedals.
The amount of adjustability depends on the cleat design and the cleat holes on the shoe's soles. Generally, cleats can be adjusted on 3 different planes.
Fore-aft
Medial-lateral (usually up to +/- 2mm)
Rotation
Among all the leading bike pedals brands, Speedplay (now Wahoo Fitness) offers the greatest room when it comes to cleat adjustability. For more extreme adjustability, Speedplay also offers a base plate extender kit which further increases the adjustability range.
If the existing adjustability of Shimano, LOOK, or Time is insufficient to get you the ideal fit, there's a very high chance a Speedplay pedal will.
As a matter of fact, adjusting Speedplay pedals are not recommended to be done at home. It's best if you get a professional bike fit and have the fitter fit them precisely as we're talking about millimeters here.
Release tension is quite simply the amount of force it takes for you to clip out of clipless pedals.
A beginner getting used to his first clipless pedal system needs tension below to avoid the pain and embarrassment of falling over at a stoplight as he frantically tries to get out of his pedals. 
A serious cyclist or a racer, on the other hand, doesn't want his foot to pull free from the pedals in the middle of a bunch sprint. 
Adjusting the tension is a simple task. Look for a small screw with a +/- sign on the pedals. 
Shimano have a screw located on the front that can be adjusted with an allen key. Since they don't use springs to hold the pedal to the cleat, Speedplay's tension is not adjustable.
Top-end LOOK pedals, such as the KEO Blade, allow you to change tension by swapping out the blades. 
The Q factor is the distance between the pedal attachment points on the crank arms. 
Why should you care? 
Because Q-factor helps to determine where your feet engage the pedals, it can affect your stance on the bike. 
A Q-factor that is too wide or too narrow can cause your knees to track either too far inward or outward resulting in joint pain. 
A bad stance can be corrected through the length of the pedal's spindles. For example, Shimano addresses this issue by offering pedals such as the Duraace R9100 that have spindles that are 4mm longer as an option.