With bike prices going up year after year, many cyclists are wondering if they'd get a good bike for a budget of $3,000. It's a very valid and real concern.
You'll probably find a good mid-tiered road bike with these features :
Carbon frames with a total bike weighing between 8 to 9 kg.
Mid-tiered mechanical drivetrain such as Shimano 105.
Hydraulic disc brakes that provide consistent and reliable braking performance.
On this page, I'll discuss more in detail what you can expect and share some of the popular models for you to consider as part of your research.
A Quick Glance : Our Favorite Road Bikes Under $3,000
Frame Material : Carbon
Gears : Shimano 105, 11 speed
Brakes : Disc
Weight : 8.5 kg
One thing you can't argue about Trek is the company's ability to make beautiful bikes. 
If you don't get chills when you first lay eyes on the Trek Domane SL5, then you're probably not as into bikes as you think you are. With its sloping top tube, wide down tube, and sleek matte paint, it's hard to find a bike that's more aesthetically pleasing than the Domane SL5. And it's not just the matte navy color either. This bike is beautiful in purple or red as well. 
Looks aren't everything though. The frame technology on this bike is a high end, featuring Trek's Isospeed, which means rockers in the headset that allow for fore and aft movement for shock absorption while maintaining precise steering.
In the rear, a decoupling system at the seat tube allows for flex on uneven road conditions. Supporting this frame technology is a full groupset of Shimano 105 right down to the hydraulic disc brakes.
Pros : Endurance geometry is both comfortable and forgiving especially over rougher roads.
Cons : Expect to pay more from a leading brand.
Specialized Tarmac Disc Sport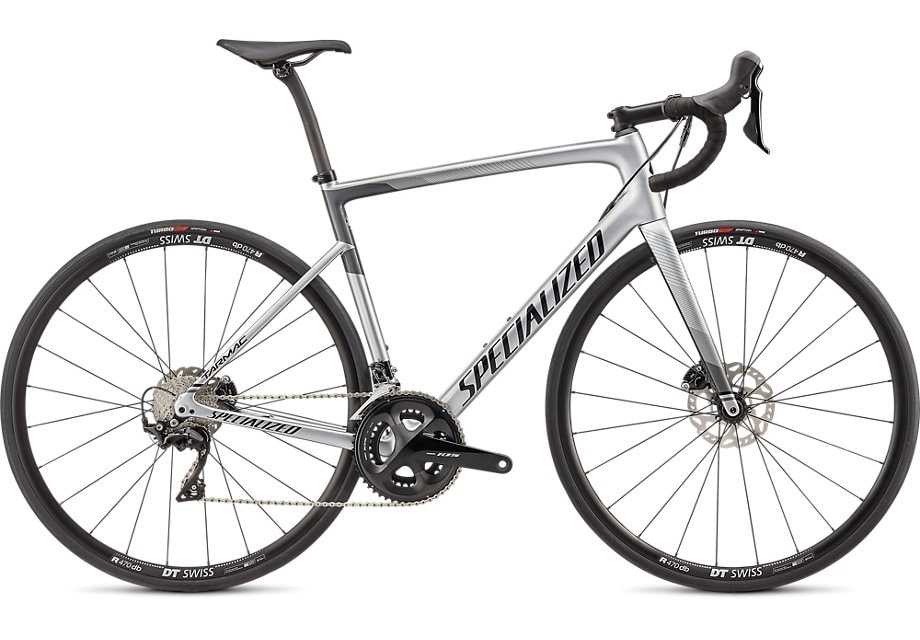 Frame Material : Carbon
Gears : Shimano 105, 11 speed
Brakes : Disc
Weight : 8.4 kg
You know when you buy a bike made by Specialized that you're getting a machine that's been through a pretty darn demanding design and engineering process. 
The Specialized Tarmac Disc Sport has been tweaked and improved from the previous SL5 version, making it more aerodynamic and lighter. Specialized's FACT 9r carbon, while not as light and stiff as the FACT 12r carbon you'll find in the pro-level S-Works Tarmac, makes it a full 20% lighter than the SL5. 
Specialized also claims that improved aerodynamics make it markedly faster. And while the dropped seat stays and angle top tube allow for excellent maneuverability, the bike is still upright enough to make long endurance rides comfortable. 
Pros : One of the best manufacturer warranties.
Cons : Expect to pay a premium over the other brands because it's Specialized.
Frame Material : Aluminum
Gears : Shimano 105, 11 speed
Brakes : Disc
Weight : 9.0 kg
The Cannondale Caad 13 Disc just might make you rethink aluminum frames.
This isn't your entry-level aluminum frame. This is Cannondale's SmartForm C1 lightweight alloy.
Before you ask why in the world you'd spend this much money on an aluminum frame bike, take a careful look at the Cannondale CAAD 13's frame. Take notice of the svelt top tube and down tube. 
It weighs in at just 9 kg. With a complete groupset of Shimano 105 components, with the exception of a Cannondale FSA crank, this is a pretty impressive set up at the low end of the price range. 
Kick in hydraulic brakes and this bike is a real steal. With a considerable drop from seat to handlebars and a steeply angled head tube, this bike is built for aerodynamics and quick handling. 
Pros : Low profile color and design with very minimal branding.
Cons : Slightly heavier than its peers due to the aluminum frame.
Frame Material : Carbon
Gears : Shimano 105, 11 speed
Brakes : Disc
Weight : 9.0 kg
The Cervelo Caledonia is a very versatile bike. It doesn't all have to be about performance once you clear $2,000. 
Just one glance at this bike tells you that the geometry isn't hyper-focused on performance. The slope from seat to bars is much less severe than other bikes at this price point, making the Caledonia an option not just on weekend race rides but also doable for commutes. 
Plus, the noticeably curved seat stays are designed to provide some flex to absorb road shock. That's not to say this bike is designed for an upright roll to the grocery store and lazy rides by the beach. 
The Caledonia still has racing in mind with geometry that is still aggressive enough for an aerodynamic position. And don't forget it's a full carbon frame with an impressive Shimano 105 groupset and hydraulic disc brakes.
Pros : Simple, minimalistic matte black colors.
Cons : Heavier compared to other carbon bikes of similar price points.
Frame Material : Carbon
Gears : Shimano 105, 11 speed
Brakes : Rim
Weight : 8.4 kg
Wilier's GTR clearly takes its cues from the company's high-end road racing series while making some adjustments to improve comfort over the long haul and keep the price at a sub-$3,000 level.
This carbon-fiber bike keeps some of the characteristics of the geometry on Wilier's higher-end bikes. This includes the gently sloping top tube and an integrated fork that seamlessly flows from the downtube.
From there, Wilier dials things back a bit to fit its branding of the GTR Team as an endurance and fitness bike. This includes a higher stack than its racing line, which facilitates a more comfortable upright position for long rides in the saddle. Wilier also goes with a different profile for the chainstays and seat stay tubing, trading stiffness for a more compliant ride.
Pros : Excellent value for money if disc brake is not a must-have.
Cons : Rim brake might be outdated for some.
Frame Material : Carbon
Gears : Shimano 105, 11 speed
Brakes : Disc
Weight : 8.0 kg
The Felt FR Advanced is an excellent bike with great value.
Felt doesn't get as much publicity as it once did. This is largely due to the fact that the company doesn't have as much of a presence in the pro cycling arena these days. While that may matter to the pros, that's actually an advantage for the rest of us as it means Felt can put all its resources into its products. 
This bike features a full carbon fiber frame, including a carbon fiber fork. Components are comprised of a complete Shimano's mid-tier 105 groupsets from shifters to drive train to front and rear disc brakes. 
A carbon fiber seat post helps dampen road shock, while a tubeless wheelset reduces puncture risks while cutting weight. All that carbon means a lightweight bike. The Felt FR Advanced 105 weighs in at a hair over 8 kg
Pros : One of the lightest bikes around for this price range.
Cons : External cabling might not suit the aero-geeks.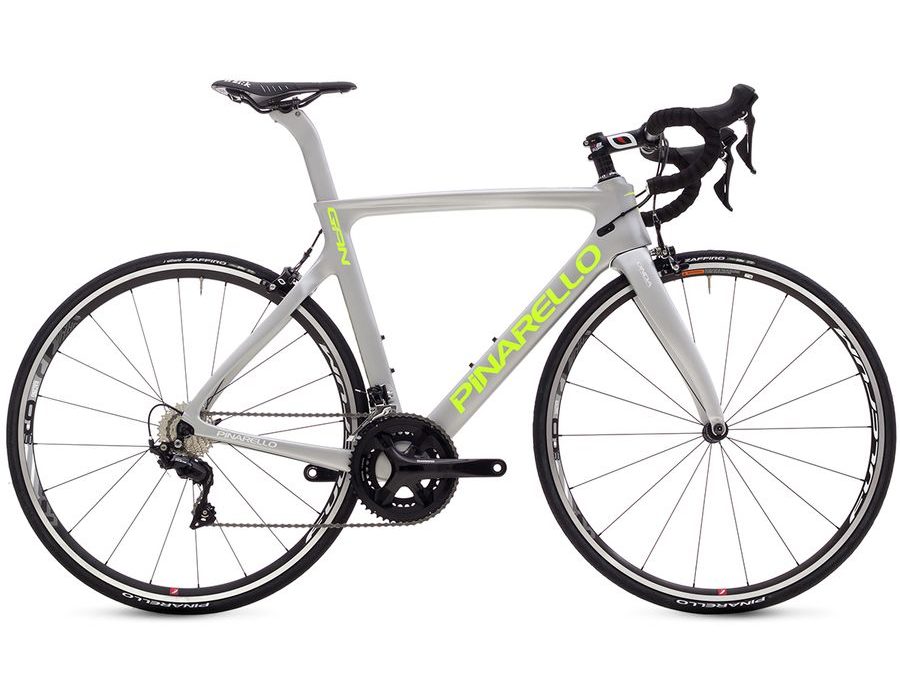 Frame Material : Carbon
Gears : Shimano 105, 11 speed
Brakes : Rim
Weight : 8.5 kg
You might have heard of Pinarello before. They're the bikes ridden by Team Sky in each of its 7 Tour de France victories.
Pinarello describes the Gan as having a less extreme frame than its top-level racing bikes, the Pinarello Dogma. It's odd to look at the Gan 105 and consider that the word entry-level should be in any way used to describe it. 
But that's exactly what Pinarello, an Italian bike manufacturer known for its high-performance bikes, considers this bike to be in its hierarchy of racing bikes. There doesn't seem to be anything entry-level about this bike. A full carbon frame, complete Shimano 105 groupset of components, and hydraulic disc brakes make for an impressive racing bike.
Pros : Nice and curvy frame design.
Cons : Entry-level aluminum wheelsets are heavy.
Frame Material : Carbon
Gears : Shimano Ultegra, 11 speed
Brakes : Disc
Weight : 8.1 kg
The Fenix is Ridley's mid-tiered road bike. Its more upright geometry makes this a great option for endurance and sport, as well as competitive group rides while the steeply tapered top tube makes for an agile race-ready bike. 
Ridley has tailored the carbon in the frame to mix stiffness with shock absorption, making this bike capable of comfortably handling rougher terrain like cobbles and packed gravel. With this in mind, the Fenix is also designed with greater tire clearance in the frame, allowing for beefier road bike tires for varying types of terrain. 
Components are high-end for the Fenix with a complete Ultegra groupset, which means smooth shifting and great stopping power from Ultegra hydraulic disc brakes.
Pros : Shimano Ultegra groupset, a rarity for bikes at this price point.
Cons : Stock might be harder to come by.
What to Expect in a Road Bike Under $3,000
While still a far cry from the pro cyclists' bike prices, the bikes available to you at under $3,000 offer performance features that are more than enough for most non-professional cyclists. 
You've got a lot to choose from at this price point; lightweight carbon frames, better groupsets, and disc brakes are common options. 
Also, expect to find bikes geared toward competitive racing with aggressive frame geometries.
If you're going to spend upwards of $3,000 on a bike, then chances are this isn't your first road bike or perhaps even your second. 
You're more than likely looking for performance. You want a bike that gives you an edge in that competitive Sunday morning group ride or helps you shave minutes off your next metric century. 
That means you want a frame that's stiff and lightweight. No one's spending this much money for a steel frame. 
As such, the majority of the bikes you'll find at this price point are full carbon bikes such as the Trek Madone SL5, Specialized Tarmac Sport, or top of the line aluminum frames with carbon forks, such as the Cannondale CAAD 13.
Read More : Titanium vs Carbon Bikes – Which One Suits You Better?
2. Aggressive Frame Geometry
Performance is a major factor at the $2,000 to $3,000 level, and frame geometry reflects that. 
Expect bikes at this price point to feature more aggressive geometry with a shorter stack and longer reach.
This means lower front ends that feature a greater drop from saddle to handlebars than less expensive bikes. This attribute, coupled with a longer reach (the distance from the bottom bracket to the top center of the head tube), allows you to get into a lower, more aerodynamic position. 
Other features include a shorter wheelbase (the distance between the axles) and a steeper head tube angle, both of which make for a nimbler, more responsive bike, which are attributes required for high-speed racing. 
Of course, there are exceptions to this with bikes such as the Cervelo Caledonia and Pinarello Gan, which have more endurance and relaxed geometry.
3. Mid-tier Groupsets and Components
As you get into higher price points, your options for components begin to expand dramatically. Shimano is by far the largest provider of bike components, serving a broad range of cyclists from youth riders learning to ride a bike to world-class pros riding in grand tours. 
For that reason, all of the bikes mentioned here are outfitted with Shimano components. That said, Shimano isn't the only company out there making components. SRAM is another major component brand that offers low, mid, and upper-tier components. 
Read More :
Though not as widely used as Shimano, SRAM is well known for its lightweight high-end SRAM Red groupsets, which can be found on the bikes of many pro cyclists.
Campagnolo, Campy for short, is known for its aesthetic appeal and smooth functionality. The Italy-based company does offer groupsets ranging from entry-level to high tier. However, Campy components are rarely found as stock mounts on bikes due to their comparatively much higher cost. 
While you may find some bikes between $2,000 and $3,000 equipped with SRAM or even Campy components, expect the vast majority of bikes at this price point to feature Shimano 105 and even Ultegra groupsets such as the Ridley Fenix SL.
4. Total Weight Between 8 to 9 kg
When it comes to road bikes, most cyclists expect higher performance with a higher price tag, and weight is a huge factor. 
Lightweight high-end components, full carbon frames, and lightweight wheelsets equate to a lighter overall bike. With that in mind, expect bikes at this price point to weigh between 8 kg and 9 kg depending on frame size and components.