If you around at your local bike shops and on the Internet, you'll probably notice that road bikes these days tend to cost at least thousands. Gone were the days where you can get a bike with high-quality components for a few hundred bucks.
However, not everyone is willing to spend thousands on a road bike especially if they're just starting out.
So the question is,
What are the road bikes available for beginners?
What can I get with a $500 budget?
On this page, I'll share with you several models available at the $500 price point. But to be realistic, if you're expecting all the latest and best technologies, you'll need to increase your budget higher.
I'll also share with you what to expect when it comes to the type of bike frame and the components specced with the bike.
A Quick Glance : Our Favorite Beginner Road Bikes Under $500
An Italian Inspired, Classic Steel Road Bike
Frame Material : Steel
Gears : 7 Speed
Weight : 13.0 kg
The first thing you'll notice about the Giordano Libero Acciao road bike is its classic European design, unlike its sibling the Giordano Aversa.
And although the company is part of Kent Bikes, which is based in New Jersey, the company says its bikes are inspired by classic Italian designs. Acciao, which means steel in Italian, refers to the bike's frame. 
And while steel adds weight, the Giordano Libero is actually lighter than many other steel-frame bikes. The drive train is all Shimano with Tourney shifters and a rear derailleur. A seven-speed cogset and double chainring provide 14 gears. 
A Vitesse wheelset is also a nice touch and adds to the Italian look of the bike. 
The Bike Brand Most American Grew Up With
Frame Material : Aluminum
Gears : 8 Speed
Weight : 11.5 kg
One of the oldest bike companies in the world, Schwinn is still one of the best-known names in cycling in the U.S., especially for those not yet part of the cycling community. 
It's the bike brand many Americans grew up riding.
And while Schwinn may not have a presence with serious cyclists, it still offers excellent bikes at the entry and recreational level. The Phocus is one of those bikes.
This aluminum-frame bike comes equipped with an 8-speed Claris rear derailleur with Suntour Alloy crank and alloy caliper brakes for solid good braking power. An alloy wheelset that features an attractive non-traditional spoke pattern is surprisingly lightweight.
The Schwinn Phocus also comes in a women's specific frame.
Double Butted Aluminum Frame to Keep the Weight Down
Frame Material : Aluminum
Gears : 7 Speed
Weight : 11.3 kg
The Vilano Shadow 3 is a step up from the company's R2 model but stays well within the under $500 club. 
The Shadow features integrated brakes and shifters, which is something not including with the R2. The drive train includes a 7-speed rear cassette and double chainring. 
As with the R2, components are Shimano Tourney, which makes them reliable though not performance-oriented. Like the R2, the Shadow is fitted with rim brakes. These features make the Vilano Shadow 3 a good option for entry-level cyclists on a tight budget. 
As with Vilano's other bikes, be prepared to do some assembly on your own, or to pay someone else to do it, once it arrives. 
Look No Further If You're After A Bargain
Frame Material : Aluminum
Gears : 7 Speed
Weight : 14.0 kg
The Eurobike Road Bike is so ridiculously cheap, it's difficult to understand how a company can sell a bike at this price point without losing money.
And while you might understandably be skeptical of such an inexpensive bike, don't be. The Eurobike, though one of the heavier bikes at the sub $500 price point, offers plenty of nice features.
The geometry of the steel frame offers a comfortable upright position for beginners. And although the components are low end (the shifters are not integrated) they are Shimano; so you can count on reliable shifting and durability. 
Disc brakes and aero spoke wheels are also nice features in the Eurobike.
A Popular Bike Among those Just Starting Out
Frame Material : Aluminum
Gears : 7 Speed
Weight : 13.0 kg
It's rare that you'll find an aluminum frame bike cheaper than Giordano's Aversa. 
This bike comes in at the lower end of the price range, offering excellent value for novice cyclists or those looking for a good commuter bike option. Accompanying the aluminum frame is a Shimano 2×7 speed drivetrain with stem shifters, alloy wheels, and rim brakes. 
While the Giordano Aversa won't offer the performance options of higher-priced bikes, it is a great option for those interested in dipping their toes in the world of road bikes.
A Solid Steel Road Bike for Adventure Riding
Frame Material : Steel
Gears : 8 Speed
Weight : 13.0 kg
Marin is a smaller outfit located in Marin County, California that has its roots in mountain biking. The company was started by Bob Buckley after he discovered the sport on the advice of his doctor. 
It's difficult to gain accolades from the cycling community. Cyclists can be downright snobby when it comes to bikes, which is why it's notable that a bike at this price point managed to make it onto so many bikes of the year lists. 
The steel-framed Marin Nicasio is built for adventure biking.
The bike frame features greater clearance for wider tires (700x40mm or 650x47mm) and includes front and rear mounts for racks.  It also comes equipped with an 8-speed drivetrain, double crank, and mechanical disc brakes. 
Excellent Value for those on A Tight Budget
Frame Material : Aluminum
Gears : 7 Speed
Weight : 12.0 kg
Coming in at the lower end of the under price range, the Vilano R2 offers excellent value for those on a tight budget. 
The Vilano's most notable feature is its lightweight aluminum frame, which is a huge bonus at this ultra-low price point. The Vilano's shifting system is not integrated; however, it does give you a Shimano Tourney front and rear derailleurs, so expect reliable and smooth shifting.
A triple chainring helps you get the most out of a 7-speed rear cog set. The Vilano is an excellent option for commuters or novices looking for a starter road bike. 
Just keep in mind that the Vilano R2 is a factory direct bike, so some assembly is required.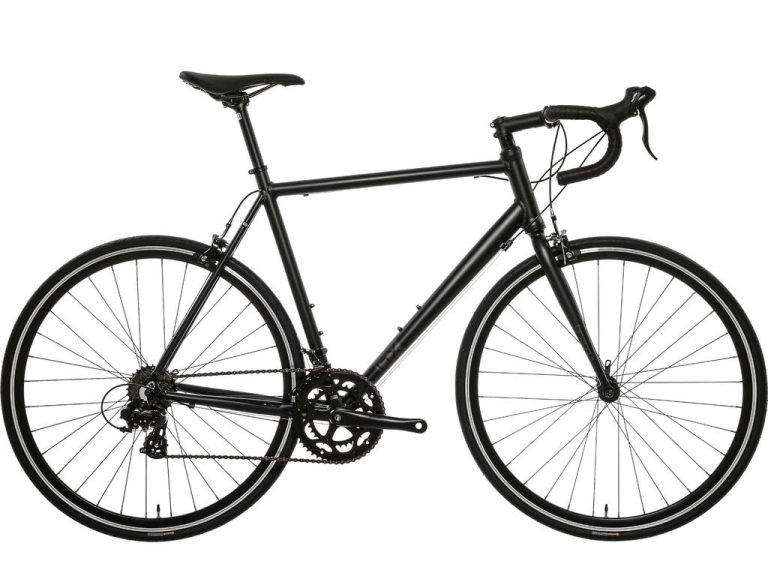 A Tremendous Value with Quality Components
Frame Material : Aluminum
Gears : 7 Speed
Weight : 11.5 kg
It's hard to get more nondescript than naming your company Brand-X, which offers a rock bottom price with its road bike. 
Their road bike is so cheap, Brand-X, which is sold exclusively through Wiggle and Chain Reaction Cycles, didn't even spend any money trying to come up with a name for its bike. It's akin to naming your dog, Dog.
And while you might think that translates into poor quality, it doesn't. 
Brand-X's road bike offers tremendous value at its price point including an aluminum frame and a mostly Shimano drivetrain with a ProWheel crankset. The Shimano Tourney drivetrain offers 7 speeds with a 14-28T cog set and a 50/34T compact crankset.
So, while you won't be taking on major climbs with this bike, it's an excellent entry-level budget option for road cycling. 
A Brand Ridden by the Legendary Sean Kelly to Many Wins
Frame Material : Aluminum
Gears : 8 Speed
Weight : 10.5 kg
Legendary Irish cyclist Sean Kelly raced Vitus bikes back in the 1980s. 
You might have heard of Vitus way back when the company was originally a French bike manufacturer and had a presence in the grand tours. 
But times have changed. 
Vitus is now an in-house brand for Chain Reaction Cycles and Wiggle, though Sean Kelly still serves as the company's brand ambassador. One look at the Razor and you instantly see the value. 
This Vitus Razor bike looks more expensive, right down to its full Shimano Claris groupset, 8-speed drivetrain, and Kenda road bike tires. And although the gear range is somewhat limited for climbing with a small range of 11-28T, the geometry is sporty enough for aggressive cycling in the drops. 
Classic Looking Geometry for the Purists
Frame Material : Aluminum
Gears : 8 Speed
Weight : 10.5 kg
The Merlin PR7 is a UK-based cycling store, Merlin Cycles in-house brand.
The upright geometry and shallow drop handlebars of the Merlin PR7 give it a classic look and more aggressive geometry than your average entry-level road bike. 
The geometry of the PR7, with its low stack, allows you to get down into a racing position if desired. Couple that with an almost complete Shimano Claris groupset and you've got a bike that offers excellent value at the sub $500 price point. 
The rear cog set is compact, running 11-28T with 8 speeds, which provides enough range for comfortable climbing. The wheelset is a little stockier on the Merlin PR7 with traditional-looking Mavic rims and Kenda 25c tires, making this bike's overall weight a bit heavier than other bikes at this price point.
What to Expect in A Beginner Road Bike
While many cyclists may turn their noses up at bikes that fall into this price range, there is actually a surprising amount of value to be found in bikes at this low price point.
Advancements in bike technology have made older technologies like aluminum frames and cable disc brakes considerably more affordable.
And while these technologies may not cut it for experienced cyclists, they offer plenty of value for the novice looking to get on a road bike while on a very tight budget.
Let's take a look at what you can expect from a road bike below $500.
For road bikes at this rock bottom price, you only have two options when it comes to frames;
Aluminum is lighter weight and stiffer than steel, while steel offers better ride comfort and excellent durability. 
Given that bikes under $500 will more than likely be outfitted with heavier wheels and components, cutting weight on the frame makes sense. 
For example, the Vitus Razor and Merlin PR7 come in at 10.5 kg, which is light for a bike below $500.
Read More : Steel vs Aluminum Bikes : Which is Better?
2. Drivetrain and Brake Components
When considering bikes at this price point, expect to find components and brakes that are at the very low end of entry-level.
Shimano's lowest-end groupset is Claris. And while Claris components may not offer the gear range, weight savings, and smooth performance of Shimano's higher-end groupsets, it will provide you with durable and reliable shifting and brakes. 
Also, expect to find lower-level components on bikes under $500 including Shimano Tourney (which is actually under Shimano's mountain bike groupset family) and other off-market brands.
Entry-level drivetrains are more basic and are set up to accommodate beginner riders. Gear configurations vary at this range with 7 or 8 gears in the rear cassette. This compares to higher-end cassettes that feature 10, 11 and even 12 gears. 
Some bike manufacturers will seek to overcome the limitations of a small rear cog set by using a triple ring crankset, such as in the Vilano R2. Triple ring cranksets include a third smaller ring, sometimes referred to as the granny gear, which ranges between 24 and 32 teeth. 
For beginners riding in very hilly terrain, the granny gear can be very useful. Triple ring cranksets offer a broader range of gear configurations, especially low gears. Whereas a double chainring might give you 14 or 16 gears (2×7 or 2×8), a triple crankset will offer 21 to 24 gears (3×7 or 3×8). 
Brakes for bikes at this price point surprisingly offer some options beyond rim brakes. While you won't find hydraulic brakes on bikes at this price point, expect to find cable-actuated disc brake bikes such as the Marin Nicaso and Eurobike.
Due to the fact that bikes at this price point are using heavier frame materials and carrying heavier components and wheelsets, they will generally weigh more than higher-priced bikes, which incorporate more expensive lightweight technologies in their bikes. 
Expect total weight to be above 10 kg with steel-framed bikes such as the Marin Nicaso being the heaviest. 
Read More : Why Pay Attention to Bike Frame and Wheels Weight Limits
In order to get the best bang for your buck, you need to look for ways to eliminate costs. One of those ways is to eliminate the middleman by purchasing a bike that requires assembly.
Many of the bikes under $500 require you to assemble them out of the box. You'll need a set of bike tools at home to do this.
If this seems like too daunting of a task to take on, then consider spending the money to get someone else to assemble the bike for you. Amazon offers a bike assembly service for bikes purchased through the online retailer. You can also pay a local bike shop to do the job for you.