Did you know that your cycling shoe is the most important piece among all your cycling gears?
Forget about the kit, sunglasses, gloves, and socks.
Here's why.
There are three contact points between your body and the bike; your palms, pelvic bones, and feet. The feet are the most important of the three. It's where you'll transfer all the power from your legs to the pedals to move the bike, typically at a rate of around 80 to 90 rpm. You'll probably be turning the pedals about 4000 to 5000 times for every hour of cycling.
Hence, choosing the right pair of cycling shoes that suit not only your style of riding but more importantly the shape of your feet is, crucial.
A Quick Glance : Our Favorite Road Cycling Shoes
Value Pick : Shimano S-Phyre RC701
"An affordably priced Shimano's mid-tiered shoes with pro-level (almost) features and stiffness."
Best for Beginners : Specialized Torch 1.0
"Specialized's entry-level shoes designed using the scientifically-tested Body Geometry for comfort."
Best for Performance : Specialized S-Works 7
"The go-to shoes for current and former road race World Champions, Julian Alanphilippe and Peter Sagan."
How We Pick Road Cycling Shoes
If you look around, you will quickly realize that there are hundreds of options out there. In order to filter out and shortlist the ones that are truly good, we turned to online cycling forums, asking around in our bunch rides and scouring Instagram and Facebook influencer feeds to get first-hand feedback.
We also complement this by going through the user reviews on large online retailers such as Amazon, Competitive Cyclist, and Amazon.
So in selecting our picks, we paid attention to objective criteria such as :
Price Range. We picked the best shoes across 3 price points, from beginner (below $150) to mid-range ($150 to $300) and performance range ($300+).
Brand Names. We picked shoes from established brand names such as Shimano, Specialized, and Giro among others that are widely used and have many cyclists' feedback over the years. More importantly, they have good R&D when it comes to knowing what cyclists need and where to improve.
Comfort. Cycling shoes are very personal to everyone. To stay on the conservative side, we picked those that are known for being comfortable for most cyclists.
For Road Cycling. There are generally 2 categories of cycling shoes; for road and off-road. For this list, we picked those that are specifically designed for road cycling.
Pedal Compatibility. We picked shoes that have 3 holes at the bottom which are compatible with Shimano SPD-SL, Look, and Speedplay (via adapters) style cleats.
We discuss these points in detail in our cycling shoes buyer's guide here.
Value for Money Picks ($100 to $300)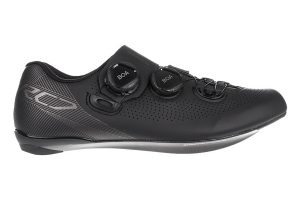 The Shimano S-Phyre RC701, which replaced the RC7 model, gives you pro-level performance features at non-pro prices, making it an excellent value. 
The RC701 features a lightweight and rigid carbon fibre composite sole for maximum power transfer. It rates a 10 on Shimano's rigidity scale and incorporates Shimano's Dynalast technology, which helps to make your pedal strokes and power transfer more efficient by optimizing the toe-spring part of the shoe. 
The RC701 is equipped with dual BOA dials, an upgrade from the RC7, which was outfitted with one BOA dial that allows you to make micro-adjustments for fit.
Pros : Great value for money from a reputable brand. New BOA fastening system design provides improved adjustability and fit.
Cons : Upper layers can be too breathable, so might not ideal for colder temperatures.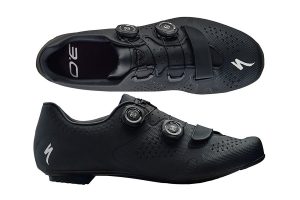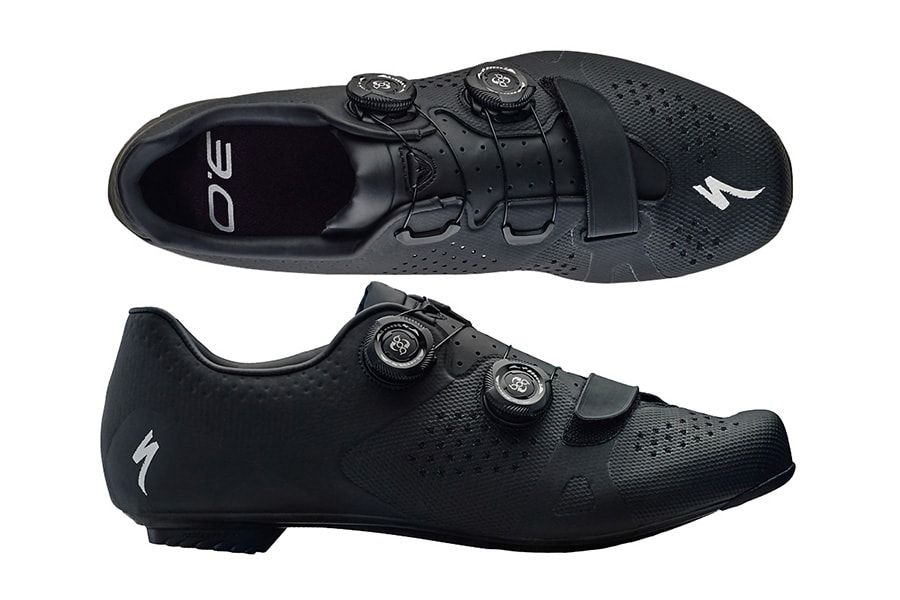 The Specialized Torch 3.0 is Specialized's mid-tier road cycling shoes.
There are 3 models within the Torch family itself, the 1.0, 2.0, and 3.0. The 1.0 is the lowest end model. As you go higher up to 3.0, the main difference lies in the sole construction.
The 1.0 uses a carbon composite sole, while the 2.0 has a carbon fibre sole and 3.0 uses a stiffer FACT carbon sole. However, they're not as still as the top-end S-Works 7.
Another major difference lies in the fit. As the Torch isn't a high-performance shoe designed for racing, it has a more relaxed fit, especially around the toe box and heels. If you're looking for a cycling shoe that provides all-day comfort, this could be a good option to consider.
Pros : Relaxed fit and comfortable long rides. Improved heel cup for a snug fit.
Cons : Limited color choices.
The Fizik R4B Uomo sits in the middle of Fizik's road cycling shoes' range, below the top-level R1 and above the entry-level R5 series.
As with most mid-range options, the sole is made from injected carbon-fiber. This is just another fancy term for a sole made from a mixture of carbon and plastic, sort of a midpoint.
As expected, it's not comparable to the super-stiff carbon, but it's still plenty stiff for the majority of recreational cyclists.
Pros : Plenty of ventilation on the top and bottom. Durable upper materials.
Cons : Velcro straps on the toes aren't as secure as BOA dials.
The Giro Apeckx 2 is Giro's mid-range offering. It sits just a level below the Giro Empire and Factor series which are super stiff and lightweight.
The biggest difference is in the soles. The Apeckx 2 uses composite nylon soles rather than super-stiff carbon soles made by Easton. It's still pretty stiff with good power transfer properties but at a significantly lower cost.
Hence, it's more affordable to the majority.
There are two variations; standard and High Volume, which is essentially the wide feet version for those who are looking for a bigger toe box.
Pros : Available in standard and wide-feet variant. Fancy colors and design.
Cons : Straps and ratchets aren't as adjustable as BOA dials.
Entry Level Picks for Beginners
The Specialized Torch 1.0 is Specialized's entry-level cycling shoes. It's quickly gaining popularity among cyclists due to its very affordable price point especially compared to the flagship S-Works model, which costs almost 4x more.
One of the very first things you'll notice is the small ventilation holes on the top. There are 94 of them so keep your feet well ventilated during the hot days. In addition to that, there's also a larger air vent at the bottom front part of the sole.
Besides, you'll now get BOA closure dials which are slowly trickling down from performance to entry-level models. While the L6 BOA dials aren't the best available out there, it allows you to make micro-adjustments on the fly, which is definitely a great feature to have.
And for those who are fashion-minded, you'll be glad to know that the Specialized Torch 1.0 comes in 5 different colors; white, black, red, blue, and lime green.
Pros : Very breathable to keep your feet cool.
Cons : Costs more than its peers.
Giro is one of the brands you seldom go wrong with cycling shoes. Even though the Giro Savix sits on the entry-level range, it still packs plenty of features such as the BOA Fit Closure System which allows you to make quick and precise 1mm tightening adjustments while on the bike.
Together with the BOA dials, the single velcro strap is strategically placed to provide a snug, yet comfortable fit.
Unlike the Specialized Torch 1.0, the Giro Savix comes with a Universal Cleat Mount system that allows you to use either a two or three-bolt cleat. This means you can also use them for spinning classes, which uses an SPD pedal that requires a 2-bolts cleat.
You'll have the option to choose from 3 colors; black, white, or black/red with sizes ranging from 39 to 50.
Pros : Compatible with both SPD and SPD-SL cleats. BOA dials allow for precise adjustments.
Cons : Heavier compared to its peers.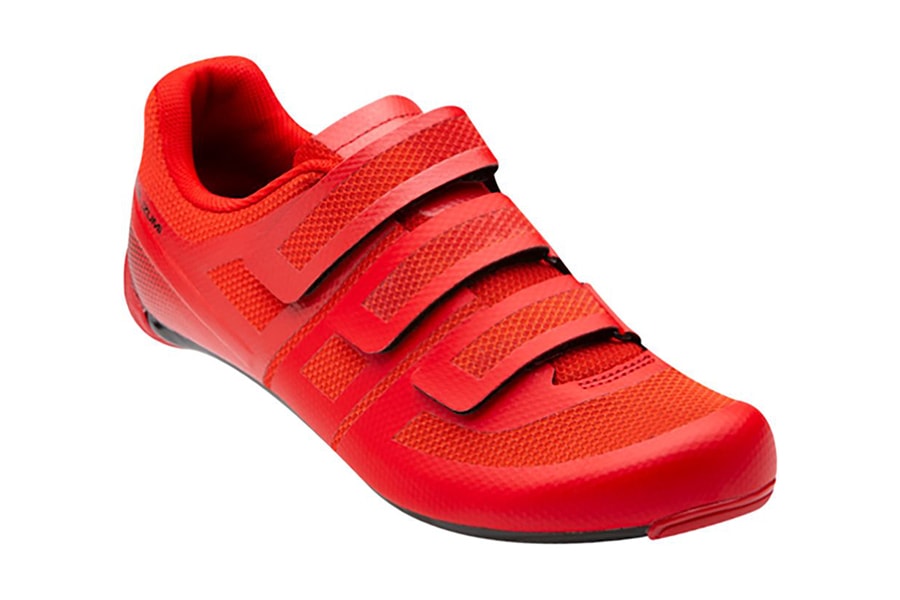 Pearl Izumi was started by a Japanese man named Kinji Shimizu. Today, it's based out of Louisville in Colorado.
The Quest Road is Pearl Izumi's entry-level road cycling shoes. It has a full nylon sole that achieves a balance between comfort and stiffness which is ideal for beginners and those doing century/audax type of rides. It's compatible with either two-bolt or three-bolt cleats, so you can have the option of using road or mountain bike cleats, and even for indoor cycling classes.
A new composite material is used for its upper layers and it provides better breathability especially on those hot summer days. This material is also able to adapt the shoe's shape to your foot over time to provide a snug fit.
It comes in 3 colors; black, red, and black/white combo.
Pros : Comfortable design that fits most feet. Compatible with both SPD (2-bolt) and SPD-SL (3-bolt) cleats.
Cons : Velcro straps can run loose overtime.
An excellent option for an entry-level shoe, the Shimano RP1 features two tongue-in-loop velcro straps that can be tightened to the right comfort level in a second. 
The nylon soles are stiff enough to provide power with each pedal stroke but not pro-racing stiff so that they quickly become uncomfortable. They rate a 6 on Shimano's 12 points sole stiffness scale. 
They feature compatibility with two-bolt and three-bolt SPD cleats, allowing you to use them on your bike and at your gym's spin class. The RP1 is crafted from matte-black synthetic leather that is both lightweight, strong, and attractive, giving it a modern look.
Pros : Minimalist and functional design. Compatible with both SPD (2-bolt) and SPD-SL (3-bolt) cleats.
Cons : Boring color choices.
While the brand Scott might be not synonymous with cycling shoes, you'll be surprised how good the Scott Road Comp is especially considering its budget-friendly pricing.
The Road Comp sports a clean and modern-looking upper layer with lots of small ventilation holes for maximum breathability especially during the summer months. As with most newer, beginner level models, the closure system is made up of a BOA dial and a velcro strap. This allows you to fine-tune your fit on the fly in 1mm increments.
Rated 6 out of 10 in the stiffness index, the fiberglass-reinforced nylon sole isn't the stiffest out there for 1,500 watts bunch sprints. But you'd get plenty of comfort and less feet numbness, especially on longer rides.
It comes in 2 colors; either black or white.
Pros :  BOA dials allow for a very precise fit adjustment. Plenty of air vents for hot summer days.
Cons : Heavy compared to its peers.
Pearl Izumi Elite Road V5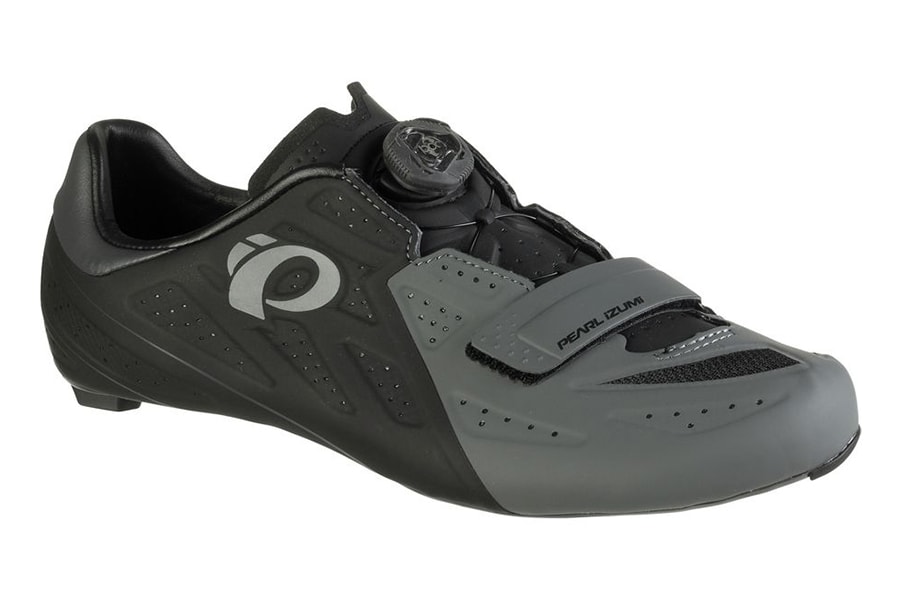 The Elite sits just below the top-end P.R.O. in Pearl Izumi's road cycling shoes lineup. Many of its features are actually trickled down from the P.R.O such as the full carbon sole and BOA dials.
It's a vastly improved version of its predecessor, the V4. Taking feedback from cyclists, Pearl Izumi has made significant changes to the body to provide an improved balance between fit, comfort, and stiffness.
If you're after a mid-range cycling shoe that is plenty stiff, you'd be glad to know the Elite has a stiffness index of 13, matching some of the top range shoes from other brands.
Pros : Anatomical design to provide plenty of foot support.
Cons : Stiff full carbon sole for an entry-level shoe.
Lightweight and Performance Picks ($300+)
Our team gives the S-Works 7 a five-star rating. The Specialized S-Works 7 follows on from the hugely successful S-Works 6 shoes.
The S-Works 7 has undergone major changes in both the upper section and its sole. The upper now uses a new Dyneema mesh material which improves breathability. It also uses the new S3 BOA dials, which are exclusive to only Specialized.
Additional cushioning is added around the heel cup area to avoid nips and rubbing, which was common in its predecessor. Stiffness-wise, the S-Works 7 is on another level altogether with a stiffness index of 15, 2 notches up from previously 13 for the S-Works 6).
This is definitely among the best models money can buy.
Pros : Sleek and good-looking, one of the most popular race shoes among serious cyclists. Improved heel cup for a snug fit.
Cons : Expect to pay premium pricing.
Looking for maximum performance out of your shoes?
Then the Shimano S Phyre RC9 is for you.
This shoe is built with one thing in mind, maximizing the transition of power from your leg to the bike. The RC9 is designed with the weight weenie in mind. It has a lightweight rigid carbon sole that tops out Shimano's rigidity scale with a 12 rating.
And like its predecessor, it is fitted with BOA LI2 dials that allow micro-adjustments to its wire lacing. The outsole of this new edition is hollow to further shave grams off its weight, making it even lighter than the first-generation S Phyre RC9 shoe.
Pros : Very comfortable design that fits most feet. Available in half sizes and wide-feet version.
Cons : Expect to pay premium pricing.i
The Infinito R1 is now Fizik's top of the line road shoe offering starting from the end of 2017.
With the Infinito R1, Fizik has completely redesigned the top sections. It uses two new closure system technologies which Fizik calls the Dynamic Arch Support and Increased Volume Control, aimed at providing an improved fit and increased comfort level.
Pros : Improved design provides ample support for heel arch. Dual BOA dials closure system for precise adjustment and fit.
Cons : White color version gets dirty easily.
Look closely enough and you'll see that the Giro Factor Techlace utilizes all three fastening systems. There is a BOA dial, velcro straps, and laces.
And there's a reason behind this.
The previous Giro Empire that comes with laces proved to be a popular model when it was first launched. While it's nice aesthetically, the majority of cyclists complained that they can't adjust it while riding.
With the Factor Techlace, you now have the best of both worlds. At the top, the BOA dial allows for a precise fit through an adjustable 1mm increment in both directions.
The Techlace, which is the velcro-lace combination is replaceable. You can choose different colors and lace lengths to suit your foot size and liking.
Pros : Super lightweight and minimalist-looking design for weight weenies.
Cons : Be prepared to pay more.
As you were watching him pedal his way up the Alps en route to victory, you might have noticed the Sidi logo printed on the side of Egan Bernal's shoes. 
Yes, Sidi is the brand of the 2019 Tour De France winner. 
Sidi, the name comes from the initials of founder Dino Signori, who has been making shoes for bicycles and motorcycles since the 1960s. The Sidi Wire 2, the second generation of the company's wire laced shoes, includes two push dial adjusters that allow for micro-adjustments to fit. 
It also features an adjuster for the heel that is designed to eliminate heel lift. A redesigned instep and heel cup on this edition shaves grams off the weight.
Pros : A trusted, long-time brand in the industry. Parts are easily replaceable if damaged.
Cons : Narrow toe box design is not for everyone.
Frequently Asked Questions
1. Why do I need road cycling shoes?
The shoes keep your feet firmly locked over the pedals. When you're clipped in, this allows for efficient power transfer between your feet and the clipless pedals, especially if you're riding hard or uphill.
Fitted and adjusted properly, the ball of your foot should be on top of the pedal spindle. This allows you to engage all your legs muscles, quadriceps, calf, and hamstring when pedaling. When you use flat pedals, you only engage your quadriceps as you can't pull the pedals up because your shoes are not clipped into the pedals.
However, if you only ride short distances, less than 10 miles, there's no need to get one.
2. Do the shoes come with cleats?
No, they don't come with cleats.
The cleats come together with the pedals. If you already have existing pedals, then you can buy the cleats separately.
3. What are the advantages of carbon fibre soles?
Carbon fibre soles are usually found in top-level performance shoes. They're very lightweight, stiff, and provides a very efficient power transfer as compared to plastic soles.
But this also means that they're expensive.
And that's where carbon-injected or carbon composite soles come into the picture. They're a mixture of plastic or nylon with carbon fibre.
While not as stiff and light as carbon fibre soles, they're more affordable and usually found in mid-range cycling shoes.
4. How long would it take for me to break in my new pair of cycling shoes?
It depends. There's no definite answer to that as there are various factors involved.
How often you ride and how long you ride will ultimately determine the break-in duration.
From my own experience and speaking to other cyclists, it would typically take at least 20 to 30 hours of riding for you to feel comfortable in your new pair of shoes.
5. Can a female wear a male's cycling shoe?
Yes, you can. In fact, many female cyclists do that.
However, if you have narrow or small feet, it's advisable to get a women-specific shoe. They come in smaller sizes from 35 onwards and the shape is designed to mimic a woman's tapered foot.
Not all brands have women-specific shoes. The few that do are Sidi, Giro, Fizik, and Specialized.