For most road cyclists, a saddle bag is almost like a permanent fixture on the bike. It stores your spare tube, tire levers, multi-tool, and other small items that you'll need for a roadside repair.
And for that, some of the most common questions cyclists ask are,
What size do I need?
What are the best ones around?
Now, the saddle bag is a very simple piece of accessories. But choosing one that suits you might not be that easy because there are literally hundreds of them in the market today. Generally, here are 3 key features you should look for :
Made from durable materials which are either water-resistant or waterproof, especially if it uses zippers.
Enough storage capacity for a spare tube, CO2 canister, tire levers, and multi-tool.
On this page, I'll guide you on how to get the right one and also share some models you can consider.
A Quick Glance : Our Favorite Bicycle Saddle Bags
The Blackburn Grid is a good alternative if you're on a budget. It's small and compact, weighing just 68g, and made of very durable and water-resistant outer materials. The zippers are coated, preventing water ingress.
With a capacity of 0.4L, it has enough room for a spare tube and a pair of tire levers. There's also an interior pocket in case you'd want to separate your stored stuff.
Pros : Affordably priced and has enough room for most cyclists.
Cons : Canvas material is not waterproof.
Despite its affordable price, the Lezyne Road Caddy is packed with remarkable features you wouldn't want to miss.
This is a waterproof and very durable saddle bag made of high-grade nylon fabrics. It uses a thick and strong velcro strap for mounting below your saddle. There's also an internal pocket for you to keep your keys and other smaller items.
Pros : Made with durable and waterproof materials.
Cons : Limited storage space.
A saddle bag that offers plenty of storage space and a large opening for easy access. That's what you get with Scicon's Elan 580.
And while it may not be the most streamlined model on the market, you'll love the space and accessibility it offers. It has a whopping 580 cubic centimeters (35 cubic inches) of storage space.
The Scicon Elan 580 can be quickly attached and removed from the saddle rails via a nylon strap, further enhancing accessibility.
Pros : Plenty of storage space for 2 tubes.
Cons : Velcro straps are prone to loosening over time.
Hate the fact that you have to mar your beautiful road bike with a saddle bag, but accept the fact that it is a necessity? 
Then check out Blackburn's Barrier Micro. This diminutive bag (it has just 15 cubic inches of space) tucks unobtrusively under your saddle, preserving the precious aerodynamics and aesthetics of your sweet road bike. 
The Blackburn Barrier Micro attaches to the seat post with a velcro strap. This well-made bag features water repellent material with welded seams and a waterproof zipper. The fabric is designed with reflective fabric for increased visibility while riding at night. 
Pros : Sleek-looking design.
Cons : Fabric tends to degrade over time.
Looking for a rugged bag that will add a little flair to your bike riding? 
The Evoc is a nice option. It is designed from rugged ripstop nylon, ensuring that it will hold up to any kind of type of cycling your throw at it. 
With 18 cubic inches of storage space, it offers enough room for the essentials while its wedge-shaped design keeps it from getting in the way. The Evoc attaches to your bag via nylon straps that wrap around the seat post and rails. 
A zipper strap makes opening and closing the bag simple while an internal mesh pocket helps keep your stuff organized. 
Pros : Several colors to choose from to match the bike.
Cons : Zippers are not water-resistant.
The Silca Seat Roll Premio looks nothing like a saddle bag. But, actually, it is.
It has a BOA dial which helps to keep things tight and snug. There is flexibility for you to micro-adjust the tightness according to your liking.
It's made with cotton canvas and is coated in hot-melt wax to make it waterproof. It's definitely one of the best-looking ones around, albeit pricey.
Pros : Sleek-looking, minimalist design.
Cons : Needs some practice in packing it right.
Read More : Silca Seat Roll Premio Review
When you absolutely have to keep the gear in your saddle pack dry, then go with a bag that you can rest assured is waterproof.
The seat pack from Timbuk2 will keep your belongings dry thanks to its weatherproof poly fabric. The roll-top closure keeps water out while at the same time allowing you to adjust the size to your needs.
Installation is also easy. The seat pack attaches to your saddle and seat post with a hook-in loop attachment system that keeps the pack secure while preventing swinging. When installed, this pack hugs the underside of your seat and is safely away from the action.  Best of all, the Timbuk2 Seat Pack comes with a lifetime warranty.
Pros : Very secure straps.
Cons : Limited storage space.
The Fizik 00 is the modern version of how saddle bags should look like. From afar, it looks far from a saddle bag, but it can hold most of your essentials while you're riding.
It's made out of thermoforming construction that promises to be lightweight yet durable at the same time. To keep your things safe and dry, it features a waterproof closure system and a rubberized zipper.
Pros : Seamless and clean integration with all Fizik saddles.
Cons : Shape can be odd for some.
Want a slightly larger saddle bag?
Then go for the Castelli Undersaddle XL. This one isn't your typical saddle bag because of its larger capacity. It can store multiple CO2 inflator kits, patches, spare tubes, and many more. To assure that your things are protected, it uses wheel-spray and covered zipper.
If you're in for a long bike ride, you might want to consider this saddle bag.
Pros : Very large capacity.
Cons : Expect to pay more.
Cyckit is a New Zealand-based company that specializes in producing high-quality, plastic molded saddle bags. The Aeroclam combines a highly functional, well-thought design with good aesthetics. It looks will good on your saddle and only come into contact with your saddle rails. Nothing else.
It's available in a small (regular) version as well as a large version which can store 2 tubes and a CO2 canister comfortably. It's one of those cool saddle bags that many cyclists don't know about, but would definitely want to get their hands on one once they've seen it.
Pros : Integrates cleanly beneath the saddle.
Cons : Installation can be complicated.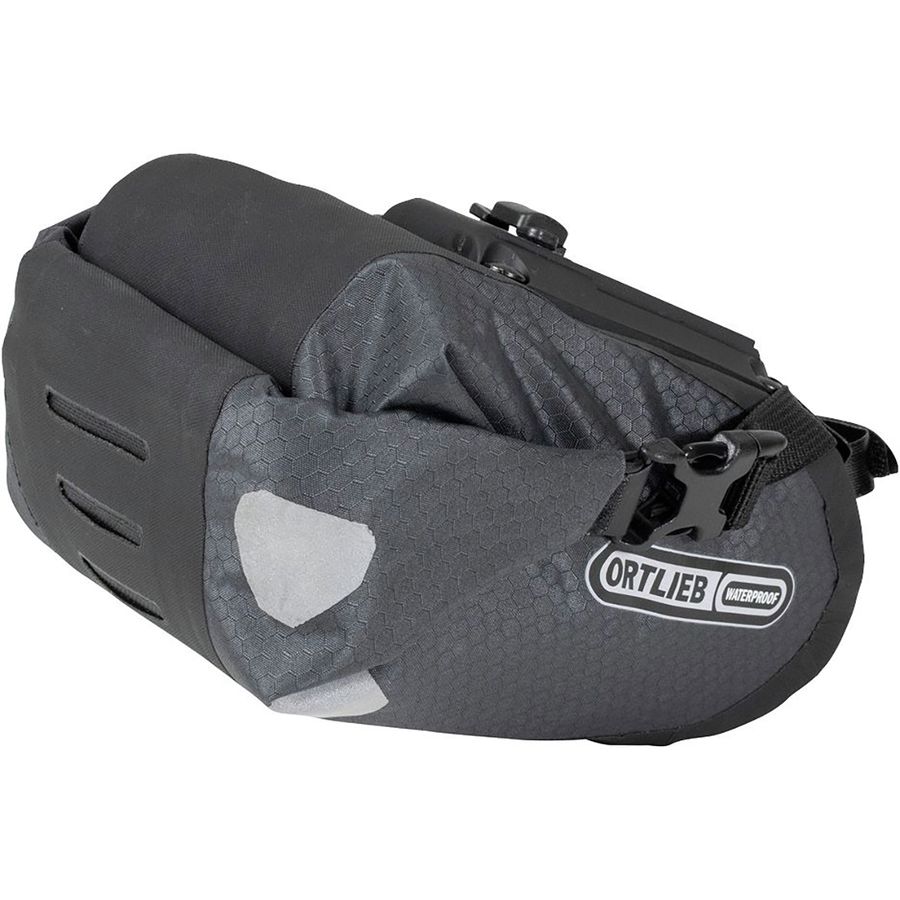 If there are one thing German bike bag manufacturers Ortlieb is known for, it's waterproofing its products. Ever since the company founder's multi-day bike tour was ruined by rainy weather in the early 1980s, the company has devoted its designs to keep your gear dry.
Such is the case with the Ortlieb, which is made from durable waterproof fabric and designed with a roll-top enclosure. You can rest assured your precious cargo will be safe from the elements in this bag. Other features include multiple straps to keep the bag secure and stable and a reflector to help you stay visible in that rainy weather.
It comes in three color options – orange, lime green, and dark grey.
Pros : Made from durable, waterproof materials.
Cons : Heavy and bulky.
Silca Seat Roll Grande Americano
Sick and tired of trying to get the gear you need in that black hole you call your saddle bag? Organization.
That's what you get with this innovative design from Silca's Seat Roll Grande Americano. It offers an option to stuff it in the style of most saddle bags. The Silca Grande Americano unrolls to reveal three separate slide-in storage pockets.
Load up spare tubes, CO2 cartridges, and a bike tool, then roll it back up and mount it to your bike's seat rails using the seat's BOA closure system, which Silca touts as being 15-time stronger and more secure than hook and loop systems. 
You'll never have to go digging blindly through your saddle bag again. 
Pros : 3 internal pockets allow for proper organization.
Cons : Needs a bit of practice to pack correctly.
Arundel sells their Dual Seatbag in 6 color options, namely: black, grey, yellow, blue, pink, and red.
The name pretty much says it all, the dual in its name means it has enough room for 2 tubes, 2 Co2 canisters and tire levers, and other essentials you'll need for your bicycle.
The overall body is made from nylon but, there's an area in its body where it has a small leather patch for aesthetic purposes.
Pros : Plenty of color options to choose from.
Cons : Velcro strap can loosen over time.
The Aero Wedge Pack is another Topeak product you'll surely love. It's made from a durable 1200D polyester that features water-wicking capabilities. Its compartments are expandable when you need extra storage space.
With an overall capacity of 1.97L, you won't run out of space for all the things you carry along for a long ride. To ensure your safety at night, the Topeak Aero Wedge Pack also includes a 3M reflective strip and a mount for your rear lights.
Pros : Made from very durable polyester.
Cons : Bulky design.
Salsa EXP Series Seat Pack
Just because Salsa designates this EXP series seat-pack as small, doesn't mean it is. This isn't a bike seat bag. 
This is a seat pack, with emphasis on the word pack. 
With 183 cubic inches of space, this bag qualifies as a light bikepacking bag. It's designed for rugged two-wheel tours with 500-denier coated nylon, water-resistant welded construction, and waterproof fabric. 
The roll-top closure keeps water out of the opening. The pack secures to your bike via a seat post strap and a loop that wraps around the seat rails.
Pros : Shape can be compressed and expanded to suit your load.
Cons : Expect to pay a premium. 
Road Runner Bike Tool Roll
This saddle roll comes is made with durability in mind. The exterior is made of waterproof tarpaulin, while the internal is made of durable nylon fabric.
There are 3 internal pockets of different sizes that can fit tire levers, patch kits, CO2 inflator kits, and even smartphones. In the middle is an elastic strap that holds your spare tube.
It fits securely over your saddle rails via a buckle closure system.
Pros : 3 internal pockets to organize your essentials.
Cons : Elastic strap is flimsy.
Blackburn Wayside Tool Roll
This saddle roll oozes the classic looks.
It's made of durable waxed canvas and will survive harsh conditions with ease.
There are 4 internal pockets to organize your tubes, tire levers, mini tools, patch kit, and keys. There's even a zipped pocket for your cash and IDs.
Pros : Lifetime warranty from Blackburn.
Cons : Needs some practicing to pack correctly.
The Lezyne Caddy Roll comes with 3 internal pockets, one of them with zippers for cash and loose change. You can easily fit a spare tube, tire levers, multi-tool, and keys inside.
Its single velcro strap, hook, and loop system makes it easy to mount on the saddle rails. Furthermore, the velcro strap can be removed if you want to keep them inside your jersey pockets.
Pros : Simple and minimalistic design.
Cons : Can be bulky when loaded up.
For me, the materials used is a huge make or break.
It's essential to assess its quality and overall durability. For one, I'd like to buy something that will last for a long time and if possible isn't that pricey.
Secondly, I'd like to think that my things will still be okay even if it rains. So it's vital to have a water-resistant or, better still, waterproof saddle bag.
Today, most saddle bags are made of nylon, polyester, leather, or sometimes synthetic rubber.
Nylon is known to be weatherproof, and can easily wick liquid.
Polyester is mostly acknowledged to be tear-resistant, which guarantees that the saddle bag will last for a really long time.
Leather is used on the saddle bag's exterior is also popular for its durability.
Synthetic rubber materials are also good for their rainproof capabilities.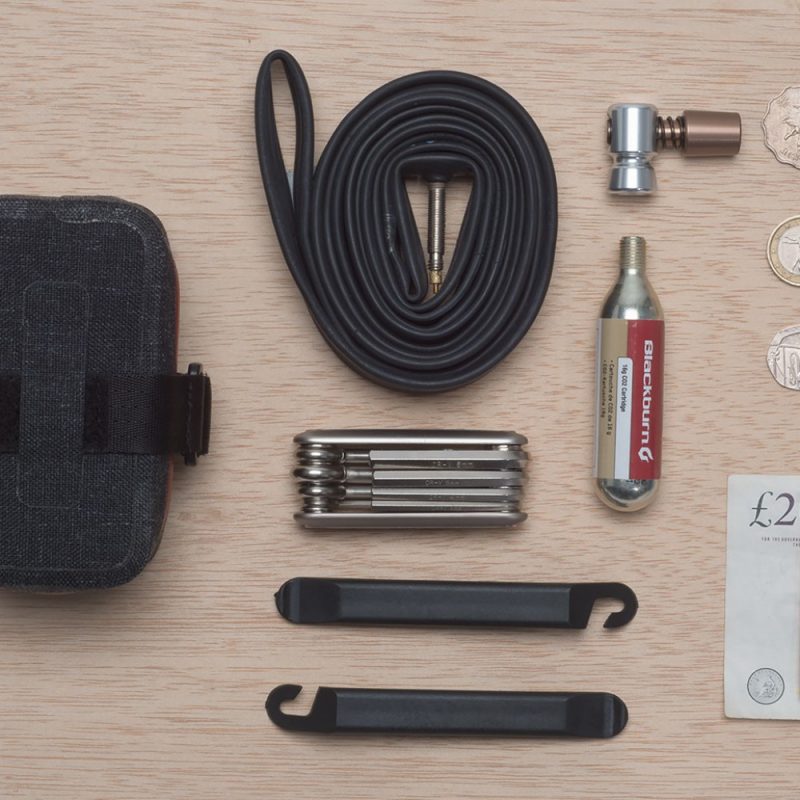 Another significant point to consider is the storage capacity.
You might not have realized it, but the overall storage capacity is a big deal. An extra pocket is a huge bonus and may go a long way to help organize your stuff such as tire levers, spare inner tubes, multi-tool, and other accessories.
Fortunately, many saddle bag manufacturers make them in multiple sizes so that you can decide the right storage capacity for you.
Read More : 10 Essential Items I Carry in My Saddle Bag
Frequently Asked Questions
1. How do I decide which size to buy?
Generally, there are 3 sizes available. I'd categorize them as Standard, Large, and Extra Large.
Standard. These are the ones that will fit a spare tube, 2 tire levers, a CO2 inflator and cartridge, and perhaps 1 to 2 more small items you might carry with you.
Large. On top of what can fit in a standard saddle bag, large bags can typically fit another spare tube inside. Maybe you could fit your mobile phone inside as well if it's not too big like the plus-sized Samsung and iPhones.
Extra Large. These are mainly used by people who are on a road or backpacking trip. You can expect to fit 1 to 2 pieces of clothing and 3 to 4 more other essential items in addition to what I've just mentioned above.
2. What are the essential items to carry in a saddle bag when out cycling?
At the minimum, your ride essentials should cover a spare inner tube (make sure it's new) and 2 tire levers.
Optional items are like a CO2 cartridge if you don't use a bike pump and patch kits if you're going for a long, solo ride.
I've written a separate article about what's inside my saddle bag here.
3. Should I buy a waterproof saddle bag?
From my experience, that's not a must. However, it also depends on what you carry inside. Most of the things found in a saddle bag would still be fine even if it's wet, except for mobile phones and clothing.
Most saddle bags are made of nylon or leather and they're not waterproof. At best, they're water-resistant. But if it's a heavy downpour, the contents will get a little wet, which is fine.