Looking for water bottle holders for your bike?
You'd probably seen that there are many water bottle cage options out there today with everything ranging from cheap plastic to lightweight carbon fiber, durable steel, and titanium.
The question is, which ones are the best?
Well, it all depends on few things such as the type of bike you're riding, be it road bikes, gravel bikes, mountain bikes, time trial bikes, or even classic steel/titanium bikes.
A Quick Glance : Our Favorite Water Bottle Cage Picks
Made in Italy, the Elite Custom Race bottle cage is constructed from reinforced fiberglass, making it light and durable.  It weighs 41g, and that's why it is popular amongst pro cycling teams. 
Rubber tensioners are used to hold your water bottles snugly to avoid flying bottles which could be a hazard if you are riding in a peloton.
Pros : Very affordable and offers you a wide variety of colors to choose from
Cons : The black color might be hard to come by due to its popularity.
This is a simpler version of its carbon fibre siblings, Arundel Dave-O.
It is made from nylon-reinforced plastic. Arundel's goal when they were designing water bottle cages was to make an exceptional cage, which performs well in different conditions. 
This bottle cage holds your bottle tightly and does not emit any rattling sound as you are riding your bike. 
Pros : Two sets of mounting holes, giving you the option to fit the bottle cage in two different positions
Cons : Weighs around 20% heavier than similar models.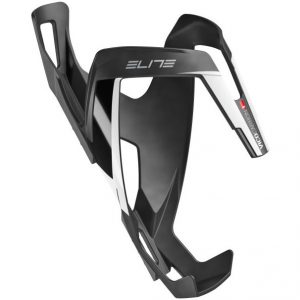 For starters, the Elite Vico is available in 10 different colors. 
The bottle retention system is more concentrated on the bottom parts. Arms are located in the lower part of the cage and if you are not keen enough you might end up missing the insertion point. 
It weighs 23g, which is considered super lightweight due to the carbon fibre materials used. The grip is tight, making it harder for the cyclist to access the water bottle, especially at high speeds. 
Pros : Super lightweight.
Cons : Be prepared to pay almost 2x the price of a plastic bottle cage.
Blackburn Camber UD Carbon
If you are a serious weight weenie, the Blackburn Chamber carbon fibre bottle cage might be a good choice. It weighs only 30g.
The arms are stiff and reinforced to ensure maximum bottle grip. You won't experience any rattling movements or sounds on rough and gravel roads. 
For easier bottle removal and insertion especially at high speeds, it is designed with a flared mouth, which saves you from looking down when taking a sip of water.
Pros : Available in a wide array of colors and finishes.
Cons : Stiff arms might not suit some bottles.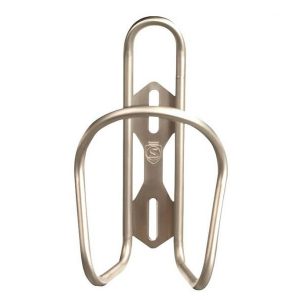 The Silca Sicuro is another hand-made titanium bottle cage that weighs only 29g. Screws used to mount this cage to the right position are also made from low-profile titanium and weighs 1.5g. 
Due to the material used in this cage's construction, your bottle will be securely held even on the roughest roads.
You can easily change the bottle cage's position to suit you because it has an adjustment mounting that moves through a distance of 16mm.  
Pros : Very classy matte finish.
Cons : Expect to pay a premium price.
Made from an aluminum alloy, the Elite Ciussi water bottle cage weighs only 48g. It is durable and light. It holds the bike water bottle snugly, especially when riding on uneven roads. 
You can use the anti-slip buttons, which are made from rubber to tightly secure your bottle and prevent it from slipping. 
These alloy cages can be bent slightly to accommodate bottles of varying widths. It is affordable and looks good especially on classic bikes.
Pros : Anti-slim buttons on the arms provide additional security.
Cons : Limited availability.
Bottle Holders for TT Bikes
Made from stainless steel, the Xlab Delta 425 water bottle holder is both durable and stiff. 
Its sleek design saves you from unusual drag force that is often exerted on other cages. Plus, it's adjustable because you can tilt it to any angle for easy accessibility. 
Shock-absorbing properties prevent vibrations from passing through to the bike frame. Your bottle is held steadily and securely in one position. 
Pros : Very secure arms.
Cons : Weighs 165g, which is quite heavy as compared to similar models.
Due to its dual-position adjustability feature, you can install this bottle cage to either hold one or two bottles. 
It is made from aluminum and was purposefully designed to be used on time trial bikes. So if you are a triathlete this might be a perfect choice for you. Mounting it is quite easy because it is made to fit perfectly on triathlon bike saddles. 
Pros : Fits perfectly with most TT saddles.
Cons : Be prepared to pay more.
This Lezyne bottle cage comes as a set of 2. One is left-sided, while the other is right-sided. 
It is available in 2 colors; black and white, and it is made from plastic. Made from reinforced carbon fibre, it weighs in at 48g.
The side entry makes water bottle accessibility easier. The grip is tight and secure due to the inward bends, which distribute the water bottle's weight evenly on the cage.
Pros : Side access design makes it easier, especially for beginners.
Cons : Only for right-handed people.
The Blackburn Wayside bottle cage can be installed either facing the left side or the right side. It is available in 5 different colors; white, orange, red, black, and green, giving you a wide variety to choose from.
For easier water bottle access, this bottle holder has angled arms, which also hold your bottle tightly.  Smaller-sized frames, such as women-specific bikes that have minimal space due to a lower standover height and compact geometries can be fitted with this cage because it occupies less space when installed.
Pros : Reversible design. Can be installed either left or right-facing.
Cons : Might not fit some cycling water bottles snugly.