Women's cycling is certainly on a growing trajectory, and many leading bike brands are starting to pay serious attention to this growing market.
You'd probably noticed that some brands such as Cannondale, Canyon, and Felt have women-specific models. Then there's Liv (sister brand of Giant) who manufacturers only women's bikes.
So what are the differences between women and standard road bikes?
It goes beyond just the frame geometry. 
On this page, I'll share with you what you can expect in a women's road bike and some of the popular models available today. These days, you have several good choices depending on your budget and your preferred type of riding.
Cannondale Synapse AL Women
Frame Material : Alloy
Groupset : Shimano Sora, 9 Speed
Weight : 10.5 kg
Comfortable yet sporty is what Cannondale offers with its Synapse AL entry-level women's road bicycle. 
The Cannondale Synapse's endurance geometry is designed to offer a comfortable ride but is still aerodynamic enough for a road racing feel. A nice add-on at this price point is the carbon fork, which helps dampen road vibrations.
As with other women's bikes, Cannondale fits the Synapse with a 50/34T compact crankset. The 9-speed rear cog set offers a broad range of gears from 11 to 34T. All components are Shimano's entry-level Sora group.
Keep in mind that Shimano has done away with its thumb shifters with its Sora components, which may not appeal to novice riders. The Cannondale Synapse also features disc brakes for better stopping power. Other women's specific features include narrower handlebars and a shorter stem.
The Cannondale Synapse AL Women comes in two sizes; 48cm and 51cm.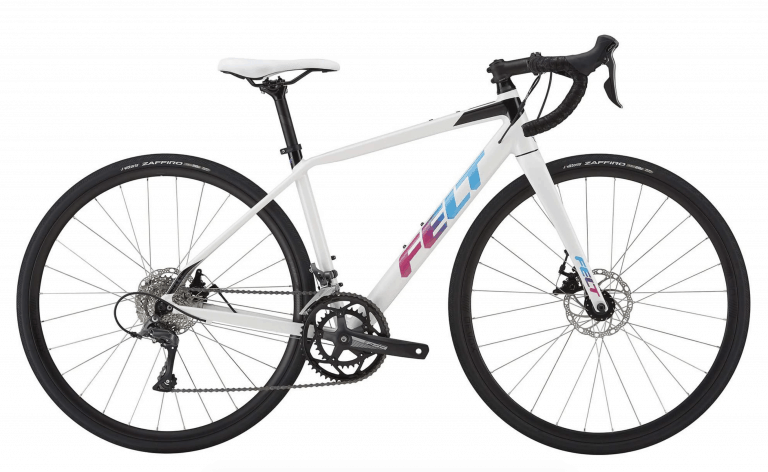 Frame Material : Alloy
Groupset : Shimano Claris, 9 Speed
Weight : 10.3 kg
Felt's VR line of road bicycles is designed to take on unpaved surfaces and paved roads. It succeeds the Z series endurance road bikes, which has been discontinued a few years ago.
With that in mind, the Felt VR60W focuses on providing comfort with a shorter seat tube, longer seat post, and seat stays that flex more. This geometry also means a higher stack and shorter reach, and thus a more upright riding position. 
These design features are included in the Felt VR60W, the women's version of the VR, which really isn't that much different from the male version. Both have compact gearing with a 50/34T crankset and an 8-speed 12-34T cog set. 
Components are all Shimano's lowest entry-level tier Claris group. The brakes are Tektro Disc brakes.
Frame Material : Alloy
Groupset : Shimano Sora, 9 Speed
Weight : 10.5 kg
Raleigh is one of the oldest bike manufacturers in the world, having started building bikes in 1889. At one time, the company was the largest bike manufacturer globally, with bikes starting from entry-level to high ends.
Raleigh offers several different features designed to meet women's needs with this entry-level road bike. Most notable with the Raleigh Revere 2 is the shorter reach in the frame geometry that provides a slightly more upright riding position while still maintaining an aerodynamic position.
Women's specific components include a compact 50/34T crankset and rear 11-32T cogset. All components are Shimano's entry-level Sora line. Available frame sizes range from 48 to 56cm, with smaller frame sizes incorporating a shorter 80mm stem.
The Raleigh Revere 2 also includes narrower handlebars and a women's saddle. Other features include disc brakes and wider tires for improved stability on non-paved surfaces.
Entry Level Picks for Beginners
Frame Material : Carbon
Groupset : Shimano Ultegra, 11 Speed
Weight : 7.8 kg
You really can't go wrong with the Ridley Liz, especially if you have a little more money to spend on your first road bike.
Ridley is a Belgium-based bike manufacturer that's been producing bikes since 1997. The Liz SL is the female counterpart to Ridley's Fenix SL. Unlike other women's versions of unisex bikes, the Liz SL isn't a downgrade.
The Ridley Liz SL's frame is built from the same high-quality carbon. It also features a full group of Shimano Ultegra components, which is very impressive at this price point. Differences include a shorter top bar to facilitate a shorter reach and a women's saddle.
The gear ratio is also tweaked with a 50/34T compact crankset and 11-32T cog set vs. the 52/36T and 11-28T cog set for the Fenix.
Frame Material : Alloy
Groupset : Shimano Tiagra, 10 Speed
Weight : 9.8 kg
The Liv Avail AR2 is a bike at home both on the road and on unpaved paths. 
These days, bike manufacturers are looking for more ways to design road bikes that allow riders to get off-road without sacrificing on-road racing performance.
The Liv Avail AR 2 is a great example of that. Some of the first characteristics you'll notice about this bike is the dropped crossbar, longer seat post, and fatter tires.
The frame geometry and beefier 32mm tubeless tires make the Liv Avail AR2 reminiscent of a cyclocross or mountain bike. However, these off-road design features aren't so pronounced that Liv Avail loses its road bike look and feel.
This is a bike that is at home both on the road and on unpaved paths. The Liv Avail's frame is lightweight aluminum alloy. Components are Shimano's lower-tier Tiagra groupset with a 50/34T compact crankset and 11-34T, 10-speed cog set.
Frame Material : Alloy
Groupset : Shimano 105, 11 Speed
Weight : 9.5 kg
The Cannondale Synapse Disc 105 moves from an alloy frame to full carbon, making for a stiffer ride while significantly lightening the bike's overall load.
The carbon frame also features Cannondale's patented micro-suspension in the frame, fork, and seat post for added comfort. The Cannondale Synapse does maintain its more upright geometry with this model in keeping with its goal of providing a comfortable endurance road bike.
The other notable upgrade is its groupset, which jumps from Shimano's low-end 9-speed Sora on the Synapse AL model to Shimano's mid-tier 11-speed 105 groupsets.
Frame Material : Carbon
Groupset : Shimano Ultegra, 11 Speed
Weight : 8.6 kg
The Trek Domane SL6 is the more budget-friendly model in the entire Domane line, but that's not to say that there is much you would describe as budget on this bike. 
It includes a full carbon frame and a full Shimano Ultegra drivetrain, and hydraulic disc brakes. Designed as an endurance bike, the Trek Domane SL6 features Trek's patented IsoSpeed System.
The Trek Domane's frame is built with front and rear decouplers that enable the seat tube to decouple from the top tube, allowing the seat tube to flex with the road surface. Adding to this focus on comfort and endurance riding is a slightly higher head tube for a more comfortable upright position.
Frame Material : Carbon
Groupset : Shimano Tiagra, 10 Speed
Weight : 8.8 kg
Giant's Liv Avail Advanced 3 is an upgrade to its sibling, the Liv AR 2 model. Instead of an aluminum frame, the Liv Avail Advanced 3 features a carbon frame that increases stiffness while dropping weight.
As with the AR 2, the frame geometry is designed for comfort on endurance rides and stability for different kinds of terrain.
The bike's drivetrain doesn't change, sticking with a Shimano Tiagra 10-speed drivetrain; however, brakes are upgraded from Giant's semi-hydraulic disc brakes to Tiagra hydraulic disc brakes.
The Liv Avail Advanced 3 keeps the same 32mm road bike tires as the lower-tiered AR 2, giving it excellent handling for forays onto moderate off-road terrain.
Frame Material : Carbon
Groupset : Shimano Ultegra, 11 Speed
Weight : 8.0 kg
Canyon offers a formidable women's road bike with the Endurance Wmn CF SL 8 disc. This bike is the company's top-of-the-line women's road bike.
Germany-based Canyon bikes began supplying bike parts as Radsport Arnold back in the 1980s. In 2001 the company began producing its own bikes and changed its name to Canyon.
This full carbon bike weighs in at just 8 kg, making it one of the lighter bikes at this price point. It also features a full Shimano Ultegra drivetrain with an 11-speed rear cog set that features a broad range of gears from 11-34T.
The Canyon Endurace features a smaller cockpit with a dropped top tube for a shorter reach. Comfort features include a women's Selle Italia X1 Lady Flow saddle.
Performance Race Bike Picks
Frame Material : Carbon
Groupset : SRAM Red eTAP AXS, 12 Speed
Weight : 7.2 kg
When only the best will do, there's the S-Works Tarmac. This is Specialized's top-of-the-line race bike used on the world tour by pro racing teams. 
Specialized abandoned its women road bikes some years ago in favor of unisex bikes with a broad range of fit. As such, the S-Works Tarmac comes in frame sizes ranging from a tiny 44cm to a massive 61cm, covering heights of 4' 8" to 6' 5".
Every feature you'll find on the S-Works is top of the line, from its ultra-light and stiff carbon frame to its full SRAM Red eTAP AXS electronic groupset. The disc wheels are Roval CLX 50 carbon discs.
Frame geometry and everything else is designed for maximum aerodynamics right down to the D-shaped seat post. This is a true top-of-the-line race bike and it comes with a top-of-the-line price tag too.
Frame Material : Carbon
Groupset : SRAM Force eTAP AXS, 12 Speed
Weight : 7.1 kg
One glance at Giant's Liv Langma Advanced SL and you know that this is a serious racing bike. 
That much is evident by the steep drop from seat to handlebars. A short top tube and an almost ridiculously long seat post facilitate a short reach and very aerodynamic position on the bike.
The frame is high-quality lightweight carbon while the drivetrain is SRAM's electronic 12-speed Force eTAP AXS. Force rim brakes round out the Langma's components. Force is just a notch below SRAM's top-end RED group.
Gearing is clearly tailored to women with a very compact 48/35T for the chainrings and 10-28T for the cog set. Wheels are lightweight Cadex 42 rims with tubeless tires. The Liv Langma also includes Giant's integrated RideSense sensors for speed and cadence data.
Frame Material : Carbon
Groupset : SRAM Red eTAP HRD, 11 Speed
Weight : 7.6 kg
Fuji has been in the cycling business since the 1970s and the Fuji Supreme 1.1 is one of its crown jewels. Fuji claims that the Supreme 1.1 is the fastest bike it sells, male or female.
Whereas companies like Specialized are moving away from women's specific bikes in favor of unisex options, Fuji has put its full weight behind this women's specific bike.
The bike uses Fuji's top-of-the-line carbon technology for maximum handling and stiffness. You'll also notice the emphasis placed on aerodynamics in the bike's narrow seat post, fork, and seat stays.
The Fuji Supreme is outfitted with SRAM's top-of-the-line Red eTap HRD wireless components. Braking is through hydraulic disc brakes. Adding to its aerodynamics are lightweight 50mm carbon rims.
Women vs Unisex Road Bikes
Should you get a women's road bike?
Are there any differences beyond just the frame sizing and geometry?
Let's take a deeper look at the differences.
1. Frame Size and Geometry
Believe it or not, women's bikes frame geometry and sizing is a hotly debated topic. For a time, many bike manufacturers made unisex road bikes. That all changed in the early 2000s when more and more companies realized that bikes designed to fit men weren't a great fit for women. 
Many bike designers started experimenting with different frame geometries to suit women cyclists better. This resulted in most major manufacturers developing women's lines of bike frames.
Generally, women's road bikes have a shorter reach and higher stack.
While some manufacturers have stuck with women's bike lines, others have cut them completely, opting to offer smaller sizes of their unisex road bike frames.
Whereas Giant continues to offer women's road bikes through its Liv line, Specialized dumped its Amira lineup to offer smaller sizes of its unisex Specialized Tarmac lineup. Specialized Tarmac frames can now be purchased in sizes as small as 44cm.
Trek offers women's versions of its entire road bike line, including top-end Domane and Madone bikes. Trek says it applies the Women's Specific Design (WSD) technology to each women's bike design.
Similarly, Cannondale offers women's versions of its road bike lines, including SystemSix, SuperSix, and Synapse.
Read More : 5 Things to Know Before Getting A Bike Fit
Women's bikes go beyond just the frame geometry and size. Contact points components also are tailored to women's bodies.
This includes narrower handlebars to accommodate narrower shoulders. Stems are often shorter to tailor to the shorter reach that women have.
Bike saddles are usually wider to accommodate women's anatomy. That said, performance riders will opt for narrower saddles that allow for free pedaling motion.
But don't get too hung up on a saddle when buying a bike. Most manufacturers know that there are a wide variety of preferences when it comes to saddles. It's the first component that most cyclists will change out after they buy a bike.
Women's bikes will also often have shorter crank arms, which makes pedaling more efficient and less stressful on the knees for riders with shorter legs. Brake levers that feature shorter reaches between the handlebar and lever for smaller hands are also common characteristics of women-specific bikes.
3. Gearing Setup and Ratios
Although plenty of women riders will produce more power than plenty of male cyclists, in general, men produce more power with each pedal stroke. 
With that in mind, it makes sense for gear ratios to be different from men's to women's bikes. 
Women's bikes usually have a compact crankset (50/34T) with a rear cassette with a wider size range such as 11-28T or 11-32T. For example, the Cannondale Synapse and Ridley Liz and Raleigh Revere 2 come with a 50/34T and 11-32T gearing setup.
The Canyon Endurance Wmn CF SL takes things one step further with an 11-34T rear cassette, the maximum cassette size a road bike can take.
The Giant Liv Langma features a very compact 48/35T crankset. These numbers refer to the number of teeth on each cog in the front chainring. The more teeth on the chainring, the more the bike will move forward with each pedal stroke. It also means the bigger the chainring, the more power required to complete each stroke.