You have probably seen many cyclists have a bike computer on their handlebars these days. And now you've decided that you might want to get one for yourself.
Bike computers don't come cheap these days. They can cost upwards of $300 for a premium model.
What should you look for in a bike computer?
Is it worth getting a mid to high-end computer?
Do you need the bundles such as cadence and heart rate monitor?
Before you spend hundreds on bike computers, here are some important things you should know. After reading this guide, you'll be able to better determine if it's wiser to buy just a basic bike computer, or you'll need a higher-end one.
Let's jump straight in.
Cycling computers can be divided into 3 categories, with prices for each category increasing as the amount and level of features rise.
Basic and Budget (Below $100)
These computers are great for not only beginners but also those who know in advance that they don't need complicated features.
They only have basic displays with speed, distance, ride duration, and time. It's unlikely they'll feature much connectivity beyond USB support. But again, it shouldn't be much of an issue if you just need basic data.
A good basic one, to begin with, would be one like the Cateye Padrone.
Created for those who want the full suite of features akin to those found on a smartphone.
Premium models take the features of mid-level models and amplify them with advanced navigation, training modes, increased storage options, longer-lasting batteries, sharper displays, bigger screens, and much more.
The Garmin Edge 1030 is probably one of the most feature-packed bike computers available today.
What Should You Look for in A Bike Computer?
Okay, so how you know the different price points of bike computers, which range should you get?
These days, there are so many features that make the buying decision even harder.
You'll probably be thinking :
What features do I need?
ANT+ or Bluetooth, perhaps both?
How long will the battery last?
Can it sync to my smartphone?
Do I need the extra sensors like speed and cadence?
I know there's a lot going through your mind. So let me break it down for you.
Here's what you should look for in a cycling computer.
Whichever model that you ultimately decide to buy will come down in large part to the type of interface you prefer and more importantly, how easy to read the data fields and use.
Some come with fully customizable screens with various data fields while some aren't. They also range from full touchscreen to button operated, with some having a hybrid of both.
It all boils down to your personal preference and how comfortable you're with it.
Battery Capable Enough for Your Longest Rides
If most of your rides are never more than 4 to 5 hours long, you probably won't need a large battery to begin with. You can always charge them post-ride.
Most bike computers today have a battery lifespan between 8 to 15 hours. You'd probably get 2 to 3 rides done before the battery runs flat.
In general, the more features, the more battery it will consume.
If you opt for one with a large, dynamic, and color screen with tons of connectivity options like the Garmin Edge 1030, then you can bet that it will run through its battery life faster than a basic model.
Basic ones with small monochrome displays may not look beautiful, but they get the job done when it comes to longer-lasting battery life.
Models like the Garmin Edge 1030 and Garmin Edge 830 have a battery saver mode which helps prolong the battery life.
On the other hand, the Lezyne Mega XL is a high-end bike computer that has the longest battery life, but without a touch and color screen.
Connectivity Options for Transferring Training Data Online
Here is where your individual needs will really come into play. Wireless connectivity will either be a make or break feature depending on what you want to do with your ride data.
If you're using apps like Strava or MapMyRide, or sensors like power meters and heart rate monitors, then you'll want to go with one that has ANT+ and/or Bluetooth capabilities.
Geek Tip : The lower down you go price-wise, the fewer connectivity options you'll get. The least being USB-connection only.
However, not everyone needs to share their ride data with friends, coaches, or on social media. If that's you, you probably don't need WiFi, Bluetooth, or ANT+ connectivity, and will do just fine with a basic cycling computer.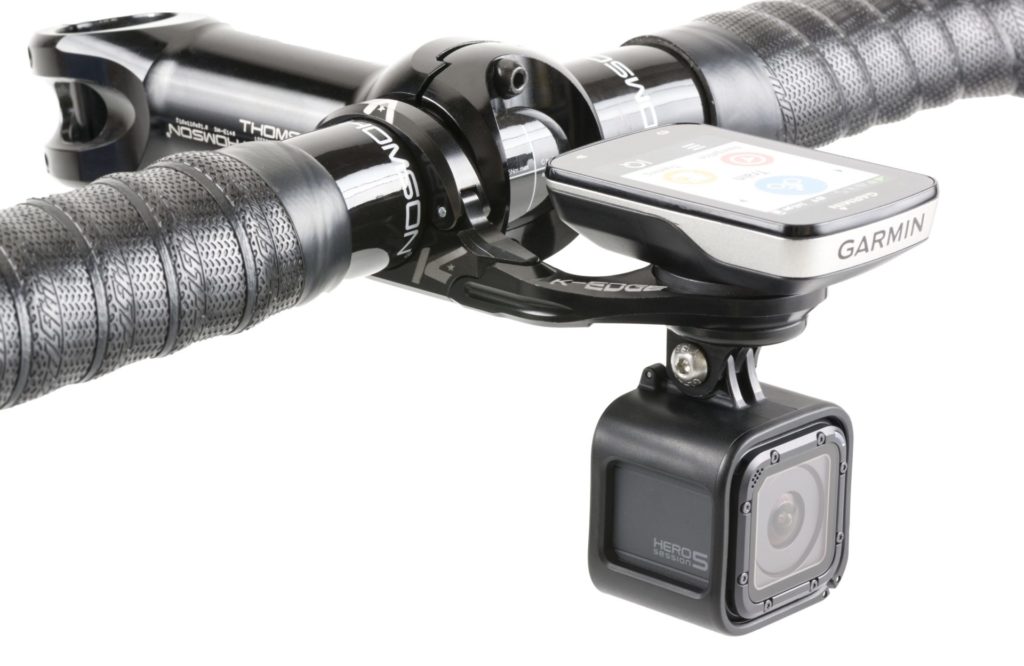 In recent years, a far more popular and sleek option is the aftermarket mounting systems such as K-Edge that place your cycling computer ahead of your stem.
They're generally referred to as out-front mount.
These mounts are popular in large part because of their adjustability as they can be tilted up or down depending on your viewing preference.
The Garmin Edge 830, Garmin Edge 1030, and Wahoo Elemnt Roam come bundled with the out-front mount, so you don't need to get one separately.
Alternatively, you can also mount it on your stem. Besides the out-front mount, most mid to high-end bike computers also come with a stem mount. It's just a rubber piece tied to the stem via a cable tie.
Bundled Accessories (Speed, Cadence, HRM)
Mid to high-end ones tend to come bundled with various accessories such as the heart rate monitor, speed sensor, and cadence sensors. Having said that, the bundle is optional. You can always get just the bike computer without the bundled accessories.
These are optional extras. But if you're a data geek, you might want to seriously consider getting them.
These are usually ANT+ and/or Bluetooth compatible and will work with other brands since the ANT+/Bluetooth is an industry standardized technology.
Ask yourself, do you ever need the navigation functions?
If you're intending to stay put on roads you know like the back of your hands, then you probably don't need much, if any, navigation.
But, if you'd like to discover new roads, or like to create routes at home on RideWithGPS and upload them to the cycling computer so that it can guide you along the route, then choosing one with advanced navigation would be a no-brainer.
You might want to consider the Garmin Edge 830 is navigation is an important feature you'll use often.
Geek Tip : A larger screen is always beneficial when it comes to navigation.