If you look around, you'll probably notice that cycling gloves come in all shapes, sizes and made of various materials. They also differ in terms of price points. You can find really cheap ones, as low as $10 to expensive ones that cost more than $50.
But after all, they're just a simple piece of cycling clothing right?
How do you decide what factors to consider in a good pair of cycling gloves for the summer?
Here are 3 important things to consider when it comes to summer cycling gloves.
How do Determine the Right Sizing?
This is by far the most important consideration. Proper sizing is critical for ensuring your cycling glove fits appropriately.
Let me explain.
Geek Tip : Gloves that fit too small and tight could lead to chafing and discomfort. You'll also find it annoying when the gloves dig in between your fingers.
If it's too big, your fingers will tend to wiggle inside making it difficult for you to grip the handlebars properly and securely. Also, take note that gloves come in all shapes and cuts. Some are narrow and short while some are wide and long.
So, always check the manufacturer's sizing guide. 
Alternatively, ask around your friends who wear the same brand you're after, or you can also pay your local bike shop a visit.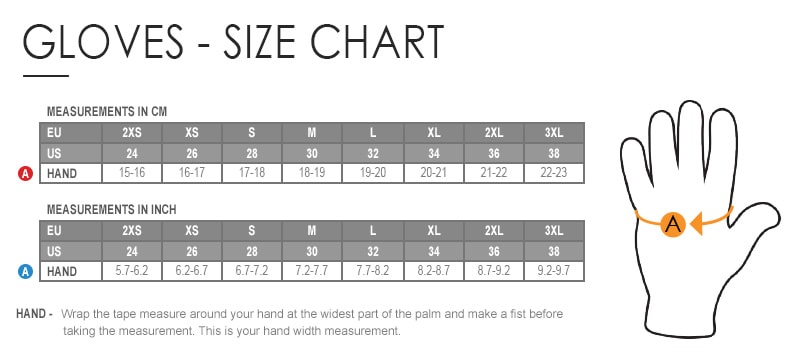 Cycling gloves size is determined by measuring the circumference of your hand at the widest point below the knuckles. If required, you should also measure the length of your hand from the tip of the middle finger to your wrist.
The longer of these two measurements will determine your size.
Geek Tip : The gloves should fit snugly; neither too small nor too big.
How Much Padding is Needed?
Padding levels in each pair of gloves can vary.
On one end of the spectrum is zero paddings. On the opposite end is maximum padding while there are many that fall anywhere in between.
Paddings are placed around the areas of your palm that are in contact with your bike's hoods and drops.
The padding location of each glove could differ slightly, but they generally cover the same areas.
There are 3 main types of materials used for padding. The main difference between these is their cost and quality.
Foam. The cheapest form of padding and can be found in low to mid-tiered gloves. Doesn't provide a good feel of the handlebars.
EVA. Also known as Ethyl Vinyl Acetate. This is also a material commonly used for cushioning in running shoes. They're usually found in mid to high-end gloves.
Gel. These feel soft and squishy and usually used in mid to high-end gloves.
By now you'd probably be wondering,
Do you need padding?
This can be a personal question. Some swear by padding, while some just ride without gloves. It's up to you to decide, but here's a quick comparison between padding vs no padding.
Pro. The padding absorbs road vibrations and distributes the pressure when you ride over uneven roads.
Con. Too much padding has the same effect as wearing a glove that is too big. It makes it difficult to feel and grip the handlebars well.
What about no padding at all?
It's just the inverse of having padding, really.
It all depends on yourself and the type of terrain you're riding on that day.
Personally, I'd prefer zero paddings as I want to feel my handlebars.
Geek Tip : Gel or EVA padding are the best padding materials.
How Much Does Cycling Gloves Cost?
You'd probably notice that the price difference can be at times huge between models. There are $10 gloves and there are those which would cost you nearly $100.
So what's the difference here?
Aside from the brand name, the biggest difference lies in the materials used. In fact, there are no surprises here.
As you move up the price points, you'll be getting better fabrics, a better grade of padding materials, a more ergonomic fit, and a higher construction quality especially the stitching around the fingers where the cheaper ones tend to come off after continuous rubbing against the hoods.
Geek Tip : You get what you pay for. High quality gloves fits ergonomically and are much more comfortable to your hands.