When it comes to winter gloves, things are not as straight forward as it seems. You'd probably noticed that they come in various thicknesses, materials, and temperature ratings among others.
So, how do you determine which factor to consider in a good pair of gloves that will keep your fingers warm during the cold rides?
On this page, I'll discuss the 5 things to consider when buying your next pair of winter cycling gloves.
How Many Types of Winter Gloves?
When it comes to winter cycling gloves, you have two main categories :
Mild Winter
These are typically lighter gloves perfect for those fall rides where the air is crisp and the temperatures are flirting with the low 50s, like the DeFeet Duraglove ET.
This category of gloves tends to be more affordable than the ones that keep your fingers warm in sub-freezing temperatures. You wouldn't want to wear those types of gloves in the milder temperatures because your hands would likely get too warm.
Deep Winter
Deep winter gloves are designed for the harshest of conditions, typically right around sub-freezing. The Giro Proof 2.0, for instance, can handle temperatures around 25°F / -4°C.
For this type of warmth, expect to open up your wallet. Some of these gloves can eclipse the three-figure mark.
As gloves become more robust with their warmth, flexibility can be compromised. Make sure to find a glove that's flexible and warm, so you can still adequately brake and shift.
How to Measure Your Glove Size?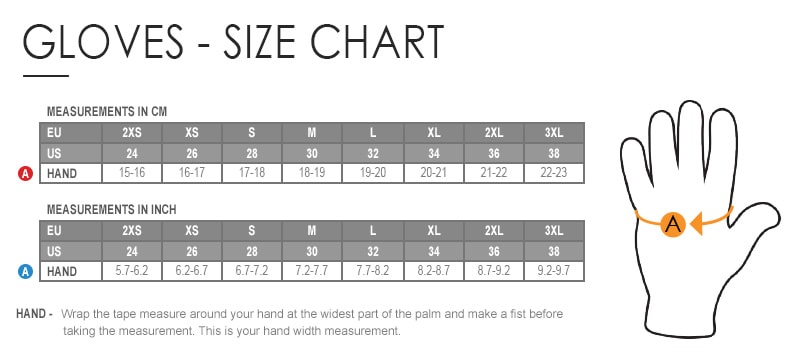 The best way to size a winter cycling glove is by measuring your hand or palm circumference.
Of course, this is just a general guideline and each brand is going to fit a little differently and likely have its own sizing chart.
For men :
Small. 7.25" to 8".
Medium. 8" to 8.75"
Large. 8.75" to 9.5"
Extra large. 9.5" to 10.25"
For women :
Small. 6.5" to 7.25".
Medium. 7.25" – 8"
Large. 8" to 8.75"
Extra large. 8.75" to 9.5"
Is it Touchscreen Friendly?
In today's smartphone world, the ability to tap, swipe and pinch your screen is crucial.
Whether it's checking your cycling app, ensuring you're on the right path, or taking that selfie for your Instagram page after you eclipse 500 miles for the week, you really want a glove that lets you use your smartphone without having to take it off.
The heavier-duty winter gloves tend not to include smartphone compatibility, because they're bulkier, which can make it tricky to even use your phone.
But that's not universal.
Sealskinz made sure to include the smartphone tabs on the fingers, and the manufacturer made the glove flexible enough to be able to comfortably scroll and type.
How Good is the Insulation?
In general, there are 2 ways to achieve insulation :
Down Insulation
Synthetic Insulation
But due to the high demands of cycling gloves manufacturers prefer synthetic insulation.
Down Insulation
Some refer to them as feathers, but they're not.
Down insulation is actually made from a duck or goose' plumage, which is the lofty and fluffy stuff underneath the feathers. It's certainly warmer, but they're less breathable and don't perform well in the wet
Not something you want in your cycling gloves.
So, enter synthetic insulation.
Synthetic Insulation
Even though synthetic insulation is not as warm as the downs, they excel in other areas. The polyester fibers are resistant to moisture, making it dry faster when it's wet.
More importantly, they're cheaper when compared to downs.
Today, there are many types of synthetic insulation such as Thinsulate by 3M, Thermolite, Qualofil, and Breathefil.
The most popular and widely-used synthetic insulation is developed by Primaloft. It's a technology first developed in the 1980's, exclusively for the United States Army.
Is it Windproof, Water-resistant and Waterproof?
The winter weather can be unpredictable and hence, most winter cycling gloves are water-resistant at the minimum. There are exceptions to this for those made of nylon like the Defeet ET Duragloves.
To make them water-resistant, the outer layers are treated with a Durable Water Repellent (DWR) finish. The DWR will ensure the water droplets slide off the fabric surface rather than soaking through it, causing your hands to get wet.
You'll also notice there's a Gore Windstopper logo printed on some gloves like the Castelli Estremo. The Windstopper is a membrane that is windproof, breathable, and water-resistant.
For fully waterproof winter gloves, these are usually made of neoprene. It's the same material used in scuba diving gloves. But wear this with caution as neoprene is not breathable at all.
For some, they could start experiencing clammy palms in as little as 15-30 minutes into the ride.