Little is known of Tom Dumoulin until his stamped his marked in the pro cycling peloton when he finished sixth at the 2015 Vuelta Espana, having worn the leader's jersey until the second last day.
In 2018, he finished second in Giro d'Italia to Chris Froome, and then followed that up with second in Tour de France to Geraint Thomas.
Back to back second place finishes is itself an amazing feat.
In recent years, many have failed in the by attempting a back to back Giro d'Italia and the Tour de France.
In 2017, Nairo Quintana finished second in the Giro d'Italia and twelfth in the Tour de France. Alberto Contador won the 2015 Giro d'Italia but finished fifth in the Tour de France.
The only procyclist that has a similar achievement is Chris Froome who won the 2018 Giro d'Italia and finished third in the Tour de France.
With with prime approaching, the spotlight is now clearly on Tom Dumoulin for the next few years.
So, let's take a look into who really is Tom Dumoulin.
A Little Background of Tom Dumoulin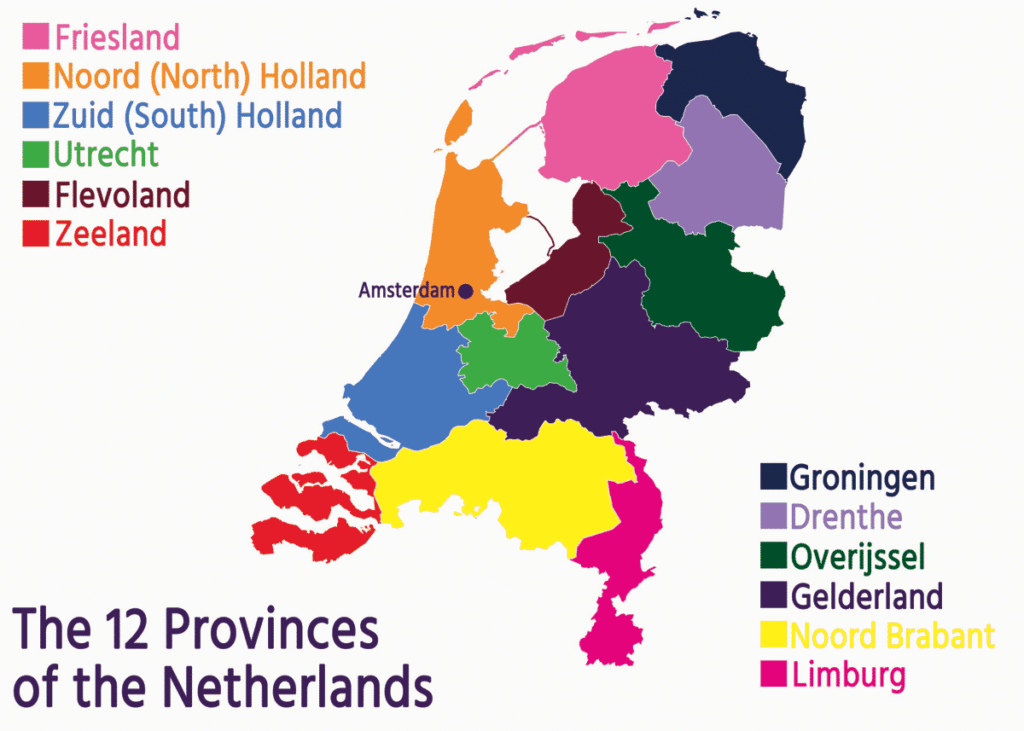 Tom Dumoulin was born in Maastricht in the Limburg province south of the Netherlands on the 11th of November 1990.
He's 186cm tall and weighs around 69kg at race weight. That gives him a BMI of 20.
His father is a biologist and heads the IVF department of a teaching hospital back in Maastricht. His mother works for the local government.
From young, Tom wanted to follow his father's footsteps by studying medicine. He earned grades good enough to enter university but wasn't offered a place. Instead, he studied a degree in Health Science but only lasted a short while because he didn't like it. "I wanted to become a doctor, but in the Netherlands you need both high marks and some good luck to be selected and entitled to sign up for the bachelor you want. And, even if my marks were good, I was unfortunate and wasn't picked."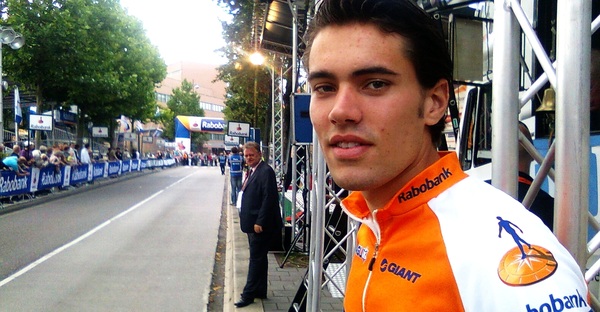 Outside of studies, his main sport was football and running until he started bike racing at the age of 15. The Amstel Gold Race came to his hometown and that was where he was hooked to bike racing.
Before starting each race, he has a ritual to always text his girlfriend, Thanee Van Hulst. According to Tom, "I find it important that she knows how I feel and that she wishes me luck. I often wait for her reply. And if she doesn't reply straight away, then I check my phone again just before the start. If I don't get a message, then I don't think that I'm going to perform less well, but it is nice just to read that text, it's something I like to do."
After various testing in the winter of 2017, Tom Dumoulin revealed that he has trouble digesting high levels of fructose and lactose especially when exercising at high intensity. This put to close the reasons why he stopped by the side of the road at Stage 16 of the Giro d'Italia to answer nature's call.
He was appointed a Knight of the Order of Orange-Nassau by King Willem-Alexander of the Netherlands and Limburgian by Merit after he won the 2017 Giro d'Italia.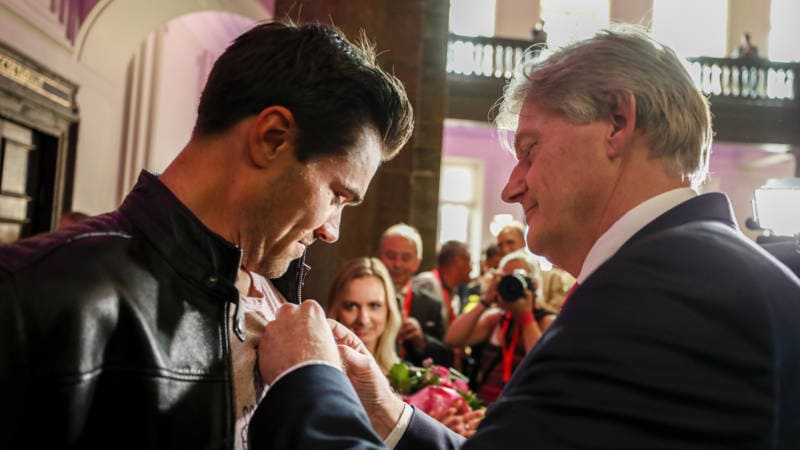 Tom Dumoulin's Professional Career So Far
In 2010, Tom was offered a contract by the Cervelo Test Team for 2011 but it didn't materialized because the team closed down at the end of 2010.
The Dutch based, Rabobank Continental Team saw his potential and offered Tom his first professional cycling contract at the age of 21 for the 2011 season.
He doesn't like his nickname, the Butterfly of Maastricht (de Vlinder van Maastricht). It was given to him when he transitioned from an unknown rider into a Grand Tour contender at the Vuelta Espana in 2015.
He made his Grand Tour debut at the 2012 Vuelta Espana riding for Project 1t4i (now called Team Sunweb) but unfortunately has to abandon.
His breakout performance in a Grand Tour came in the mountainous Vuelta Espana in 2015. He led the race in the final week before conceding the leader's jersey in stage 20 to eventual winner Fabio Aru. Tom Dumoulin finished sixth that year.
Amid controversies regarding his fast ride as a time trial specialist to a Grand Tour contender, Tom Dumoulin took the unusual step to release his power data for all the major climbs in the 2015 Vuelta Espana.
In 2016, he continued his fine form in the Grand Tours, winning the 1st stage of the Giro d'Italia, an Individual Time Trial event. He would spend 6 days in the Maglia Rosa and unfortunately had to abandon the race due to saddle sores at Stage 11.
He came back in a vengeance in 2017, winning the 100th edition of the Giro d'Italia in 2017 in 90 hours 34 minutes and 54 seconds, spending 10 days in the Maglia Rosa. He also won 2 stages in Stage 10 and 14.
By winning the Giro d'Italia in 2017, Tom Dumoulin became the first Dutch winner and also the first Dutch rider to win a Grand Tour since Joop Zoetemelk won the Tour de France in 1980.
Even though he's the winner of the 2017 Giro d'Italia, Tom starts the 2018 edition without wearing the Maglia Rosa. He will wear the race number 1. However, he has a career total of 17 days in the Maglia Rosa to date, winning Stage 1 of the 2018 edition.
To date, he has won 4 stages in the Giro d'Italia – 1 in 2018 and 2016, 2 in 2017, and 1 in the Vuelta Espana (2015).
In the earlier parts of his career, he's known for his time trialing abilities. Tom Dumoulin is a 3 times Dutch National Time Trial Champion in 2014, 2016 and 2017 and a World Team Time Trial Champion with his professional team, Team Sunweb in 2017. He's also the winner of the 2013 Dutch National Road Race.
In 2014, he took bronze behind Bradley Wiggins and Tony Martin in the World Individual Time Trial Championship held in Ponferrada, Spain.
At the Rio Olympics in 2016, he took silver in the 54.6km Individual Time Trial event behind Fabian Cancellara and Chris Froome who took bronze.
He rode the Tour de France 4 times with 2014 being his best results, placing 33rd. In 2015, he spent a day in the Best Young Rider Jersey on Stage 2 before eventually abandoning the race.
His best ever Tour de France finish is second placing in 2018, behind Geraint Thomas.