The Tour de France is the biggest cycling race of the year with an average viewership of 3.5 million viewers each stage and up to 6.5 million for its queen stage. That's a lot of publicity especially for the teams, riders, and equipment makers.
In this article, we're going to dive deeper into the wheelsets used by the pro. It's hard to figure out the wheelsets when they're on the move as they all look very similar. 
Before we go do a deep dive, here are some of our general observations for road bike wheelsets throughout the years. 
Rim depth. Depending on the terrain, the riders will use various depths to achieve the best gain. Low profile (30mm) for high mountains, Medium profile (30 to 50mm) for rolling terrains, and High profile (50mm+) for flat, sprint stages. 
Rim type. For many years the pros race on tubular and train on clinchers. This year, this pattern is starting to change with several teams adopting tubeless and even clinchers. Tubulars still remain the preferred wheelset for now for most teams.
Rim width. The industry trend is to go wider. These days the internal rim width is anywhere between 19 to 25mm. This requires the riders to run at least a 25mm tire, or in some cases 28mm.
Carbon rims. All wheels have carbon rims due to them being lighter. With disc brakes, there are no longer overheating issues on the long descends.
Disc wheelsets. All teams with the exception of Ineos Grenadiers are on disc wheelsets this year.
Generally, a team will use the same brand for both groupset and wheels. Shimano brands its groupset and wheels under the same Shimano umbrella, while SRAM brands its wheels under Zipp, while Campagnolo also has Fulcrum wheels (Fulcrum is a sister brand).
Read More : The 10 Leading Road Bike Wheelset Brands
There are some exception cases where the team has a separate wheelset provider such as Corima, DT Swiss, Hunt, Specialized, and Vision among others.
Let's take a closer look at the wheels the pros will ride at the Tour de France.
Black Inc is closely associated with Factor Bikes as they're under the same ownership. Black Inc components such as wheels and handlebars are often specced with Factor Bikes.
Riders such as 4x former Tour de France winner Chris Froome will be able to choose from three sets of tubeless wheels, the Black Inc THIRTY, FORTY FIVE, and SIXTY for road stages, and the tubular Black Inc THREE and Black Inc ZERO for time trials.
Ridden by : Israel Start-Up Nation
Wheel models : Black Inc 30, 45, 60 (More info)
Type : Tubeless, Disc
Similar to Black Inc, Bontrager is the sister brand to Trek. All of Trek's accessories and components are branded as Bontrager. The riders of Trek Segafredo can choose from mainly three models, the Bontrager Aeolus RSL 37, 51, or 62 tubeless wheels. There's also the RSL 75 which could be too deep for most stages.
The RSL (Race Shop Limited) series wheels are Bontrager's latest, lightest and strongest to date. And that's why the pros are riding them at the Tour.
Ridden by : Trek Segafredo
Wheel models : Bontrager Aeolus RSL 37, 51, 62 (More info)
Type : Tubeless, Disc
Available at : Trek Bikes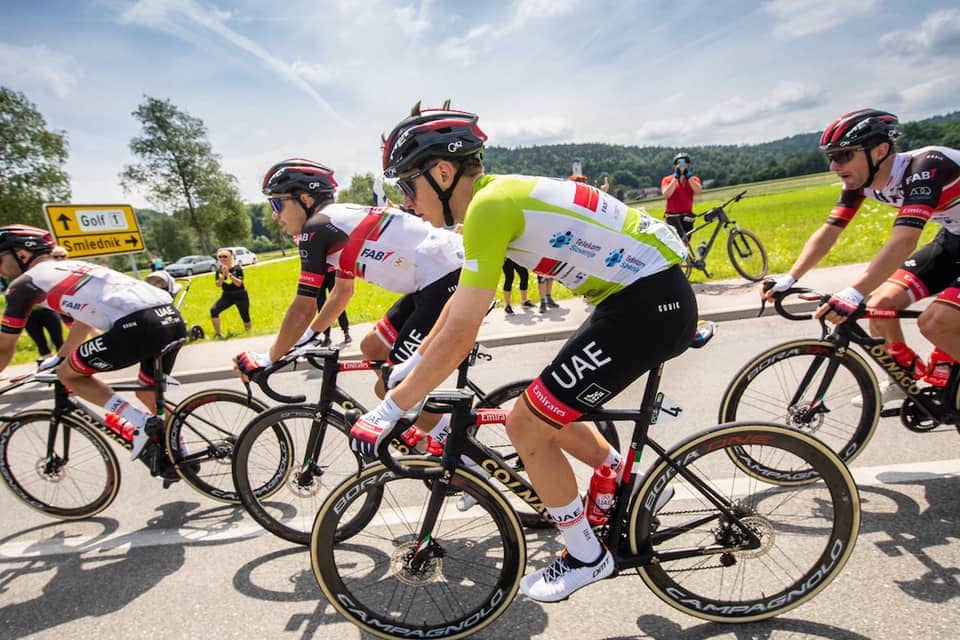 Traditionally, Campagnolo wheels were only used by teams running Campagnolo groupsets. This year is no exception either.
Tadej Pogacar won the Tour de France last year on a Campagnolo wheelset and will continue to do so this year. The riders will be riding the Italian brand's top-of-the-line, Campagnolo Ultra WTO disc brake wheels. There are three depths available, 33, 45, and 60.
Campagnolo's wheels are hard to miss due to their unique G3 spoke patterns and are known to be buttery smooth thanks to the CULT ceramic bearings.
Ridden by : Lotto Soudal, UAE Team Emirates, AG2R Citreon Team
Wheel models : Campagnolo Bora Ultra WTO 33, 45, 60 (More info)
Type : Tubular, Disc
Available at : Competitive Cyclist, Wiggle
Founded by Jean-Marie Riffard and Pierre Martin in 1973, Corima got its name from COoperation RIffard MArtin. Corima is a French wheelset brand that is known for its unique six spokes design.
At the Tour, riders of Astana Premier Tech have a choice of the tubular version of a shallower Corima WS Black 32 or deeper profile WS  Black 47 wheels. 
Ridden by : Astana Premier Tech
Wheel models :  Corima WS Black 32, 47 (More info)
Type : Tubular, Disc
Swiss wheelset manufacturer DT Swiss has two wheelset range available to its riders. 
For flat stages, riders can choose from the Aero (ARC) lineup that has three rim depths; 50, 62, and 80mm although we think that 50mm will be the most commonly used.
For hilly stages, there's the lighter and shallower Performance (PRC) lineup with 24mm rim depth.
Fulcrum is the sister brand to Campagnolo. The industry used to perceive Fulcrum as a cheaper version of Campagnolo, but this has started to change in recent years. Today, Fulcrum is a reputable wheelset brand on its own, using the same technologies as Campagnolo.
The riders of Cofidis can choose from a deeper profile Fulcrum Speed 55T for flat stages, or the Fulcrum Speed 40T for hilly stages.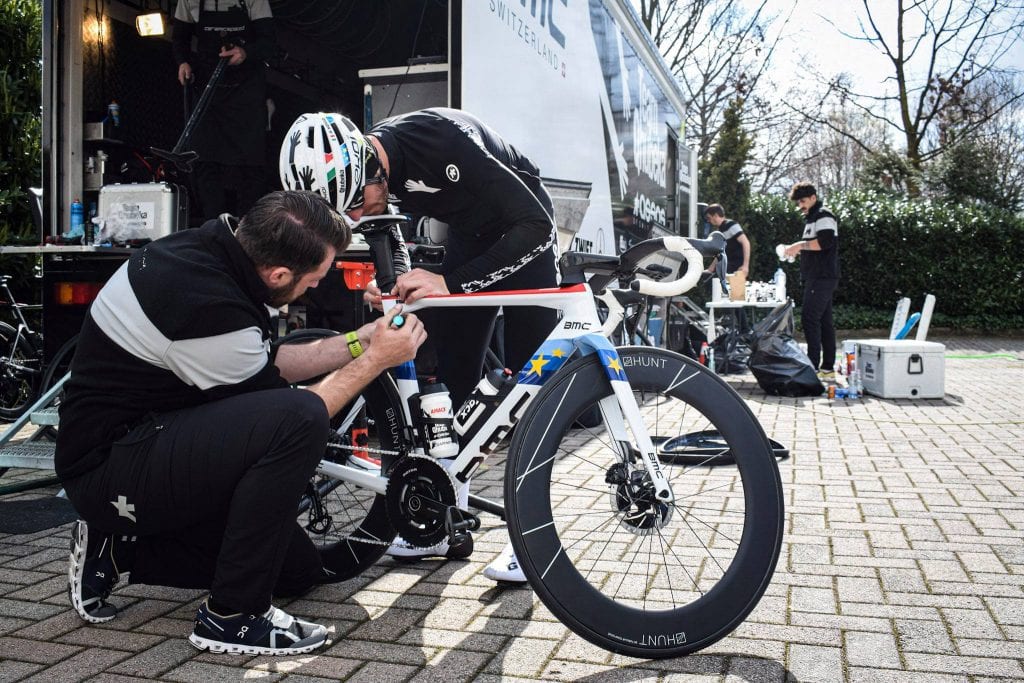 UK-based Hunt makes its debut into the highest levels of pro racing this year with its partnership with Team Qhubeka Assos. Their wheels will also be making their first-ever appearance at the Tour de France after some very solid growth in recent years.
The riders can choose from three tubeless disc wheels models; the Hunt 50 Carbon Aero or 4454 Carbon Disc for flat stages. For mountain stages, there's the sub 1,400g Hunt 44 UD Carbon Spoke as a lightweight option.
Ridden by : Team Qhubeka Assos
Wheel models : Hunt 50 Carbon Aero, 4454 Carbon Disc, 44 UD Carbon Spoke (More info)
Type : Tubular, Disc
Available at : Hunt Bike Wheels
Shimano wheels have been a mainstay in the pro peloton for a long time. This year, there will be seven teams on Shimano wheels. Riders can choose from the Dura-ace series wheels such as the C60 for fast stages and C40 for hilly stages.
While there are tubeless disc versions available, the riders will run solely on tubulars, mainly on a 25mm tire.
Expect to see the likes of Richard Carapaz and Primoz Roglic battling out for the overall win while being supported by their super domestiques such as Richie Porte, Sepp Kuss, and Wout van Aert.
Ridden by : Team Arkea-Samsic, Groupama FDJ, Ineos Grenadiers, Alpecin-Fenix, Team DSM, Team Bike Exchange, Team Jumbo Visma
Wheel models : Shimano Dura-Ace C40, C60 (Shimano)
Type : Tubular, Disc (Rim brakes for Ineos Grenadiers)
Available at : Competitive Cyclist, Wiggle
Roval is the bike component brand under Specialized. Hence it's no surprise to see Roval wheels made exclusive to Specialized sponsored teams such as Deceuninck Quick-Step and BORA Hansgrohe.
At the beginning of the year, both teams have committed to run solely clinchers except for the Spring classics. The riders can choose from the Roval Rapid CLX50 or CLX32. There's also the CLX64 for really fast stages. For time trials, there's the Roval 321 rear disc wheel.
Expect to see former 3x road world champion Peter Sagan battling out in the sprint stages and current road world champion Julian Alaphillpe lighting the race up.
Ridden by : Deceuninck Quick-Step, BORA Hansgrohe
Wheel models : Roval Rapide CLX40, CLX60 (More info)
Type : Clincher, Disc
Available at : Competitive Cyclist
While Ursus might not be as well-known as other brands above, they've been producing wheels since 1967. Making its comeback into the World Tour this year, French team Team TotalEnergies will be riding two models of Ursus wheels.
There's the very deep profile Ursus Miura TS67 or medium profile Miura TS47 to choose from depending on the terrain. Both are disc brakes and tubulars.
Ridden by : Team TotalEnergies
Wheel models : Ursus Miura TS47, TS67 (More info)
Type : Tubular, Disc
Vision is an American bike components brand that has a wide range of products from aerobars to cranksets and wheelsets. The wheel choices for their sponsored riders are pretty straightforward.
For the Tour de France, the riders will be riding the newly launched wheels; Vision Metron 45 SL for mountains and Metron 60 SL for flat and rolling stages. Both are disc brakes and tubulars.
For fast time trials, there's the combination of Vision Metron 81 SL (front) and disc rear, Vision Metron TFW.
Being a part of SRAM's family, Zipp wheels will be ridden by Movistar Team who is now on the SRAM Red AXE groupset. Depending on the terrain, the riders will be running on the latest NSW series which is made up of NSW 202, 353, and 454. The NSW series features a sawtooth dimple design or maximum aerodynamics.
For time trials, the rider will use a combination of Zipp 808 (front) and Zipp Super-9 (rear) for maximum speed and aerodynamics.