As the season changes and temperatures drop, you need a winter cycling jacket that does more than keeps you warm. It needs to wick away moisture. It needs to be flexible and tight-fitting. And it needs to let you breathe.
The folks at Castelli just may have figured out the perfect formula for that jacket. Castelli is an Italian cycling brand with a rich history that understands what top-performing cyclists need. And that knowledge doesn't fall short with the Alpha ROS 2.
Now in its second iteration, Castelli figured out how to improve the jacket's management of moisture by inventing a new double-layer construction that gives you wind protection and thermal protection. 
If you're wondering what ROS means, it means Rain or Shine.
Technical Specifications
Temperature Range : -5° to 10°C / 23° to 50°F
Colors : Dark grey, Light Black, Savile Blue, Pro Red, Fiery Red
Pockets : 3 rear, 1 side
Weight : 525g (size L)
If you're an experienced rider looking for the ultimate protection from cold temperatures, wind, and precipitation, the Castelli Alpha ROS 2 Jacket is probably for you.
Ideally, it's perfect for cyclists who pound out the miles from late fall to winter and early spring, especially under wet and windy conditions.
With all the hype around the Castelli Alpha ROS 2 and having seen a few guys in the local bunch wearing them, I decided to take a closer look at what makes this jacket a favorite of many cyclists.
Here's a quick summary of the pros and cons before I jump into the nitty-gritty details.
Pros
Moisture management is excellent in the latest design, allowing much more breathability.
Well waterproofed makes it perfect for those rides in the cold rain.
New double-layer wrist opening lets you easily tuck in riding gloves under the jacket sleeve.
Five great colors to choose from, including a really nice fiery red color.
Cons
Small size. Not really a huge con, but make sure to size up when ordering.
Expensive. This is more of a premium jacket and the price tag backs that up.
Great Quality and Functional Design
You can't go wrong with design or quality when it comes to any Castelli product, and the same holds true for the Alpha ROS 2 Jacket.
This cycling jacket, made of super-tough materials, comes in five great colors. I really like the fiery red because it's easy to see on a dark road, but not too bright if you happen to stop for a bite to eat and don't want to stick out like a sore thumb.
Castelli did a great job at making some subtle design upgrades to the second iteration of this jacket. Our favorite is the update on all of the openings, including the neck, waist, and wrists.
There's a great double-layer wrist opening that makes it quite easy to tuck in riding gloves. The neck is more shaped to move dynamically during your ride preventing any uncomfortable rubbing. And the waist is stretchier, which helps seal the jacket against high winds.
In terms of quality against rain, this jacket does feature Gore-Tex Infinium Windstopper fabric, which can handle rain but may let some water in if you find yourself in a torrential downpour.
Made with Gore-Tex Fabrics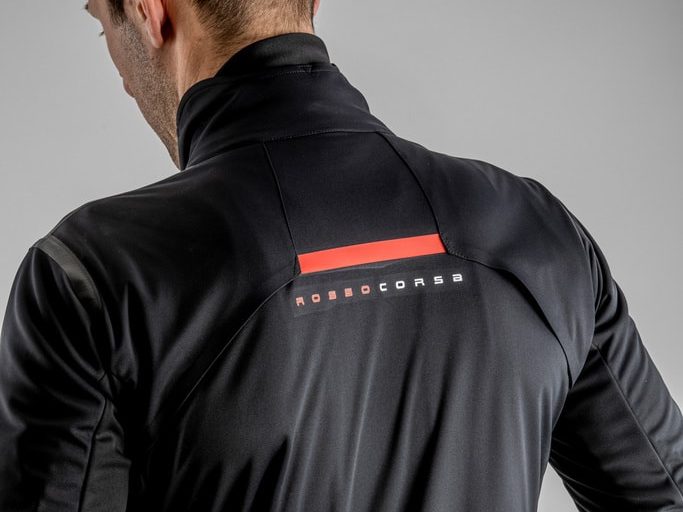 As mentioned earlier, the Castelli Alpha ROS 2 features incredible rain-stopping Gore-Tex Infinium Windstopper fabric. Gore-Tex is obviously known for not only protecting the rider from rain but also keeping the jacket in good working condition over several years.
Now, just because this jacket features the waterproofing technology by Gore-Tex, doesn't mean you can wear it out in big rainfalls expecting to stay completely dry. Even if you do find yourself in one of those nasty spring storms, though, you shouldn't have too much water inside your jacket.
Gore-Tex isn't just beneficial for rain. It also does quite well against high winds, which is important in keeping you warm on your ride.
Double Front Layers for Added Versatility
The double-front construction is what makes the Castelli Alpha ROS 2 a great cycling jacket.
So, how does it work?
By having two layers, you can open the outer layer, which is designed for wind protection, to let some additional airflow inside the jacket. By doing that, moisture can evaporate quickly and prevent it from making its way to your skin.
This is quite helpful on long climbs when you're likely sweating pretty hard. Open up the outer-layer as you go up, and then make sure to close it as you cruise down the hill. If done correctly, you should stay nearly 100% dry.
The inside layer is a super-comfortable insulated layer that's as soft as it is warm.
Sizing Runs Small for Some
Most Castelli products run small, and the Alpha ROS 2 is no different.
Check the sizing guidelines recommended by the manufacturer and then size up. Some smaller-framed cyclists may need to size up to two sizes, but I wouldn't recommend going any larger.
Remember, cycling jackets are meant to be tight-fitting. This jacket may feel small the first time you try it on, but take it on a short ride and see how it feels when you're in the saddle. If it's too tight in the armpits, you'll likely want to size up.
For comparison, I'm 5'7″ (170cm) and weighs 154 lbs (70 kg) and size M fits just nicely. 
Read More : Castelli Jersey Range : Details, Pricing and Buyer's Guide
Has A Hidden and Waterproof 4th Pocket
From energy snacks to your smartphone, a good cycling jacket needs pockets for storage and the Castelli Alpha ROS 2 has four at your disposal.
Three of the four pockets are found in the back of the jacket and include reflective laser-cut drain holes. Those pockets are good for snacks that are packaged because you can reach them while riding.
The fourth pocket is a zippered side pocket, which is perfect for car keys and a little bit of cash. Everything should stay dry if rain is in the forecast.
Any gear by Castelli, which sponsors Team Ineos, is priced at a premium. But it would be best if you looked at it as an investment in your training,
You could layer up other jackets and jerseys if you want to hit the roads in cold conditions, but that can become uncomfortable, mainly because that setup won't manage moisture. If your sweat is trapped on your skin, you'll undoubtedly be cold.
So, by paying a little extra for the technology featured in the Alpha ROS 2 Jacket, you can focus on your training and not about staying warm and comfortable.
This is an amazing jacket
This thing is fantastic. It fits exactly like all the other Castelli items I have owned. It is meant to be worn riding; not standing around. You wouldn't want to wear this as a casual jacket. However, worn properly while riding, the jacket is fantastic.
Philip J, purchased from Competitive Cyclist
Great jacket
I bought this jacket on a friend's recommendation even though it was a little pricier than alternatives, but it was worth it. It is a great jacket!
Charles B, purchased from Backcountry
The Castelli Alpha ROS 2 Jacket is a premium winter cycling jacket and its pricing definitely reflects that. When you compare it against similar jackets such as the Assos Mille GT Ultraz or Gore Wear C7 Cancellara Jacket, it falls within the same price range.
The Castelli Alpha ROS 2 Jacket retails for :
Castelli Alpha RoS 2 Alternatives
If the Castelli Alpha ROS 2Jacket is not exactly what you're looking for, then there are a number of other jackets that might be more suitable.
Gore Wear C3 Infinium Thermo Jacket
This is a cheaper alternative (half the price) to the Castelli Alpha ROS 2 jacket with similar features and functionalities. C3 represents Gore Wear's entry-level jackets, with C5 being mid-range and C7 the premium range. But don't be fooled with its name.
The Gore-Tex Infinium material is made up of wind and water-blocking outer membrane and inner fleeced layer to keep you warm and cozy.  It's available in 4 different colors from black, red, blue, to Fluro yellow.
Assos Mille GT Ultraz EVO Winter Jacket
The brand Assos in cycling represents premium clothing, and it's no exception with this winter jacket.
It's an Assos top of the line, winter jacket, providing maximum protection especially during cold and wet mid-winter rides. If Castelli is not your cup of tea and yet you're after high performance, reliable winter jacket, this is one to consider. 
It retails for the same price as the Castelli Alpha ROS 2.