The Knog PWR Rider is one of Knog's PWR series of bike lights and certainly one of their top products.
Knog is an Australian-based company launched in 2003. The company has been around for more than a decade but the new PWR lights just entered the market recently towards the end of 2017.
Here are the important features of the Knog PWR Rider:
450 Lumens. Remember, lumens determines how bright light can be. With that in mind, this headlight has a capacity of 450 lumens, which is good enough for you to see the road after the sun has set.
Elliptical Beam. The Knog PWR Rider uses an elliptical beam for wider light coverage in front of you. This gives you the ability to see a broader road coverage, especially during the night.
Programmable Modes. The ModeMaker app allows you to program and customize the light modes, adjusting its brightness or controlling its runtimes.
Rechargeable Power Bank. The Knog PWR Rider includes a 2200 mAh capacity power bank for you to recharge your other electronic devices. A very unique feature!
Pros
2-in-1 function (Powerbank + bike headlight).
Brightness, runtimes, and new light modes can be programmed to suit your own needs.
Cons
The rubber strap is prone to breaking overtime
Brightness and Beam Pattern
The Knog PWR Rider uses a single LED light to power all of its 450 lumens.
While other headlights only put a light in one spot, this one features an additional elliptical beam.
The combination of these 2 types of beams not only gives you a broader coverage but also an intensely bright spot right in front of you.
The Knog PWR Rider comes with only one button, but yet it does many things.
To turn the light on or off, simply press and hold the button until it opens/closes. To switch its modes, make a short press and the light will change modes.
On top of that, you can easily program the headlight to suit your riding needs.
Simply plug it into a computer and the ModeMaker app will show you a bunch of selections for you to manage and customise.
The Knog PWR Rider is made from high-quality materials like the other Knog products. So you can rest assured that you'll get exactly what you're paying for.
The body is made of premium grade metal, machine anodized aluminum along with a ridged head stick.
These materials make the headlight more durable and less likely to rust. While some companies like to make a variety of products to sell, Knog settles for simple yet slick black cylinders.
The Knog PWR Rider has a size of 122.5 mm x 30mm, which is a decent size as it lies parallel to the bar.
Though it's slightly larger than its rivals, its power bank charging feature makes up for the slight difference.
And weighing at 115g, the Knog PWR Rider is slightly lighter than its rivals, taking into consideration that it has a power bank built into it.
If you use the Knog PWR Rider at its maximum power (450 lumens), the battery can last about 2 hours.
However, if you want to prolong their battery life before recharging, it features an eco-flash mode that can last for 90 hours at 250 lumens.
The charging time for the Knog PWR Rider is also fairly quick and takes only 5 hours to reach 100%. Another handy feature is the 4 LED indicators that signal how much battery life your headlight has remaining.
The Knog PWR Rider includes a power bank with a capacity of 2200 mAH.
There are 2 USB ports available; a micro USB port for charging and another USB Type-A port for you to plug in the cables to charge your electronic devices.
As a reference, the Knog PWR Rider can run at 450 lumens for 1 hour and charge the iPhone7 from 0% to 35% simultaneously before the power bank runs out of juice.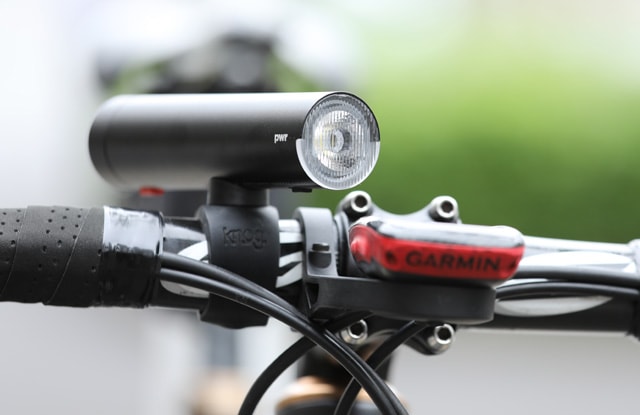 Mounting the Knog PWR Rider is easy and straightforward as there are no tools involves.
Right out from the box, you'll have a silicone strap that runs over your handlebar, and voila, that's it. It will fit handlebars of all sizes, as well as aero handlebars.
The silicone strap looks to be prone to breaking over a long period of stretching and use. So use caution when mounting the lights.