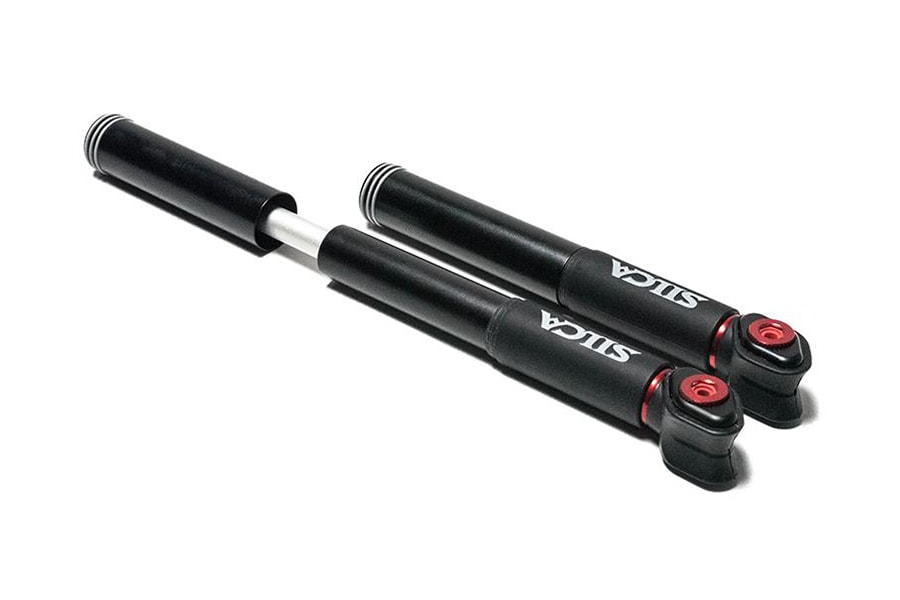 Founded in 1917 near Milan, Italy, by Felice Sacchi, Silca was the first to build high-pressure pumps, add gauges, and create a valve-controlled CO2 inflator. Silca produces quality products that last, and many of their pumps still work today.
In August 2013, the Sacchi family sold the Silca name to American Joshua Poertner, the former Technical Director for Zipp. Joshua is rebuilding the Silca brand as an industry leader by remaining faithful to their ethic of quality craftsmanship and products that work.
The Silca Pocket Impero set out to solve mini-pumps constructed primarily of plastic that aren't efficient and don't last. Silca calls the Pocket Impero the world's first "pocket-sized frame pump."
Technical Specifications
Weight : 150 g
Length : 8"/ 203 mm or 14"/355 mm (fully extended)
Diameter : 1″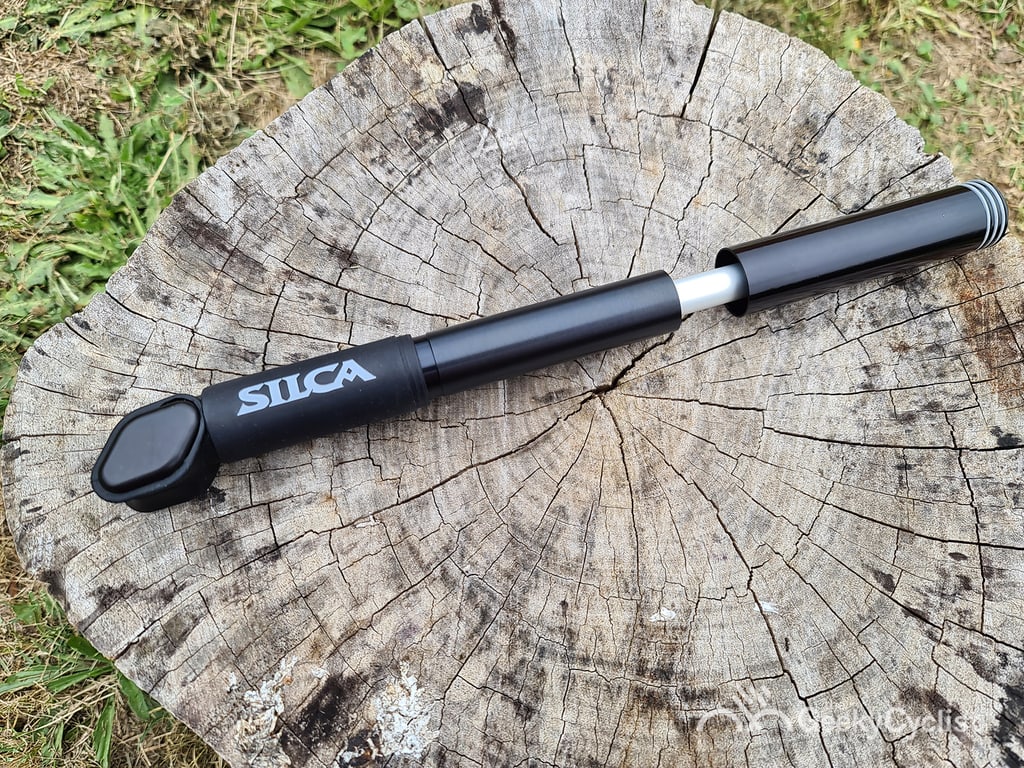 The Silca Pocket Impero is for road, gravel, and other cyclists with discriminating tastes who need a portable, efficient and reliable air pump for road or trailside tire repair. Its users want the best of the best and prefer not to hassle with CO2 cartridges.
The Silca Pocket Impero is a solidly built, high-quality mini-pump requiring much less effort than other standard mini-pumps.
I'll discuss them in detail in the next sections on this page.
Pros
Effortless pumping. Your last strokes will be as easy as your first.
Solid construction. It has a full alloy body, CNCd head, and a premium leather piston gasket. No plastic here!
Great warranty. The brand backs the Pocket Impero with their 25-year hard parts Silca Shield Warranty.
Easily repaired. Loyal to Silca's reputation, every pump is easily repairable (if it even breaks down!)
Cons
No frame mount. It's built for your rear pocket, not your frame.
Expensive. It's a premium pump with a high price tag. But how much have you already wasted on other failed mini-pumps?
Presta only. If you've got Schrader, you're out of luck.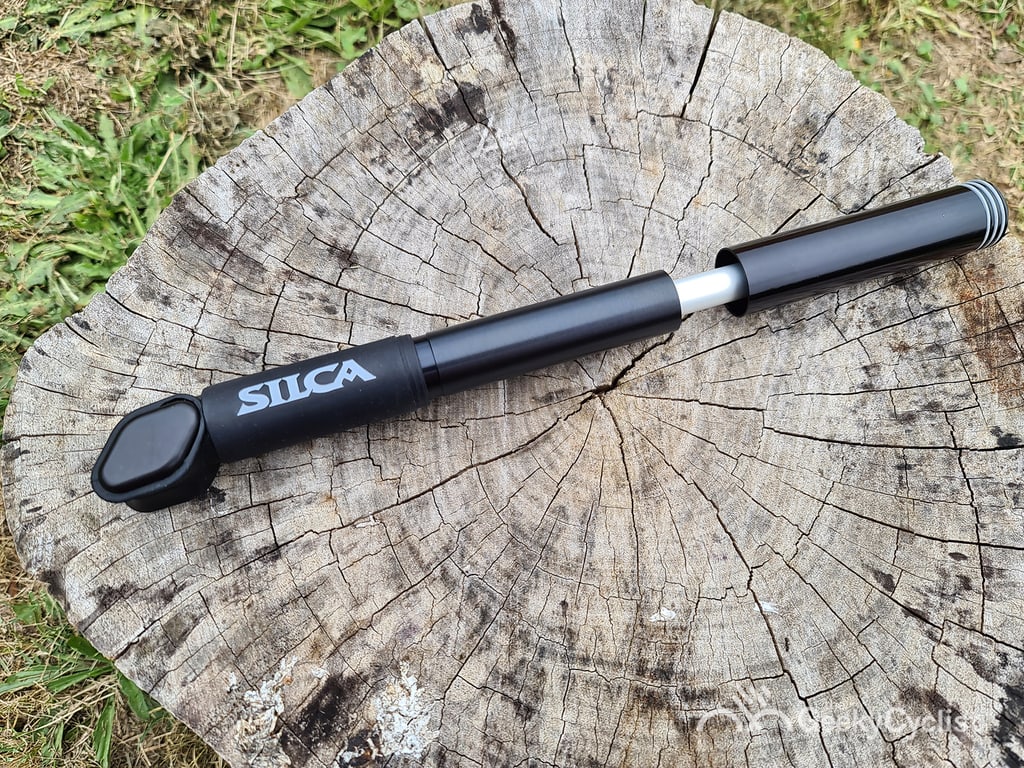 Plastic. It's the enemy of mini-pumps. With every stroke, friction creates heat, which starts wasting away conventional pumps' plastic innards, eventually leading to failure.
The more strokes to inflate a tire, the hotter a pump gets. Heat causes the chamber to expand and allow air to escape through the sides of cheap plastic o-ring plungers. You could pump all day and never hit the desired pressure.
Each Sila pump, including the Pocket Impero, is meticulously constructed by hand using an aluminum body and internal parts in their Indianapolis warehouse. Its head brass check valve pin is the same one used on its Super Pista Ultimate floor pump.
Instead of a plastic o-ring, the brand uses a premium leather piston gasket (history dictates it). Whether the pump is hot or cold, the leather remains in contact with the sides of the chamber, creating 98% efficiency and the pressure you need to inflate and be on your way.
Italian Design Reigns True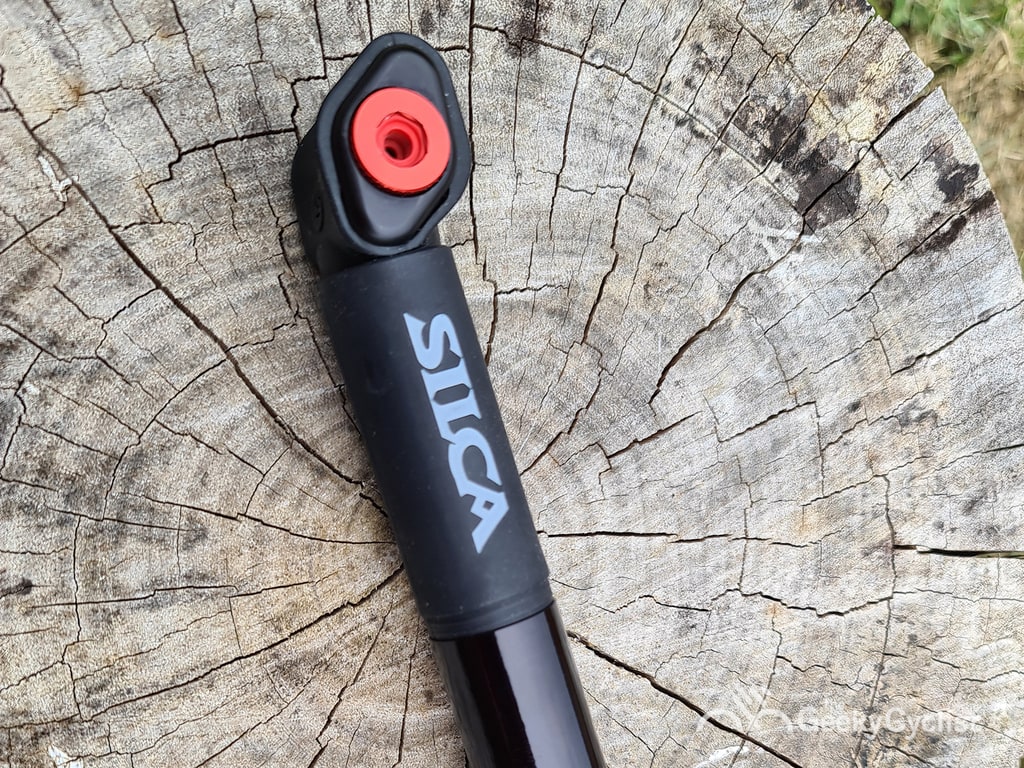 Today, Silca is American owned, but it hasn't abandoned its Italian roots. The Pocket Impero is gorgeous, oozing quality and sophistication, dressed in black for a ride out on the town. Its construction feels pleasant and stable in your hand.
I'm a bit of a purist when it comes to my bike. That the Pocket Impero isn't made to be mounted on my frame suits me fine. Its compact size takes up little room in my rear pocket.
The Slide-Lock food-grade quality silicone sleeve enhances grip as you pump and can handle up to 500°F/ 260°C, your hand will feel no heat. It doubles as a lock when the pump is in its compact form. A simple twist will do.
Pure lines call for no locking lever. The double seal head gasket sits directly and securely on the valve stem. The pumping action is lateral and efficient, and no air escapes thanks to its supple leather piston gasket.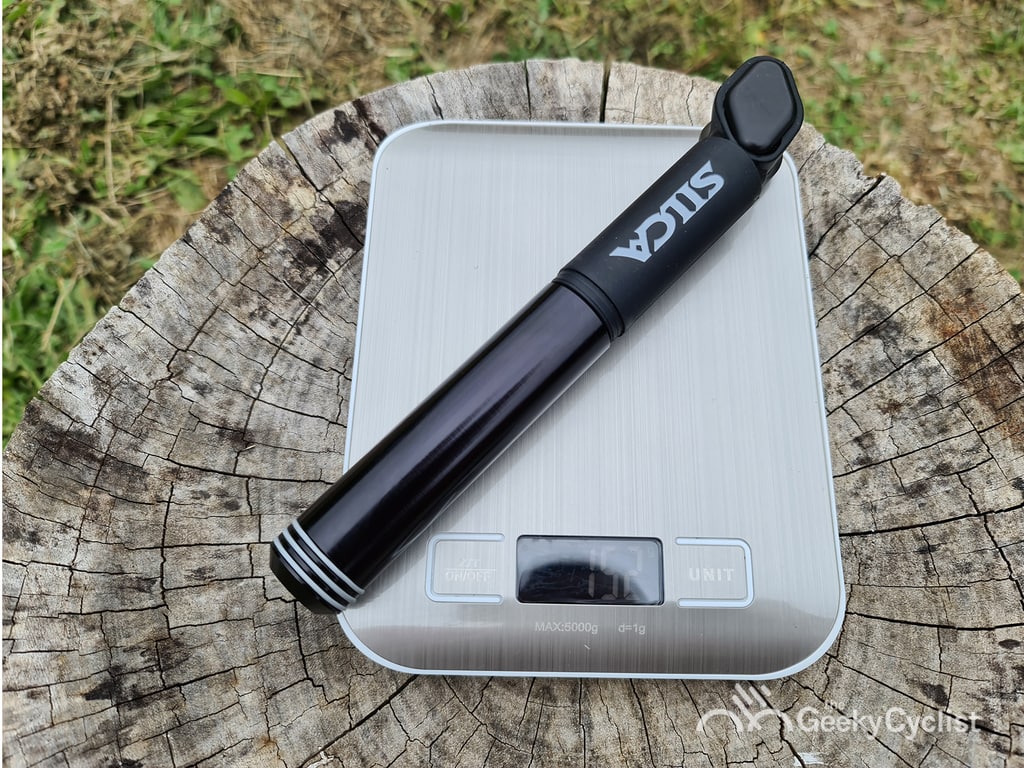 The Pocket Impero is ideal for on the go. It fit perfectly in my jersey pocket and didn't poke out too far. The silicone grip on the handle clung to the inside of my jersey, preventing it from bouncing around or out!
If you are into gravel or enduro or ride with a back or hip back, it'll also fit. Because it's aluminum-made, it isn't the lightest of mini-pumps but respectable at 150g. I'll take those few grams extra to avoid fragile plastic bits.
Fully extended, the pump reaches 14" in length, which makes it extremely efficient. It has the lowest stroke rate of any mini-pump. According to Silca, 200 passes will give you 89 psi, saving you time when stuck on the side of the road.
The Slide-Lock Silicone sleeve protects from heat, impeccable ergonomics when pumping, and serves as a locking handle when closed. The reliability of the Impero will help you avoid pump failure when you need it the most.
The Pocket Impero's size is just right, and it doesn't stick out of my jersey pocket too far. I got a 25mm tire from flat to 80 psi in160 strokes. Normally pumping becomes more difficult as pressure builds, but not with the Pocket Impero.
Something I found a touch bothersome was the sliding silicone grip. It gets in the way if it slips down while pumping. But once I got my technique down, it didn't happen again, and I quickly made my repair.
Too bad the pump doesn't have a flexible inner rubber hose, similar to another mini-pump I had, to transfer air from the chamber into the valve. It would eliminate the possibility of breaking the valve that comes with lateral pumping, but it's just a thought. The pump worked great and got me on my way without a problem.
The Pocket Impero is expensive, but if you add up all the other pumps you bought that didn't last, it's a bargain. Cyclists spend lots of money on shoes, helmets, and other gear, so why not for a stylish mini-pump that works?
The Silca Pocket Impero retails for :
Silca Pocket Impero Alternatives
Blackburn Core Slim Mini Pump
The Presta only Core Slim Mini-Pump is made of alloy and feels substantial for its economical price tag. It also comes with Blackburn's lifetime warranty.
A protractible 15 cm rubber hose conveniently fits in the pump's chamber. The head screws onto the valve stem for airtight, stress-free pumping that won't damage it.
This pump really shines for lower pressure tubeless riders. It comes with a Presta Valve Core Tool that lets you add sealant during a repair without unseating the tire.
Silca Impero Ultimate Frame Pump
Like its smaller sibling, the Impero Ultimate is a premium pump handmade by Silca using metal construction only.
It's available in four sizes, each with rubber grippers on both ends and a bumper in the middle to hold it in place while protecting your frame, paint, and keeping moisture out.
Its double seal head gasket covers the valve stem perfectly, no need for a locking lever. The pumping action is horizontal and efficient. 67 strokes deliver 100 psi for a 25mm tire.