If you've recently decided to start commuting by bike, then congratulations.
You're joining over 800,000 people in the US who'll exercise, save money, and help the environment every day.
For now, though, bike commuters are a minority, so it's important to learn some of the best habits to have on your way to work.
I'll cover several aspects of commuting to work on this page, from trip planning, road safety to bike maintenance and gears.
Let's get started.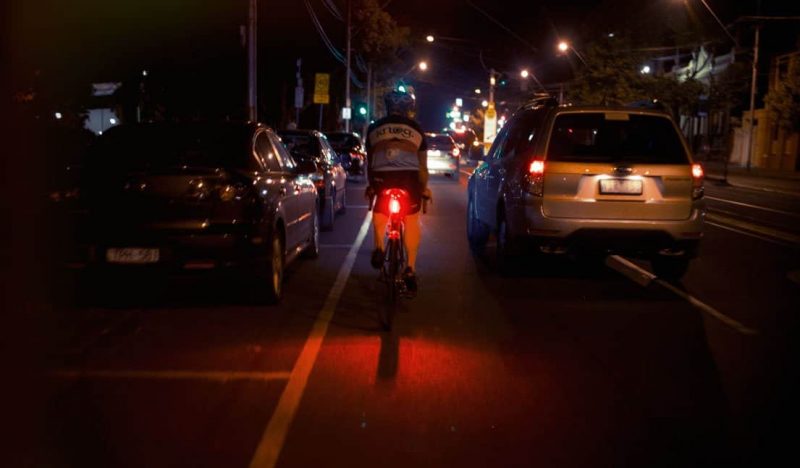 As cycling has grown in popularity in recent years, many cities have expanded their cycle lanes and networks. While you probably won't be able to plan your entire route on cycle paths, lots of local transit authorities publish free or inexpensive maps of your local network, and apps like Ride with GPS or Map My Ride are a great resource for planning your route.
Planning can help you avoid needless delays, and if you know where you're going, you'll be able to make your ride quick, efficient, and stress-free. 
Plus, planning will help you avoid roads with high traffic and narrow lanes that are harder to navigate.
Just as important as planning your route is planning what you carry and how. For commuting, it's best to pack light, avoiding unnecessary luggage or gear. 
Of course, you're likely to work up a sweat, especially in warmer weather or on longer rides, and you'll enjoy not turning up to work smelling like a locker room.
Pack a change of clothes in a specialized bag like those made by Henty, which keeps clothes clean, fresh, and dry while also saving space for light electronics and miscellaneous items.
For heavier equipment like laptops, do yourself a favor and invest in a sturdy rack-mounted pannier.
4. Wear Comfortable Clothing

5. Lock Your Bike Securely

If you're getting around by pedal power, you'll need to take steps to protect your ride.
A lot of offices are adapting to the revived interest in cycling by offering bike storage in the form of secure, lockable sheds or indoor storage. If your office building offers these options, make sure you have access before you start commuting by bike.
If you have to leave your bike outside, make sure there's either a reliable bike rack nearby or some other sturdy fixed point to which you can lock your bike.
Get a tough U-lock and don't skimp. Remember, you're securing your vehicle.
6. Fuel Yourself and Stay Hydrated

Don't forget that, even though your goal is to get to your place of work, cycling is still exercise, and your body will thank you if you fuel yourself before you bonk on the way.
If you've chosen to commute by bike in spite of having an especially long distance to cover, more power to you, but remember that even short routes can become challenging if you're struggling against heat, humidity, rain, or snow.
Before your blood sugar drops out and your energy is sapped, eat foods like granola, energy bars, bananas, and a little fresh fruit like berries or apples. You can allow yourself a moderate amount of coffee, too.
When you're traveling by bike, it's best to leave a little earlier than you would expect to.
Don't be surprised if you run into unexpected delays like having to re-plot your route or you get a flat, requiring you to take several minutes to resolve the issue.
You wouldn't want to do anything so unprofessional as turning up late, so save yourself some embarrassment and inconvenience by setting out 15 to 20 minutes ahead of time to gain the advantage.
Prior planning involves covering yourself on all the particulars that might otherwise get overlooked. The challenge and fun of bike commuting come with their own set of considerations, so be sure to check the weather forecast at least a week in advance.
You can also alternate bike days by leaving your bike at the office one day to ride it home the next, hitching a ride with a coworker in the meantime.
You should also plan out your clothing for the week, so you have plenty of fresh gear for your rides and the office alike, seven days in advance.
9. Keep Your Bike Well Maintained

Riding with a friend, whether a seasoned bike commuter or a fellow rookie, can be a great way to find a kindred spirit, have someone to rely on for assistance, and share tips and supplies with.
Ask around your neighborhood or your office to see if any of your friends, neighbors, or coworkers are heading your way on a regular basis and join them on your commute.
If they're used to the route, they can offer you valuable guidance, and if they're just as new as you are, you can put your heads together for planning or share a patch if and when they need it.
Most of us gained our knowledge of traffic law during drivers' ed, so it might come as a surprise to learn that cyclists are subject to road rules, too. It's something of a critical time for cycling, with the non-cycling public still learning about it and drivers getting used to the idea that the road isn't theirs alone.
Be polite and don't give anyone any excuse to do you wrong by respecting red lights, signaling promptly and clearly, and staying off pedestrian paths.
At stop signs, you can chance a rolling stop (or Idaho stop) if there's no oncoming traffic, but otherwise, if you're not on a bikes-only path, you should be respecting the standard rules of the road.
Read More : 11 Situations Cyclists Get Hit and How to Prevent Them
Dooring is a cyclist's nightmare, causing injuries and damage to bicycles and cars alike.
Absolutely vital to your safety while riding is watching out for open doors in roadside parking. Bike lanes in most North American cities haven't adopted the innovation of putting parked cars between themselves and moving traffic.
You'll need to strike a balance between staying in the cycle lane and keeping an eye out for open or opening doors. If possible, wait at least three feet away from parked cars, and be prepared to shout a clear warning to anyone about to step out of their car.
Commuting by bike is a terrific way to exercise, play your part to help the environment, and get your day off to a vigorous start, and all it takes is knowledge of the basics to make your commute fulfilling and rewarding.
As more and more people take it up, more improvements will be made, like the disc brakes, which become standard for commuting bikes.
Remember to have fun, be safe, and answer colleagues' questions only if they ask.