Data and analytics are a huge part of cycling.
We collect a bunch of data while riding, such as distance, speed, duration, elevation gained, heart rate, power. Without a way to make sense of all that data, it's all just numbers.
We're talking about cycling analytics software.
As cyclists, we collect and use data for a multitude of reasons.
To track progress, logging distance, tracking performance, for coaching analysis, for motivation, and of course, for bragging rights. It's only when software can interpret all that data and make it understandable that it comes to life.
In this post, we'll explore 4 of the best cycling analytics software.
Training Peaks was originally designed by cyclists for coaches. 
In the late 1990s, renowned endurance sports coach Joe Friel, his son Dirk and friend Gear Fisher got together to design a software that could replace the books, sheets of paper, and faxes used in coaching at the time.
That's how Training Peaks was launched.
Among all of the cycling analytic software out there, Training Peaks is regarded as the gold standard. It is used by many pro teams to track and analyze their riders' performance and also design structured training plans to improve performance.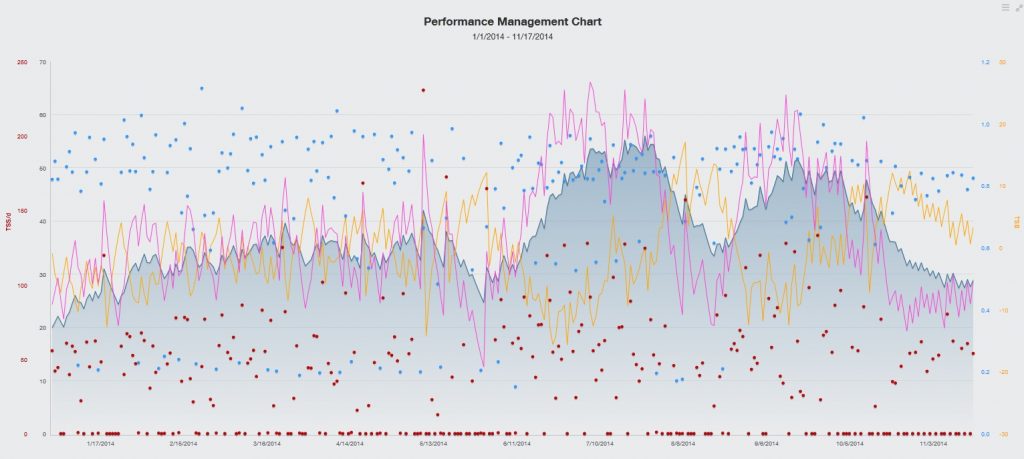 There are a lot of data that can be analyzed once they are downloaded from the bike computer. Training Peaks is the pioneer when it comes to analyzing these data.
Read More :
They created the metrics such as Training Stress Score (TSS), Intensity Factor (IF), and Normalized Power (NP) which are widely referred to if you ride with a power meter.
Training Peaks also invented the Performance Management Chart (PMC), which is a very important chart that measures your fatigue, fitness, and more importantly, form.
Training Peaks Pros
Detailed data. All the data are broken down into minutiae detail that can be used to develop incredibly specific training plans.
Great data analytics features. If you're a data geek, you'll love Training Peaks.
Training Peaks Cons
Not as User Friendly. The user interface is jam-packed with data but not as intuitive and user-friendly compared to its competitors.
There is a free 14 days version trial version for you to try out. Pricing-wise, it starts from $10/month, depending on the frequency you are paying. That cost does offer amazing value given what's on offer and the features it includes.
Pricing
Paid Monthly. $20/month
Paid Quarterly. $16/month
Paid Yearly. $10/month
Today's Plan is an alternative to Training Peaks and is based in Australia.
It's a newcomer to the scene, having been launched in 2015. Created by a bunch of software developers and Mark Fenner a former professional rider and coach, Today's Plan offers the opportunity to track your data, set goals, and follow generated training plans to achieve them.
Read More : 8 Reasons Why You Should Train with A Power Meter
It works in a similar way to these other cycling analytics programs. It collects and collates data from your heart rate monitor, power meter, and bike computer and makes sense of it.
Depending on what you want from the software and how you ride, you can use the structured workout plans or your coach can generate their own.
You begin by signing up and setting a goal, from there you can work through the plan to achieve whatever it is you said you would do.
Today's Plan Pros
User Friendly. The interface is very user-friendly and you can view your data in various dimensions, even in a 3D chart.
Huge Training Plans Database. This is very useful for those who are self-trained.
Today's Plan Cons
Expensive. Even the base package (tracking & analytics only) is expensive. Structured training plans are sold separately on top of this.
If you want to use the system-generated training plans, you pay more per month or year than if you set up your own. It's a small uplift but significant enough to give you pause.
Pricing-wise, Today's Plan is slightly different. It depends on whether you'll need to access their training plans library. You won't probably need to if you have a coach who designs training plans for you, or you yourself.
 Pricing 
Data and analytics only. $12 monthly or $99 yearly
Data, analytics, and training plans. $18 monthly or $179 yearly
Strava is probably the most recognizable training app around right now.
It's designed to work for both amateurs and hobbyists as well as professionals and coaches. Compared to the likes of Training Peaks or Today's Plans, Strava has a social element built-in.
Many pro cyclists upload their race and training ride data to Strava, giving their fans a glimpse of the effort they did.
Once you upload your rides, they are collated into a pool of other riders who have ridden the same route or segments of that route. You're then entered into the leaderboard for that route and can see and compete with those other riders.
It is this competitive path with social aspects that makes Strava so powerful. The main attraction with Strava is the competitive element.
Read More : 10 Things You Didn't Know About Power Meters
The interface is simple and intuitive, with your basic metrics, rides, distance, and so forth on the main page. You can then drill down into specific rides, segments, and other readings should you wish to.
Strava Pros
User-friendly interface. The user interface is as easy as it can get.
Integration with a bike computer. Strava can integrate directly to newer bike computer models for a feature called Live Segment, where you can see your timing up a segment live compared to others on the leaderboard.
Strava Cons
Not suitable for the pro cyclist. Strava doesn't deliver the detailed analytics that many professionals or teams are looking for.
Pricing
There are 3 separate plans offered by Strava. All plans are $2.75 monthly. Find out more about Strava's pricing.
Training Plan. Get access to all the tools and insights you need to reach your goal and train smarter.
 Safety Plan. Share your real-time location with safety contacts and see where you've been with Beacon safety tracking and exclusive heatmaps.
Analysis. Get more insight from your dedicated GPS device, heart rate monitor, or power meter.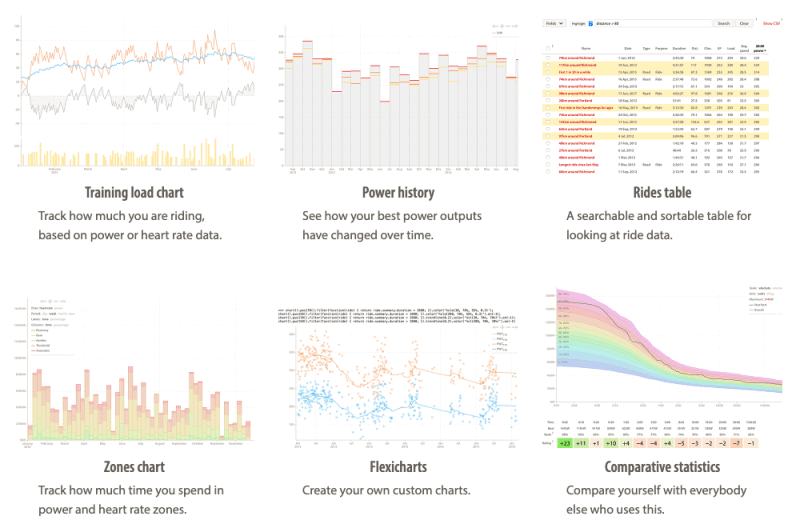 Cycling Analytics is another Australian cycling analytics program.
It was designed by David Johnstone in 2011. His goal was to combine cycling data analysis with a good design to make the software easy to navigate and logical to use.
Given how many people give him credit for how good it is to look at, I would say he succeeded!
Cycling Analytics is very easy to get to grips with.
The calendar dashboard makes sense of all your rides and includes basics such as distance, power, heart rate, and other customizable data. From there you can drill down to geography, heart rate, power, power curve, cadence, and every metric you could wish for.
Cycling Analytics does not yet offer structured training plans of its own but allows professional coaches to link to their cyclist's accounts and use their data for creating such a plan. It's a very cool feature and one that makes working with Cycling Analytics very powerful indeed.
Cycling Analytics Pros
Ease of use and clean design. While there is a ton of data to analyze, it doesn't overwhelm and is gradually revealed within the UI rather than being dumped on screen.
Affordable. Compared to its competitors with similar features, Cycling Analytics is affordably priced at $7 monthly.
Cycling Analytics Cons
No mobile app. There is currently no mobile app at the moment and no news if there will be one.
Pricing
$7 monthly, or $56 yearly
These are four of the many cycling analytics programs on the market right now but are by far and away from the best. They can be as much or as little as you like and are suitable for weekend riders or professionals alike.
If you're a professional or want to get serious about data, Training Peaks, Today's Plan, and Cycling Analytics can cope with all the data you can generate.
For the more relaxed or social rider, Strava is definitely the place to be. Regardless of which of these you choose, all your analytics needs should be covered!