There are cyclists who use their smartphones with apps like Strava or Google Maps for navigation while riding. This can be a good decision especially if you don't want to spend on a dedicated bike computer which can cost hundreds.
But to do so, you'll need a safe and secure way to mount your smartphone on the handlebars. It's definitely not recommended to ride with one hand holding your smartphone for safety purposes.
On this page, I'll share with you the various ways to securely mount your smartphone, regardless of whether it's an iPhone or Android on your bike. Also, I'll discuss what to look for in a model.
A Quick Glance : Our Bicycle Phone Holder Recommendations
If you're a fan of iPhones, then you'll love these below. Bear in mind that they're for specific iPhone models due to their varying dimensions. So, be extra careful and double-check your iPhone model.
True to its name, the Nite Ize Wraptor wraps around your iPhone and the handlebars to securely mount it to your bike. 
It fits both standard and plus-sized models, making it a great option for your various iPhone models. The flexible silicone design securely grips the phone while also providing shock absorption. 
It can be quickly installed on most handlebars and stems, rotates 360º, allowing for horizontal and vertical viewing.
Pros : Stylish and minimalist design that fits all iPhone models.
Cons : Premium pricing.
With a range of case and mount combinations to fit all models of iPhones, the Quad Lock is another excellent option for versatility.
It's lightweight and features a dual-stage lock to maintain security, and the protective case is slim and comfortable in your hand.
It's also a great value as the package includes the mount and hardware, the case, and a weather-resistant poncho.
Pros : Very popular and reputable brand. Lightweight and secure.
Cons : Expect to pay premium pricing.
This case mount is compatible with iPhones only, but it fits a range of iPhone models and sizes.
The magnetic quick-locking mechanism means you can grab your iPhone for a photo or a pit stop without a struggle.
The Morpheus Labs M4 case is slim and streamlined, too. For cyclists who want a quick and flexible mount for an iPhone, this is a great option that's functional and maintains a minimalist vibe.
Pros : Affordable and does the job well. Magnetic locking mechanism for fast removal.
Cons : Bulkier design compared to its peers.
An adjustable viewing angle and twist-and-lock mechanism mean you can have both security and accessibility with Rock Form's Pro Series mount.
It's lightweight with military-grade materials, so you know it's durable, and the heavy-duty case means your phone is protected and securely attached at all times.
It's easy to install with a single screw, and the angle adjustment is just as simple, too.
Pros : Made from lightweight aluminum with a secure twist-and-lock mechanism.
Cons : Replaces your original stem cap.
Agoz Silicone Phone Holder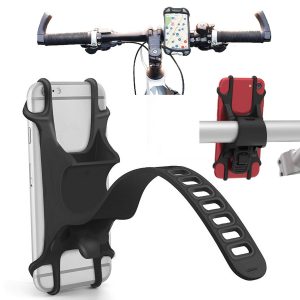 Agoz's cell phone holder has your iPhone in mind with its design. It's compatible with all iPhones ranging from the ancient iPhone 5 to the latest new iPhones. 
This phone holder is made from one piece of silicone, which allows it to securely hold phones ranging in screen size from 4.5″ to 6″. 
The strap allows for quick and easy installation vertically or horizontally and can be adjusted to any desired angle.
Pros : Very affordable and fits iPhone models from 2013 onwards.
Cons : Rubber straps aren't the most durable for everyday use.
Universal Phone Holder Picks
These are generally suited for all smartphones regardless of whether it's an iPhone or not. The clamping mechanism can be adjusted to suit a broad range of phones.
Quad Lock's universal mount takes the minimalist vibe of their iPhone model and makes it accessible for all types of phones.
It's lightweight and robust, and the adapter attaches to the back of your phone without requiring a separate case. The twist-and-lock system ensures your phone is secure, but it's also easy to access in a snap.
If you're after a sleek and minimalistic phone mount, the Quad Lock might be the one for you.
Pros : Sleek and minimalist design. Fits almost any phones.
Cons : Expect to pay more.
This is a premium option that's compatible with a range of phone models and sizes, making it very versatile.
Two points of contact helps keep your phone safe, and the sturdy silicone straps keep it in place on rough trails.
And for the price?
You can bet you're getting a great value with the Roam Universal mount, mainly because it fits such a wide range of handlebar sizes and phone models.
Pros : Great value and works with most smartphones.
Cons : Bulky design vs its peers.
An easy-to-use universal phone holder that fits phones up to 3.7″ wide, the Vibrelli phone holder uses silicone band grips and an adjustable clamp to maintain device stability.
You can also rotate the device thanks to the ball-and-socket design, making it easy to use your phone while it's mounted.
This is also a stylish option, thanks to the brightly colored silicone webbing that holds your phone.
Pros : Easily rotate to your desired orientation
Cons : Not the best in terms of durability.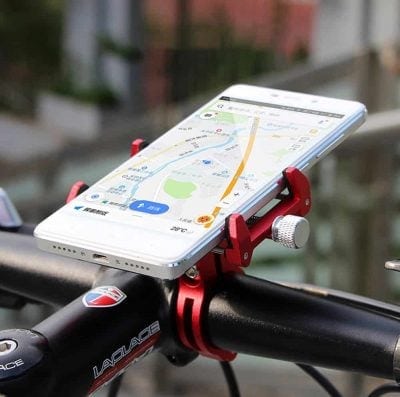 A minimalist clamp design makes the MaxMiles an excellent option for cyclists who want to keep their handlebars clutter-free.
The low-profile clamp accommodates devices up to four inches wide and is easy to install with the brand's unique tool.
The device is lightweight and crafted from aluminum alloy, so it's resistant to weather and vibration damage too.
Pros : Minimalist and sleek design..
Cons : Release lever could be further improved.
With smartphones only lasting a couple of years before they become obsolete, you want a model that will be able to handle all of the phones you'll be going through. 
This mount has a huge range of adjustments. Its width ranges from 50mm to 100mm with length adjustments ranging from 4″ to 7″. GUB's mount is made from aluminum material and is capable of 360º rotation on the fly.
Pros : Fits the largest smartphones available up to 7″. Easily rotate 360º to your desired orientation.
Cons : Not easy to lock/remove one-handed.
These are a combination of a phone mount and bag. Besides mounting the phone, you'll also get some storage space for small items such as your keys, multi-tools, and even some snacks.
This aptly named top tube bag (it's indeed a box) does something innovative. It provides a place for plenty of storage, like most top tube bags, but is also built with a slipcover for your smartphone. 
Once tucked safely in the pocket, your phone can be accessible for such operations as navigation or viewing texts. The inside not only offers plenty of space for your keys and other personal belongings but also a means of organizing it, including multiple pockets for credit cards and IDs. 
The Timbuk2 Goody Box attaches to the top tube and head tube via three strong velcro straps. 
Pros : Plenty of storage space and durable velcro straps.
Cons : Expensive.
If keeping your phone out of the elements is a priority, the Ibera Top Tube bag fits the bill.
It accommodates larger phones and is easy to install, plus the rubber grip base of the bag resists sliding and prevents damage to your bike's frame.
Your phone fits in the top viewing area, but you can also carry other small items in the bag, making this pick a versatile one.
Pros : Value for money and fits most smartphones.
Cons : Zippers are not fully waterproof.
With its waterproof screen protection and even a sun visor to prevent glare, the Rock Bros phone bag is a heavy-duty pick that offers great value for the money.
The sensitive TPU film lets you use your phone while it's protected, and cable ports let you plug in while cycling.
Velcro straps also make it easy to install and remove as necessary.
Pros : Sun visor protects against glare. Made from heavy-duty fabrics.
Cons : Heavy.
The minimalistic design of Lovicool's phone case ensures there's no bumping or banging against your knees while riding.
Instead, this bag goes on the handlebars for convenience. The bag can also fit other small items without sagging and getting in the way of your ride.
For versatility, Lovicool's bag earns high marks, especially since you can still use your device thanks to the waterproof yet super sensitive TPU.
Pros : Value for money and touch-screen friendly.
Cons : Limited mounting orientations.
In general, there are 3 types of bike phone mounts. The type you'll need depends largely on your phone model and where you want to mount it; whether it's on the stem or handlebars.
These are phone model specific.
So, if you own an iPhone then you'll likely need an iPhone case, the same goes for a Samsung Galaxy. They're usually available for popular phone models.
Pros. You can remove your phone from the bike in a snap, but still have a case that protects it. They're usually made of durable, reinforced cases.
Cons. You have no control over the styling or the functionality of the case itself, which may mean switching cases when you get to your destination.
This type answers the needs of other phone users who may not have one of the most popular or newest types of phones.
If you want an easy-to-use mount that isn't restricted to the phone brand and model, this is a way to go.
Universal phone mounts can feature adapters to attach phones to the bike mount, or they can feature a design that just cradles the phone or secures it with webbing.
Pros. You have full flexibility and versatility as far as what type of phone you bring along. You don't have to buy a new bike mount whenever you change your phone.
Cons. As they're not phone model specific, they may not fit your phone perfectly, depending on the design and the dimensions.
The phone holder bag is like a small bike bag that protects your phone against the elements and provides additional storage.
These bags can accommodate many sizes and types of smartphones.
Pros. They provide more storage room if you need to carry additional items on a ride, like keys, cash, tools, or other necessities.
Cons. They can be bulky, depending on where they're secured on the bike. Most of the transparent layers aren't touchscreen-friendly, so you can't access your phone on the move.
Frequently Asked Questions
1. What are the top brands available?
Quad Lock is the undisputed leader in this category. They manufacture specific mounts for all top-of-the-range iPhone and Samsung models. Besides that, they also have a universal mount that is compatible with all other models.
2. How secure are the phone mounts?
Generally, they are very secure. But as with all things in life, there are chances that it might fail due to 2 main reasons; incorrect installation or if you hit a big bump.
3. Do I need to buy a new phone mount after changing my phone?
If you're using a universal mount, chances are you won't need to buy a new one. But if you're using a mount specifically shaped for your old phone, you'll need to get a new one.
4. Are phone mounts waterproof?
Most of them are not waterproof, except the universal bike frame bags where you can store your phone inside a sealed, zipper bag.
Always check the specifications of your phone to determine whether it's waterproof, water-resistant, splash resistant, or none at all.