Looking for a secure and reliable method to mount your smart phone on your bicycle?
Then you're at the right page.
Whether you're a iPhone or Android phone user, I'm sure you'll find a phone mount that perfectly suits your needs.
But before we jump right in, let's take a quick look at the most common types of phone mounts available today.
3 Types of Bike Phone Mounts
In general, there are 3 types of bike phone mounts. The type of mount you'll need depends largely on your phone model and where you want to mount it; the stem or handlebars.
These mounts are phone model specific.
So, if you've a iPhone then you'll likely need a iPhone case, the same goes for a Samsung Galaxy. They're usually available for the popular phone models.
A universal mount answers the needs of other phone users who may not have one of the most popular or newest types of phones.
If you want an easy-to-use to mount your phone that isn't restricted to the brand and model, a universal mount is the way to go.
Universal phone mounting systems can feature adapters to attach phones to the bike mount, or they can feature a design that just cradles the phone or secures it with webbing.
The universal frame bag is like a small bike bag that protects your phone against the elements and provide additional storage beyond holding your phone in a transparent bag.
These bags can accommodate many sizes and types of smartphones, and many offer ports so you can plug in while cycling.
Best Phone Mounts for iPhones
This case mount is compatible with iPhones only, but it fits a range of models and sizes.
The magnetic quick locking mechanism means you can grab your iPhone for a photo or a pit stop without a struggle.
The Morpheus Labs' case is slim and streamlined, too. For cyclists who want a quick and flexible mount for an iPhone, this is a great option that's functional and maintains a minimalist vibe.
With a range of case and mount combinations to fit all iPhones, Quad Lock is another excellent option for versatility.
This mount is lightweight and features a dual-stage lock to maintain security, and the protective case is slim and comfortable in your hand.
It's also a great value as the package includes the mount and hardware, the case, and a weather-resistant poncho.
3. RockForm Pro Series Mount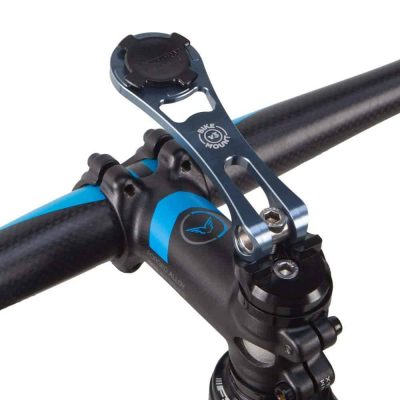 An adjustable viewing angle and twist-and-lock mechanism mean you can have both security and accessibility with Rock Form's Pro Series mount.
It's lightweight with military-grade materials, so you know it's durable, and the heavy-duty case means your phone is protected and securely attached at all times.
It's easy to install with a single screw, and the angle adjustment is just as simple, too.
Best Universal Bike Phone Mounts
This is a universal premium bike phone mount that's compatible with a range of phone models and sizes, making it very versatile.
Two points of contact help keep your phone safe, and the sturdy silicone straps keep it in place on rough trails.
And for the price?
You can bet you're getting a great value with this phone mount, mainly because it fits such a wide range of handlebar sizes and phone models.
2. Quad Lock Universal Phone Mount
Quad Lock's Universal Phone Mount takes the minimalist vibe of their iPhone mount and makes it accessible for all types of phones.
It's lightweight and robust, and the adapter attaches to the back of your phone without requiring a separate case.
The twist-and-lock system ensures your phone is secure, but it's also easy to access in a snap.
If you're after a sleek and minimalistic phone mount, this might be the one for you.
3. Vibrelli Universal Phone Holder
An easy to use universal phone holder that fits phones up to 3.7 inches wide, Vibrelli's mount uses silicone band grips and an adjustable clamp to maintain device stability.
You can also rotate the device thanks to the ball-and-socket design, making it easy to use your phone while it's in the mount.
This is also a stylish option, thanks to the brightly colored silicone webbing that holds your phone.
4. MaxMiles Bike Phone Mount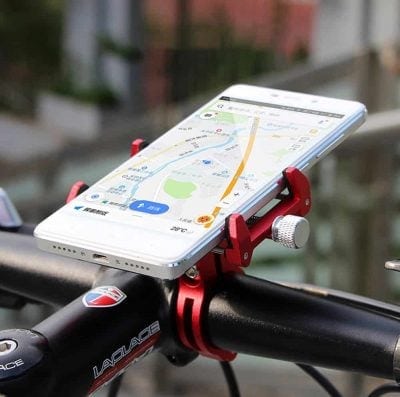 A minimalist clamp design makes the MaxMiles universal mount an excellent option for cyclists who want to keep their handlebars clutter-free.
The low-profile clamp accommodates devices up to four inches wide and is easy to install with the brand's unique tool.
The device is lightweight and crafted from aluminum alloy, so it's resistant to weather and vibration damage too.
Best Universal Bike Frame Bags
1. Ibera Top Tube Phone Bag
If keeping your phone out of the elements is a priority, the Ibera Top Tube bag fits the bill.
It accommodates larger phones and is easy to install, plus the rubber grips base of the bag resists sliding and prevents damage to your bike's frame.
Your phone fits in the top viewing area, but you can also carry other small items in the bag, making this pick a versatile one.
2. Rock Bros Bike Phone Bag
With its waterproof screen protection and even a sun visor to prevent glare, the Rock Bros Bike Phone Bag is a heavy-duty pick that offers great value for the money.
The sensitive TPU film lets you use your phone while it's protected, and cable ports let you plug in while cycling.
Velcro straps also make it easy to install and remove as necessary.
3. Lovicool Bike Phone Case
The minimalistic design of Lovicool's bike phone case ensures there's no bumping or banging against your knees while riding.
Instead, their mount goes on the handlebars for convenience. The bag can also fit other small items without sagging and getting in the way of your ride.
For versatility, Lovicool's bag earns high marks, especially since you can still use your device thanks to the waterproof yet super sensitive TPU.