Buying a 24″ bike for your kids can sometimes turn into a decision making nightmare. You'll have questions like,
What's the best 24″ bike for my kid?
And you soon realise that these bikes come in various types of configurations; frame materials, number of gears, tire types, brakes and even different frame geometry.
Pretty confusing, isn't it?
Read More : 6 Things to Consider Before Buying 24″ Kids Bikes
Generally, 24″ bikes are suited towards kids aged at least 7 years and above, or if they've reached a certain height to be able to ride these bigger size bikes comfortably and confidently.
So, here are my top 11 picks for the best 24″ kids bikes for you to consider.
1. Co-op Cycles Rev 24" Plus
It's hard to justify spending a lot of money on a kid's bike when you know they're just going to grow out of it. Co-op, the bike brand of outdoor outfitting company REI, knows this. 
That's why they came up with the 24" Rev 24, a single-track ready bike at a very affordable price. While the REV 24 may lack some of the accouterments of a full-sized mountain bike, most notably a suspension, it has everything else including mechanical disc brakes and 2.6" knobby tires. 
The Rev 24 also offers reliable shifting with a full Shimano Tourney 1×7 drivetrain.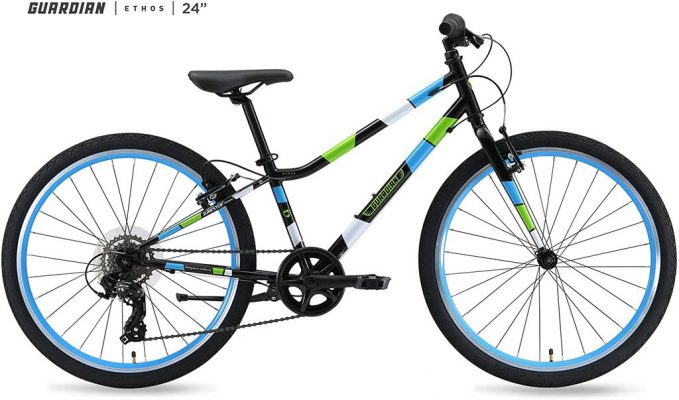 Guardian has a simple philosophy when it comes to bikes: stopping is just as important as a smooth ride and good control, especially for young riders who may not be used to two brake levers. 
The Ethos is built on a relatively lightweight steel frame which provides strength and support. Equipped with a single lever for front and rear brakes, you can rest easy knowing that your kid won't have to risk any head-over-handlebars accidents.
Apart from that, the Ethos is affordable, comes with a 7-speed gear setup, and features decoration chosen by elementary school students, so it's sure to suit your child's tastes.
Trek's Precaliber 24 offers versatility for your growing cyclist. This bike is at home on rides around the block or adventures on the local MTB trails. 
An aluminum frame keeps the Precaliber at a weight that's easy for smaller bodies to maneuver while a dropped top tube makes entrances and exits into and out of the cockpit safe and easy. 
A modest front fork with 45mm of travel and knobby Bontrager XR1 tires supply enough shock absorption and traction for aggressive off-road riding on hard packed single track. 
A full Shimano 8-speed drivetrain keeps pedaling easy on those big hills in the neighborhood.
4. Salsa Timberjack 24" Plus
Tthe Salsa Timberjack includes plenty of features for serious off road riding to suit young adventurers. 
Let's begin with that radical-looking top tube, which looks like a tree fell on the aptly named Timberjack. This curve is actually intended to promote maneuverability by creating a sharper head tube angle while keeping the top tube low for easy mounting and dismounting. 
The Salsa Timberjack is an impressive 1×8 system with full Shimano components. Massive 3" tires provide plenty of grip and shock absorption, making up for the lack of a suspension.   
5. Cannondale Cujo 24" Plus
Looking for that first single-track bike for your child?
Cannondale's Cujo 24 is an excellent option. 
With frame geometry designed for stability and maneuverability, the Cannondale Cujo 24 is ready to take on rugged off road terrain. An aluminum frame keeps this bike light for easier maneuverability through singletrack. 
Gearing covers a broad range with a 1×8 Shimano Tourney drivetrain and 11-34T gearing. The Cujo may lack a suspension system, but who needs one when the plus-size tires are 2.6" wide. 
This bike is also fitted with smaller brake levers and twist brakes to accommodate smaller hands. 
Cleary makes bikes that are simple with classic styling. The company's goal is to teach your child to be a better cyclist. 
With the Clearly Meerkat, as with the smaller Owl, this means simplifying the gearing and geometry, so young cyclists can focus on improving their bike handling skills. 
The Meerkat includes a 5-speed drivetrain, which while a step up from the Owl's single-speed drivetrain, is still much simpler than other bikes in this size class. As with the Owl, the Meerkat's geometry is designed to keep cyclists centered on the bike, maintaining a balance between handling and stability. 
Cleary keeps its characteristic look with a synthetic leather saddle and simple graphics. High-performance front and rear hydraulic disc brakes are a nice safety add-on. 
REI's Co-op Cycles Rev CTY is a great option for budding young riders looking for a good hybrid bike that can comfortably handle both paved surfaces and light off road terrain. 
The Rev CTY's geometry mirrors that of the smaller Rev 16", with a top tube that drops below the seat stays on the seat tube for easy mounting and dismounting. Narrower tires with smaller knobs allow for faster roll, making pedaling easier. 
The real highlight of this bike, though, is its Shimano Tourney drivetrain, which offers an impressive 21 gears via a triple chainring and 7-speed rear cassette. 
For parents who want to give a growing girl the full experience of an adult cruiser without missing out on any features, the Cranbrook cruiser is a great choice. 
Riding on 24" steel wheels with whitewall tires, the light, strong, step-through aluminum frame offers plenty of support while making control and maneuvering easy and quick. Front and rear fenders and a durable chainguard add retro touches to the Cranbrook's appearance and keep mud and moisture from staining clothing on cycling adventures around the neighborhood.
Extra features like the cushiony rubber bumper seat and the bright red color this bike a hit with girls.
Best Lightweight 24" Bikes
Not a little kid any but not yet an adult. That pretty much characterizes a 24" bike. 
And, with that in mind, Early Rider, a company that specializes in making kids bikes that teach kids how to be good bike riders. 
The 24" is an upgrade from the 20" with a drivetrain that resembles a full-sized bike. This includes a 1×11 SRAM GX drivetrain with a cassette range of 10-42T. That's not too far off from the 1x drivetrains that are becoming ubiquitous on adult mountain bikes. 
Other features include a front suspension with 100mm of travel and hydraulic disc brakes. It's safe to say that this is an excellent bike for getting your child off the road and onto some technical single track. 
The Prevelo Alpha 4 certainly don't come cheap. If you look closely at this bike, you'll soon realise it screams quality right from the start.
The frame is made of a higher grade 6061 aluminum, which makes it even lighter than most aluminum frame out there. And it doesn't stop here.
Gearing wise, the Shimano 8-speed drivetrain with a 11-34T gear range will ensure your child gets over the steepest climbs around the neighborhood. While not having a front suspension, this is compensated by a 1.5″ wide tires which will help smoothen out the uneven surfaces for a more comfortable ride.
Even though Alpha Four is a bit pricier bike, it's worth every dollar it costs.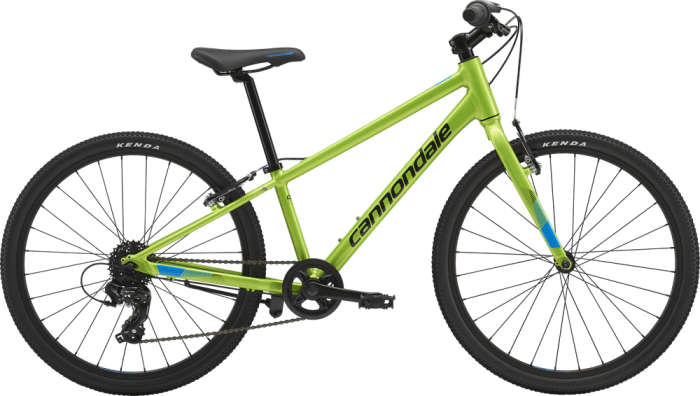 Cannondale is a very well-known bike manufacturer and they provide incredible quality which is highly visible in their Quick 24 bike.
This bike is based upon Cannondale's lightweight SmartForm C2 alloy frame and fork that is designed for riding over any type of terrains. Throw in the 1.5″ wide Kenda tires, the ride becomes more comfortable.
The drivetrain is powered by a 7-speed Shimano gear system, controlled by grip shifter. With its 11-28T gearing range, you'd be sure your kid will cover both flat and hilly terrains without any problem.
If you're after a lightweight bike, the Cannondale makes a great choice.
5 Things to Consider Before Buying 24" Kids Bikes
From experience, I've seen parents being overwhelmed by lots of information when it comes to buying bikes for their kids.
Well, it's a lot of info to digest but it shouldn't be that complicated.
In this section below, I've covered the 5 important things to look out for before you buy. Going through the sections below will give you a clearer idea of what to expect.
Read More : 10 Best Places to Buy Kids Bikes Online
If you want a more detailed guide, you can read my kids bike guide which will cover each of the topics below in depth.
24″ bikes are the last bike size before stepping into adult bike size territory. Generally the minimum age for 24″ bikes is at least 7 years old.
From my experience and observation, kids usually start riding 24″ bikes when they're 8, 9 or sometimes 10 years old.
It's inaccurate to size the kids just based on their age as kids of the same age might not have the same height.
A more accurate method is to measure their inseam.
But, what's an inseam?
Inseam is the length measured from the crotch to the floor of a child who is standing with both feet flat on the ground. The ideal inseam measurement for a 24″ bike is between 24″ and 28″.
If your child falls outside of this range, you might want to consider either sizing up or down a size for them.
Read More :
The majority of 24″ kids bikes are main of either steel or aluminium. There are some exceptions where they're made of carbon, but they will cost you a lot of money.
Steel is a very durable, reliable material and more importantly, affordable material to build a bike frame. The downside is, it's heavy. Some good examples of steel bikes are the Clearly Meerkat and Cranbrook Cruiser.
On the other hand, aluminum offers the same durability yet is a lot lighter and more expensive. Bikes like the Cannondale Quick 24 and Prevelo Alpha 4 are among the lightest 24″ bikes, but they come with a heavier price tag.
In short, be prepared to pay more if you're after a lighter bike.
Shimano and SRAM are the two most common gear manufacturers seen in 24″ bikes.
Since 24″ are now bigger bikes, they come with various gear configurations. Some of the bikes such as Co-op Rev 24 and Cannondale Quick will come with 7 speed gearing, while others such as Co-op Rev Cty has up to 21 gears with 3 front chain rings.
For example, if the bike has 2 front chainrings and 7 rear cogs, there will be a total of 14 available gears. The wider the gearing range, the more versatile the bike is.
You might also start noticing that manufacturers specifying the gear ratio in terms of 11-28T or 11-34T. 
What does this mean?
11T represents 11 teeth at the rear cog, which indicates a very high gear which is ideal for cruising along flat roads.
28T represents a very low gear, which is useful for the hills. The steeper the hill is, the lower the gears needed, which is why some bikes such as the Prevelo Alpha 4 comes with a 34T rear cassette.
You'll notice that every 24″ bikes now come with brakes. And there's really no surprise here.
However, what differs is the type of brakes. There are no coaster brakes anymore, but almost all of them come with either V-brakes, rim brakes or even disc brakes such as the Salsa Timberjack and Cannondale Cujo for better braking performance.
Almost all 24″ bikes come with tires that require air pressure and are vulnerable to punctures. So, it's about time that you consider learning how to change an inner tube yourself and teaching your kids how to do them too.
You'll notice that the tires come in various sizes, typically from 1.5″ to 1.9″ wide. The wider the tire size, the more comfortable the ride will be as you'll be running a lower air pressure due to the larger tire volume.