When it comes to comfort on the bike, it's important to wear the cycling shorts. You'll be seated on the saddle most of the time and having a good pair will definitely help. 
There are many things that go into a pair of good cycling shorts. You'll need to consider things like materials, fit, sizing, chamois, leg grippers and more. 
Read More : Cycling Shorts Buyer's Guide
Besides, there are also various types of cycling shorts such as bib shorts, bib tights and those that are specifically designed for cold and wet season rides.
So, here are 18 of the best cycling shorts to choose from, depending on your needs.
Cycling Shorts for Winter
When temperatures drop, you'll need protection from the elements to help your legs warm up effectively and to keep the cold at bay. 
Winter bib shorts need to provide all that, while also being comfortable, not compromising pedal movement, not leaving any exposed parts to the cold.
Pearl iZUMi Select Escape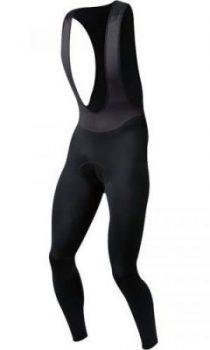 With their signature subtle design, tight fit and multi-panel design, the Peal Izumi live up to their name. 
Constructed from a soft fabric, these bib tights not only add comfort but also trap your body's heat and breath to get rid of any internal moisture.
They fit very snugly, but yet very comfortably with the stretch required to not compromise any movement in the saddle. It comes with a 7" lower leg zipper that makes it easier for you to put on/off. 
The Escape 1:1 chamois offers the support you need for longer training rides during winter. The thermal inner layer is soft, breathable and very comfortable. 
For those who ride a lot in the dark, the reflective detailing looks pretty cool too!
Castelli Velocissimo 3 Bibtight reflect the Italian company's familiar design philosophy with red trim and logo on the legs. 
The material is very stretchy yet comfortable, and contains a brushed inner for thermal insulation and comfort. 
The Thermoflex material keeps your lower body warm while staying supple and out of the way when you're in the saddle.
The fit is streamlined and snug, making this bib tights excellent for the early season racing over frost-covered tracks. 
With a very comfortable chamois, if the term fit like a glove was ever apt, it's when wearing these.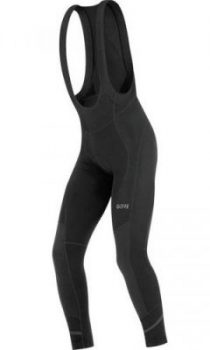 The Gore Wear C5 Thermo equal both Pearl Izumi and Castelli cycling shorts for form and fit. 
They are very comfortable with the Gore Windstopper material which keeps the wind chill away, while being breathable. It uses extra insulating materials when you require it, like at the knees, and cuts it on other parts to reduce the bulk. 
The bib's Thermo lining offers luxurious warmth and its finish gives a soft touch. At the top, a breathable, mesh sits below the upper bib layers for proper ventilation while cycling. 
The reflective logos on these tights will increase visibility even when there is little light. 
Cycling Shorts for Autumn Rides
Autumn (and spring) usually have chilly, damp mornings and warmer days. So any cycling shorts you wear must sit right in the middle in terms of thermal efficiency, breathability and fit.
If they are mildly water-resistant, even better!
The Castelli Omloop Thermal bib shorts may be a previous generation of Castelli bib but it still more than holds its own. 
The Thermoflex material and mesh vest combination work well in all conditions. These cycling shorts are also slightly longer than normal to offer a little more protection for the knees on chilly mornings.
With typical Castelli quality, nice design, stretchy fabric and comfortable Progetto X2 chamois, these are all the bibs you need in all but the warmest conditions.
Pearl iZUMi P.R.O. Escape Thermal
The Pearl iZUMi Pro Escape Thermal bib shorts is worthy alternative to the Castelli's. 
Ideal for the long spring and autumn rides, this pair of bib shorts will keep you dry through the changing and unpredictable weather conditions. 
The leg openings and bib straps feature a raw edge construction which offers excellent compression without restricting your movement or digging into the skin.  
In addition, the smooth next-to-skin material is highly breathable for dry skin in addition to preventing irritation. 
With a nylon and lycra mix with a thermal fleece inner, the P.R.O. Escape 1:1 chamois and BioViz reflective elements, these bib shorts are good for the cold or dark mornings.
These Alé Solid Winter bib shorts have been constructed with cold weather rides in mind. 
Made from a warm thermal fabric, it blends seamlessly with knee or leg warmers to give you a comfortable ride in chilly conditions.
The fit is snug (some would call it race fit) thanks to the combination of polyamide and elastane construction materials. The thermal inner layers means that you're protected from the cold while still able to breathe.
Like all Alé products, these cycling shorts are designed to look good while performing well.
Wet weather cycling shorts have a balance to strike between keeping you warm and dry, while being breathable at the same time. 
Only a few manage to balance this perfectly but the 3 bibs below deliver everything you'll need for a wet weather ride.
On first glance, the Castelli Nanoflex 2 looks like a regular Castelli bib. But there's more to it. 
The Nanoflex range is the water-resistant bib shorts from Castelli. The fabric which is coated with thousands of nano-filaments that create an excellent water-repellant surface. 
The multi-layered fabric is both warm and breathable and with Giro 3 silicon grippers, they won't be moving up or down with every pedal stroke.
The Kiss Air 2 chamois delivers sensible comfort and typical race fit and supportive stretch fabric delivers the ride experience you expect from Castelli with some water resistance thrown in. 
They work very well with leg warmers too!
The Fiandre NoRain Cycling cycling shorts is perfect for all cold-weather rides all thanks to its No-Rain nanotechnology finish that offers extra protection against rain. 
Better yet, this bibshort will keep you comfortable and warm should you choose to use it on a dry day. 
It uses the Body Fit Pro chamois pad which creates the appropriate padding where you need it most
Flat seams, water-resistant NoRain Warm fabric and the Thermodrytex thermal layer ensures you're ready to ride whatever the conditions. 
The fit is tight but they will work well with leg warmers if you need even more protection.
Rapha is no stranger to high quality cycling apparels.
The Rapha Pro Team Shadow will give you total protection against all the unpredictable weather conditions. 
Made from stretch-woven fabric that's breathable and hydrophobic, they're what you need when it's rainy. 
The revolutionary fabric has a double water repellent layer that offers extra protection. The fabric micropores allow heat to move away from your body while the stretch weave adds to the compression.
If you're looking for a high quality bib for wet weather rides, look no further. 
Everyday use bibs are ideal for your your rides that are 1-2 hours long, commuting or on the turbo trainers.
The everyday use bibs below are all high quality, fit well, don't bobble when washed and offer the plenty of support at an affordable price.
Wiggle's in house brand has been many years in the making. 
The combination of price, quality, good fit and design has resonated well with a lot of cyclists. 
The dhb Classic Bib Shorts now sits in the mid-tier of their product lineup. 
It comes with a very simple design in black color, a decent pad and the silicone grippers all make for a very comfortable ride.
Considering they are priced lower than most other bib shorts on here but perform almost as good in most situations, these are definitely worth considering.
The Przewalski Men's 3D Bib Shorts may not be as popular as the dhb classics, but they perform just as well for fit and comfort. 
With an understated design, the quality of the material, fit and chamois is surprisingly good. The panels and seams sewn together well, the chamois provides enough comfort on longer rides without being too bulky.
The silicone leg grippers are designed to be gentle on your skin while preventing the bib shorts from rolling up with pedal stroke.
Considering the price point, these are comfortable and durable for everyday use.
Louis Garneau Fit Sensor 2
The Fit Sensor 2 is a mid-tier bib shorts from Louis Garneau.
For a comfortable riding experience, it's designed with flatlock seams, seamless inner legs, and stretch trims on its traps. 
Besides, its Powerband leg grippers offer support and keep your bib in place without restricting blood circulation. 
The brushed fabric looks good and is very breathable too. Along with the wicking effect of the chamois and well designed seams, this is a superb pair of bib shorts for the money.
They take the fight to the mainstream brands by delivering a superbly comfortable fit at a very competitive price.
Summer riding demands slightly different characteristics from the bib shorts. 
The fit needs to be more snug, seams more comfortable and the overall material has to be efficient at sweat wicking. A good pair of summer bibs do all of that and more.
Castelli Free Aero Race 4
The Castelli Free Aero Race 4 is a premium pair of bib shorts. Besides being the bibs of choice for Team Sky, there are a few other reasons you will never go wrong with the Free Aero Race 4. 
Starting from the design, this bib is engineered with a minimalist construction to keep your body cool throughout your ride. It uses Castelli's top of the line chamois, the Progetto X2 which is very comfortable.
The fit comes up slightly small like most Italian kit, but once you get the right sizing, fits like a glove is an understatement. The Forza fabric and lycra combination offers exactly the right amount of support while wicking away sweat and not chafing.
This is a very worthy pair of bib shorts.
The GORE Wear C5 Bib Shorts is a worthy alternative to the Castelli Free Aero 4 bib shorts.
The flat seams are very comfortable, the elastine infused fabric is stretchy but not too much, the grippers hold them in place and the chamois offers just enough protection for both wicking and comfort. 
The material is both breathable and mildly waterproof which is quite a feat. The subtle design and modest logo look great and the fit is spot on. 
These are hard to fault.
Gore products are top class and the C5 bibs are no exception.
The Giordana FR-C Pro bib shorts uses Italian styling and sizing to deliver a top class set of cycling bib shorts. 
Giordana has taken the construction standards of this pair of bib shorts higher by using a fabric that eliminates creased with every stroke of the pedal. 
The Nylon microfiber material is infused with aloe vera which helps keep you cool and reduce odor accumulation.
Beneath the Nylon microfiber is a 4mm memory foam which improves breathability and sweat management by facilitating quick evaporation of moisture. 
These bib shorts feel as good as they look and are definitely worth considering.
Best for Long Distance Rides
Long rides demand more comfort and more support from your bib shorts. 
Where summer bibs specialize in wicking sweat and providing the cooling effects, endurance bibs are all about the chamois quality and support. 
The Assos T.equipe_s7 Bib Shorts are exactly what you would expect from the Swiss brand. It has taken 6 years of fine-tuning and reworking the design for them to release this pair of bib shorts.
These award winning bib shorts deliver on comfort, fit, support and style. A combination of intelligent Golden Gate stitching and multiple laser cut panels ensures comfort while feeling comfortable and supportive at the same time.
These shorts are light but don't feel flimsy. The new stitching system removes chafing altogether while the chamois is just enough to offer comfort without being bulky. 
Ask any cyclist who regularly rides more than 100 miles for their favorite bib shorts, chances are you'll hear them saying Assos.
Pearl iZUMi P.R.O. Escape
Being one of Pearl Izumi's premium products, the Pro Escape comes with a luxurious feel, clean silhouette, and an entirely redesigned chamois
It offers a little more design flair than Assos and almost equals them in terms of comfort and fit. 
Just as you would expect from a company that supplies the pros such as BMC Racing (previously), these bib shorts are top class. 
The P.R.O. Escape 1:1™ Chamois delivers on its promise by being comfortable and supportive on longer rides with no puckering or chafing noticed at all.
If the Assos is out of your budget, consider this one.
The Sportful Super Total Comfort bib shorts are at the top of the tree for the company. 
Ideal for longer rides thanks to the Total Comfort chamois, these are hard to fault. The design is very with only small logo and will match with most of your kits.
Comfort is excellent doe you to ride long and hard. Best of all, the bib shorts won't get in your way and you'll soon forget that they're even there.
If you're an epic all-day rider looking for the best in comfort, padding, moisture-wicking performance, and muscle support, then this is what you'll need.
Types of Cycling Bibs and Shorts
You'll probably have noticed that there are various lengths when it comes to cycling shorts. 
So, what's the difference between them and what type of riding are they suited for?
Cycling shorts, or some would call it waist shorts, depend on a elasticated waistband to keep them in position. They were very popular up until the 1980's among road cyclists until Castelli invented the cycling bibs (more on this below).
Pros : Cheaper than cycling bibs and easier to remove for a toilet break.
Cons : Not as comfortable without the shoulder straps support.
First introduced by Castelli in the 1980's, bib shorts comes with shoulder straps that provide better fit, comfort and support when you're in the hunched position on the bike. 
On first glance, most bib shorts would probably look the same, but if you look closer, each and every brand differ in many ways.
The shoulder straps placement, high or low cut, grippers, fit, materials are among the places where each brand try to differentiate themselves to cater for a different type of cyclist.
Having said that, bib shorts are the number one choice for of road cyclists today.
Pros : Fits and stays in place. Very little movement.
Cons : More expensive and inconvenient for a mid-ride toilet break.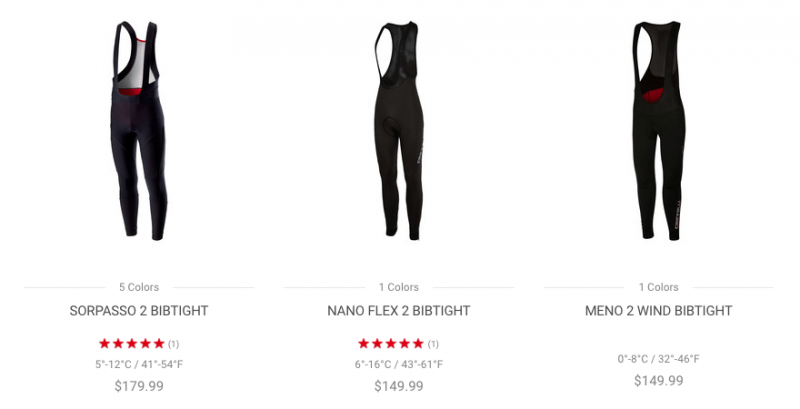 Bib tights are essentially the longer version of bib shorts.
They're meant to be worn during the colder months. Depending on how cold it gets in your local area, there is a choice of a full length vs 3/4 length bib tights.
A full length bib tights extend all the way to your ankle, while a 3/4 one will extend to just below your knees. The majority of them would also include an inner fleeced layer to keep your warm.
To ensure it's easier to put on, some bib tights will include a zipper at bottom. One such example is the Castelli Velocissimo bib tights.
Pros : Full leg protection for the colder months.
Cons : Can be expensive and hard to put on.
Cycling Bibs and Shorts Buyers Guide
A good quality pair of cycling bibs that fit well can make or break your riding experience than your frame, wheels, fuel and just about anything else. 
Comfort when pedaling upwards of several thousand times while balancing your body weight on a bike saddle is vital. Any discomfort in this region and you're not going to enjoy yourself.
Here are some things to consider when buying your next pair of cycling bibs.
It wasn't until the 1970's that spandex was used in cycling bibs. The term spandex (or also referred to as elastane) and lycra is used inter-changeable today. They're actually the same thing.
Lycra is the brand name registered to DuPont Manufacturing for it's spandex.
Spandex is the main material used in cycling bibs today. 
You'll probably noticed that many cycling bibs today, especially those mid to high-end ones, use a combination of spandex with other complex, technical sports materials such as Polyamide (nylon) and Polyester. 
That's because spandex, while being stretchy, isn't very breathable and that's not ideal if you're sweating buckets during the summer. The combination of spandex and other materials is to improve fit and comfort, breathability, reduce heat absorption and block the sun's UV rays.
For spring, autumn and winter bibs, you'll find the inner layers are fleeced and the overall materials are thicker. This is meant to block the chilly effects of the wind and keep your lower body warm. 
For wet weather bibs, the outer layer is treated with a Durable Water Repellent (DWR) coating to make it water-repellent. They're sufficient for light to medium showers but not for heavy downpour as they're not fully waterproof. A good example is the Castelli Nanoflex 2 or Sportful Fiandre NoRain bibs.
Fit and comfort everything when selecting bib shorts. It's also a very personal thing and differs for everyone.
You'll often come across that someone who owns a few pairs of the same cycling bibs. Once you've found the ideal bibs, you stick to it.
Sizing wise, Italian brands typically come up a size smaller than the others. Some would call this Euro sizing. 
If you're buying online, the first place to look is obviously the sizing chart. But don't rely on that alone as it can be misleading at times. Look at the customer reviews and you'll often find people giving feedback and include their height, weight and sizing in it. These are very useful information that you can use to compare against yourself.
Also keep in mind that while the sizing chart applies for all models within the same brand, the fit could differ due to it's cut. You might come across terms like race (tight fit) or endurance (more forgiving and comfortable fit).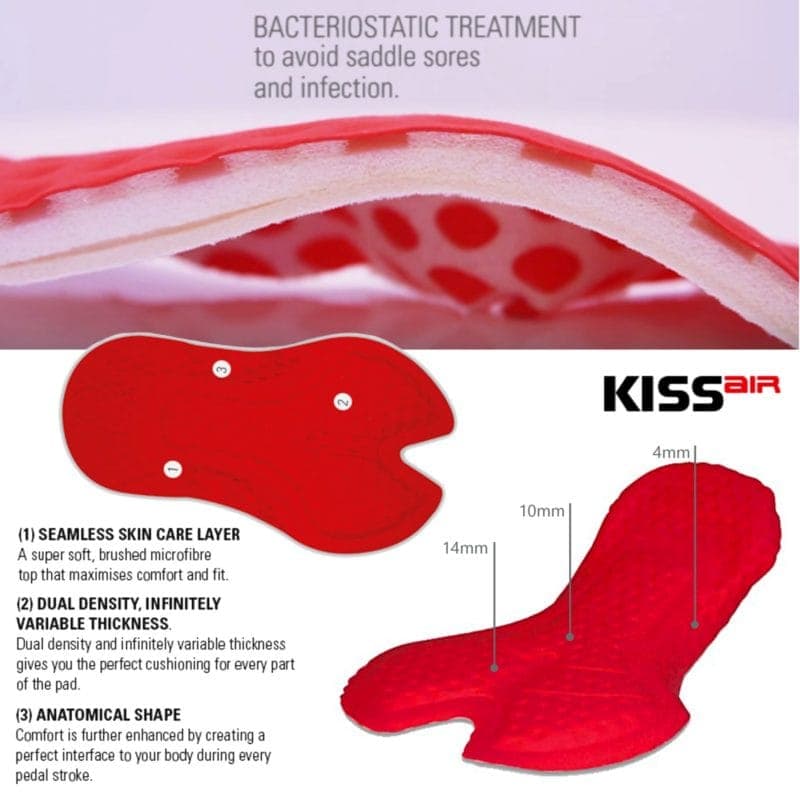 Like fit and sizing, chamois (also known as pads, or seat pads) is also a very personal thing.
Traditionally, chamois were made from leather, usually from sheep skin and subsequently deer skin. It's only in the 1980's that Castelli developed a non-leather chamois and in the past 30 years, we've seen major improvements in the chamois we have today.
The chamois has a lot of work to do. 
It provides a layer of padding and support between your pelvic bones, crotch and your saddle. These days, chamois come in various thickness, providing you with maximum padding and support at specific places that need them most. 
Besides that, it also has to wick sweat effectively to prevent bacterial build up which could potentially lead to chaffing.
Grippers hold the bibs in place and stop them from riding up or down with every pedal stroke. You'll notice that the bottom end of the bib is significantly tighter.
While each brand takes a different approach to grippers, they all achieve a similar goal. The gripper is usually made of soft silicone that grips the skin. In a good pair of bibs, you probably won't feel it's there.
It's easy to differentiate between a high vs low quality pair of bib shorts by looking at the seams.
A high quality bib shorts will have minimal to no seams at all. The intent is to avoid chafing where two panels are sewn together and is a very important element of overall fit and comfort.
Some bibs, especially low quality ones are manufactured with as many as 12 individual panels so the seams placement is very important to minimize the chances of chaffing.
Flat or protected seams means the bibs have been manufactured to keep the stitching or joins away from the skin and are mostly more comfortable but you will never know until you try them on.
Frequently Asked Questions
1. Do I really need bib shorts?
If you're riding anything more than an hour, bib shorts would be ideal. Having a good pair of bib shorts will provide you with plenty of support, ensuring you're comfortable on the bike for long periods.
But if you're just riding casually, bib shorts are optional.
2. What are the differences between male and female bib shorts?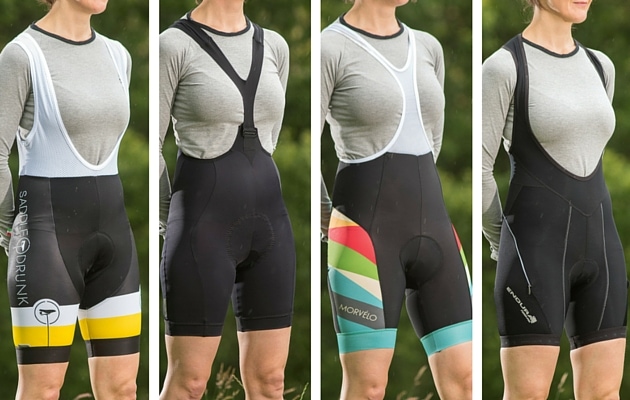 The main difference lies in the chamois contour to provide the necessary support for the female body. The straps are designed to provide upper body comfort while also accommodating the breasts. 
Some newer models also allows for the straps to be easily removed during a toilet break without having to strip off the entire bib shorts.
3. How to tell if a cycling bib short is men's or women's?
Look at the product name or description. 
In most cases, the manufacturer will explicitly differentiate them with wordings like men, women, donna (women in Italian) or using initials such as W.
4. What do you wear under cycling bib shorts?
Wear nothing under the bib shorts, for both male and female. Some could call this, going commando. You don't want to end up looking like a cycling hubbard with your underwear!
Look, the chamois is specifically designed to be in contact with your skin and minimize chaffing. If you introduce an additional layer between your skin and the chamois, in this case, your underwear, you will increase the chances of chaffing.
5. How should a cycling bib fits?
It should fit snug. 
Tight, but not too tight that you feel uncomfortable that it's hindering you during every pedal stroke.
6. How to minimise chafing?
Make sure you wear the right size of bib shorts and try to use chamois cream especially if you're going for a long ride. 
Chamois creams not only helps minimize the chances of chaffing, but it also helps prevent inflammations, soothes the skin and prevent saddle sores.
Read More : The 10 Best Chamois Creams for Cycling