This is Part 1 of the cycling faux pas series. You can find Part 2 – Make Sure Your Bike is Up to Scratch here.
When it comes to cycling, there are many unwritten rules which are often not even mentioned.
One of them is fashion. There is faux pas (pronounced as fo pa) that you'll need to avoid so that you don't look like a total newbie or hubbard.
Definition of A Cycling Hubbard : A cyclist with no technical ability, mismatched kit, and more than likely unshaven legs. Hubbards tend to crash often, stand out from afar, and have limited knowledge of the sport.
When it comes to road cycling, there are things that set the newbies and seasoned cyclists apart. Seasoned cyclists pay attention to how you look on your bike, your bike, and your clothing besides the way you ride.
Having said that, of course, no one is going to stop you from wearing whatever you want. 
But if you want to look pro on your bike, here are 15 cycling fashion faux pass you should be aware of.
You don't necessarily need a good looking nor expensive piece of cycling kit to look good.
All you need to achieve is a synergy between your jersey, bibs, and socks.
This doesn't always mean matching colors, although that would definitely help and make things much easier for you.
It's more of not randomly picking the bits and pieces everywhere and put them together.
One of the best times of the year to grab some amazing cycling deals for kits is Black Friday or Amazon Prime Day.
Cycling is not football. You'll need to earn the pro team's kits, not buy them off the shelf.
Don't wear a pro team's kit even if you're a big fan.
Things are even worse if you wear a jersey from Team Sky and match it with Team Movistar bibs. You get what I mean.
Avoid wearing the Grand Tour classification jerseys, like the Pink jersey (Maglia Rosa) for Giro d'Italia, Yellow jersey (Maillot Jaune) for Tour de France, and Red jersey (Maillot Rojo) for Vuelta Espana.
These guys suffered and worked their ass off the entire year to earn that jersey.
And lastly, the World Champion jersey. Just don't do that.
Your cycling kits should fit snugly.
No baggy or loose fits.
You want the fabrics to be sticking to your body for efficient sweat-wicking. You'll feel more comfortable too.
Why pay for technical clothing if you're not wearing them correctly and having them perform as expected?
And also, the bunch wouldn't be happy with the constant flapping sound of your kits in the wind.
Sometimes, we get kits as cycling gifts, and occasionally the sizing could be off. Keep in mind that most online retailers offer a 360 days refund or exchange, so you might want to take advantage of that.
Read More : A Complete Cycling Clothing Guide from Head to Toe
4. Overloading the Back Pockets
Your jersey has 3 pockets at the back to store essentials like your phone, wallet, gels, and some food.
But don't try to stuff the entire kitchen in it!
Have your spare tubes, tire levers, and multitools inside the bike saddlebag. If they're too big to be carried while cycling, then leave them at home.
I'm a big believer in not storing your hand pump in your jersey pockets to avoid them hurting your back should you fall.
All hand pumps come with a bracket for you to install on your bike frame, next to the bottle cages. Do this instead.
Read More : The 10 Essentials to Carry In Your Bicycle Saddle Bag
5. Wearing A Sleeveless Jersey
There's a difference between a triathlete and a cyclist.
One of the obvious ones is triathletes usually wear a sleeveless jersey.
Cyclists don't. Most cyclists don't have biceps anyway, so there's nothing to show by going sleeveless.
Even worse, don't wear a sleeveless jersey with arm warmers.
6. Not Wearing Bib Shorts
Always wear bib shorts, not shorts.
The main difference between them is the straps, which provide support for your upper body when you're on the bike.
Plus, the straps hold the bib shorts together to don't slip, especially if the leg grippers are worn out.
Dark colors like black are timeless and very popular. More recently, navy blue is also becoming a popular color choice.
Other colors are subtle, except white.
Not only white gets dirty quickly, but they also tend to be see-through, especially when wet.
If your bib shorts are worn, buy a new one.
Lycra stretches when you wear them, and you don't want to have see-through sports all over your lower body.
7. Wearing Underwear Under Bib Shorts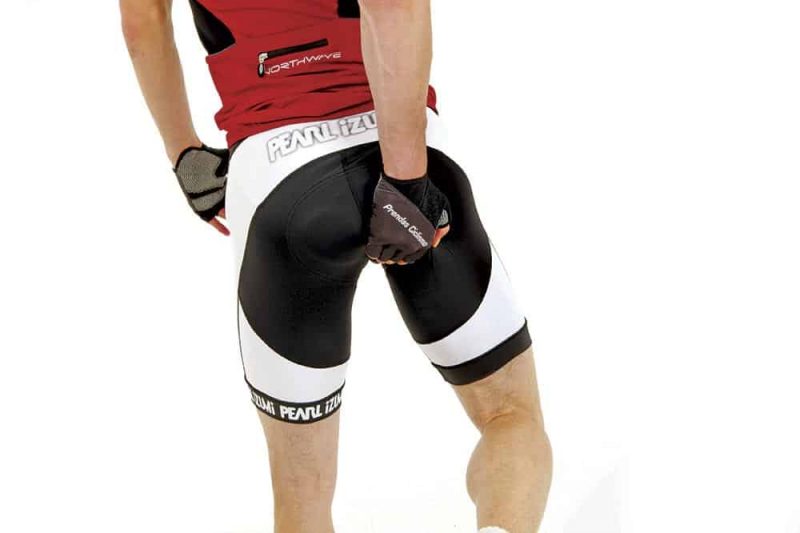 Don't wear your underwear.
Bib shorts are meant for you to go commando.
The chamois (seat pads) are specifically designed to provide you with support and uses materials that minimize chafing. Having your underwear in between your skin and chamois increases the risk of chafing and saddle sores.
Do consider using chamois cream for cycling if you're experiencing saddle sores.
Don't even think that you can get away with wearing underwear under your bib shorts.
Most cyclists can easily spot one and the next thing you'll be getting is some friendly advice.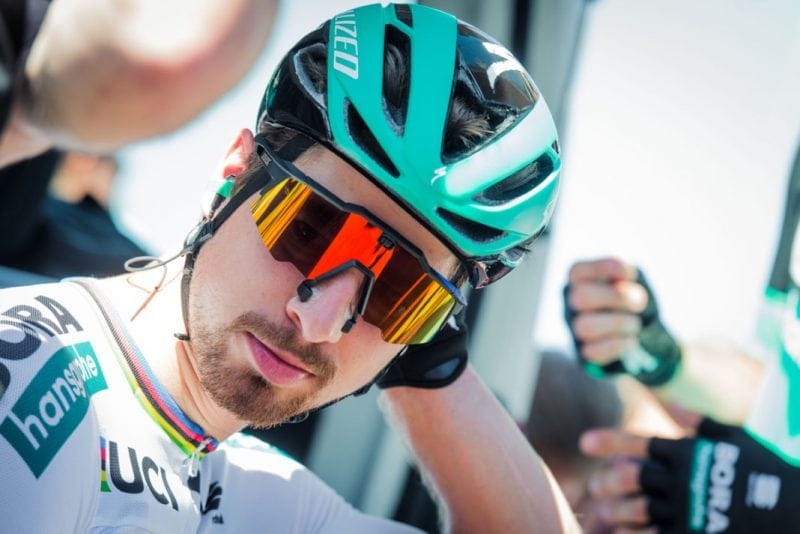 Wear cycling sunglasses for protection from UV, road dirt, and insects.
If you're riding in the dark, wear those with clear or low-light lenses. The Oakley Prizm Low Light Lens comes is one of the best around.
Photochromic lenses are very versatile and can be used in wide-ranging light conditions. It saves you the hassle (and some money) of having two pairs of sunglasses.
Always put on your bike helmet first, then only the sunglasses.
The bike helmet straps should be under, not over the sunglasses' temples.​​​​
9. Wearing a Parachute-like Jacket
Wear a jacket if you need to when it's cold or wet. But wear cycling jackets and not your everyday jacket.
Make sure they're snug.
You don't want to look like a moving parachute that slows you down.
10. Wearing Cap under the Helmet
Don't wear a cap under your helmet.
If you're bald and the weather is cold, wear a skull cap.
Swap them out with a cap at the cafe if you want to look good.
11. Wearing Warmers over the Kits
The arm warmers should go under your jersey sleeves.
The leg warmers go under your bibs and over your socks.
Don't wear leg warmers without arm warmers.
Are you telling the bunch that your legs and not your arms get cold when cycling?
Just arm warmers are fine, but not with a sleeveless jersey.
Among all the cycling clothing, the socks are the most talked about and attract controversial opinions, especially the length.
Make sure your cycling socks aren't too long until above your calf muscles. You're not playing soccer here. No compression socks either.
They can't be too short either and below your ankle. You're not a triathlete or female tennis player.
Ideally, the sock length should sit 2" to 4" above your ankle and just below your calf muscles.
This means that socks are between 3" to 6" in length.
Take the opportunity to show off your well-defined calf muscles!
13. Wearing Mountain Bike Shoes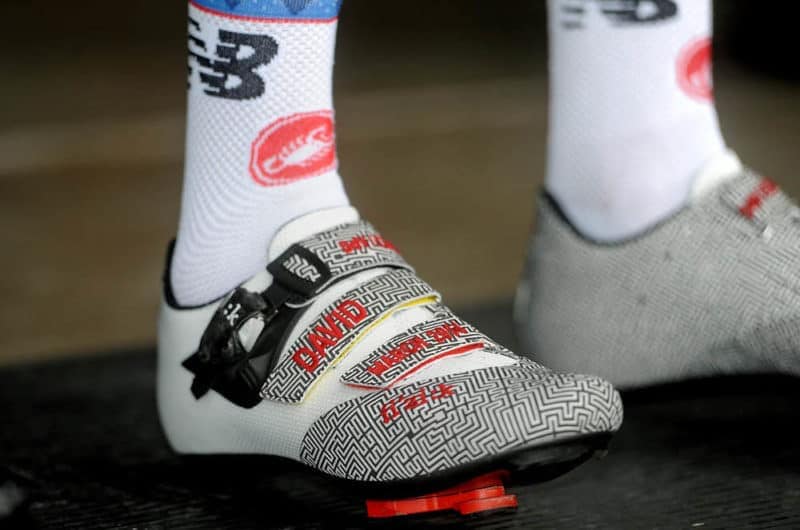 Make sure you wear only road bike shoes and color match them with your helmets and socks.
No mountain bike shoes on a road bike.
Only regular bike helmets and no aero helmets unless you're competing in an ITT or criterium.
Match the color of your helmet and your shoes.
Unless you're riding an ITT or criterium, don't rock up to a bunch ride with an aero helmet. Otherwise, the bunch would expect you to be doing most of the work upfront rather than hiding from the wind.
Besides, aero helmets seriously lack ventilation and they aren't ideal for longer rides.
Nothing is more annoying than seeing a cyclist wearing lycra with hairy legs.
For god's sake, shave those legs!
There are arguments that a shaved pair of legs make you more aero or it's easier to clean the crash wounds. I don't doubt these but personally to me, you'll look much much better with a pair of shaved legs.
Even 3-times World Champion Peter Sagan can't pull it off without shaving.